A change in lifestyle may have you thinking about how to sell your Bluegreen timeshare. Selling Bluegreen points or weeks is very possible with the right help. There are so many different directions to go, with cancellation or exit companies out there that claim they can help. If you're asking, "Can I sell my Bluegreen timeshare?" you've come to the right place. We'll give you a step-by-step process so you can sell your timeshare with confidence.
About Bluegreen Vacations
Starting in 1986 as a small business flipping residential properties in Massachusetts, Bluegreen Vacations is a top timeshare brand that now leads the industry. With their flagship resort, MountainLoft in the Smoky Mountains of Tennessee, their entry into the timeshare world took off. As a leader now in technology, innovation, and sustainable travel, Bluegreen has also made an alliance with Bass Pro Shops. Today, Bluegreen Vacations offers owners resorts in 23 states across the U.S., Aruba, as well as the Bahamas.
Bluegreen Vacations offers a flexible, points-based timeshare program that allows owners to use their Vacation Points like currency. Owners purchase points at their home resort and receive an annual allotment every year based on what they own. This can include what level of membership you have and the type of accommodations you own. With 60+ resorts, owners can enjoy the world's best beaches, highest mountains, and brightest cities.
Not interested in points? Bluegreen also offers a fixed week or flex week options for owners that don't need extra flexibility. Outdoor enthusiasts love their ownership as well because of the incredible experiences in nature. Bluegreen is even the official vacation ownership provider of Bass Pro Shops with amazing resorts like Big Cedar Lodge in the Ozarks.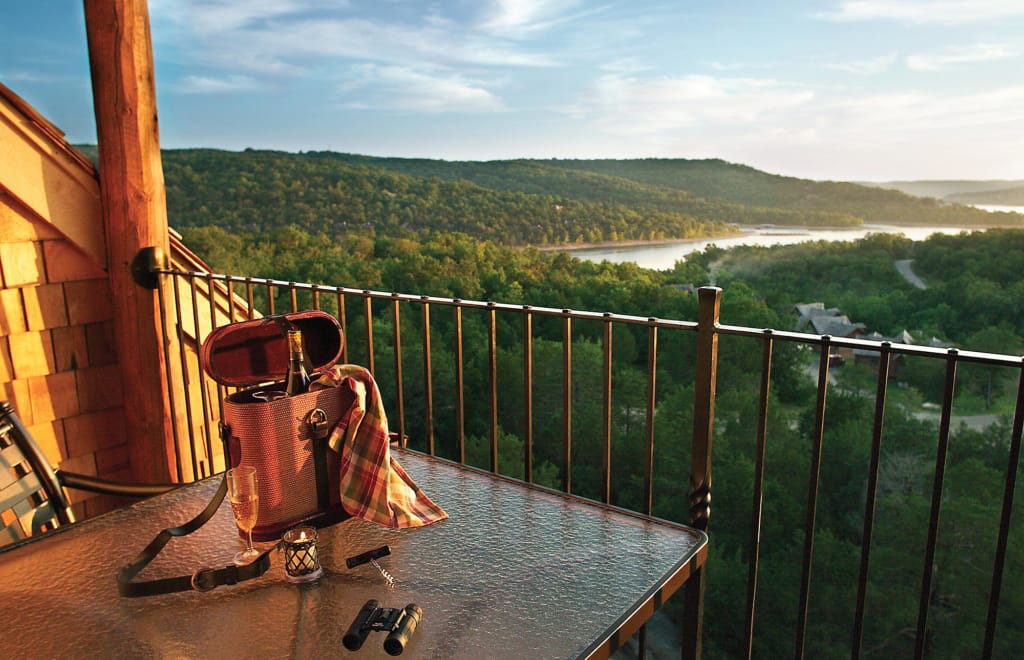 Make sure you know what you own with Bluegreen Vacations. If you're going to sell your ownership or rent it out, make sure you know what you're offering people! One of our representatives can help you find the documents you need if you aren't sure.
Those looking for Bluegreen resales love the outstanding amenities, excellent customer service, and exciting locations that Bluegreen offers. What's not to love about having access to over 60 resorts in the brand's portfolio? Over 200,000 owners only add to the brand's popularity.
Before You Sell Your Bluegreen Timeshare
If you're still on the fence about whether or not you should sell your Bluegreen timeshare week or points, there are options for you. If you feel like you just want to experience something new, using a vacation exchange network can bring you to new corners of the world. When you just need a year or two off of using your timeshare, renting it out could really work for you!
Exchange Your Bluegreen Points On RCI
Before you decide to leave your timeshare ownership for good, think about what your vacation goals are. Are the accommodations or resorts with Bluegreen just not fitting your travel lifestyle any longer? By joining the affiliated vacation exchange network RCI, you can trade your Vacation Points. Take opportunities at other resorts like the Disney Vacation Club, Hilton Grand Vacations, Wyndham, and more. RCI members can go on vacations to Europe, Asia, or even Africa. You can also book a cruise with RCI Cruise discounts and opportunities.
How to Rent Your Bluegreen Points
Depending on your circumstances, you might opt for renting out your Bluegreen points. Whether you're just not ready to give up your ownership or you're unable to sell it yet, renting it out is a great option in the meantime.
You can tell your friends and family members that you have points available if they are looking for a vacation. Or, timeshare rental companies can assist to help you in making an online advertisement that gets promoted to a wider audience. Timeshares Only offers owners a place to place their Bluegreen timeshares for rent and make some cash back in the meantime for their annual timeshare maintenance fees and dues.
The Best Way to Get Out of Bluegreen Timeshare
You may have seen TV commercials or billboards about timeshare exit, timeshare lawyers, and "canceling your timeshare contract." The most important thing to keep in mind when you're thinking of selling your Bluegreen points is that a lot of these claims are scams. Timeshare exit companies and cancellation lawyers normally ask for outrageous up-front fees to get rid of your ownership.
Before choosing which route you want to go to sell your Bluegreen vacation ownership, contact Bluegreen first. Large developers can give you trustworthy recommendations and refer you to a resale service. Some even have in-house programs to help owners find relief from their timeshare. Most importantly, companies that are members of ARDA adhere to strict guidelines and code of ethics in order to keep timeshare owners' best interests in mind.
ARDA does not recognize the timeshare exit teams or cancellation lawyers you hear about on the radio. Selling your timeshare back to the resort or posting it for sale on the secondary market are the best ways to get out of a Bluegreen timeshare.
"Can I Sell My Bluegreen Timeshare?"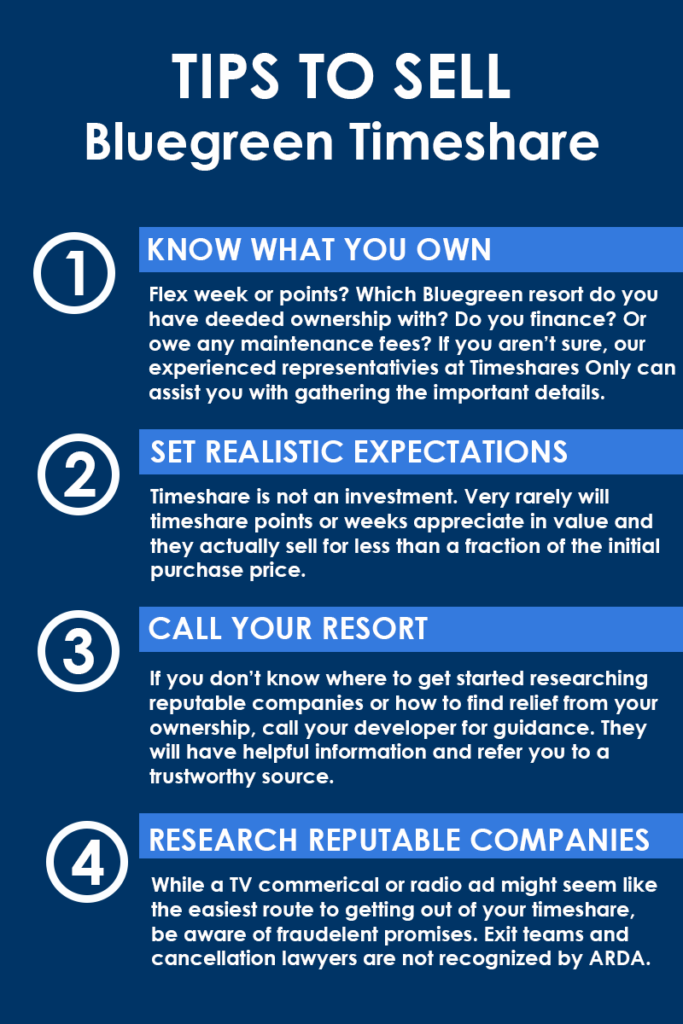 Timeshare began as a way for buyers to own vacations for life. Some could even pass on to other family members when the original owner passed away. Before, families could travel to the same place every year for vacation. Today, travelers are much more interested in seeing new places, having flexibility, and enjoying new experiences. Today's timeshare owners find satisfaction with the points and money they save on vacations. However, when owners face a lifestyle change or financial burden, the resale market can help.
"Can I sell my Bluegreen timeshare?" The answer is yes, especially when you have the right resources and guidance. Whether you own Bluegreen points, a fixed or flex week, Timeshares Only can help you post it for sale. When you're looking to make a big decision like selling your timeshare, you should look for a trusted resource. Timeshares Only created the first global timeshare marketplace and advertising company dedicated to connecting owners and buyers. We are an advertising site, and we do not guarantee the sale of your timeshare, but our advertising and marketing strategy helps put more eyes on your timeshare for sale and reach more prospective buyers,
Putting Your Bluegreen Timeshare on the Resale Market
If you've decided to go ahead with selling your Bluegreen points or week, the first step is calling your resort. They will refer you to resources that can help you get out of your own safely and legally. Our online resale marketplace is a trusted source to post your Bluegreen timeshare for sale.
Timeshares Only has over 27 years of experience helping owners find relief from their timeshares. Attracting hundreds of buyers daily, we're trusted by top developers and have been named the number one recommended service. As experts in the industry, we are committed to helping you sell your Bluegreen timeshare with trust and security.
Our Process
When you are ready to get started, we'll go over the details of your ownership. This will help us to create an eye-catching advertisement to post on our resort marketplace. To make the process even more seamless, gather up a copy of your deed and your latest maintenance bill. If you don't have this, don't fret. We can assist with finding all of the right information. Once our marketing superstars put your ad together, it's posted for sale across a variety of platforms to attract the right buyer.
After getting an offer, a licensed real estate agent from our Preferred Brokerage, Fidelity Real Estate, can contact you to go over the details and offer their closing services. We recommend using their services to facilitate the closing process, but it is entirely up to you. A Fidelity agent can help with negotiations, write contracts, and navigate the Right of First Refusal. Licensed real estate agents at Fidelity specialize in the timeshare secondary market and will be the most knowledgeable source to help you with the entire closing process.
What is the Right of First Refusal?
The Right of First Refusal (ROFR) is part of every timeshare ownership contract. When you're selling your Bluegreen timeshare or points, the signed contracts between buyer and seller must be sent to the resort before the sale can take place. Bluegreen will review all of the terms negotiated, including the offer price, resort, ownership type, and more. They can exercise the ROFR under the condition that they take place as the buyer and accept all of the terms negotiated. Or, Bluegreen will waive the ROFR and allow the sale to continue between the original parties.
After the ROFR is over, all of the final closing contracts are put together to sign. This final process also requires a title transfer company—your licensed Fidelity Real Estate agent will refer one, or you may choose your own. Don't forget to choose a licensed and credible company!
Sell Your Timeshare With Timeshares Only