Are the Bahamas on your bucket list? Adventure awaits in the islands! We have found the perfect Bahamas excursions for your trip to this tropical paradise. Whether you love the water or prefer to stay on dry land, the Bahamas has something for you. Not to mention, you can visit the Bahamas year after year through vacation ownership. A timeshare in the Bahamas will guarantee a lifetime of unforgettable vacation adventures. Ready to dive in? Let's go!
Top Bahamas Excursions
Go Parasailing Over Cabbage Beach
For a Bahamas excursion, this is as serene as it gets. Parasail over turquoise waters and the white sands of Cabbage Beach. My Own Water Sports make it easy to book and easy to enjoy. Don't miss out on this amazing excursion with one of the best views in the Bahamas!
Get a Paradise Cove Day Pass
A Paradise Cove Day Pass includes all the fun possible, plenty of opportunities to relax, as well as food and drinks. A day pass to Paradise Cove lets you plan your day the way you want it. This means choosing when to be picked up and dropped back off at your resort.
Swimming with Dolphins
This has got to be one of the coolest opportunities when you visit the Bahamas. Shore Excursions in Nassau offer the amazing chance to swim with dolphins! This is an excursion that you're not gonna wanna miss when traveling to Nassau, Bahamas!
Take a Sailing and Snorkeling Tour
Boat tours in Nassau are an amazing way to experience the world that lives just under the water. Spend three hours sailing and about two hours exploring a private beach. With a made-to-order tropical lunch and Bahamian Rum punch, your worries will melt away. Sight "seaing" has never been so relaxing. Island Marketing recommends Bahamas Cruise Excursions for a great experience.
Scuba Diving Anyone?
Join Nassau Discover Scuba Diving if you're a first-time scuba diver. With pickup from Cable Beach and Paradise Island resorts, you can begin your dive right from the resort.
Swim with the Pigs
Have you ever been to five islands in one day? How about a beach with pigs? Adventure off the coast of Nassau for a day and make stops at five different Bahama islands. Expect to feed iguanas, swim with pigs, and check out sharks. This trip is guaranteed to be a great conversation starter when you get back home.
Searching for more sunshine? You might like: Dreams Los Cabos: Your Next Mexico Getaway
Bahamas Timeshare Resorts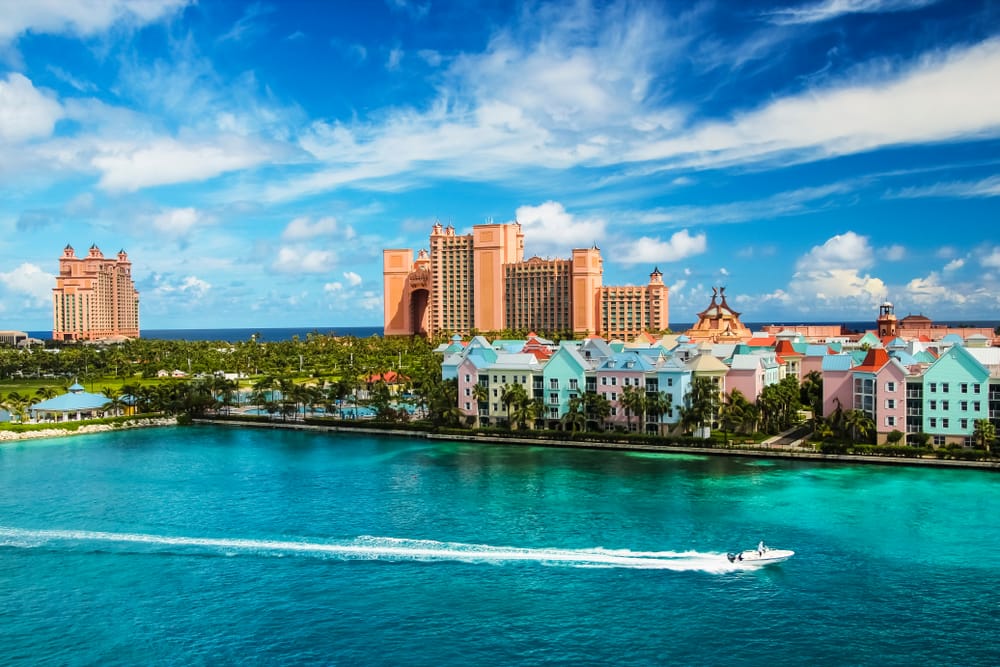 Even though the Bahamas begin just 50 miles off the coast of Florida, the dreamy tropical culture will make you feel worlds away. With all of the adventures to be had on excursions in Nassau, Freeport, and beyond, you'll have to return to the Bahamas to experience it all! This is where owning a timeshare in the Bahamas comes into play! Some of the best timeshares in the Caribbean can be found in the Bahamas! Here are some of our favorite timeshare resorts in the Bahamas.
Viva Wyndham Fortuna Beach
Release your inhibitions as you immerse in the colorful lifestyle of the Bahamas at the Viva Wyndham Fortuna Beach resort. This property of international distinction sits on 1200 feet of pure white beach framed by turquoise water. Enjoy Bahamas excursions like sailing, snorkeling, and windsurfing during your stay. Take a look at Viva Wyndham Fortuna Beach timeshares for rent or for sale now.
Harborside Resort At Atlantis I & II
What's better than staying at the Atlantis resort in the Bahamas? Vistana Signature Experiences owners have the ability to book vacations at Harborside Resort at Atlantis with their points/weeks. Paradise Cove, swimming with dolphins, a plethora of dining options, and more are available at this top resort in the Bahamas. See Harborside Resort at Atlantis I and II available for sale or rent now.
Island Seas Resort
This RCI Gold Crown Resort is ideally located on the Grand Bahama Island, surrounded by a variety of Bahamas activities and excursions. The entire family will enjoy the lush gardens and exotic beaches surrounding the property, with a secluded beach area, waterfall, tiki huts, restaurant, tennis, and more. Browse Island Seas Resort vacation rentals and timeshares for sale now.
Taino Beach Vacation Resort Club
Totally unique and breathtaking, the Taino Beach Vacation Resort Club is without a doubt one of the best Bahamas resorts you can stay at. Stroll the beautiful beaches or try your luck at the casino. Accommodations include loft-style condominiums with fully-equipped kitchens and space to stretch out.
Ocean Reef Yacht Club and Resort
This picturesque marina resort on Freeport has plenty of Bahamas excursions for guests to enjoy. Go scuba diving or water skiing, take a short ride to a nearby golf course, as well as check out the local casinos. The Ocean Reef Yacht Club and Resort is even within a short distance to the International Bazaar or Port Lucaya for shops and dining! Browse Ocean Reef Yacht Club and Resort timeshares available for rent or sale.
Bahamas Vacation Properties
With so much to do in the Bahamas, it's impossible to enjoy it all in one trip. Consider making the Bahamas your annual destination. After all, a yearly dose of serious sunshine never hurt anyone! With blue water and bright wildlife, you will never want to go home. Contact us at 1-800-213-7733 if you're ready to find the perfect Bahamas timeshare for sale.