Considering buying a timeshare in Orlando? There is a lot to know when beginning to shop for a timeshare. Luckily, you've come to the right place. At Timeshares Only, we've been helping people buy and sell timeshare in Orlando for over 20 years. You may be wondering how you can buy one and where to buy it from.
Additionally, you may be wondering what a timeshare is and why someone would buy one in the first place. Fortunately, we've simplified the process and handpicked great resorts, so you can make the best decision on your Orlando timeshare purchase. Let's get started on how to buy a timeshare.
Start With Timeshare Resales
The best way to buy a timeshare for less is to start by browsing timeshare resales. The timeshare resale market is something that not many first-time buyers are aware of.
When you purchase a timeshare resale, you are buying a timeshare from another person, not a resort. You can find great deals on great vacation clubs this way. Whether you are looking for points or weeks-based timeshares, you'll find them for sale on the secondary market. When owners no longer want to use their timeshares, they post them online with legitimate resale companies who can help find the perfect buyer.
We recommend using a Licensed Real Estate Brokerage to help facilitate the sale once you find one you like. On our website, you can get started by placing an offer on any of our timeshare postings. Next, you will be put in touch with our Preferred Full Service Brokerage who can help you negotiate the purchase with the seller. Additionally, our Preferred Brokerage can also write up the closing documents and put you in touch with a title company to transfer the deed out of the seller's name. Once all of this is complete, you will have bought a timeshare! While the closing process can feel daunting, it is easy when you have the right help.
Where To Buy A Timeshare In Orlando
Oftentimes, people debate if it's better to buy a timeshare in Orlando from a resort or from a resale company, and there are pros and cons to both. If you decide to buy a resale timeshare, you will most likely be paying less than you would for a retail one bought during a timeshare presentation. Some developers do restrict certain benefits to only retail purchases, but many new owners find that the savings outweigh the other benefits.
Best Timeshares in Orlando, Florida
To get your search started for buying a timeshare in Orlando, you can start searching by brand or location. Including all of your favorite brands like Wyndham, Hilton, Marriott, Diamond, Holiday Inn and more. Orlando is the timeshare capital of the world so you'll have a lot of options to choose from. We've handpicked our favorites from each major brand below to get you inspired. These resorts are also well-regarded by the guests who visit them every year.
While You're Here: Check Out the Best Florida Vacation Rentals
Wyndham Bonnet Creek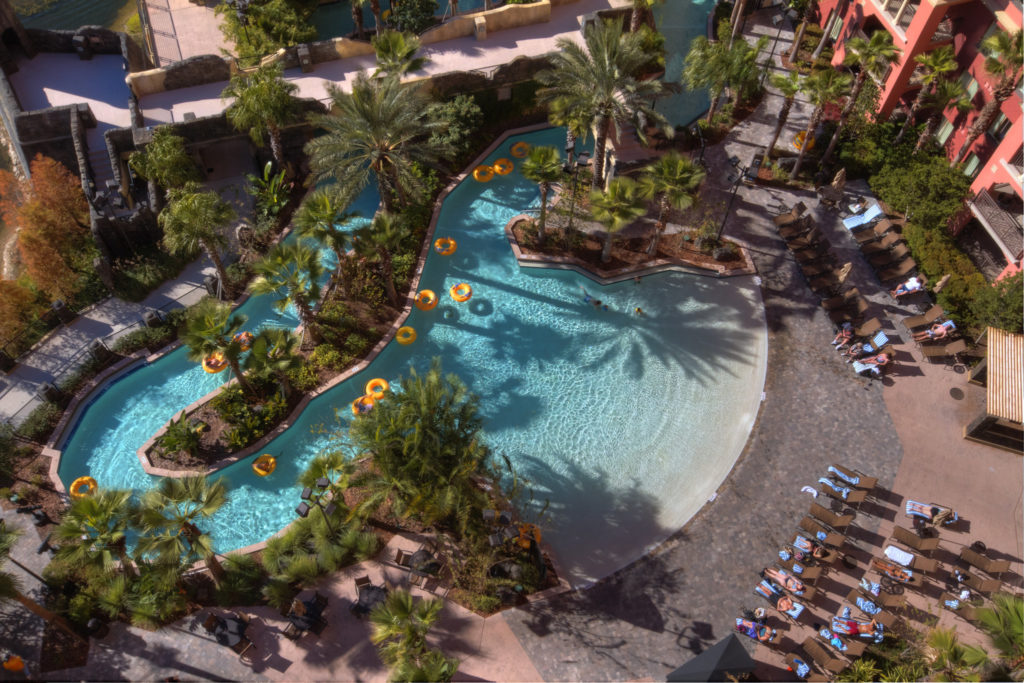 Wyndham Destinations is the largest timeshare club in the world, with more than 200+ resorts to choose from and over 527k owners. Additionally, Wyndham Bonnet Creek is the companies flagship resort. By buying this Orlando timeshare, you'll really be purchasing points that can be used to book vacations at this location, as well as other locations in the Wyndham Destinations network. Bonnet Creek has expansive grounds with beautiful landscaping, pools, and golfing for families. Not to mention, Wyndham Bonnet Creek is located near the theme parks in Orlando. This means you can have an exciting vacation each year for less. Another added perk is that most Wyndham resorts can be exchanged on the RCI vacation network for more opportunities.
Marriott Grande Vista
Similar to Wyndham Destinations, Marriott Vacation Club provides owners with upscale luxury experiences through their vacation club program with timeshare points and weeks. The Marriott Grande Vista is located in Orlando, Florida. The resort features golf, swimming pools, tennis courts, a fitness center and child care. In-suite you'll find a kitchen, washer/dryer, private balconies, and a whirlpool tub. Not to mention, this resort is also located within close distance of Walt Disney World and Universal Studios, making it a great place to stay for a true Orlando trip. Additionally, Marriott owns Interval International, the second-largest exchange network for timeshares. This means you will likely be able to trade your Marriott Grande Vista trips for vacations elsewhere if you choose to.
Get The Latest: Marriott Benefits You Need To Take Advantage Of
Hilton Grand Vacations Club at SeaWorld
Undoubtedly, you have heard the name Hilton before. Well, Hilton Grand Vacation Club offers even more luxurious getaways for its timeshare owners. Hilton Grand Vacations Club at Seaworld is located just minutes away from Seaworld on International Drive in Orlando. A lot of fun activities take place on I-Drive, including outdoor activities like a giant slingshot, Ferris wheel and more. Once you're done visiting the parks and amusements for the day, you can relax. Choose from one to three-bedroom suites suited for families of all sizes. Plus, you'll have an in-suite kitchen and washer/dryer to make vacation life easier. The resort also has a great pool with a waterfall and sitting deck for lots of tanning in the Florida sun.
Orange Lake Resort by Holiday Inn Club Vacations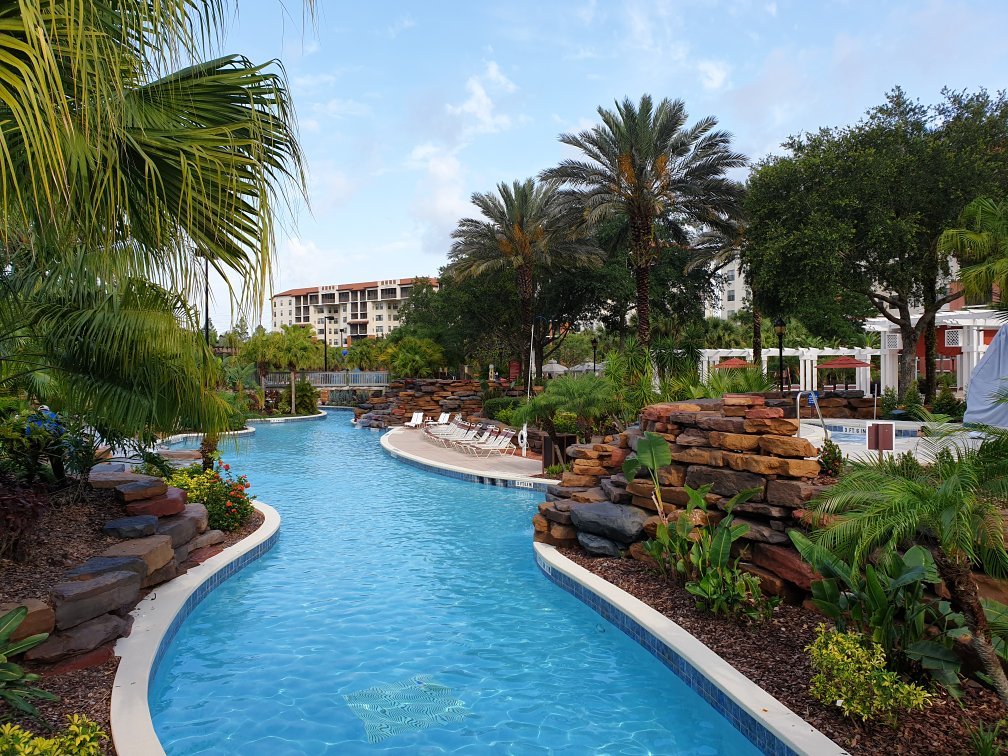 Another flagship resort by an awesome brand, Orange Lake by Holiday Inn Club Vacations is great for families. The resort is so large it features four different villages with a trolley that takes guests across the resort. Not to mention, the resort has seven swimming pools and a lazy river for maximum relaxation. You can view listings from each village on our website: East Village, River Island, North Village and West Village. Just 12 minutes away from Disney World, you can have an unforgettable vacation at one of Orlando's best resorts. Additionally, you can water ski, swim, boat ride and more on the lake on-site. Owning with Holiday Inn Club Vacations gives you access to other resorts in the brand, including worldwide favorites.
Read More: Orange Lake by Holiday Inn Club Vacations
Ready to Buy a Timeshare in Orlando?
If you're ready to buy a timeshare at one of Orlando's best resorts, we can help. Give us a call at 800-213-7733 or start browsing our postings now and make an on-screen offer. We are proud members of the American Resort Development Association and have an A+ rating with the BBB. We can help ease the process of how to buy a timeshare whenever you're ready.