Vermont is a breathtaking vacation spot that nature enthusiasts can enjoy all year round. Whether you're planning a winter trip for skiing or a summer excursion for hiking and other outdoor activities, you're bound to have an unforgettable experience in the Green Mountain State. RCI offers a wide range of top-notch resorts in Vermont, making it easy for timeshare owners to trade their weeks or points for a stay in this natural paradise. Below are some of the best RCI resorts in Vermont for your next getaway.
About RCI Resorts in Vermont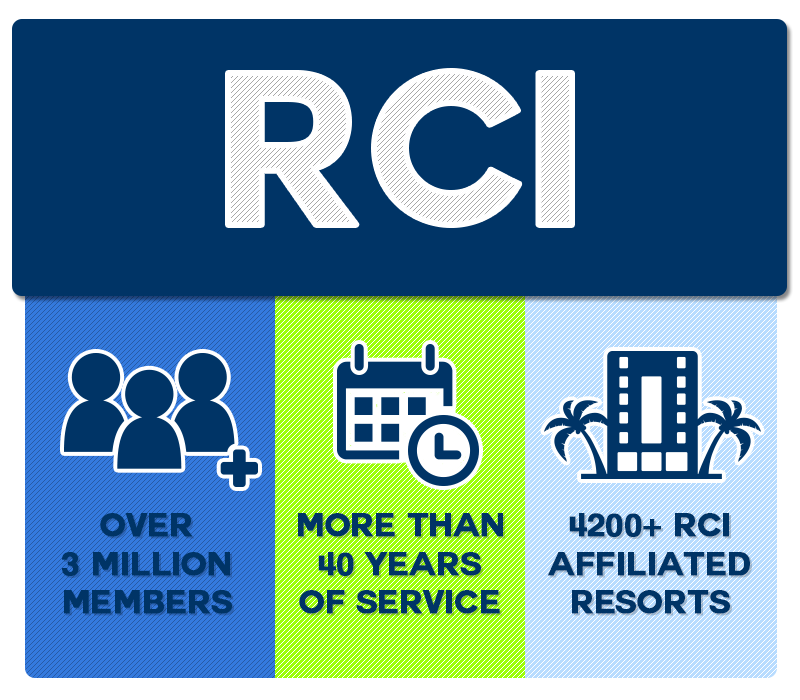 RCI is the largest vacation exchange network in the timeshare business and offers thousands of resorts in its catalog. RCI doesn't own individual resorts but instead is affiliated with some of the biggest names in timeshare. Some of the best vacation clubs are affiliates of RCI, including Club Wyndham, Hilton Grand Vacations, and Holiday Inn Club Vacations. Those who own weeks or points with these brands, along with many other vacation clubs, have access to join RCI and trade their timeshare for vacations at any RCI-affiliated resort. This flexibility has changed the way that people use their timeshares! Owners can experience new resorts, timeshare brands, and locations all around the world without having to buy a new timeshare! This means that even if you own a timeshare in a different location, you can still visit one of RCI's resorts in Vermont.
Top RCI Resorts in Vermont
Vermont is the ideal location for vacationers looking to be surrounded by untouched nature. Laid-back getaways to Vermont will undoubtedly be beautiful and relaxing. A visit to Vermont in winter will offer stunning views of mountains blanketed in snow. Summers in Vermont will be spent exploring the lush green forests and scenic hiking trails. If you're looking for adventure, rest assured you can find that too! The mountains in Vermont offer fun activities year-round, from skiing in the winter to biking in the summer. No matter when you visit, you'll find yourself in the midst of some of the country's most beautiful scenery. Don't forget to make your vacation a little sweeter by trying some of Vermont's world-famous maple syrup!
When you're looking to slow down and visit Vermont's beautiful landscapes, RCI can help you get there. Exchanging your timeshare for a stay at one of these resorts will put you in the heart of Vermont's unparalleled beauty.
Club Wyndham Smugglers' Notch Vermont
⚲ Smugglers Notch, VT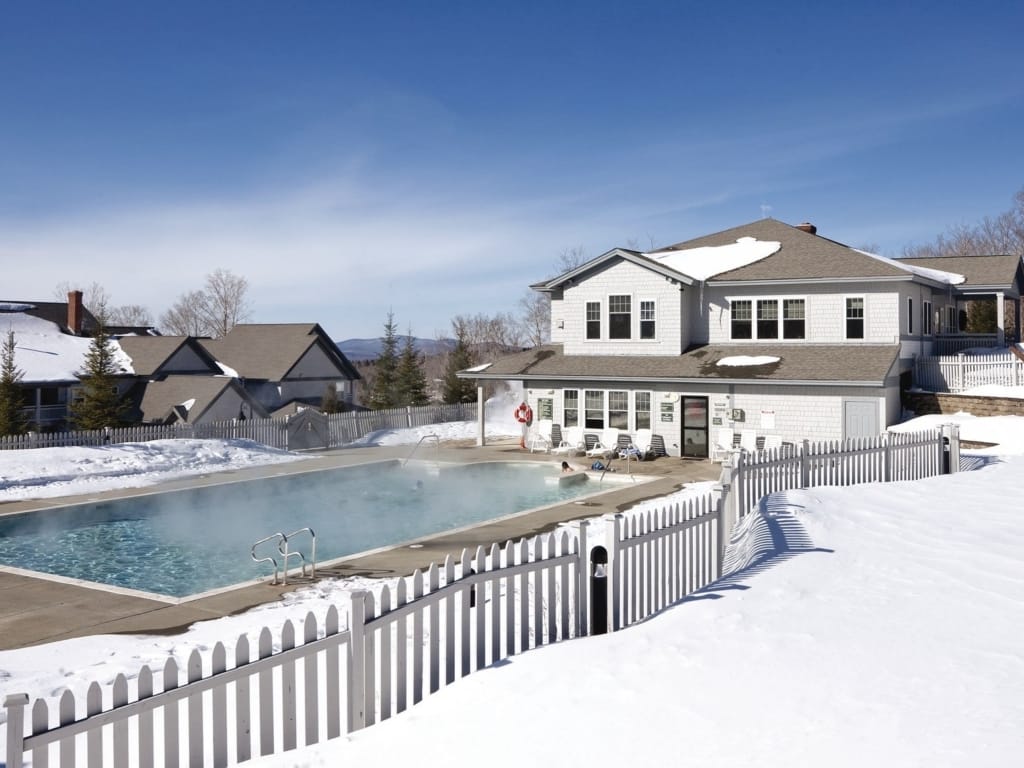 Club Wyndham Smugglers' Notch Vermont is not only a winter wonderland but also offers incredible warm weather amenities. This resort is in close proximity to the incredible ski trails of Smugglers' Notch, so you're just moments away from hitting the slopes. Since it's so close to the mountains, this RCI Gold Crown resort is also minutes away from scenic hiking trails. Guests of this resort will enjoy the restaurants and shopping right outside their villas at the Village Center. Spacious accommodation options include one-, two-, and three-bedroom suites complete with full kitchens and cozy fireplaces.
Holiday Inn Club Vacations Mount Ascutney Resort
⚲ Brownsville, VT
Holiday Inn Club Vacations Mount Ascutney Resort is an RCI-affiliated mountainside retreat in Brownsville, Vermont. Trading your timeshare week for a stay at this resort will give you access to the wonders of Vermont's natural beauty. Guests will love skiing nearby Okemo Mountain Resort's scenic trails. In the summer, guests can enjoy exploring all that Mt. Ascutney State Park has to offer. Summer and early fall are great times to go rafting or kayaking on the local rivers and falls. This resort's on-site farm-to-table restaurant, The Maple Kitchen, will give you a taste of local flavors and produce.
Killington Grand Hotel
⚲ Killington, VT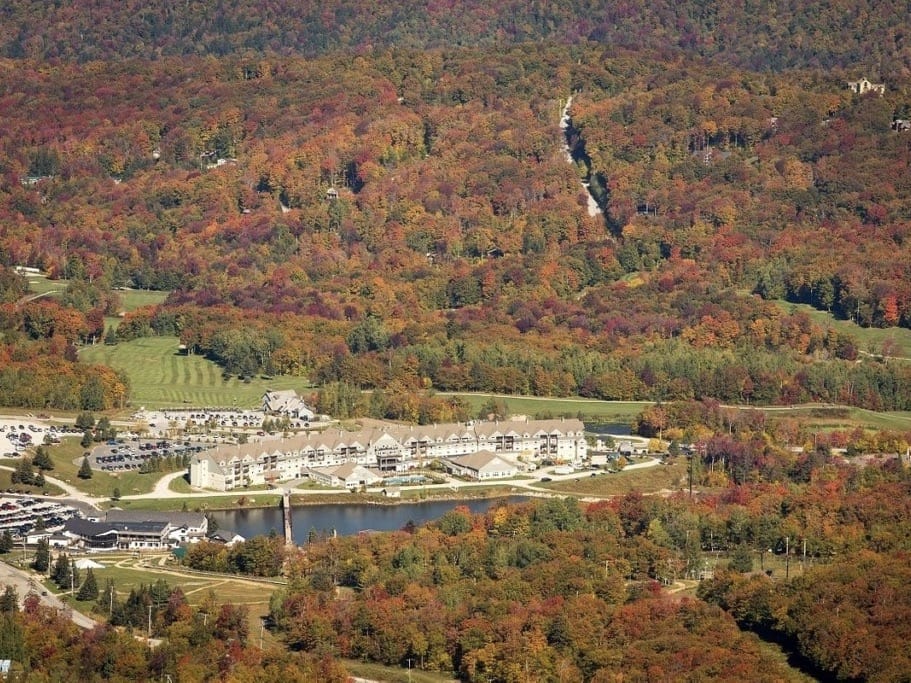 The Killington Grand Resort Hotel is the ultimate destination for adventure seekers! This RCI resort is in Killington, Vermont, which is known for its challenging mountain terrain and year-round activities. You can find plenty of activities to do outside of the resort, and guests don't need to go far to find them. There is bridge access to the slopes in the winter, and when the snow melts, guests can use that bridge to head to a bike park and adventure center where guests can take on the Beast Mountain Coaster. There is also an 18-hole championship golf course 200 yards away from the resort.
Mount Snow Grand Summit Resort
⚲ West Dover, VT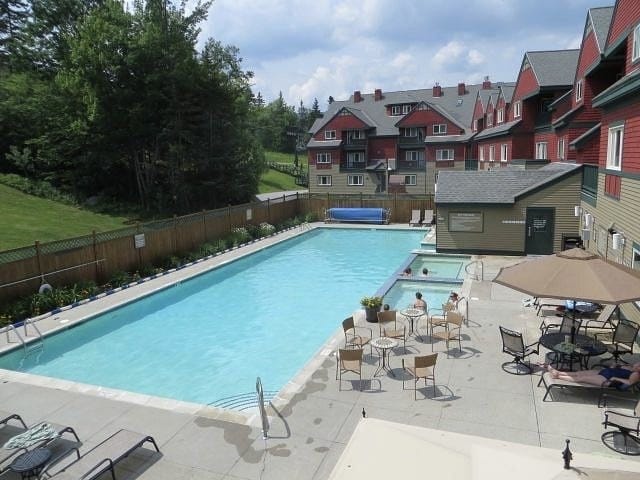 Mount Snow Grand Summit Resort is the perfect destination for those looking for both relaxation and adventure. This ski-in/ski-out resort offers direct access to the beautiful Mount Snow ski resort, so skiing and snowboarding are right in your backyard when you stay at this resort. When you need to unwind or relax your muscles after a long day of activity, this resort has got you covered. You can head to the resort's full-service spa or enjoy the hot tubs, sauna, and steam room. This RCI resort in New England is less than three hours from Boston and four hours from New York City. So, this is a great pick for RCI members living nearby who want to take a road trip to Vermont.
RCI Resorts Vermont For Sale or Rent
If you already own a timeshare, but you're interested in an RCI resort in Vermont, then the next steps are simple! You may know that your timeshare ownership week or points are at an RCI-affiliated resort, so you can easily start an RCI membership on their website. If you aren't sure whether or not you own an RCI-affiliated timeshare, contacting your developer directly is a great way to find out. Once you've registered with RCI and paid your RCI exchange fees, deposit your weeks or points and then begin exploring what amazing vacations await you! For example, if you own a timeshare in Florida that is affiliated with RCI, then you could trade your points to visit one of the RCI resorts in Vermont.
If you're looking to buy or rent at an RCI resort in Vermont, Timeshares Only is here to help! We have RCI timeshare resales that are a fraction of the cost compared to buying directly from the developer. Firstly, you should browse our marketplace of available timeshares for sale or rent in Vermont. If you're unsure whether or not a resort is an RCI affiliate, we can find that information for you. Then when you've found the perfect timeshare for you, simply make an offer! If you need further assistance or have some questions, don't hesitate to reach out! Our team of timeshare experts has years of experience and connections, so call 1(800) 213-7733 today!