As the largest vacation exchange company in the world, RCI is a fantastic resource for expanding your vacation options. While RCI doesn't own any timeshare properties themselves, many of the largest timeshare brands are affiliated with them. In fact, Wyndham, Holiday Inn, and Hilton are all affiliated with RCI. In this blog, we'll break down how timeshare resale works with RCI, as well as what RCI timeshares and vacation exchange are. 
How Does RCI work?
You might be wondering, "how does RCI work?", especially if you're new to the idea of vacation exchange. Fortunately, it's actually pretty simple! RCI members deposit their points or weeks and can then choose between RCI timeshares that are available at other resorts. The type of timeshare you can exchange for depends on the Trading Power of your resort. Larger units at popular destinations typically have more Trading Power than others. However, you can always pay the difference or buy more points for the vacation you want, even if you don't have the points from your ownership. Thanks to this system, timeshare owners can stay at a resort even if it doesn't belong to the developer of their unit. For example, if you own a timeshare at a Wyndham resort, you can deposit your points to stay at an eligible Hilton property. 
Why Choose Timeshare Resale for RCI?
Vacation ownership comes with plenty of benefits, but the price tag can be a bit daunting. Fortunately, if you'd like to buy a timeshare while saving some money, there is a solution: the timeshare resale market. Buying off of the resale market allows you to save some money while still enjoying most of the benefits of vacation ownership. If you buy a timeshare resale that's affiliated with RCI, you'll still be able to exchange your weeks and points for other eligible RCI vacations as long as you're an RCI member.
What Are Some Timeshare Resales Affiliated With RCI?
As we mentioned before, RCI itself doesn't own any timeshares, but several developers are affiliated with them. Below, we've highlighted some of the resorts you can purchase as timeshare resales with RCI.
The Manhattan Club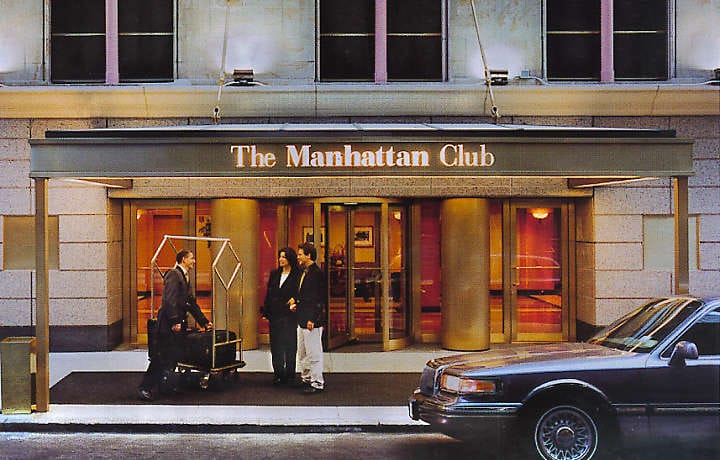 Want to enjoy the hustle and bustle of New York City? Then check out The Manhattan Club! This luxurious timeshare resale RCI is located right in downtown Manhattan. As a result, you'll be near plenty of popular attractions like Federal Hall and Central Park. Amenities include a private club lounge with views of Manhattan, Grab n' Go breakfast, and a full bar. There's also a business and fitness center to make sure you can keep up with your routines, even when you're not home.
Club Wyndham Smuggler's Notch Vermont
If a ski vacation is what you're looking for, this timeshare resale with RCI does not disappoint! Club Wyndham Smuggler's Notch Vermont features a ski lift to take you straight to the ski slopes. Plus, the Club Wyndham is only a few minutes away from scenic hiking trails, restaurants, and shopping. There's even a sauna and spa to help you unwind.
Holiday Inn Club Vacations Orange Lake Resort
Holiday Inn Club Vacations Orange Lake Resort is right next to Disney World, so it's a great place to stay if you want to visit some theme parks. Additionally, this timeshare resale with RCI features two mini golf courses, a lazy river-style pool, and five options for on-site dining. With all the food and amenities the Orange Lake Resort offers, you may never want to leave!
Grand Waikikian a Hilton Grand Vacations Club
Located in the Hawaiian capital of Honolulu, the Hilton Grand Vacations Club at the Grand Waikikian gives you easy access to Hawaii's main gateway to the world. The resort is only a short walk away from Kahanamoku Beach, which is known for surfing and paddleboarding. Amenities include a business and fitness center alongside an outdoor pool. If you'd like a vacation filled with the sun, sea, and sand, the Grand Waikikian is the perfect place for you.
Carolina Grande, A Bluegreen Resort
Carolina Grande is a Bluegreen resort across the street from the famous shores of Myrtle Beach. This area is a popular vacation destination for its beaches, golfing, and other family-friendly attractions. This timeshare resale with RCI features a rooftop pool with an amazing view of the Atlantic Ocean. Plus, there are plenty of children's activities for the little ones to enjoy.
Oak N' Spruce Resort
Oak N' Spruce Resort provides a Massachusetts retreat in the wooded beauty of the Berkshires. Guests at the resort can enjoy tennis, indoor/outdoor pools, and trout fishing. The Oak N' Spruce is also close to some great nearby attractions like the Norman Rockwell Museum and the Berkshire Botanical garden.
Buy Timeshare Resale With RCI
RCI is a fantastic way to give you even more bang for your buck with vacation ownership. The ability to use your timeshare to travel to so many more vacations gives you plenty of options whenever you don't want to visit your home resort. Plus, when you buy a timeshare resale that's affiliated with RCI, you get these incredible benefits for even cheaper as long as you're an RCI member. Want to get started? Then check out our marketplace! If you still have questions, feel free to give us a call at 1-800-610-2734 or email us at info@timesharesonly.com.