South Carolina is a popular vacation spot that offers a wide range of experiences that are sure to delight. From stunning natural scenery and rich historical landmarks to lively urban areas and gorgeous beaches, there's something for everyone. If you're trying to decide on Hilton Head vs Myrtle Beach, we've got you covered with all the information you need to know before you decide on your next getaway. (Spoiler Alert: You can't go wrong either way!)
Hilton Head vs Myrtle Beach: Know Before You Go
Hilton Head Island Overview
A combination of both upscale and southern charm, Hilton Head offers vacationers a fun-filled vacation as well as a soothing, peaceful paradise. There are plenty of Hilton Head kid-friendly activities outdoor activities, arts, and culture that you can enjoy with the entire family or just you and your significant other. Hilton Head Island has a much more laid-back vacation feel than Myrtle Beach.
A key factor as to why Hilton Head is visited by many is its authentic beauty. Located near the Atlantic Ocean, you can choose from a plethora of villas and over 20 hotels, inns, or resorts on Hilton Head Island. Unwind and relax at one of the many full-service spas, enjoy quality fine dining or casual meals, and take advantage of exclusive recreational amenities.
Hilton Head's peak season is typically from June to August. These times see the most crowds because the weather is fantastic. If you want to avoid going when there are huge crowds, plan accordingly around those months. Spring and fall offer fewer crowds and lower rates while maintaining cool temperatures.
Myrtle Beach Overview
Myrtle Beach is a preferred vacation destination for many families and solo travelers because of its many attractions. Each year over 20 million people visit Myrtle Beach to discover all that Myrtle Beach has to offer! Plus, there are up to 14 unique beach communities that all offer their sense of individuality.
When you are researching Hilton Head vs Myrtle Beach, you will find that Myrtle Beach is very affordable. You will get a bang for your buck no matter how big or small your budget is. You can choose from hotels, villas, and resorts. Depending on where you decide to stay, there are accommodations with ocean views, some right on the ocean and others a distance away.
What makes Myrtle Beach a must-visit destination compared to Hilton Head is that because there is so much to do, you will never have a dull moment. Take note that Myrtle Beach's peak season is typically from June through early August. For travelers who love the sun and spending days on the beach, this is the perfect time to visit.
What to Do in Hilton Head Island vs Myrtle Beach
Things To Do While Visiting Hilton Head Island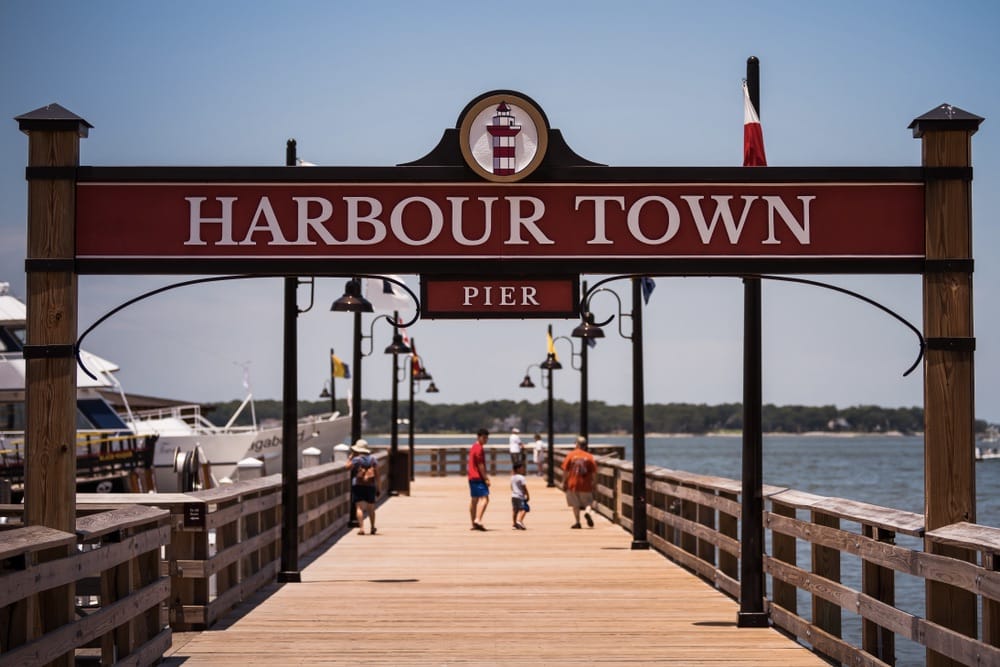 Beaches: A common perk you will see when you search Hilton Head vs Myrtle Beach is that they both are near/on the beach. As stated previously, Hilton Head is located near the Atlantic Ocean, which means you are just a few steps away from its incredible summer beaches. It has also been named one of the Top 10 most family-friendly beaches in the United States. Visitors can also venture to Folly Beach Park, Islanders Beach Park, and Coligny Beach Park. You also have the luxury of basking in its beautiful views from the comfort of your villa or suite.
Historic Sites: More than just beautiful beaches, Hilton Head is deeply rooted in many parts of American history. Visitors can visit landmarks and witness pieces of history that made it what it is today. Visit places such as the Coastal Discovery Museum, Mitchelville, the Gullah Heritage Trail Tours, Fort Mitchel, and many more.
Harbour Town: Well worth exploring; Harbour Town is a must-visit location if you are looking for great Hilton Head Island shopping. It includes several boutique stores that sell various things ranging from clothing, crafts, arts, and jewels. If you're hungry, you can grab a bite at Harbour Town Bakery & Cafe, which serves pastries, coffee, and tea. There are also many sporting activities that you can partake in, such as golfing, sailing excursions, and more.
Golfing: The renowned golf courses in Hilton Head make it one of America's best golf destinations, per Golf Digest. Choose from over 33 courses, some of which are used for professional tours.
Things To Do While Visiting Myrtle Beach
Attractions: When it comes to attractions, Myrtle Beach is plentiful vs Hilton Head is more laid back. Check out many family-friendly attractions and amusement parks, such as SkyWheel Myrtle Beach, Family Kingdom Amusement Park, and Alligator Adventure. You can also visit Broadway At The Beach, Ripley's Aquarium and explore a giant aquatic habitat underwater. There are also many dining options at Myrtle Beach Boardwalk if you are to get hungry that offer live music. Not to mention, La Belle Amie Vineyard and Grapefull Sisters Vineyard are some of the best places to drink in Myrtle Beach.
Golf: One reason that Myrtle Beach is such a sought-after vacation destination is because of its world-class golf courses. There are over 100 of them in the area, not to mention the mini-golf courses. Dozens of them are located throughout the Grand Strand. The biggest ones are Mt. Atlanticus, Jungle Lagoon, Treasure Island, and Captain Hook's Adventure Golf.
Historic Sites: Learn the rich history of Myrtle Beach and the events that shaped it to become what it is today. You can stop by the South Carolina Hall Of Fame, the Hopsewee Plantation, which was the birthplace of Thomas Lynch Jr, or the Horry County Museum. A long list of historical sites will leave you in awe as you learn the cause and effects of then and now.
Does Hilton Head or Myrtle Beach Have Better Accommodations?
Best Resorts To Visit At Hilton Head Island
Hilton Head Island has a wide selection of laid-back accommodations while also having big resorts. This means no matter what you prefer, you can find something to fit your taste. Here are our top picks:
Read more: Top 7 Hilton Head Rentals for the Getaway of Your Dreams!
Best Resorts To Visit At Myrtle Beach
Myrtle Beach is known for its big beach resorts with fun amenities and spacious accommodations! There are so many fabulous ones to choose from, but here are a few highlights:
Read more: How Much is a Timeshare in Myrtle Beach?
Hilton Head vs Myrtle Beach: Where Should I Visit?
In summary, Hilton Head is a quieter, more relaxing destination, whereas Myrtle Beach has tons of attractions and is faster-paced. In addition, a lot of Hilton Head's resorts have a quiet, community vibe, while Myrtle Beach is a lot of big tower resorts on the beach and near fun attractions. Both are fabulous options but bring different things to the table. So, it all depends on what type of vacation criteria you have.
Hilton Head Island and Myrtle Beach Timeshares
At Timeshares Only, we can help you find the perfect resort for you. Try before you buy, or simply find a great deal with a timeshare rental in Hilton Head Island and Myrtle Beach. All you need to do is enter payment details and wait for confirmation from our team to book timeshare rentals! In addition, timeshares are for sale by their owners. We offer discounted timeshares for purchase at both Hilton Head Island and Myrtle Beach. Make an offer today. Or call us at 1(800) 213-7733 for more information from our timeshare experts!