Struggling to go on vacation every year? Wyndham offers several different vacation ownership clubs, with Club Wyndham, WorldMark by Wyndham, and even Margaritaville Vacation Club. Not only do these vacation clubs offer flexible, points-based systems, but they also guarantee you to take a trip every year. If you've been interested in how to buy a Wyndham timeshare, it's even easier with Wyndham timeshare financing. Learn how to vacation now and pay as you go. Don't let another year pass without taking some well-deserved R&R. So, keep reading to learn about Wyndham, how Wyndham timeshares works, Wyndham timeshare cost and how to purchase a Wyndham timeshare.
What Is Wyndham Timeshare?
Wyndham Destinations is a timeshare ownership brand that is massive in the vacation industry. Wyndham Destinations offers multiple vacation ownership clubs like Club Wyndham, WorldMark by Wyndham, Shell Vacations Club, Margaritaville Vacation Club, and more.
You can find Wyndham timeshare resales that vary by usage type, like weeks-based or points-based. With a weeks-based timeshare, owners are guaranteed a vacation at the same time, at the same resort, and sometimes even the same unit every year. Nowadays, Wyndham offers multiple points-based programs, giving owners more flexibility and control. You can browse Wyndham timeshare resales on our marketplace to learn more about their different resorts, programs, and resale prices.
Wyndham Vacation Clubs
There are several vacation clubs Wyndham offers, some you may not even realize! Margaritaville Vacation Club is a one-of-a-kind program with resorts in Orlando, St. Thomas, Rio Mar, and Nashville. WorldMark by Wyndham offers exclusively points-based ownership, so those weekend getaways are within arms reach. Club Wyndham has multiple programs, with luxury resorts in premier destinations.
How Does Wyndham Timeshare Work?
As we mentioned before, Wyndham Destinations has multiple club offerings that you can join. Depending on which Wyndham vacation club you own determines how Wyndham works. For example, WorldMark by Wyndham offers strictly points-based membership.
Wyndham timeshare points are like vacation currency. Owners receive an annual allotment of points that they can spend, bank into next year, or borrow from next year for this year's vacation. How many points you spend will depend on the resort you choose to make reservations at, resort season, and unit size. If you regularly vacation with your whole family, you may opt to buy enough points that can cover a two-bedroom unit every year. Or, if you prefer to vacation during peak holiday seasons, like the week of July 4th or New Year's, you'll need more points for those high-demand times.
Not only can points be used for booking reservations, but they can also be spent on vacation add-ons, such as car rentals, local attractions, and excursions.
Club Wyndham has multiple membership offerings, such as undivided interest contracts, converted fixed weeks, converted floating or flex weeks, as well as affiliate contracts. In addition, your Wyndham contract will disclose when you receive your points or what ownership you have.
How Much Does Wyndham Timeshare Cost?
Buying a Wyndham timeshare directly from Wyndham (as well as financing through Wyndham) definitely comes with a hefty price tag. Not to mention the timeshare maintenance fees every year. Although a Wyndham timeshare can cost thousands of dollars up-front, owners are actually saving more over a lifetime of vacations. This is because you essentially lock in today's prices while hotel rates inflate each year. So, a Wyndham timeshare costs more upfront, but you save over time in the grand scheme of things.
If you're thinking about becoming an owner of Wyndham, take a look at postings on our resale market. Many owners will add on to their existing ownership to enjoy even more luxury vacations with Wyndham. Buying resale can be a great way to test out the vacation ownership lifestyle while saving even more money. By no means is a resale purchase second-rate. Timeshare resales aren't exactly like buying a house that's already been lived in or a used car. Because most resorts and developers have points-based or floating week-based systems, each unit has the same cleanliness and amenities.
What's more, our friends at Vacation Club Loans offer Wyndham timeshare financing to make vacations a reality for more families. Vacation Club Loans offers fast loan approval, low-interest rates, and no pre-payment penalties.
Is Timeshare An Investment?
We like to think a timeshare is an investment into your family, but not a monetary one. Timeshares rarely appreciate in value, so it's not a good idea to buy one in hopes of selling it for more later. If you are already an owner, however, and are looking to sell, take a look at how to sell your Wyndham timeshare on our blog.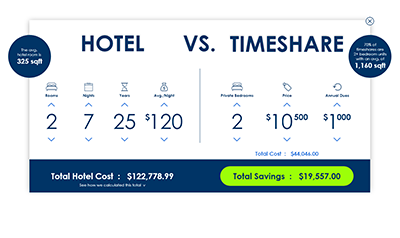 Owners do save thousands of dollars over a lifetime of vacations with a timeshare. They guarantee time with your family every year, making memories in your favorite destinations. You can take a look at our Savings Comparison Calculator on every timeshare for sale on our marketplace. It will show the average savings of timeshare vs hotels. Buying a timeshare is a big decision, and you'll only get the best out of it when using it to its fullest. Learn more about what a timeshare is and how it works, as well as how to calculate the cost of a timeshare before you buy.
How to Purchase a Wyndham Timeshare
Curious about how to purchase a Wyndham timeshare? You can browse Wyndham timeshares for sale in our resort marketplace. Choose from Wyndham's top vacation clubs like WorldMark by Wyndham, Shell Vacation Club, Margaritaville Vacation Club, or Club Wyndham. The best part about joining a travel club like Wyndham is the endless options with points. Explore the world and go to Hawaii, Cancun, the Bahamas or Orlando. Make it even easier with Wyndham timeshare financing.
Wyndham Destinations also owns RCI, the first vacation exchange network. With your Wyndham resale, you can trade your points or weeks on RCI for thousands of other destinations around the world.
Vacation Club Loans
As mentioned previously, Vacation Club Loans can help you finance your Wyndham timeshare. Here's why we recommend them:
Fast Loan Approval
Only 600 FICO Credit Score to Get Started
Pay As Little As 10% Down Payment
Low-Interest Rates (Starting at just 9.9% for DVC and 11.9% for other brands)
No Pre-Payment Penalty
Easy, Online Payments and Flexibility
How to Get Started with Wyndham Timeshare Financing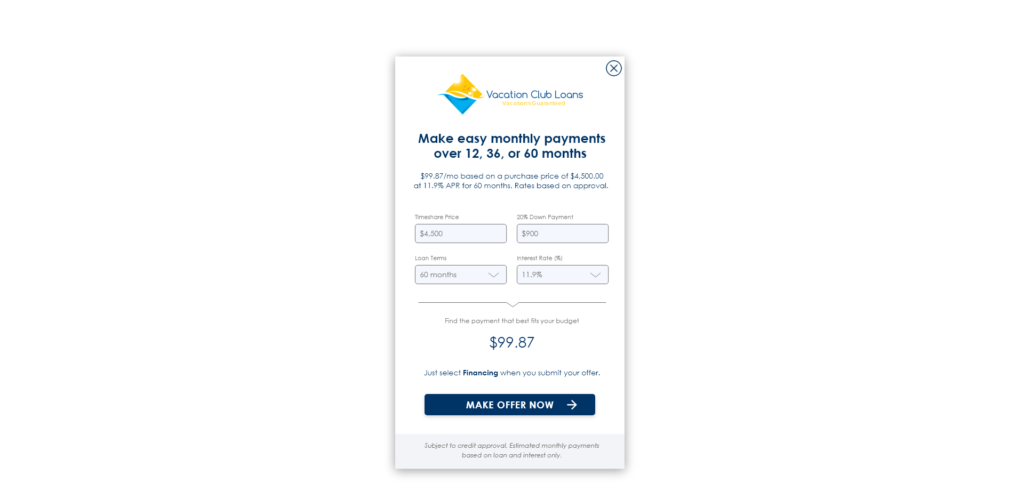 If you're interested in buying a Wyndham timeshare, you can start by either applying for a loan with Vacation Club Loans or browsing the resort marketplace. Our Monthly Payment Calculator is featured on every Wyndham timeshare for sale, so you can easily identify rates, terms, and payments. Choose from your favorite resort or destination. Once you've found a timeshare for sale that is right for you, you can make an offer right online.
Our Timeshare Specialists are also available to help answer any questions you may have about buying Wyndham resale or financing. Call us at 1-800-610-2734 or email info@timesharesonly.com. You can also fill out an easy online form to learn more.