When it comes time to buy a timeshare, you're probably thinking of how much a timeshare will cost you. Luckily, we have two, easy-to-use calculators that can help you evaluate just that. Take a look at how to use the Savings Comparison Calculator, as well as the Monthly Payment Calculator. Both are featured easily on every timeshare for sale on our online marketplace.
Timeshare Cost Calculators for Users
There are a few factors to consider when you're looking for a timeshare cost calculator. One is how much you could be saving with a timeshare, specifically a timeshare resale. You may or may not be familiar with the classic pitch that sales agents give to their prospects in timeshare presentations. With a pencil and notepad, they run down a list of questions like "how long do you plan on vacationing in your lifetime?" "how much do you usually spend on hotels?" "how many people do you normally travel with?" and "how long is your typical trip?" Then, they estimate the cost that you spend on every vacation and apply it across an entire lifetime. After that, they'll blow the buyer's mind with that cost compared to the costs of timeshare ownership.
There's no doubt that timeshares save owners money when they travel regularly. As the world goes digital, however, this pencil pitch doesn't make its impact among online users in the timeshare world.
Easily found on our website is the Savings Comparison Calculator. This form of a timeshare cost calculator brings the traditional "pencil pitch" to the digital age. Users will be able to view their savings estimate on every timeshare posting on the marketplace, making the benefits of vacation ownership even more apparent.
How to Use the Savings Comparison Calculator
On every timeshare posting, users can easily find the Savings Comparison estimate.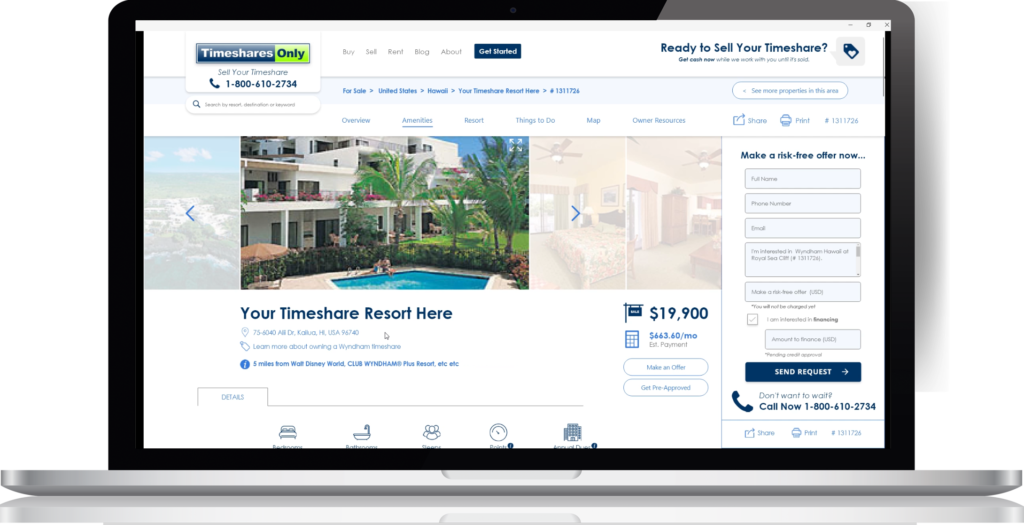 Of course, savings can vary by each individual traveler, what their needs are and their typical vacation styles. By clicking "See for yourself," users are brought to a window where they can customize fields such as vacation length, average hotel rates or how long they plan to travel for. This estimate is compared directly with the cost of the timeshare asking price and annual dues.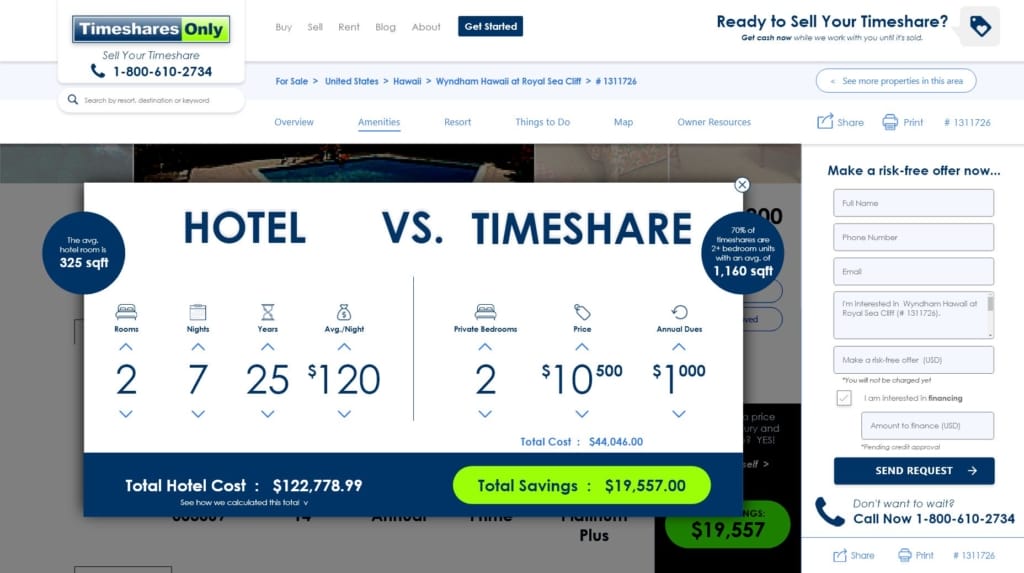 The curious and savvy planners can view how we came to the total cost estimate. Inflation, years of travel and taxes are all factored into the savings estimate, but these factors can also be customized.
Financing With the Monthly Payment Calculator
Another way that makes it much easier to calculate the cost of timeshare ownership is with our Monthly Payment Calculator. In partnership with Vacation Club Loans, users can estimate monthly payments for any property on our resort marketplace. Depending on your downpayment, credit score, terms, and interest rate, you can see exactly what you will pay each month to own your vacations.
Read More: Best Reasons to Finance Your Next Timeshare Purchase
Keep in mind, that this does calculate the cost of timeshare maintenance fees or HOA dues. But it is something to consider while you're browsing through options.
When you're looking to use the Monthly Payment Calculator, simply click on the calculator icon underneath the posting price. For more information about how to buy a timeshare, take a look at our blog Travel Tips Tuesday: How to Buy A Timeshare.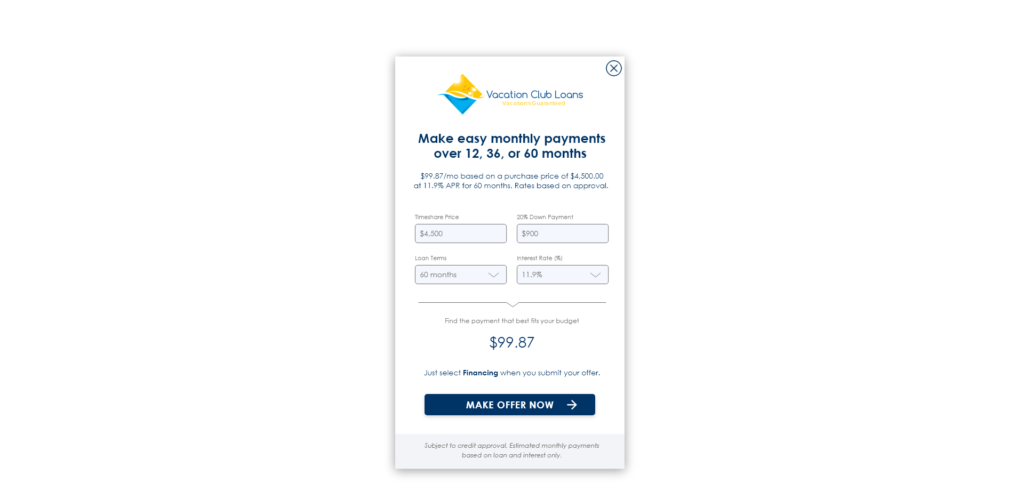 Should you decide to make an offer with this feature, our friends at Vacation Club Loans can help finance your timeshare so you can own it!
Step-by-Step: How to Buy a Timeshare
We also post in-depth travel guides, industry news and helpful resources.