Wyndham and its portfolio of vacation club brands have owners visiting every corner of the world. Their luxurious resorts span across the United States, Caribbean Islands, Australia—even Fiji. Adventure travelers can vacation in complete comfort when they own at a Wyndham vacation resort. And, with a flexible, points-based system, owners can travel with freedom. Take a look at the best Wyndham resorts locations in destinations you can't even imagine.
Wyndham Timeshare Locations in the U.S.
Over 200 Wyndham resorts span the globe. Travel with Wyndham to 110+ countries in family-friendly resorts with comfortable accommodations, exciting amenities, and top-notch customer service. Wyndham timeshare locations include the most sought-after destinations in the United States and internationally. It would take an entire book to cover all Wyndham's timeshare locations, but we can name a few of the most popular! With resorts in the United States, it's easy to find the best Wyndham luxury timeshare resorts.
Orlando
Hawaii
Las Vegas
Daytona Beach
Myrtle Beach
Williamsburg
Pigeon Forge
Newport
New Orleans
Lake of the Ozarks
Wisconsin Dells
Colorado
Salt Lake City
Lake Tahoe
San Francisco
Los Angeles
International Wyndham Timeshare Locations
Fiji
Australia
The British Virgin Islands
Brazil
Mexico
Puerto Rico
Best Wyndham Resort Locations in Orlando
Undoubtedly the most widely sought-after destination for travelers, Orlando is one of the best family-friendly Wyndham timeshare locations. There are six resorts to choose from that all have their own unique amenities and accommodations; you can't go wrong with any of them.
Wyndham Bonnet Creek Resort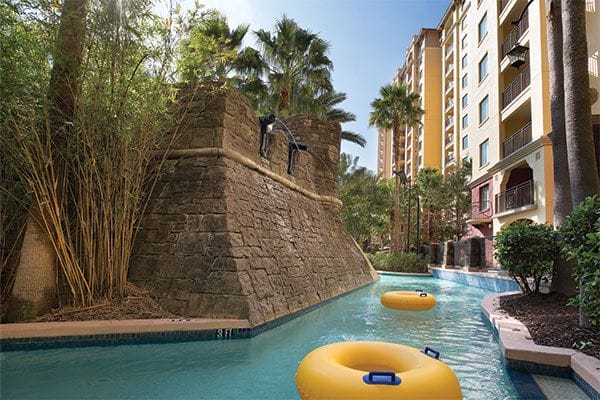 Wyndham Bonnet Creek Resort is a prime location for families and comfort in the world's timeshare and theme park capital. Its location makes it one of the best Wyndham resorts. It's super close to all of the Disney World magic in Lake Buena Vista! Although Wyndham Bonnet Creek is not on Disney property, it is less than a mile away. There's even a daily round-trip shuttle that will take you right to the Disney gates.
Five outdoor swimming pools are available for guests to lounge at, alongside nine hot tubs, two water play features, thirteen cabanas, and two lazy rivers. The "Play Days" activities program is perfect for keeping the little ones occupied when the grown-ups need some alone time to relax. Not only that, but there are also three game rooms and a miniature golf course for some extra fun.
After a long afternoon at the pools or the parks, there are also four restaurants/bars. La Cantina Grill, La Cocina Pizzeria & Bar, Escudos Bar & Grill, and Treasure Bar all serve delicious plates and small bites, perfect to satisfy any preferences.
One of the best and most appealing features of this Wyndham resort is the spacious condo-style suites available. At Wyndham Bonnet Creek Resort, accommodations range from 1- to 3-Bedroom Deluxe Suites. There are also Presidential suites that vary from 1 to 4-bedrooms. Enjoy full kitchens, space to stretch out in the living room areas, and private balconies to enjoy Florida evenings and fireworks.
Your Orlando theme park dream destination awaits you with Wyndham Bonnet Creek timeshare resales, available to browse online.
Club Wyndham Star Island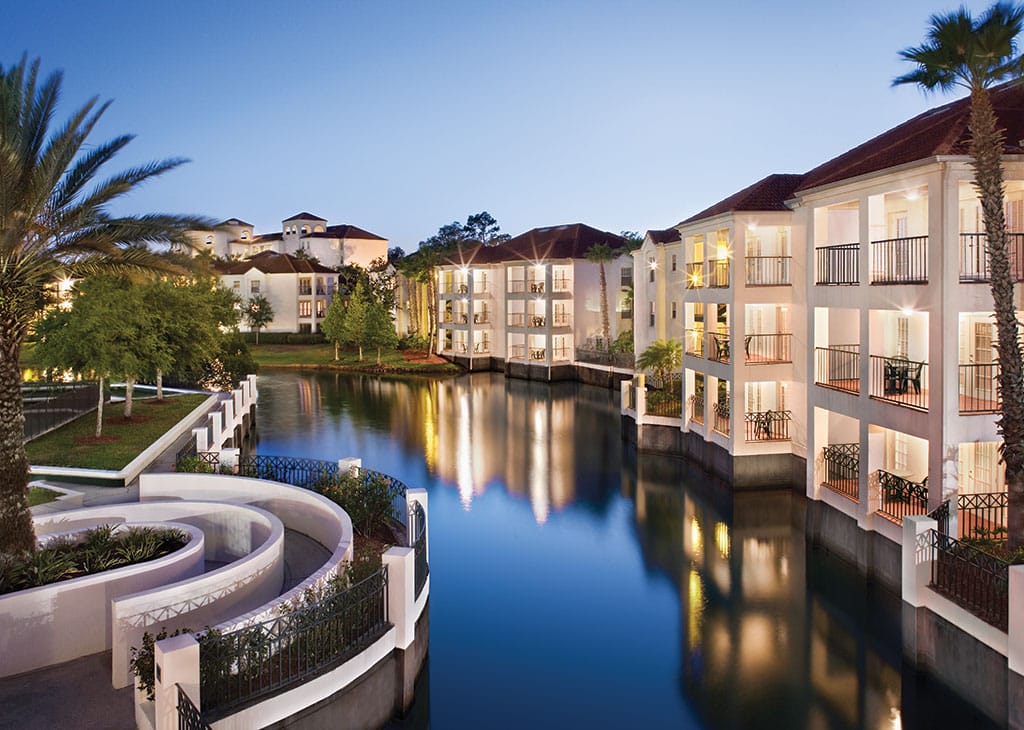 For a more tranquil setting that keeps you close to the excitement but still offers some solace for a much-needed getaway is Club Wyndham Star Island. This property is only a ten-minute drive away from Walt Disney World theme parks, making it one of the best Wyndham resorts for families.
There are two outdoor swimming pools for guests to enjoy, as well as lakefront views and a "beach" to lounge around. The brand new Pool Bar and upstairs Star Bar also have a wide assortment of beverages alongside nightly entertainment. In addition, the kids will undoubtedly love the on-site game room, full of arcade games, air hockey, and claw prize machines. So, the fun doesn't have to stop during those rainy Florida afternoons!
While the kids are at play, ensure the adults in your travel party can treat themselves too. Head to the Celebrity Day Spa for all of your pampering needs.
For your basic necessities while on vacation, the on-site Deli & Marketplace has it all. Every essential convenience is available to you, from snacks and drinks apparel to various sundries.
Accommodations at Club Wyndham Star Island can sleep between four to eight people. Stay in a Mini-Suite, featuring a primary bedroom with two double beds as well as a queen sleeper sofa for additional guests. For additional space, the One-Bedroom Deluxe has luxury features and more privacy for all guests. Enjoy watching Disney fireworks from your private balcony, soak in the whirlpool tub, and stretch out in the spacious living room area.
As one of the best Club Wyndham resorts, families love traveling here year after year for solitude and excitement. Browse Star Island timeshares for sale on the secondary market today.
Best Wyndham Resort Locations for Outdoor Travelers
Not every vacation needs to be about rollercoaster rides or bright city lights. You can choose from any of the best Wyndham resorts with your club points. That includes mountain getaways or great lakeside adventures. Wyndham timeshare locations for outdoor enthusiasts include Pigeon Forge, Tennessee, the Lake of the Ozarks, as well as Colorado.
Margaritaville Pigeon Forge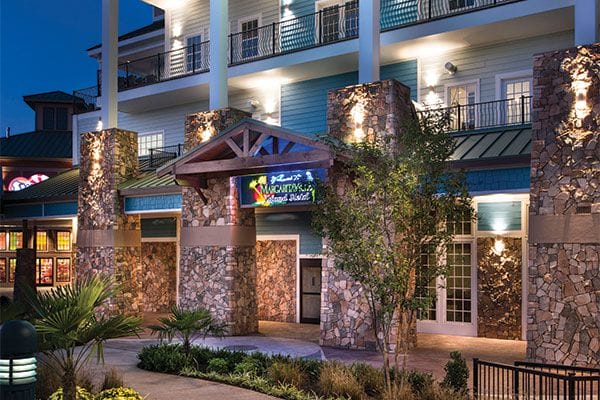 An incredible perk to being a Club Wyndham owner is access to Margaritaville Pigeon Forge. Margaritaville Island Hotel Pigeon Forge is an associate hotel of Wyndham with just as many luxurious amenities. Think of the great outdoors of Tennessee and the Smoky Mountains, but with a twist of the Caribbean.
This associate Wyndham luxury resort has a higher altitude with an island attitude and will captivate all your senses. The scenic mountain ranges surrounding Pigeon Forge provide stunning views, while the island-themed resort provides vibrant tropical colors. So head out to explore the outdoors or stay at the resort for your Caribbean retreat in the states. The Margaritaville Coffee Shop is perfect for a quick breakfast on the go, shopping for the area's attractions, or heading to the roof-top pool and bar.
The "Changes in Lattitude" lobby bar provides tasty cocktails immediately upon your arrival. The patio overlooks the Little Pigeon River, perfect for starting your mountain vacation escape.
Join the Jimmy Buffet vacation lifestyle when you browse Margaritaville Vacation Club timeshare resales. This is one of the best Wyndham resorts for those who love to relax.
WorldMark Lake of the Ozarks
What's better than a good, old-fashioned trip to one of the country's best lakes? WorldMark Lake of the Ozarks is located right on Osage Beach, giving your direct access to watersports, fishing, or boating during your stay. The Ozarks is the perfect retreat for outdoor enthusiasts while providing family-fun activities and attractions.
During your stay at one of the best Wyndham resorts for families in the great outdoors, stay in classic comfort in one, two, or three-bedroom units. Accommodations are complete with fully-equipped kitchens, washers, dryers, a gas fireplace, and spacious living room and dining room areas. After a long day exploring the Ha Ha Tonka State Park or the nearby caves, you'll love coming home to your comfortable unit at WorldMark Lake of the Ozarks.
Browse WorldMark Lake of the Ozarks timeshares for sale or rent today.
Club Wyndham Steamboat Springs
With Wyndham timeshare, you'll be able to quench all of your travel whims. When you're done with beaches or theme parks, Club Wyndham Steamboat Springs Resort will bring you within minutes from the Steamboat Ski Resort.
The resort is nestled between gorgeous Colorado mountain scenery. Soak in the outdoor hot tub while taking in the fresh air, or relax your muscles after a long day on the slopes in the sauna. Visitors here also enjoy heading to the unique hot springs around the area. The Strawberry Park Natural Hot Springs is just ten miles away and offers massage treatments and mineral baths. For a walk back in time through Colorado's Rocky Mountains, The Tread of Pioneers Museum and downtown Steamboat Springs are historical attractions with unique exhibits, shops, and restaurants.
Club Wyndham Steamboat Springs offers accommodations to suit the entire family. One-, two-, and three-bedroom units are equipped with full kitchens, washer/dryers, as well as spacious dining room and living room areas. This Wyndham luxury resort blends comfort with the great outdoors.
Take a ski vacation every year when you buy Club Wyndham Steamboat Springs resales.
Best Wyndham Luxury Resort Locations
A luxury vacation can be subjective from person to person, but there is no doubt about it that Wyndham has some of the best luxury resorts to offer. So whether you need to get on island time and unwind on the beautiful beaches of Puerto Rico, or you want to live like a rockstar in Las Vegas, you'll have the experience you're looking for with the best Wyndham luxury resorts.
Wyndham Grand Rio Mar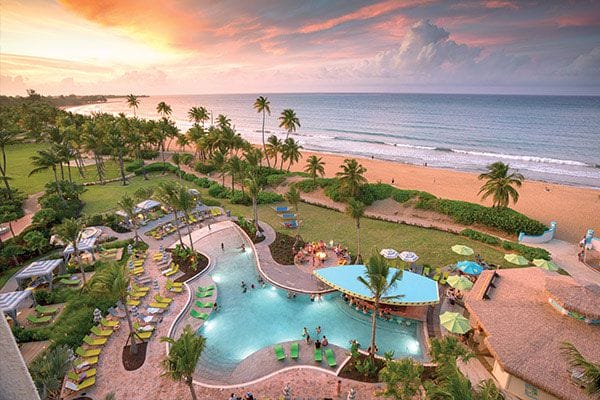 If a trip to Puerto Rico is on your wishlist, you should stay at Wyndham Grand Rio Mar. One of Wyndham's most luxurious resorts internationally, Wyndham Grand Rio Mar provides an additional tropical escape. The resort is also part of the Margaritaville Vacation Club, so guests can enjoy "5 o'clock somewhere" drinks their entire trip.
Tucked away in a lush rainforest of Puerto Rico, the resort grounds envelop you in vibrant colors and soothing scenery. Sit seaside while lounging around an extravagant zero-entry pool and shady palm trees. The only resort on the island to offer two championship golf courses, The Ocean Course and The River Course, are sure to please the golf enthusiasts in your family.
The best Wyndham luxury vacations can't be complete without total relaxation, so make it a priority to visit the Mandara Spa on the resort property. Seven thousand square feet of pure pampering, the spa has a variety of services from meditation areas, steam rooms, a salon, as well as a fitness center.
Only 30 miles outside the historic Old San Juan, there are plenty of options to take a day trip. Head out to some ancient tourist spots and return to your tropical-themed suite to unwind. Accommodations come in studio, one-bedroom, and three-bedroom ocean or mountain view villas. Each suite has a private balcony or patio to enjoy the island environment. You can't beat the view when it's in the privacy of your own space. Full kitchens or mini-kitchens also feature a bar area stocked and ready with a "Frozen Concoction Maker!"
Get back on island time when you browse Wyndham Grand Rio Mar timeshares for sale online now.
Club Wyndham Resorts Grand Desert
Inviting guests to the heart of the dazzling, awe-inspiring Las Vegas Strip, Club Wyndham Grand Desert Resort is an exciting getaway to the desert. Three towers allow visitors to see the Las Vegas skyline, desert mountains, or the resort's lush courtyard. Explore casinos, take a day trip to Lake Mead, or tour the Hoover Dam during your trip to Nevada. Built with families in mind, Club Wyndham Grand Desert resort will make your Las Vegas vacation enjoyable for every guest.
The lush outdoor oasis surrounding the property inspires the outdoor swimming pool. Grab a drink or bite to eat, play in the activity center, or enjoy massage services when you need some pampering. When you're ready to unwind after a long night at the casinos or shows, accommodations come in spacious one- or two-bedroom suites. Spread out in separate bedrooms, fully equipped kitchens, as well as living room and dining room areas.
Ready to make this luxury Wyndham resort an annual vacation? Browse Club Wyndham Grand Desert resort timeshares for sale online now.
Best Wyndham Resort Locations For Families
When we think of family vacations, we think of lifelong memories that will live with us forever. The location of these resorts and what they provide to guests elevates your experience and gives you something to look forward to for the next trip.
Club Wyndham Ocean Boulevard
Club Wyndham Ocean Boulevard is a family favorite because it offers world-class amenities and luxury accommodations. Most of its units feature a full kitchen, washer/dryer, indoor/outdoor pool, as well as a fitness center.
Young or old, this Wyndham resort has something for everyone to enjoy. Just steps from the beach, there's plenty of fun on-site and off-site. Ocean Boulevard has eight hot tubs, two indoor and three outdoor pools, and includes a lazy river. It's safe to say that you'll be kept busy and active while enjoying your vacation. Nearby you can hit the links with a full 18 holes at any of the famed golf courses in Myrtle Beach or go for something minimal at one of the many miniature golf courses.
If you want to go sightseeing, you can check out places such as the Great Escapes Kayak Expeditions, Alligator Adventure, Coastal Scuba, or the Wampee Stables. Each of these offers different experiences that everyone can appreciate.
Memories are waiting to be made; browse Wyndham Ocean Boulevard timeshares for sale right now.
Club Wyndham Emerald Grande at Destin
This resort is located off the Florida panhandle in the Gulf of Mexico, steps away from Harborwalk Village. Visitors can shop on the waterfront, watch live entertainment, or dine at renowned restaurants. Then, when it's time to head back to your suite, you will be at complete ease because the accommodations and amenities are out of this world.
You can choose from a one-bedroom, all the way up to a four-bedroom suite that can comfortably sleep up to ten people and have four bathrooms. The suites have a full kitchen, spacious living room, and separate dining areas. In addition, you can take advantage of a long list of amenities, from babysitting services, an activity center, an on-site beach, dine-in restaurants, as well as boutiques, pools, and a business center.
If you want to bond with your family by doing various activities, you are in luck because you have endless options to choose from on-site and nearby. For example, you can watch live entertainment, go to the beach, ride jet skis, check out theme parks, or visit the marina.
You're destined for a family vacation in Destin, Florida. Browse Club Wyndham Emerald Grande at Destin timeshares for sale online.
WorldMark Las Vegas on the Boulevard
Trendy and vibrant, Worldmark Las Vegas on the Boulevard offers an experience like no other. Although you're in Vegas, there are still a ton of family-friendly activities that will make your vacation memorable. Each villa makes you feel right at home with all of its modern furnishings and spacious accommodations. There's a full kitchen, washer/dryer, and a fireplace. Some other amenities you can take advantage of are the massive pool area, hot tub, fitness center, and game room.
Off-site, you and your family can enjoy the SeaQuest Las Vegas, Adventuredome Indoor Theme Park, Neon Museum, or the Bellagio Fountain, among nearby attractions. For the adults, you can spend the day at one of the nearest casinos or enjoy world-class entertainment and nightclubs at one of the world's most electrifying destinations.
Experience all that Las Vegas has to offer while being with the ones you love most. Browse Worldmark Las Vegas on the Boulevard timeshares for sale or rent today.
Buy a Timeshare from one of Wyndham's Best Resorts in Top Locations
To experience all of these fantastic accommodations at Wyndham's best resorts in top locations, becoming a Wyndham owner is a no-brainer. Buying a Wyndham timeshare on the resale market allows you to do just that for a much lower price. Get the best deals from Bonnet Creek Resort in Orlando, Margaritaville Pigeon Forge, Grand Rio Mar, and more. A Club Wyndham resort is sure to make your vacations memorable.