If you are considering purchasing a timeshare or wondering what a timeshare is, you might be considering the pros and cons of owning one. Depending on who you ask, you'll hear all sides of what timeshare ownership is all about. You have most likely come across dozens of articles on why you should buy a timeshare, why you shouldn't or why one brand is better than the other. We'll give you a complete low-down on all of the pros and cons of timeshares. Even the things no one ever talks about.
The Pros and Cons of Owning a Timeshare
Depending on who you ask, there are many pros and cons of timeshare. Many owners love their timeshares, but due to misinformation, not everyone can weigh out the benefits or cons of vacation ownership. Before you purchase one, it's important to do your own research and decide on what makes timeshare worth it for you, or why it might not be. Some of the reasons people purchase a timeshare is to enjoy the luxurious, spacious villas on vacations, as well as guarantee their vacation time every year. However, all owners or future buyers need to consider their maintenance fees every year and that they are required.
| | |
| --- | --- |
| Pros of Timeshare | Cons of Timeshare |
| Long-term savings | Misinformation |
| Luxurious accommodations | Annual fees & dues |
| Real ownership | Depreciation |
| Vacation exchange | Upfront cost |
| Flexibility | |
| Guaranteed vacations | |
Long-Term Savings
If you're a frequent traveler, there is no question that vacation ownership comes with savings over a lifetime. Think about it: you might spend thousands of dollars every year on hotel rooms for you and the whole family. If you don't believe us, our Savings Comparison Calculator is featured on every timeshare for sale.
With vacation ownership, you are paying for the lifetime of vacations in bulk, and at a hefty discount upwards of thousands of dollars. While some people are put off by the high price tag to pay up-front, the savings should definitely be considered in the timeshare pros and cons.
Luxurious Accommodations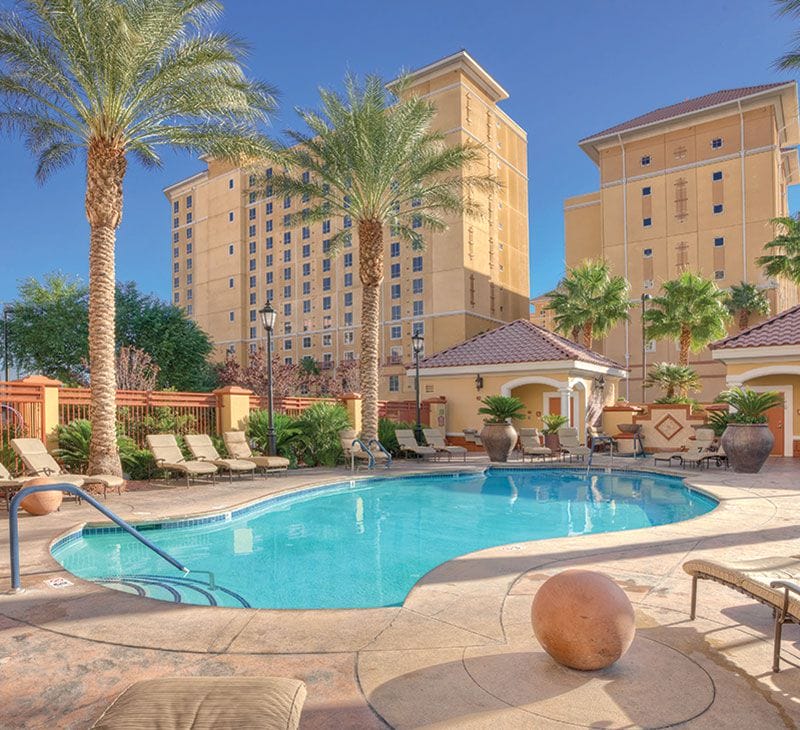 Hotel rooms commonly feature one queen-size bed, a sleeper sofa, and maybe a mini-fridge in the room. If you're traveling with family, it becomes a mess of who is on what floor and what room number they're in. With timeshare resorts, units come in one, two, or three-bedroom units. Some even have multiple floors or "lock-off" features. The added privacy is just one luxurious feature that timeshare owners love.
Timeshares also include full kitchens and spacious living areas, so you can take a piece of home with you while you're on vacation. The resorts themselves have unparalleled amenities. Multiple pools, jetted hot tubs, spas, activity centers, as well as on-site restaurants take vacations to the next level.
You Really Own Your Timeshare
A common misconception about timeshare is that you don't own it completely. Because owners "share" their units with other families that own a piece, it might seem like you really don't own anything. When you buy a timeshare, you receive a real deed with your name on it, the week, and the unit you own. You can sell it later if you choose, gift it to your family or friends, rent it out, etc. So it's your choice!
Vacation Exchange
In most timeshare pros and cons articles, there's a common "con" that they aren't flexible. When timeshare was in its beginnings, owners had a Fixed Week they could travel to every year, at the same resort and at the same time. Upon its invention in 1974, RCI began the revolution of vacation exchange. Owners can now use their resort's affiliated exchange program, like RCI or Interval International, to go almost anywhere in the world. In conclusion, we'd say vacation exchange is definitely a "pro" in our list of timeshare pros and cons.
Flexible Timeshares? They Do Exist!
A common misconception about timeshare, as stated previously, is that owners are stuck going to the same resort, same unit, at the same time every year. While this used to be the case, the industry has completely revolutionized. Now, buying a timeshare gives you a world of flexible vacations. Vacation ownership brands like Hilton Grand Vacations Club, Marriott Vacation Club or Club Wyndham offer points-based programs. With points, owners are given their annual allotment every year. Use your points like currency to make reservations at resorts within your brand's portfolio, or bank/borrow them for ultimate flexibility. So, points are definitely considered a pro on our list of timeshare pros and cons.
Vacation Guarantee
If you don't own a timeshare, you may go years without even really thinking about a vacation. For some people, it's just not on their mind to take time off work and get away. It can be stressful to plan, find hotels, get the family together, etc. Owners can guarantee exquisite vacations every year. So, less planning and more memories. Not to mention, you can go back to your favorite places, or take an adventurous trip abroad. So ultimately, you can guarantee an incredible vacation annually.
Myths About Timeshares
Unfortunately, the timeshare industry has seen its fair share of bad players. We cover timeshare news often that warns owners or sellers about the latest scams in the industry. Although fraud can be prevalent at times, timeshare itself is not a scam. Owners pay for luxury vacations for a lifetime, and this promise is delivered. In fact, 85% of timeshare owners love their overall ownership experience. That's certainly not a myth.
Timeshare Maintenance Fees
Like owning a car or house, a timeshare must be maintained. Without annual maintenance fees, your resort can't pay employees, make renovations or upgrades, and can't account for damages. While maintenance fees might be annoying, they are necessary. So they do fit on the list of timeshare pros and cons and they are a necessary item to account for.
Timeshares Are Not An Investment
This one goes back to myths about timeshares. Before regulations were put in place by the government and the American Resort Development Association (ARDA), people selling timeshares didn't have the best ethical practices. Sometimes people were led to believe that their timeshare would be an investment and make them money. This is not the case. Timeshares do not appreciate. In fact, timeshares for sale on the resale market are sold for much less than their original purchase price. If you are interested in buying a timeshare, keep in mind that their main purpose is to promise incredible vacations.
In Conclusion: Timeshare Pros and Cons No One Talks About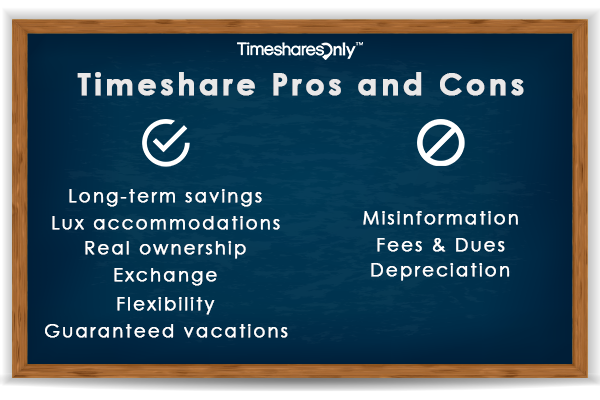 In conclusion, timeshares are a good idea if you love to travel regularly and plan on using your ownership to its fullest abilities. You should also get to know the way your timeshare works, whether it's a points-based timeshare or perhaps a floating week. Luckily, there are so many different types of timeshares you can buy or rent that will work for you. However, if you won't be using your ownership every year, or think it is a good financial investment, then it may not be a good idea for you.