Fixed week timeshares are the original form of timesharing. Today the vacation world has moved to primarily points-based timeshares, but fixed week properties still have their benefits. If you value vacationing the same time each year or have a favorite resort you return to each trip, fixed week timeshares may be right for you, especially when you shop the timeshare resale market. Not to mention, your vacation time is guaranteed every year and it helps take out some of the stressful planning.
What is a Fixed Week Timeshare?
Most people associate the word "timeshare" with the traditional fixed week timeshare. This timeshare is a type of vacation ownership where a person owns a specific week (or weeks) at a timeshare resort. There are 52 weeks in the timeshare calendar, and by having a fixed week timeshare, you own one of those 52. In some years, there are technically 53 timeshare fixed weeks, so owning a week 52 is especially a hot commodity because week 52 timeshare owners will sometimes own two weeks!
How Fixed Weeks Work
Fixed weeks are typically deeded contracts, giving owners the right to use, sell, or bequeath their ownership. In other words, it's like a real estate contract and you will hold a deed. The dates you can visit every year are assigned by the year's week number. Depending on the resort, check-in days can begin on Fridays, Saturdays, or Sundays. If the resort check-in day is on Friday, for example, then Week 1 of the calendar year will begin on the first Friday of the year.
Different timeshare brands divide their weeks and seasons differently. While many brands now offer points-based ownership, there are many fans of fixed-week units and their benefits.
See the Pros and Cons of Buying a Timeshare
Benefits of a Fixed Week Timeshare
The benefits of a fixed week timeshare vs. a floating week or points-based membership can depend on each individual. Some benefits that owners of fixed weeks enjoy include the stress-free planning of vacations each year. With a fixed week, you'll know exactly when and where you can expect a getaway to your resort. This creates a tradition for you and your family and takes out so much of the planning.
If you are the type of individual that finds it difficult to plan around work or take the time off, a fixed week timeshare is a guaranteed vacation, creating a routine in annual vacation plans. This is a huge benefit to some people that want to make sure they take the time to get away every year!
Floating week timeshares became more popular for families or individuals looking to have some variety to their trips. However, floating weeks can make it difficult to reserve the week you want, especially if you don't typically plan ahead. Highly popular weeks within your designated season may get booked fairly quickly, leaving you with a less than desirable time to vacation.
While points-based timeshares are currently all the rage for their flexibility and ease of use, they can also involve more planning ahead.
Timeshare Points vs. Fixed Week
Points are undoubtedly the most popular choice for families or individuals that want to see the world with the best vacation clubs. Top brands like Marriott, Hilton, Holiday Inn, and more offer points-based forms of ownership. However, some people make the argument that points can take away from the "value" of a week 52 fixed week at an Orlando resort, for example. If there is ever a year that you won't be using your timeshare, renting it out can help take care of the maintenance fees due. Plus, if you own a week during a high season, it's much easier to rent it out!
You also need to plan ahead using points if you are looking to travel during the high season at a popular resort. Reservations can book up quickly, so even planning up to a year in advance may be necessary! Ultimately, it's up to you if you would rather have timeshare points vs. fixed week. One offers flexibility, freedom, more resorts to travel to, and even the opportunity for short weekend getaways. However, fixed weeks can provide tradition, a sense of "home" with your unit, and no-plan vacation time.
Why Owners Love Their Fixed Timeshares
One of the best things vacation ownership guarantees are quality vacations year after year. You won't have to worry when you will travel again with a fixed timeshare. Each year, you and your loved ones can look forward to visiting your unit. Studies show that vacationing with family is one of the best ways to make lasting memories.
As long as you stay up to date on your timeshare maintenance fees, you can expect a great vacation every time you visit your resort. Major brands like Marriott, Wyndham and Holiday Inn Club take pride in offering incredible, luxurious vacations to thousands of owners across their portfolio of vacation ownership resorts.
By using our timeshare cost calculator, you can see the long-term savings when you purchase a timeshare, especially on the resale market. Not to mention, standard timeshare suites offer in-unit laundry, kitchens, and extra living space. All things you won't get with a hotel. Plus, timeshares are located in great locations all over the world. Additionally, you can find a perfect resort that has golf, swimming, skiing, boating or any other activity you love on vacation. The possibilities are endless.
Get The Facts: How Much Is A Timeshare?
Find The Perfect Timeshare Brand & Home Resort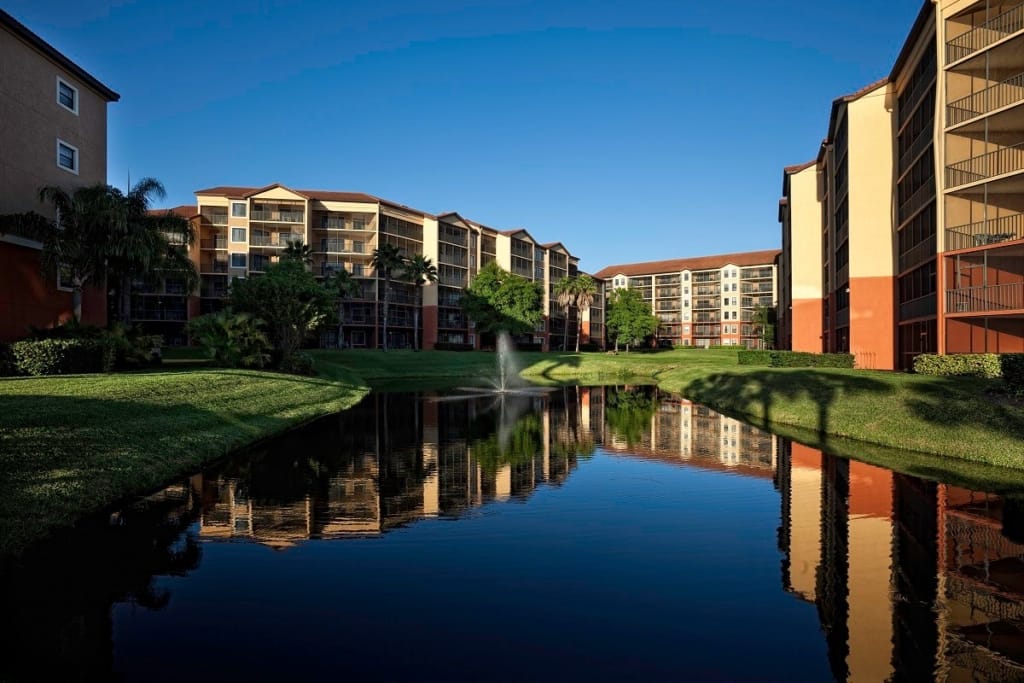 By choosing a fixed week timeshare, you can make your favorite resort your family's home-away-from-home. If you have a hotel or vacation brand you already love, you may be surprised that most of them already offer a vacation club you can join via timeshare. Timeshare owners get so many extra perks, like extended vacations, cruises, and priority access to booking depending on your brand. Not to mention, the amenities are incredible, too. Swimming pools, saunas, pool bars, nightclubs, and water parks are all commonplace with timeshare resorts.
Check Out The Best Vacation Clubs to Join Right Now
Exchange Your Week for Points with RCI or II
Vacation exchange is one major benefit of owning a timeshare. With vacation exchange, you can trade your timeshare with another through a vacation exchange company like RCI or Interval International. By enrolling in a vacation exchange platform with your timeshare, you can travel to resorts outside your brand's network, and even outside your home country.
Fixed week owners can even trade their week for points on an exchange platform, without sacrificing their ownership. If one year you would like to travel elsewhere at a different time than normal, vacation exchange can help! Both RCI and II have membership programs just for fixed week owners.
In addition, many brands now have internal exchange networks where you can swap your fixed week with another in the same brand. Be sure to research your future timeshare brand to get the latest details on its exchange policies.
Rent Your Fixed Week Timeshare
In the years you don't take a vacation, you can post your fixed week timeshare for rent with us. By renting out your timeshare, you can allow another person to pay you for it and use your week. This is a great option for if you won't be using it and aren't wanting to sell your vacation ownership.
Get the Facts on How To Rent Your Timeshare