Do you want a luxury vacation without luxury prices? How about enjoying spacious accommodations and great amenities with no commitment? If the answer to either of these questions is yes, then timeshare rentals are the perfect option for you! In a world where you can rent anything, it's no surprise that you can also rent a timeshare. If you're a timeshare owner looking to rent out your property, then look no further. We have all you need to know about the process of how to rent a timeshare property for both renters and owners! Keep reading to figure out how to rent out your timeshare or borrow one for your next trip.
Can I Rent Out My Timeshare?
A frequently asked question by timeshare owners is, "can I rent out my timeshare?" The answer is generally yes. Most timeshare owners will be able to safely rent out their weeks or points by using a marketplace such as Timeshares Only. Renting out your timeshare through a trusted company with years of experience will help you avoid a dreaded timeshare scam. Timeshares Only works with timeshare owners and potential renters to help facilitate the process of renting a timeshare.
Owners who do rent out their timeshare can benefit during the years they don't want to use it. Life happens, and sometimes owners aren't able to use their timeshare for one year or simply want to take a break from using it. The benefits of renting out your timeshare include not letting your weeks/points go to waste, sharing your property with a new timeshare user, and making a little extra money. Some people are even able to use the money they get for renting out their timeshare towards paying their maintenance fees. It's not guaranteed that you'll be able to cover the full cost of your yearly fees, but any amount helps if you're struggling to make payments. If you're considering lending your timeshare week to someone else this year, our online marketplace can help get your unit in front of many renters.
How to Rent My Timeshare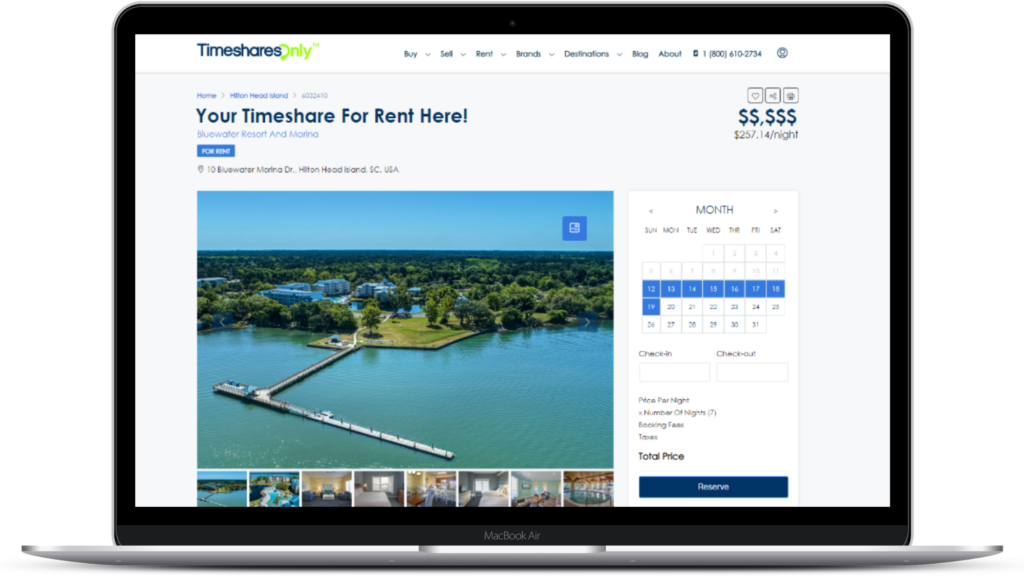 Our process is simple. Owners set the rent, we post the advertisement, and then we help market the timeshare to the right audiences. Contact our experienced team of rental experts to get started.
Once someone places an offer to rent your timeshare, we'll give you a call about the next steps. Generally, we'll confirm with you to make sure your week is available and you're still ready to rent it. Then, you'll call your resort and let them know that someone will be checking in for your reservation.
How To Rent A Timeshare
Renting a timeshare with Timeshares Only is as simple as finding the vacation you want to take and booking it! Follow these simple steps on how to rent a timeshare, and you'll be on your way to a dream getaway in no time.
1. Search Our Marketplace
Filter by dates, resort, destination, and more. Our representatives are standing by to answer questions or help you set up a search.
2. Reserve Your Rental
Find the perfect vacation rental? Click "reserve" from the listing to begin the checkout process! Or, call us at 1-800-610-2734 for assistance.
3. Check Out
Enter your guest information and payment details on our secure booking platform to secure your timeshare rental. We'll follow up with a confirmation as soon as possible.
4. Take Your Dream Vacation!
And just like that, you're ready to travel to your timeshare rental property. The timeshare's owner will let the resort know you are checking in instead of them. Then, you can simply enjoy your savings and superior accommodations.
I Want to Rent a Timeshare
So, you want to rent a timeshare? Timeshares are incredibly well-suited for amazing and unforgettable vacations. If you're not ready to own one yet, renting is a great way to try it before you buy it. If you want to rent a timeshare through us, check out our rentals and place an offer or give us a call!
When you think of a timeshare, you may picture a resort in a beach town and you wouldn't necessarily be wrong! However, you can find timeshare rentals nowadays just about anywhere you go. Major cities like New York and San Francisco have timeshare resorts, too. Not to mention, renting a timeshare has the potential to help you cut travel costs. You can start searching for timeshare rentals wherever you are with our online platform.
Did you know most timeshare units are two to three times larger than a hotel room? Consider splitting the timeshare rental cost with your friends, since most timeshares have more than one room. Not to mention, you can find incredible deals in coveted destinations like Hilton Head, Aruba, Orlando, and the Bahamas. There are plenty of options available when it comes to choosing a resort.
Aruba Timeshare Rentals
Get ready to take a vacation worth mentioning with Aruba timeshare rentals. You won't regret any time spent under the sun here. With miles of beach and a plethora of dining options, you can relax in style at your very own suite in Aruba.
Divi Village Golf and Beach Resort
The Divi Village Golf and Beach Resort in Aruba has lush grounds and luxurious timeshare rentals. Experience the Caribbean like never before when you stay in the spacious suites equipped with all the conveniences of home. Renters will enjoy in-unit laundry, full kitchens, and living rooms, which are unlike the accommodations at most hotels. The resort also has incredible amenities for guests to enjoy, including four pools, a golf course, a spa, a white sand beach, and delicious restaurants. This timeshare property is perfect for renting, but just know that you might love this resort so much that you'll end up buying your own timeshare! There is just so much to do, you'll want to be able to enjoy every year!
Barcelo Aruba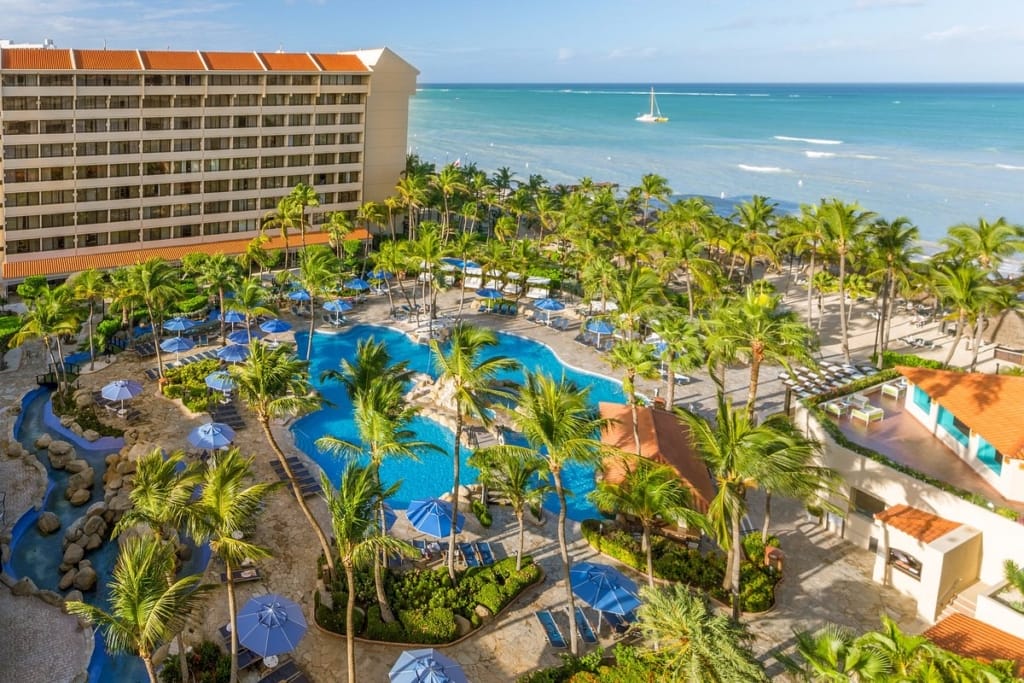 Another Aruba timeshare rental option worth researching is Barcelo Aruba. Located on scenic Palm Beach, this resort is full to the brim with dining, open bar, and entertainment options. There is so much fun to be had, you'll want to extend your stay. Formerly known as the Allegro Resorts and Casino, this property still offers the same great vacation experiences for its guests but with a modern flair. Owners and renters alike will love spending the whole day enjoying the amenities at this resort. For example, you can enjoy the breakfast buffet in the morning, spend the afternoon in a chaise lounge on the beach, and then end the day at the resort's casino or disco. If you were wondering how to vacation in Aruba at a property with amazing amenities, then renting a timeshare could be the answer!
Read Next: When Is The Best Time To Go To Aruba?
Timeshare Rentals Florida
The home of theme parks and many other famous attractions, Florida is the perfect place to rent a timeshare. Vacationers will find timeshare rentals across the state, from staying near the best beaches in Florida to staying next door to Disney World's property. Whether it's for the snow-birds, spring break, or a summer getaway, we recommend these incredible timeshare rentals for your next trip south.
Orange Lake Resort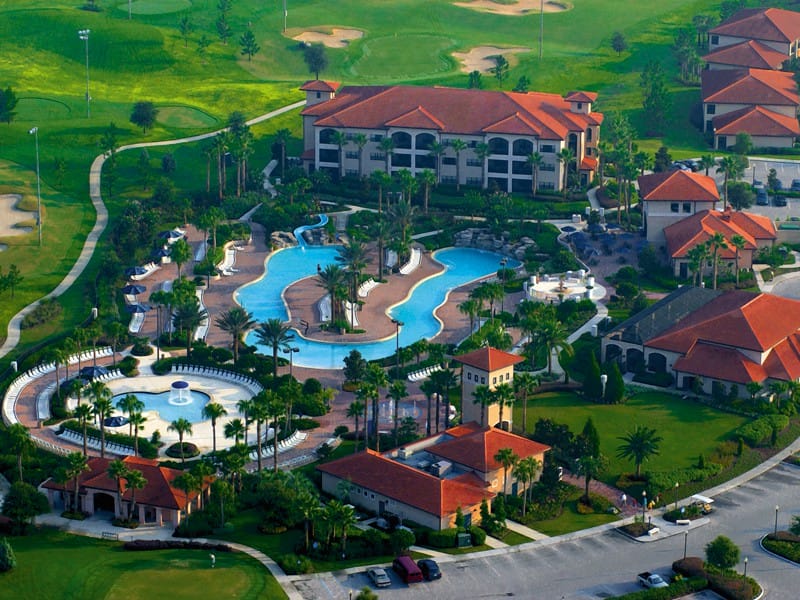 This timeshare rental is perfect for groups with differing tastes. If you love swimming and lounging in the sun, Orange Lake Resort has seven pools perfect for that. Or, if golf is more your speed, enjoy multiple rounds at the four on-site golf courses. Everyone in your party can agree that the 12-acre water park is a must-do. Disney and Universal are just minutes away so when you're ready for more adventure, you won't have to travel far. For a fun-filled vacation, Orange Lake Resort by Holiday Inn Club Vacations is perfect. Whether you're enjoying the resort's amenities or relaxing in your timeshare villa, renting at Orange Lake is a way to guarantee a fabulous getaway.
Wyndham Club Access
If you vacation frequently, you've probably heard of Wyndham before. Wyndham Club Access Resorts are owned by Wyndham Destinations and offer amazing vacations across the globe. Wyndham specializes in hosting luxurious experiences with modern and upscale accommodations and amenities. Bonnet Creek Resort is located in sunny Orlando and features a spa, pools, a lazy river, as well as live entertainment. Similar to Orange Lake, this resort isn't far from the action at Disney and Universal. In fact, Bonnet Creek's grounds border Disney property! This means that if you're staying here and visiting Disney's theme parks, you'll be practically next door to the magic! Renting a timeshare at Wyndham's Bonnet Creek property is how to get a taste of why owners love their Club Wyndham ownership.
Timeshare Rentals Hilton Head
If your ideal vacation has picturesque views and sandy beaches, Hilton Head Island is perfect for you. From overlooking the Atlantic from atop a lighthouse to getting up close with dolphins, anyone with a love for the open sea should visit this town. Here are just a couple of the great vacation rentals available at Hilton Head.
Ocean Oak Resort By Hilton Grand Vacations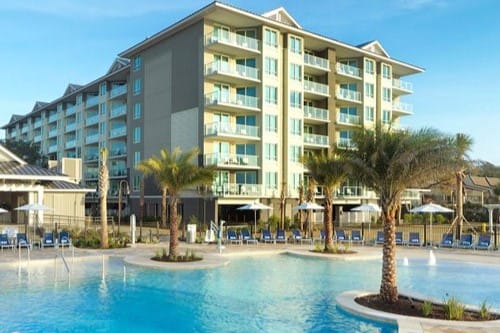 Just steps from the sandy beach of Hilton Head lies Ocean Oak Resort by Hilton Grand Vacations. Hilton Grand Vacations Club, or HGVC, is another beloved resort developer with top-notch properties worldwide. The Ocean Oak is no exception! This resort offers guests on-site dining, an outdoor pool, and both a business and fitness center. Additionally, Ocean Oak is only five miles away from Harbour Town, a beautiful marina with shopping, dining, live entertainment, and a pier. Harbour Town is also home to a picture-perfect lighthouse. As you climb the 144 steps to the top of the lighthouse, you'll get to learn about Hilton Head's rich history. With easy access to top attractions to the stellar amenities of the resort, Ocean Oak is a great property for timeshare rentals.
Bluewater Resort and Marina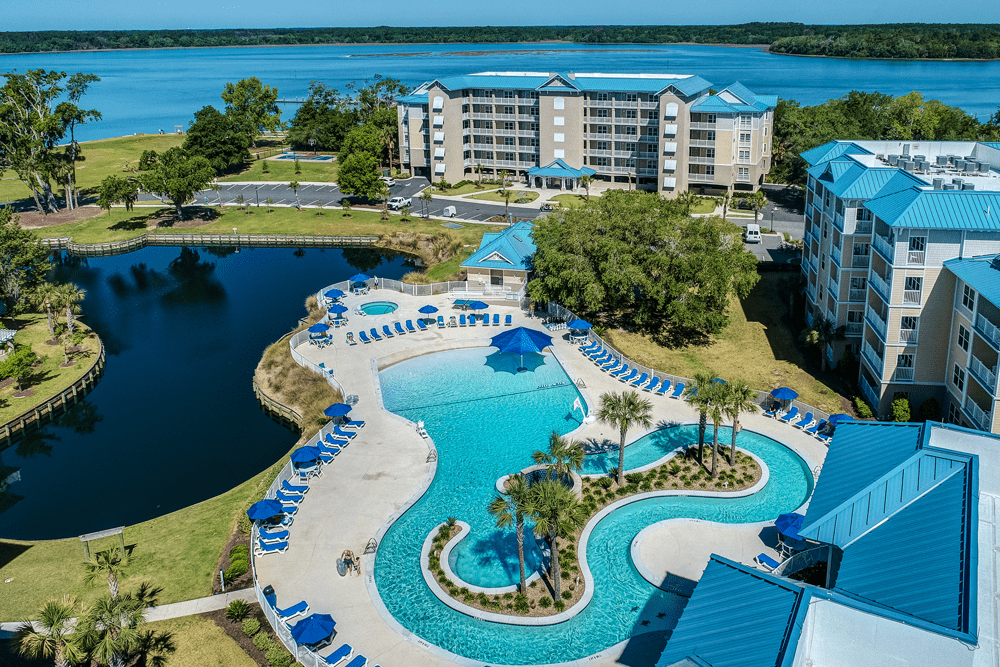 Savor stunning sunsets from the private dock at Bluewater Resort and Marina. Bluewater is actually the only resort in the town with a private dock on the Intercoastal Waterway. From this dock, you can fish, kayak, and more. Take a dip in the largest pool in Hilton Head, complete with a lazy river and kids' splash pad. For indoor fun, check out the activities center, which boasts a sauna, lounge, and games room. When you're ready to venture outside, the Pinckney Island Wildlife Nature Reserve is just across the water. As a result, you'll be able to enjoy bird-watching while you explore the salt marsh. If you haven't quite had your fill of animals, there are plenty of nature cruises nearby for you to enjoy as well. It's safe to say that if you love the great outdoors, you'll love Bluewater Resort and Marina.
Contact Timeshares Only for More About How to Rent a Timeshare
Are you ready to start looking for the perfect timeshare rental for you? Firstly, browse our selection of timeshares available to rent. Then, when you've found one that you love, simply make an offer! Or, if you'd like to make a bit of money with a timeshare you already own, we make it easy for you to rent out your timeshare. Don't worry if you have questions because Timeshares Only is here to help! Our team of timeshare experts has the connections and experience to make this process seamless, so contact us! Call 1-800-610-2734 or email us at info@timesharesonly.com today!