When the temperature begins to drop and the leaves change to the Fall colors, there's no better time for a New England vacation. The rolling mountains, vast forests, and peaceful New England countryside are the perfect setting for anyone hoping to enjoy the Fall foliage season. While there are plenty of great places to visit in New England for a Fall getaway, one of the best is the state of Vermont. Don't let its nickname, "the Green Mountain State," fool you; in the Fall season, Vermont is covered in red and gold leaves. Are you hoping to enjoy a Vermont Fall getaway? No worries, we've got you covered! Here are the 3 best places to stay in Vermont in the Fall.
Club Wyndham Smuggler's Notch Vermont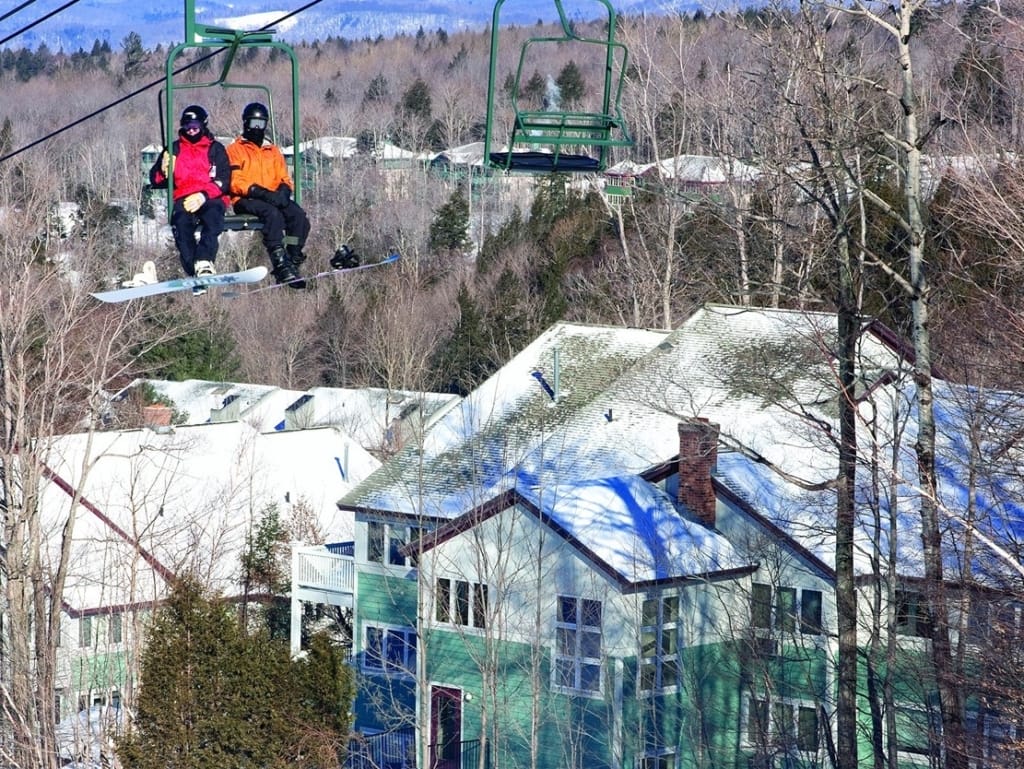 Looking to stay at a mountain-top resort near a charming town? Then look no further than Club Wyndham Smuggler's Notch Vermont! Located in Jeffersonville, this resort has a vast array of amenities designed to make you feel at home. Warm up from the fall breeze at the fire pit, take a dip in the outdoor swimming pool and hot tub, or keep up with your routines at the fitness center. You can also practice your golf swing at the mini golf court and driving range. Last, but not least, there's on-site dining for those days when you don't feel like leaving the resort, alongside a barbecue grill so you can cook up delicious meals of your own.
When you're tired after a day exploring Fall foliage, you can hang back in your cozy accommodations. You'll have your pick of one, two, three, or four-bedroom suites. The one-bedroom suites feature a king-sized bed, queen sleeper sofa, and twin bed to accommodate up to six guests. Next, the two-bedroom suite adds an additional queen-sized bed to bring the occupancy up to eight guests. The three-bedroom suite features everything you'd find in the two-bedroom suite as well as three extra twin beds. With all that space, you can house ten guests. Finally, the four-bedroom suite boasts an additional king-sized bed alongside everything you get from the three-bedroom suite. This massive suite can accommodate a whopping ten guests. With cozy rooms and top-notch amenities, it should come as no surprise that Smuggler's Notch is one of the best places to stay in Vermont in the Fall.
The Season Resort at Sugarbush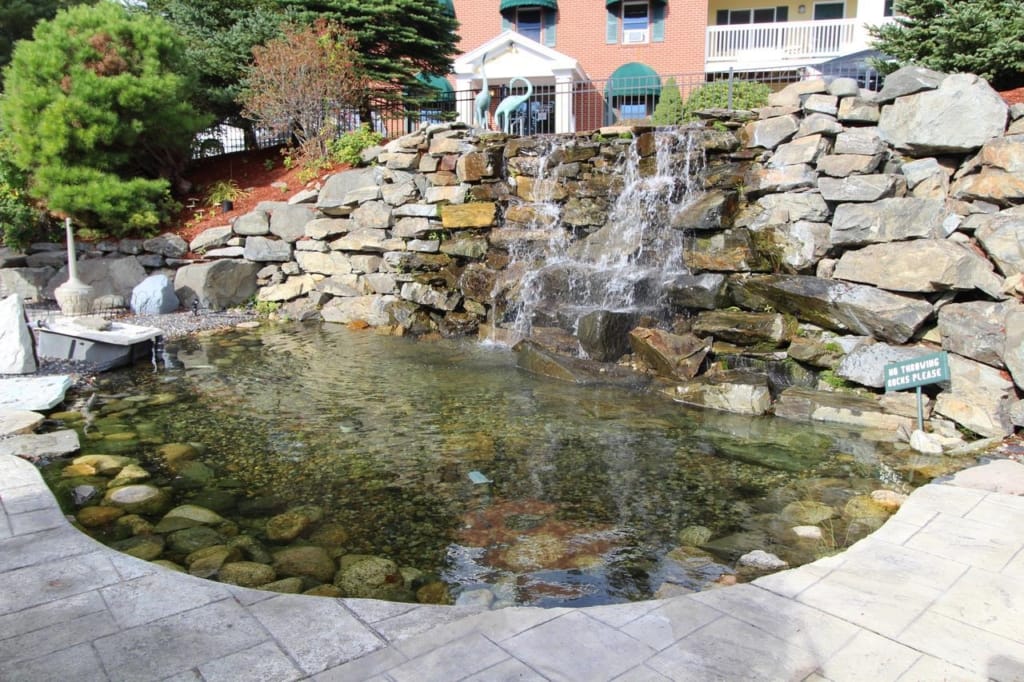 If you're hoping to make the most of a Fall foliage vacation, you can't go wrong with the Season Resort at Sugarbush. This resort is nestled in the lush mountains of Vermont and is within walking distance of the breathtaking Mad River Valley. You can relax in the outdoor pool and hot tub, or work out in the Fitness Center. There are also some rustic tennis courts to help you embrace your competitive side. There's also a comfy TV lounge when you want to unwind during your Fall Foliage trip.
As for accommodations, guests can choose to stay in the studio, one, or two-bedroom suite. Starting with the studio, it's perfect for couples or solo travelers. You'll have a queen-sized bed, kitchen, and full bath. Next, the one-bedroom suite is great for slightly larger groups of up to four people and adds a queen sofa bed along with some more room to stretch your legs. Next, the two-bedroom suite has enough space to accommodate up to six people. You'll have an additional kitchen and full bath to enjoy as well. With easy access to the pristine surroundings and leaf-peeping opportunities at Mad River Valley, the Season Resort at Sugarbush is one of the best places to stay in Vermont in the Fall.
Trapp Family Lodge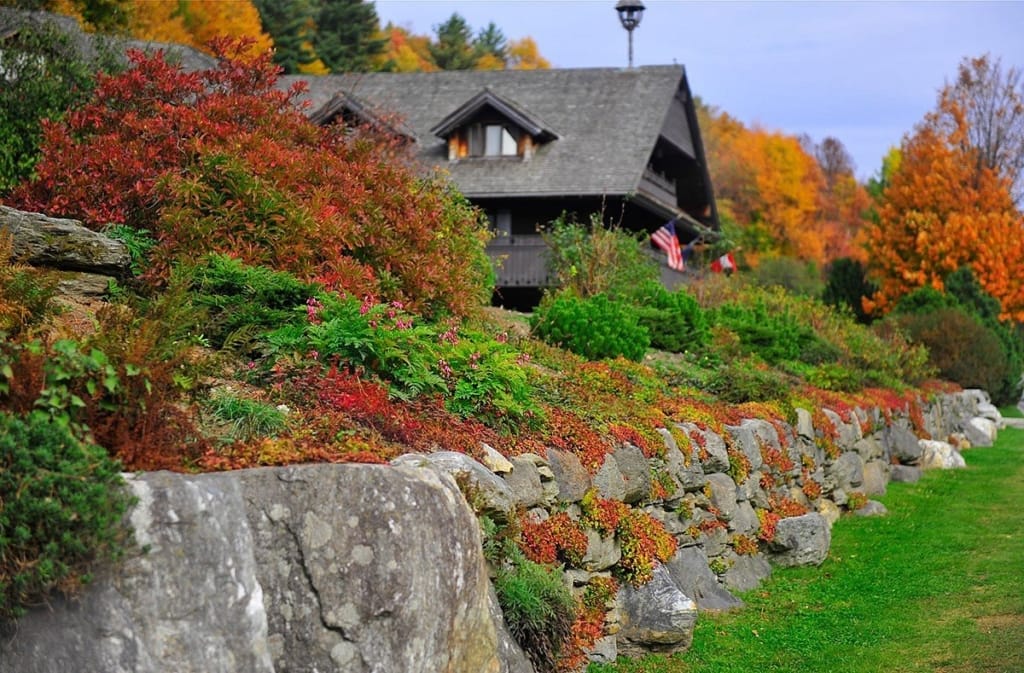 Few places are as good at showcasing the beautiful Fall foliage of Vermont as the Trapp Family Lodge. This gorgeous Alpine resort combines the convenience of a modern resort with the warmth of a family-run property. You'll enjoy Austrian-inspired lodgings that sit on 2,600 acres with stunning New England Mountain views. Sit back and relax with horse-drawn carriage rides around the massive property. Scale an impressive rock climbing wall that's fun for all skills. You can even treat yourself at the on-site spa, which has treatments like a hot stone massage, peppermint foot revitalization, and more. Not to mention, the lodge is packed with on-site dining options like a buffet, an Austrian restaurant, and more casual American fare. Of course, the real highlight of this resort comes if you visit starting in late September to early October, because you'll be right on time for the Oktoberfest celebrations!
For accommodations, you'll have access to a one or two-bedroom suite, as well as a three-bedroom villa. For the one-bedroom suite, you'll kick back in a king-sized bed and queen sleeper sofa, while the two-bedroom suite has spacious guest rooms and an additional king-sized bed. These suites range from 722 to 830 square feet, so you can rest assured that you'll have more than enough space for yourself and your family. Speaking of space, the three-bedroom villa has a whopping 2,500 square feet to enjoy. This luxurious villa adds a third king-sized bed and massive stone fireplaces, making it a true home away from home. Between its fantastic amenities, beautiful location, and luxurious accommodations, there's no doubt that this is one of the best places to stay in Vermont in the Fall.
Expand Your Vacation Options With Vacation Exchange
All of these places to stay in Vermont in the Fall are great, but what about those years when you want to travel somewhere else? Whether you're tired of the fall foliage or simply want to stay somewhere new, vacation exchange has you covered! Vacation exchange networks allow you to exchange your timeshare weeks or points to stay at thousands of other resorts around the world. All you need is to own a timeshare at a resort affiliated with a vacation exchange network and a membership with that network. Fortunately, many of the best places to stay in Vermont in the Fall are affiliated with either RCI or Interval International, the two biggest vacation exchange networks in the world. Whether you plan to visit a scenic inn or a massive resort complex, these networks are sure to suit your needs with modern amenities and top-notch service.
Learn more: RCI Resorts Vermont: Best Resorts to Exchange For
Things to Do in Vermont in the Fall
Of course, the most important part of any vacation is making sure there are enough things for you to do. Fortunately, the season of Autumn is when the state is at its best! From exploring walking trails and Vermont's foliage to going pumpkin and apple picking, there are tons of great Fall activities you can enjoy. Here are just a few things you can do in Vermont in the Fall.
Explore Smuggler's Notch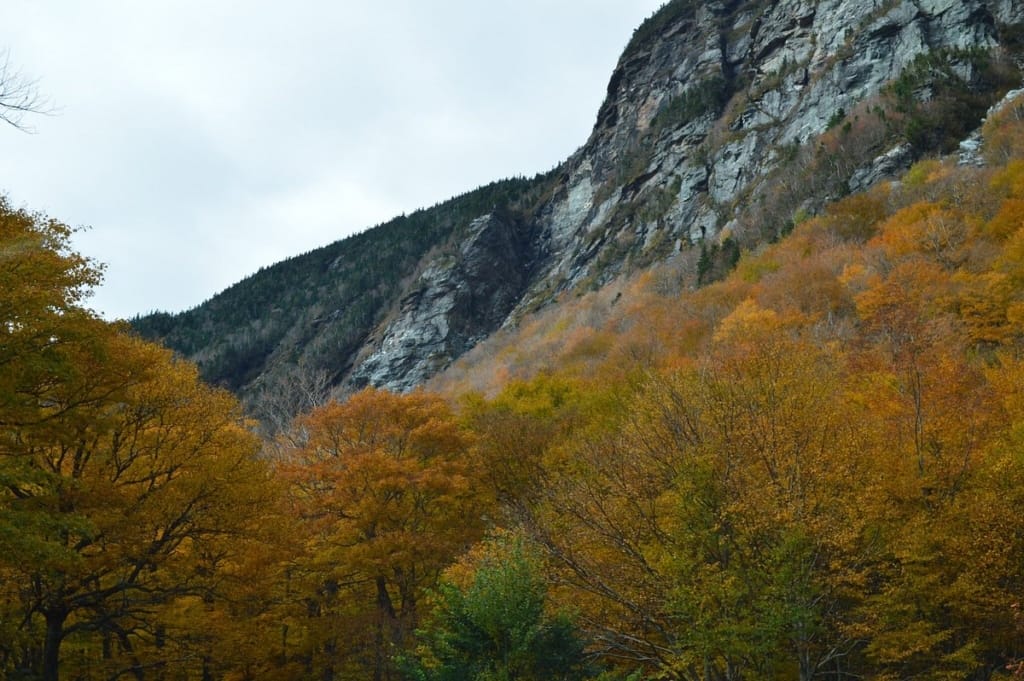 One of the biggest reasons why Club Wyndham Smuggler's Notch is one of the best places to stay in Vermont in the Fall is because it lets you explore this charming New England mountain pass. Lined with 1,000-foot cliffs, this mountain pass is packed with hiking trails, nature trails, caves, and lakes, offering great opportunities to see the Fall colors.
If you're looking for the ultimate photo op location, look no further than the Grist Mill Covered Bridge. This is one of the best-covered bridges in the state and is home to a small waterfall. As a result, it's a great resting spot in between exploring the hiking trails and taking in the beautiful Fall foliage.
Check Out Burlington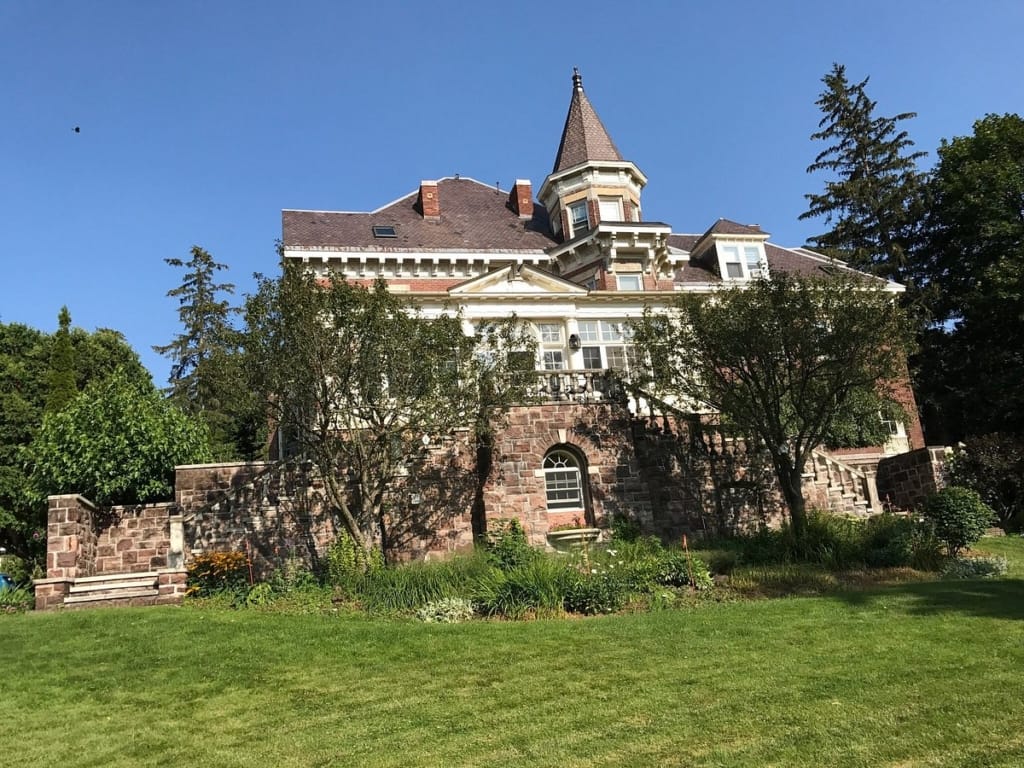 While the countryside is great, if you'd prefer a bit of city life, be sure to stop by Burlington. Burlington is the largest city in Vermont, and it's packed with Fall festivities. Stroll through downtown Burlington and check out the Church Street marketplace, which is packed with restaurants and stores, including antique shops. Burlington is also home to the original Ben & Jerry's factory, so you can enjoy delicious ice cream at the site where this desert icon first started. Not to mention, you'll be able to tour the museum to get an inside look at the company's history and see how they create many of their unique flavors.
If you're on a romantic getaway, you can get a bird's eye view of the Fall foliage with a hot air balloon ride. You'll also have plenty of opportunities to go pumpkin picking, explore an apple orchard, and enjoy delicious apple cider donuts.
Stop by the Green Mountain National Forest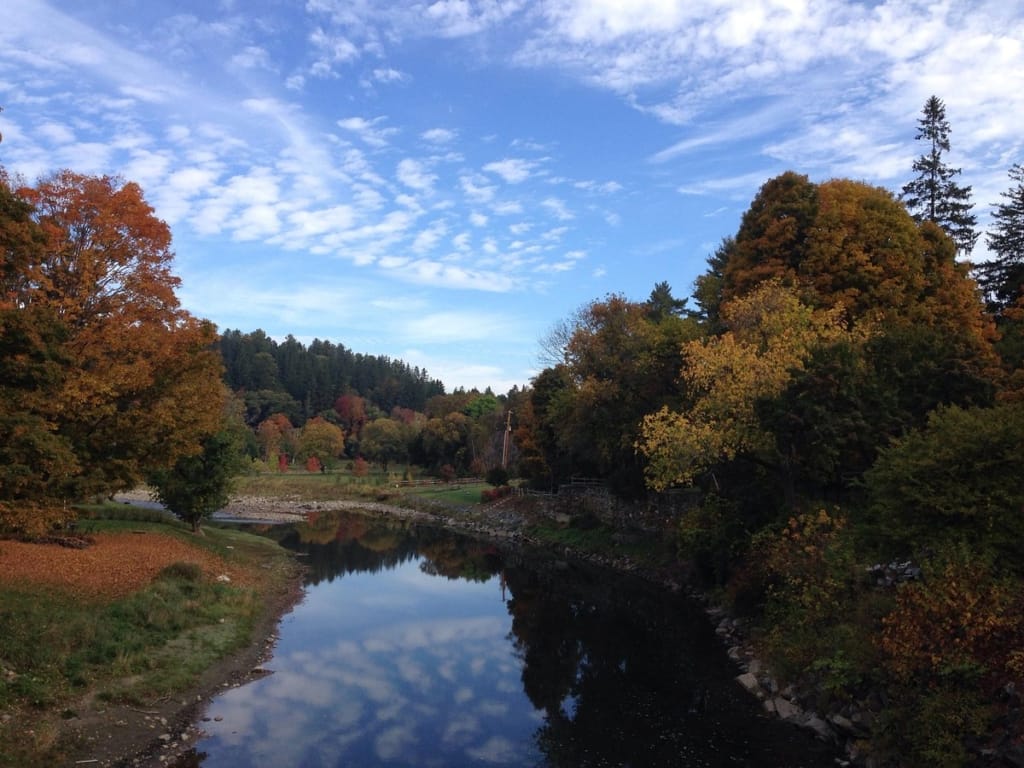 When you decide to wrap up your Fall trip, make sure you take some time to experience the beauty of central and southern Vermont at the Green Mountain National Forest. Hidden amidst the Fall foliage is a wide variety of wildlife like moose, deer, and even wild turkey! The Green Mountains are a beloved camping spot in the Fall season thanks to the changing colors and cool weather. You can also enjoy both fishing and hiking trails.
Some of these trails will take you up the central Vermont Mountain for unforgettable views of New England. In particular, check out the Deer Leap Overlook, Haystack Mountain, and Lye Brook Falls trails. You can also take some top-notch photos at covered bridges like the Silk Road, Papermill, and Chiselville covered bridges. As a bonus, all of the best places to stay in Vermont in the Fall have easy access to the Green Mountains.
Buy a Timeshare at the Best places to stay in Vermont in the Fall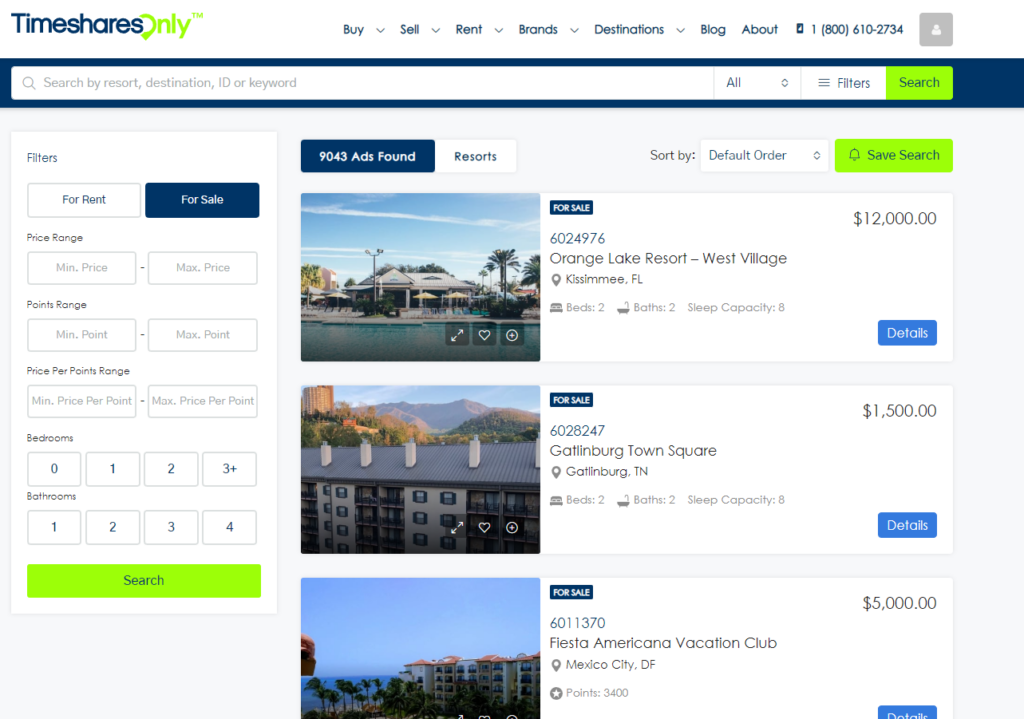 As late September rolls around and the Fall season begins, there's no better time to visit Vermont. From the gorgeous Fall foliage in the Green Mountains to charming cities like Burlington, there's a lot to love about this state in New England. If you'd like to visit the beauty of Vermont in the fall year after year, consider buying a timeshare there. Timeshares are a great way to keep visiting a beloved resort without having to worry about constantly needing to book hotel rooms. You'll have accommodations triple the size of the average hotel room and fantastic amenities like an outdoor pool and on-site dining. What's not to love?
If you're ready to buy a timeshare, check out our marketplace! You can browse for the resort you like and make an offer all from the comfort of your own home. Aside from the best places to stay in Vermont in the Fall, you'll find resorts in other top destinations like Las Vegas, Orlando, and California. You can start preparing for a lifetime of vacations today!
Rent a Timeshare at the Best Places to Stay in Vermont in the Fall
Still on the fence about vacation ownership? Consider renting a timeshare instead! With a timeshare rental, you'll enjoy all of the benefits of timeshare ownership without any of the commitment. There are no maintenance fees, no dates to keep track of, just you, your loved ones, and your vacation. If you have any questions, please give us a call at 1-800-610-2734 or email us at info@timesharesonly.com. We're always happy to help!
Rent Out Your Timeshare at the Best Places to Stay in Vermont in the Fall
If you're already a timeshare owner at one of the best places to stay in Vermont in the Fall, we can help you if you're not using your timeshare for a year. For those off years where you don't feel like traveling, consider renting out your timeshare. At Timeshares Only, we can help you post your timeshare for rent on our marketplace, where it will be seen by travelers around the world. We've been part of the timeshare industry for over 20 years, so you can rest assured we're here to help you through the process.