Boston, Massachusetts is a vibrant city with a rich history and an abundance of attractions, making it a popular destination for travelers. With its bustling neighborhoods, thriving food scene, and proximity to picturesque coastal towns, Boston offers a unique blend of urban and coastal experiences. If you're looking for a home away from home in Boston, a timeshare could be perfect for you. There are many luxurious resorts but the Marriott Vacation Club Pulse at Custom House is the top option. Don't believe us? Keep reading to see for yourself why this Boston timeshare is the best of the best.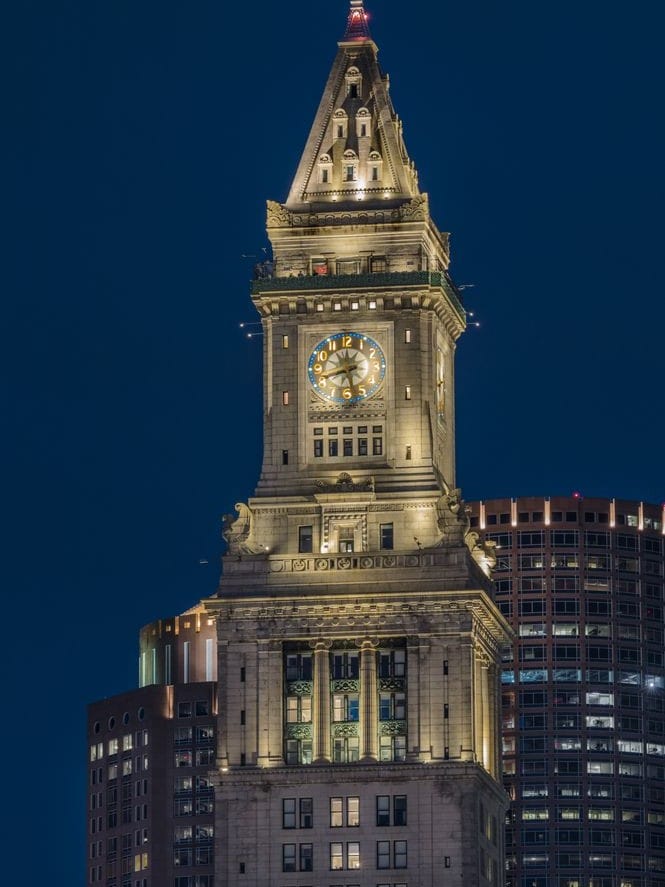 Why is Marriott's Custom House the Best Boston Timeshare?
If you are familiar with the timeshare industry, then you know that Marriott Vacation Club is one of the best vacation clubs. This is due to each resort boasting fabulous amenities, spacious accommodations, and friendly staff members. Marriott's Custom House is no exception. The historic resort is a significant representation of New England's ingenuity. Its construction dates back to 1849, showcasing a blend of refined heritage and contemporary accommodations.
Whether you are looking to enjoy a romantic getaway, family getaway, or solo adventure, Marriott's Custom House guarantees an unforgettable experience. This is primarily due to its outstanding on-site amenities and proximity to exciting attractions in Boston.
Accommodations at Marriott Vacation Club Pulse at Custom Boston House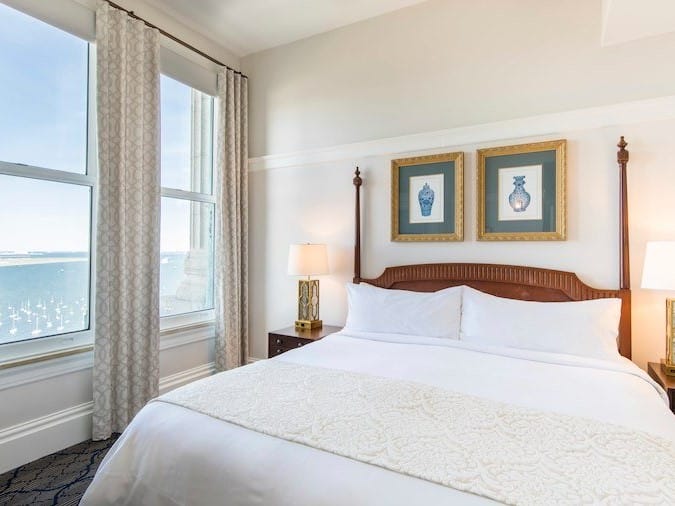 When you visit Boston you want to make sure your suite is up to par. Marriott Vacation Club Pulse at Custom House is the best Boston timeshare because of its luxurious one-bedroom suites. Compared to normal hotels, a timeshare allows you to have plenty of space to stretch out and relax. Each suite has a kitchenette, living area, and dining area. In the living room, there is a pull-out couch so you can accommodate up to two additional guests, perfect for a small family. The dining area and kitchenette allow you to enjoy a meal whether you cook or take advantage of local restaurant delivery.
Additionally, there are a number of services that elevate your accommodations. In addition to free WiFi, guests will also be able to make local calls for free. For an additional charge, valet dry cleaning services and daily housekeeping are available. Alternatively, you can use the laundry facilities free of charge.
Top Boston Timeshare Accommodation Features
Below is a full list of everything you can expect in your Marriott Vacation Club Pulse at Custom House Boston timeshare.
Alarm Clock
Hair Dryer
Coffeemaker
Iron/Ironing Board
Pillows
King Bed
Pull-out Sofa Bed
Mini Refrigerator
Microwave Oven
Toaster
Coffee Pot
Silverware
Free WiFi
Rollaways & High Chairs Are Available
Note: Check-in times are 4:00 p.m. and check-out times are 11:00 a.m. In addition, valet parking is required if you plan to bring your car. Valet parking costs $48 a day. No pets are allowed except service animals.
Marriott Vacation Club Pulse at Custom House Property Amenities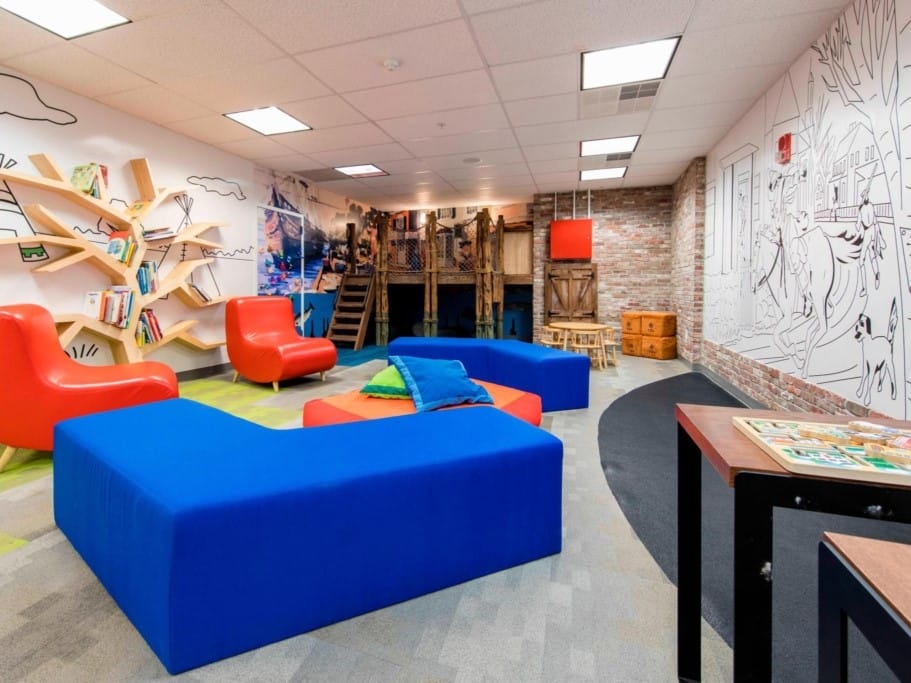 Guests also find Marriott's Custom House as the top timeshare in Boston because of its on-site amenities. The observation deck offers a great view of the city. The deck on the 26th floor offers a 360-degree panoramic view, making it an ideal spot to see everything. Do you want to keep up for fitness routine? The fitness center has high-tech equipment perfect for getting in a workout. While the kids are entertained in the kids' play area, the adults can enjoy some time to themselves playing chess or a game of pool in the game room. In addition, if you want to have a night in, the movie theater is the place to be. For additional entertainment, the resort has an activities center that hosts a bunch of fun things throughout your trip that guests are welcome to partake in. Each time you visit, you'll experience something new and fun.
The Counting Room is the perfect place to enjoy breakfast on the property. Custom House Bar serves top-notch coffee in the morning and cocktails at night. If you plan to stay at Marriott's Custom House Boston, make sure you take advantage of the fantastic amenities!
Full List of Boston Timeshare Property Amenities
At this Marriott Boston timeshare, there is something for everyone to enjoy. Here is everything you can take advantage of on-site when you check in at Marriott Vacation Club Pulse at Custom House Boston.
Movie Theater
Observation Deck (26th Level)
Activities Center
Game Room
Movie Theater
Observation Deck (26th Level)
Activities Center
Game Room
What to Do Near the Top Boston Timeshare in Boston Harbor and Beyond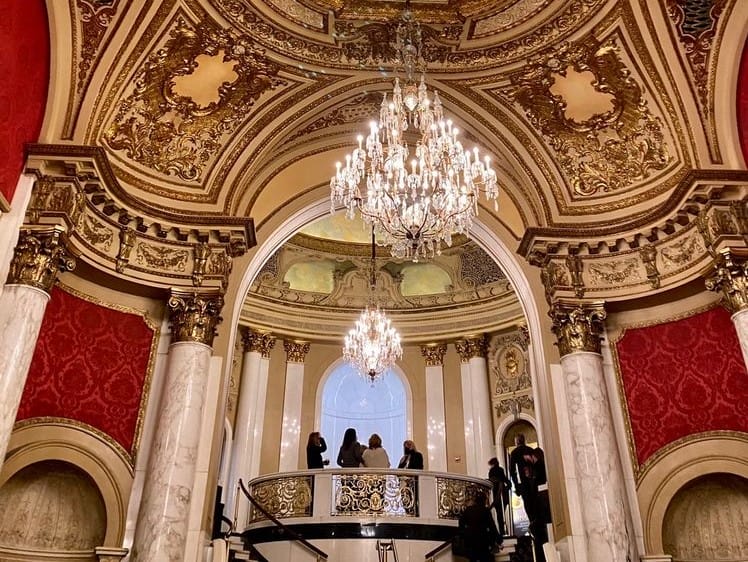 When visiting Boston, there is so much history and attractions to check out. Marriott Pulse at Custom House is right next to Boston Harbor. The location allows you to explore easily. Do you want to see some of the most popular landmarks? Here is our top pick of things to do while in Boston, Massachusetts.
Fenway Park
Fenway Park is just a quick drive away from Marriott's Custom House Boston timeshare. Whether you are a Boston Red Socks fan or not, a night at the ballpark is sure to be eventful. They also have tours if you are traveling during off season.
Faneuil Hall – Quincy Market
Faneuil Hall is a historic marketplace that dates back to 1742. Adjacent is Quincy Market, a bustling shopping area filled with a wide variety of shops, restaurants, as well as street performers. Black Rose is an Irish pub and restaurant in the area you should definitely check out.
New England Aquarium
If you want a fun day excursion away from the resort, New England Aquarium is a great choice. Here you can see thousands of aquatic animals, ranging from California sea lions to African penguins to Myrtle Beach Green Sea turtles.
Freedom Trail
Historic Freedom Trail is perfect for history buffs. The North End Tour highlights Boston's oldest historic sites, including Paul Revere's House, Old North Church, as well as Copp's Hill Burying Ground. On the tour, you will hear stories that narrate the events of the American Revolution and its aftermath.
Boston Opera House
Boston Opera House, also known as Citizens Bank Opera House, is the home of many award-winning theatrical performances across the world. Located .7 miles from the resort, you can conveniently walk over and spend the night at the theatre.
Buy A Boston Timeshare on the Resale Market
Timeshares offer spacious accommodations and fun amenities in some of the best locations in the world. Now that you know about the top timeshare in Boston you might be ready to buy a timeshare here. If you want to save money on your initial purchase, you have come to the right place. We have timeshares for sale at Marriott Vacation Club Pulse at Custom House for a fraction of the cost. Make Boston, MA your home away from home by putting an offer on the ad of your choice today. You will be taking unforgettable vacations in no time.
Have questions? Give us a call today at 1-800-610-2734.
Sell or Rent Out Your Boston Timeshare
If you own a timeshare in Boston that no longer fits your lifestyle, let us help you sell or rent it out. Give us a call today at 1-800-610-2734 to learn more about our services!