Hilton Grand Vacations offers some of the best locations to travelers anywhere. Each resort is tailored to provide incredibly relaxing vacations on top of luxurious amenities. With destinations in New York, Florida, Mexico, Hawaii, and even Japan, you can travel the world with the best Hilton Grand Vacations locations. Not to mention, every Hilton resort is packed with amenities and comfortable accommodations that owners come to expect during every stay.
About Hilton Grand Vacations Club
You've probably heard of or stayed at a Hilton before. This brand is recognized worldwide for consistently providing comfortable and luxurious accommodations. Hilton Grand Vacations Club (known as HGVC) is Hilton's brand of timeshare ownership. HGVC has over 300,000 members to date. With more than 100 locations to stay at, finding the best Hilton Grand Vacations club location is easy. Owners who buy Hilton timeshares love the flexibility they have in their membership.
Not to mention, Hilton also provides guests with benefits you'd expect from one of the world's top vacation giants. Hotel guests and timeshare owners alike can join Hilton Honors, which offers points to book extra vacations throughout the year, among other perks. Although exclusive for owners, Hilton's ClubPoints is the annual allotment of points you receive to book your timeshare vacation at any of Hilton's resorts. Similar to other major brands, Hilton has embraced a points-based system. This system gives owners more freedom and choice when it comes to vacationing. However, weeks-based timeshares are available on the resale market if you favor that vacation style.
Best Hilton Grand Vacations Locations
The best Hilton locations dot the globe, and each resort has all of the incredible accommodations and amenities that Hilton owners expect. Some of the most popular Hilton locations include:
Orlando
Miami
Las Vegas
California
Myrtle Beach
Colorado
Hawaii
New York
Hilton Grand Vacations Locations in Orlando
Undoubtedly, Orlando is one of the top vacation spots in the United States. Theme parks and proximity to beaches arguably make it one of the best locations in the world. Not to mention, staying with HGVC can make it an even better vacation. There are four Hilton resorts in Orlando, each with a unique atmosphere.
Hilton Grand Vacations Orlando at Seaworld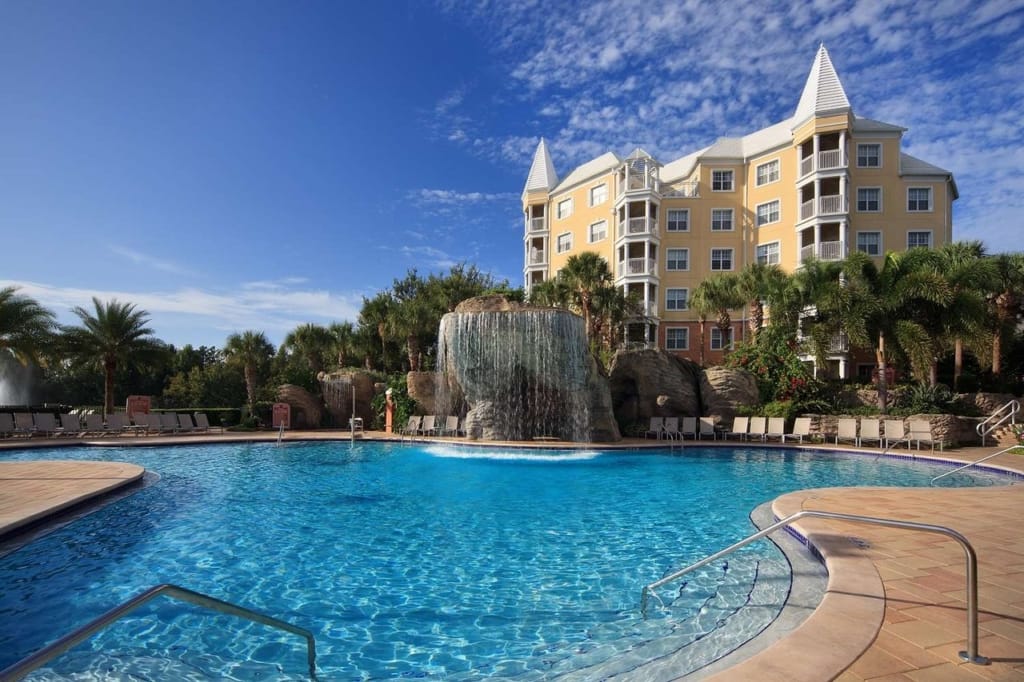 As you can tell by the name, HGVC at SeaWorld is located near the family-friendly, world-renowned theme park. Additionally, you'll be within minutes of Disney World and Universal Studios. Not to mention, this iconic area of Orlando also offers incredible dining and shopping experiences for the entire family. You'll find elegant luxury in each suite as one of Hilton Grand's favorite locations. The suites here range from one to three bedrooms and can accommodate families and travel groups of all sizes. Not to mention, your suite offers a kitchen, whirlpool tub, laundry facilities, and extra space to spread out. On-site, you'll have access to a restaurant, free parking, gorgeous outdoor swimming, and stunning views of the city. Hilton Grand Vacations also organizes activities for the whole family to have an exciting time on vacation.
Parc Soleil by Hilton Grand Vacations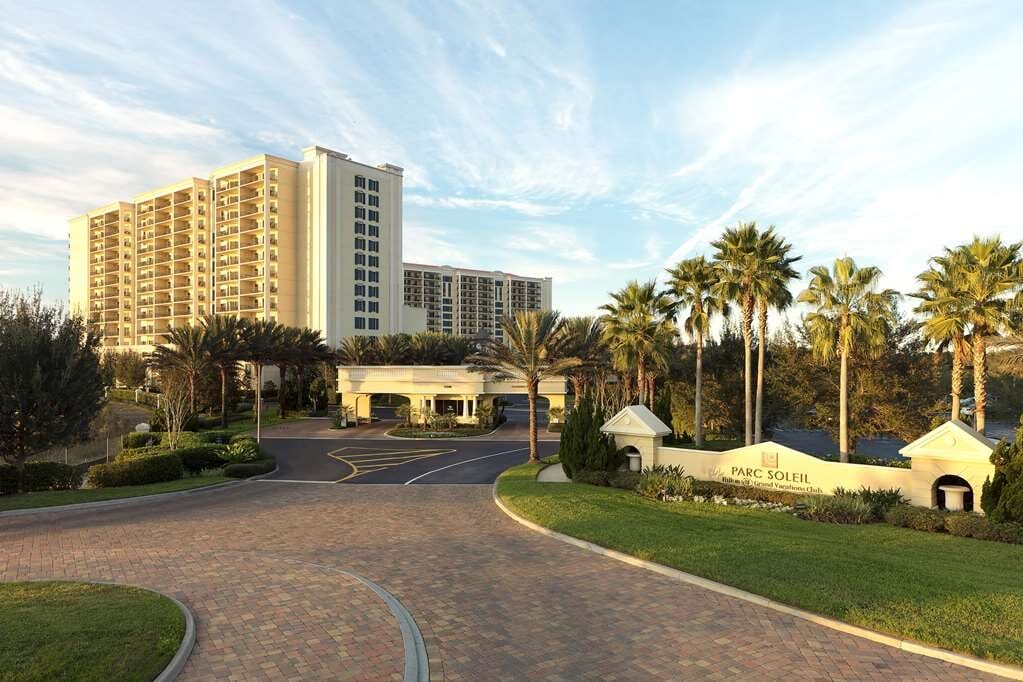 Another enticing Hilton Grand Vacations location in Orlando is Parc Soleil. Parc Soleil offers one and two-bedroom luxury villas, each boasting a fully equipped kitchen, washer & dryer, granite countertops, and separate living and dining areas. This resort is loved by couples who want to explore the city, as it has more refined touches. Not to mention, Parc Soleil is located on Palm Parkway, just a few minutes from all the best theme parks. When you return to the resort, you'll enter an oasis. Palm trees across the property highlight the sunny Florida atmosphere. On-site, you can spend hours playing tennis or lounging at the pool with a drink in your hand.
Las Palmeras by Hilton Grand Vacations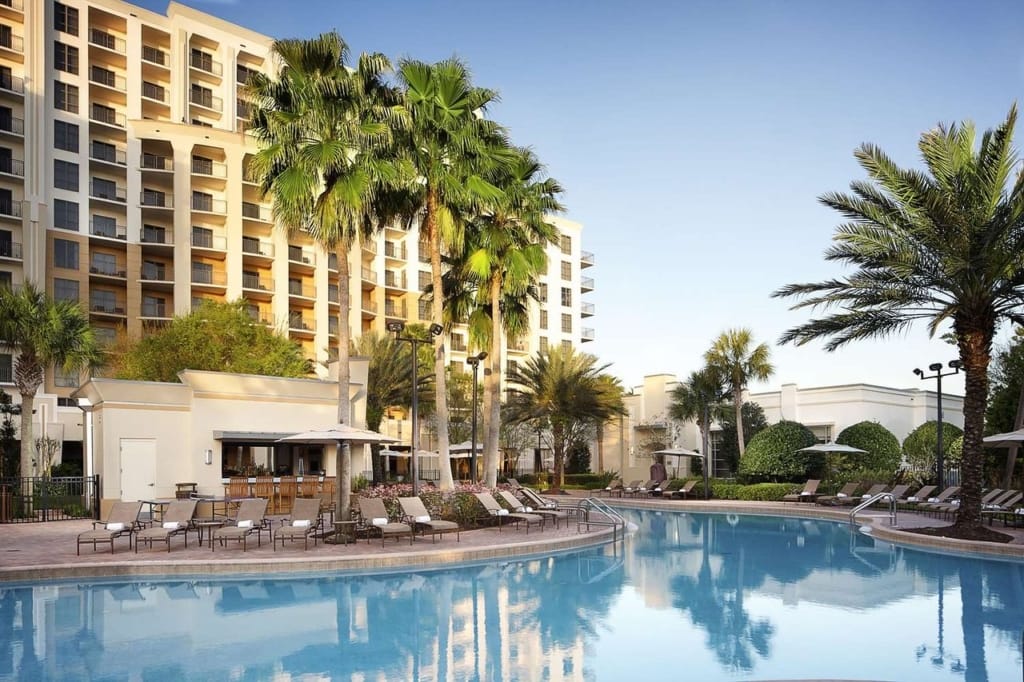 A beautiful high-rise resort in the center of all the action, Las Palmeras by HGV is conveniently located near all of the Orlando attractions. Walt Disney World, Universal Orlando, as well as the Orange County Convention Center, are all within five miles. Accommodations range from studios with kitchenettes to one and two-bedroom suites with plenty of space and fully-equipped gourmet kitchens. Of course, being in Orlando probably means the kids are along for the trip, and they will love this Hilton Grand Vacations location too! Guests have access to the resort-style pool, which features a waterslide as well as an interactive splash pad.
Hilton Grand Vacations at Tuscany Village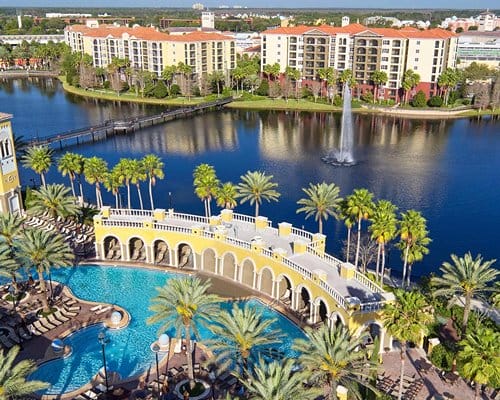 Perhaps one of the most luxurious Hilton Grand Vacations resorts in Orlando, HGVC at Tuscany Village is one-of-a-kind. Upon entrance to the resort, you'll feel as if you are walking the cobblestone streets of Rome with Italian-inspired architecture. Take a sunset stroll along the waterfront walking paths and manicured outdoor areas. The many amenities here include a spa, fitness center, sports court, and pool. Accommodations at Hilton Grand Vacations at Tuscany Village range from studios to three-bedroom suites with fully-equipped kitchens, living rooms, and dining room areas. And, of course, this Hilton Grand Vacations location is also close to all the action in Orlando and adjacent to the Orlando Premium Outlets.
Hilton Grand Vacations Las Vegas Locations
There is always something to do in Las Vegas. With casinos, live shows, shopping, and dining nearly every hour of the day, you'll be hard-pressed to find a reason to be bored. Hilton Grand Vacations locations in Las Vegas are unbeatable, and you can find them across the Strip. In fact, HGVC has five prime locations in Vegas, giving members plenty of options when it comes time to book their Sin City vacation. Take the kids, travel with friends, and let HGV provide all of the comforts you need on vacation.
Elara by Hilton Grand Vacations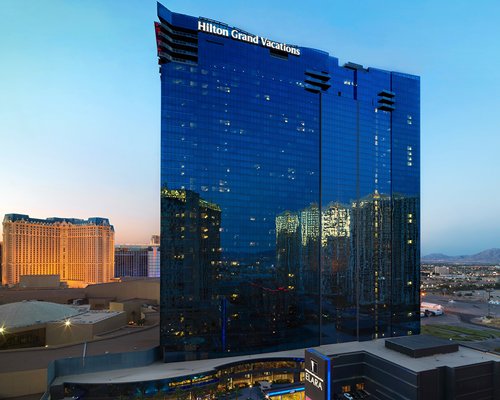 You'll find Hilton's Elara Las Vegas at the heart of the Strip. This resort is part of Planet Hollywood Resort and Casino and offers accommodations with up to four beds. Each unit has stunning views of Las Vegas at this 52-story resort. Not to mention, the Eiffel Tower and Madame Tussaud's are just a mile away. On-site, you'll find a swimming pool surrounded by lush palm trees and twinkling lights to create a perfectly relaxing atmosphere. You can also enjoy the on-site fitness center during your stay in Vegas.
HGVC at the Flamingo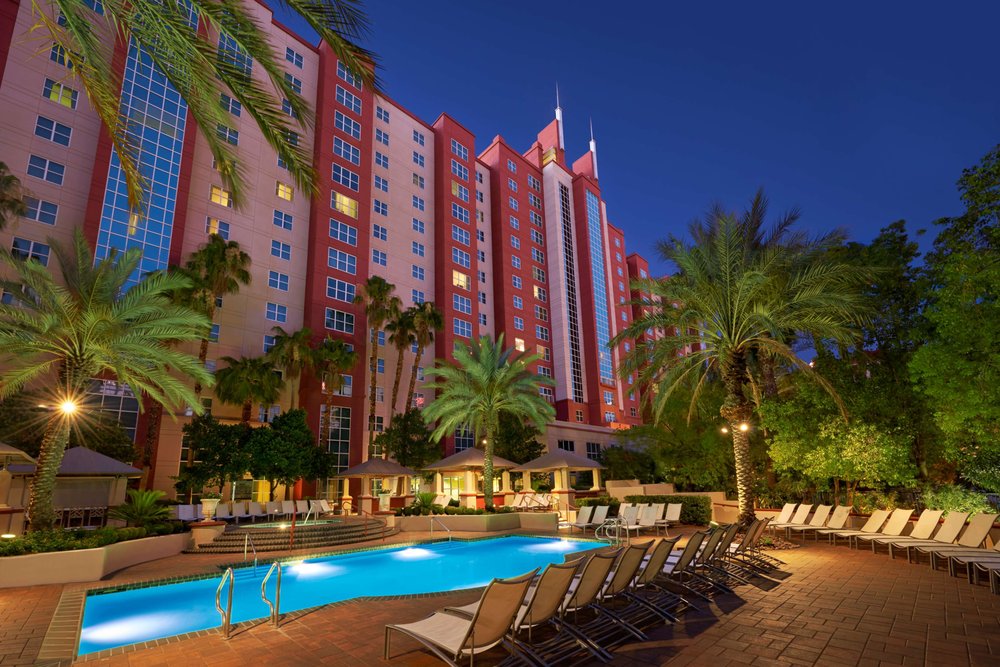 The 15-acre grounds at the Hilton Grand Vacation Club Flamingo Resort feature beautiful gardens, a swimming pool, and an atmosphere of total relaxation. Here you can relax in your private oasis and join the electric city when ready. Accommodations range from one to two-bedroom suites. Not to mention, Caesar's palace is just a ten-minute walk from the resort. In each suite, you'll have everything you need to carry on relaxing. From whirlpool tubs to full kitchens, you can make this vacation one you won't forget.
Hilton Grand Vacations at Trump International Hotel Las Vegas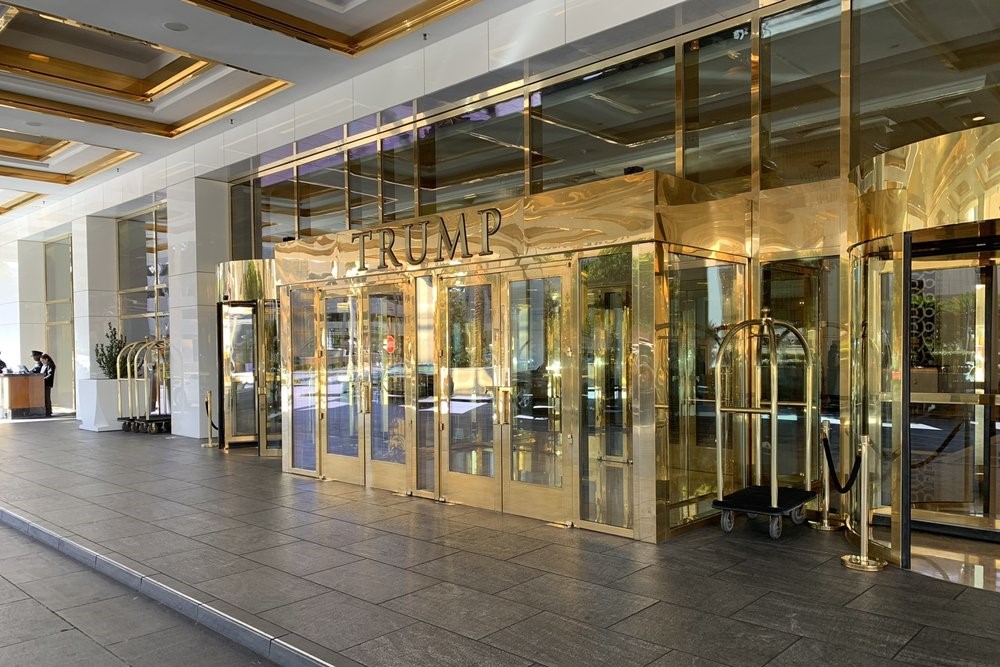 This Hilton Grand Vacations location is gold—in fact, the towering structure over the Strip literally looks as if it's reflecting gold. Hilton Grand Vacations at Trump International Hotel Las Vegas offers luxurious accommodations and amenities in every way. Rent an air-conditioned, private cabana for days you want to lounge by the pool, head to the world-class spa, and be sure to make a reservation at the Michelin Star DJT restaurant. Accommodations come in studios, as well as one and two-bedroom suites. Each suite has gourmet cooking appliances, including a Wolf cooktop and Bosch microwave oven.
HGVC on Paradise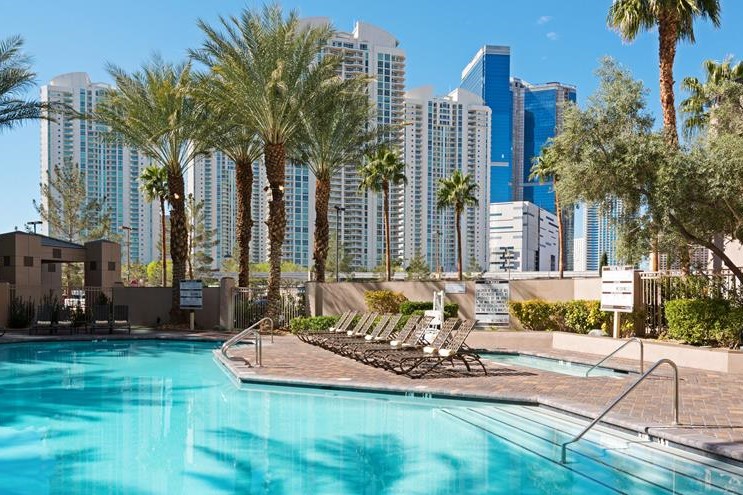 Mix business and pleasure with a stay at Hilton Grand Vacations on Paradise. This Hilton Grand Vacations location is minutes away from the Las Vegas Convention Center, not too far from the Strip. It's also an excellent spot for families, with a resort-style pool and spacious accommodations that range from one to two-bedroom suites. The on-site marketplace is perfect for grab-and-go lunches, snacks, and drinks.
Hilton Grand Vacations on the Boulevard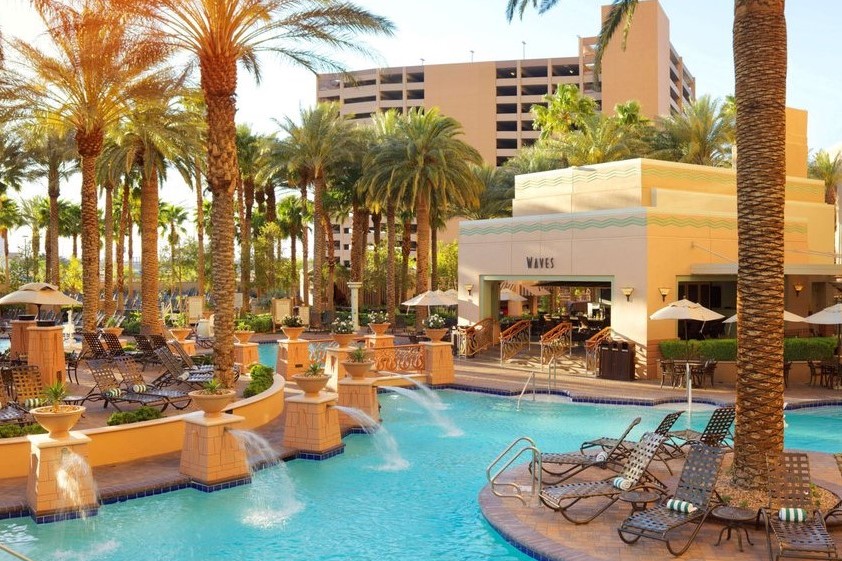 Known as "the north star of the Las Vegas Strip," Hilton Grand Vacations on the Boulevard is a location worth fawning over. The Desert Deco design, large multi-bedroom suites, and exceptional amenities make it an unforgettable resort. Head to the on-site spa for massage and skin treatments, or relax at the private resort-style pool area with a beverage and light bites from the Waves Pool Bar and Grill. Stay in a cozy studio, complete with kitchenettes for convenience, or bring the entire family with three-bedroom suites that feature fully-equipped kitchens and sleep up to 8 guests.
Hilton Grand Vacations Myrtle Beach Locations
Myrtle Beach is a fun, fast-paced beach town perfect for a family vacation. This destination is located in South Carolina and is a road trip away from many east coast cities. The main strip of the beach is known as the Grand Strand and offers ample opportunity for delicious dining, exciting entertainment, and of course, days spent on the beach.
Plus, you can stroll down the boardwalk–one of the best in the country. Myrtle Beach also features the Sky Wheel and old-fashioned Family Kingdom amusements. In addition, you can find a few of Hilton's hidden gem locations here as well. Since everything is within reach, many families in Myrtle Beach love renting bicycles to get around. If this sounds like an incredible vacation to you, all you have to do next is decide where to stay.
Ocean 22
Ocean 22 by Hilton Grand Vacations is a great escape for families and friends in Myrtle Beach. Each room has contemporary accommodations, including kitchens, laundry units, and extra space for living and dining. Not to mention, this resort is located on the beach, so you'll have the opportunity to look out on the beach whenever you like. You'll also love the poolside bar and swimming pool, which are perfect for relaxing. You'll be just steps away from the action when you're ready to hit the town. Relax in a one, two, or three-bedroom suite after exploring the beach.
Anderson Ocean Club and Spa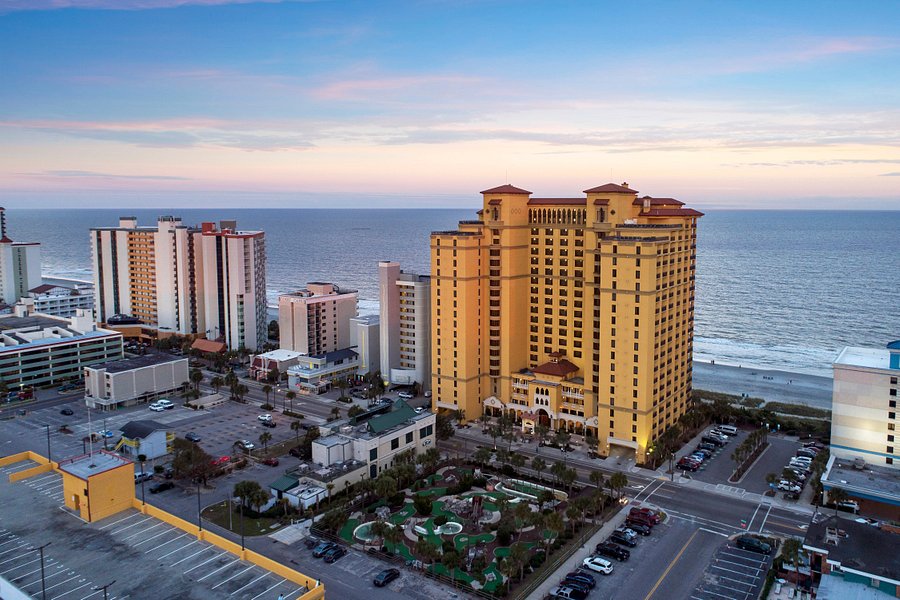 Another ideal Hilton Grand Vacations location in Myrtle Beach is Anderson Ocean Club. This resort was designed for relaxing as it houses a spa fitted with elegant luxury. With an upscale fitness center, multiple water features, and beautiful interior design, you won't want to leave any time soon. The rooms here offer space for families of all sizes. Not to mention, you will be close to all of the action of Myrtle Beach near this beachfront getaway resort. The customer service, accommodations, and amenities are consistent with the kind you've come to love from any Hilton Grand Vacations location. Guests can enjoy spacious studio, one, two, and three-bedroom suites.
Ocean Enclave by Hilton Grand Vacations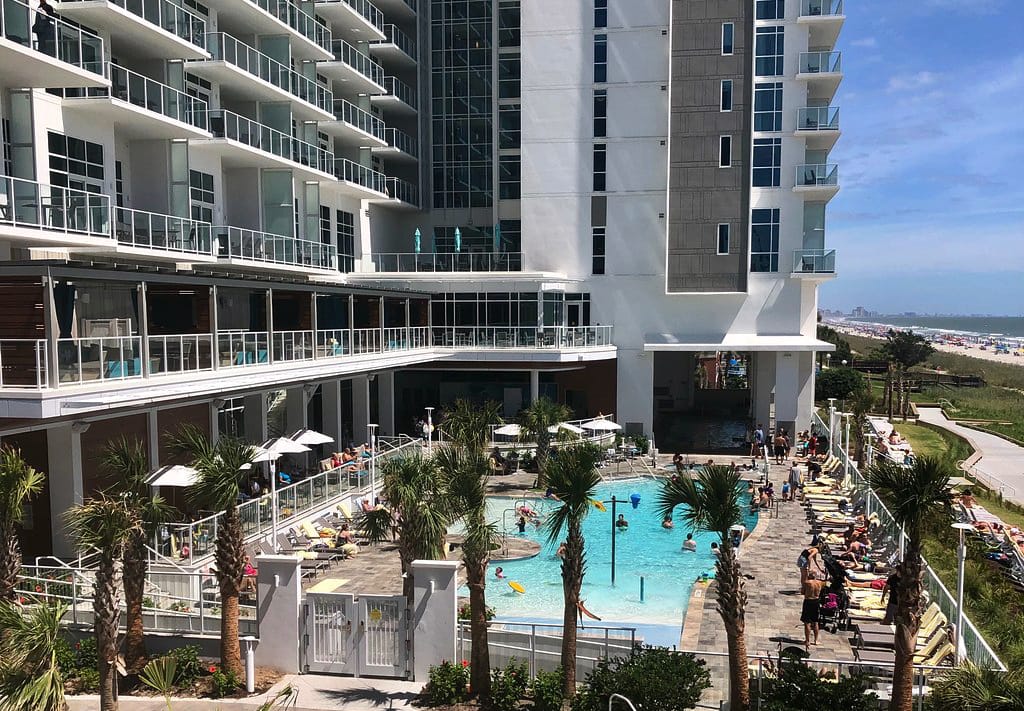 Rounding out the list of Hilton Grand Vacations locations in Myrtle Beach is Ocean Enclave by Hilton Grand Vacations. There are endless activities and excursions available at the Boardwalk, just two blocks from this resort. Right from your suite, you'll have easy access to the beach and stunning views of the Atlantic Ocean. In this 27-story tower, luxury abounds. Suites come in one, two, or three bedrooms, each with a private balcony and amenities from home.
HGVC Timeshares for Sale
Ready to buy your first (or second) Hilton Grand Vacations timeshare? We can help. Start by browsing our HGVC resales. Once you find the right one, make an offer, and we will get in touch with you to continue the sales process.
Buying timeshare resale can save you thousands on purchasing directly from a developer. Not to mention, you won't have to take a timeshare presentation to find the perfect getaway. If you're looking for something specific or just want to connect with one of our timeshare experts, call us at 1-800-610-2734 or email us at info@timesharesonly.com.
Renting an HGVC Timeshare
If you'd like to enjoy staying at a Hilton Grand Vacations location but don't want to pay full price for it, consider renting a timeshare instead. When you rent a timeshare, you'll have access to the same amenities and accommodations for a lower cost. As a result, renting a timeshare is a great way to dip your toes into the world of a timeshare without fully committing. Our marketplace also features rentals from Hilton Grand Vacations, so give us a call if you have any questions about them!
If you're already an HGVC owner and aren't currently using it, TSO can help you too! We can help you rent out your timeshare so you can put some money back in your pocket to help pay your maintenance fees. Contact us today if you'd like to get started. We're always happy to help.