Looking for thrills, you can't get anywhere else? Lights so bright they could outshine the sun? How about all the live entertainment you could ask for? You can find all that and more in Las Vegas. Sin City is one of the biggest, brightest, flashiest cities in the world, and if you're looking to experience it all, you'll need the most stylish and luxurious resort in town. You'll need Las Vegas' Hilton Elara. Here's everything you need to know about this Hilton Grand Vacations location.
Amenities at Las Vegas Hilton Elara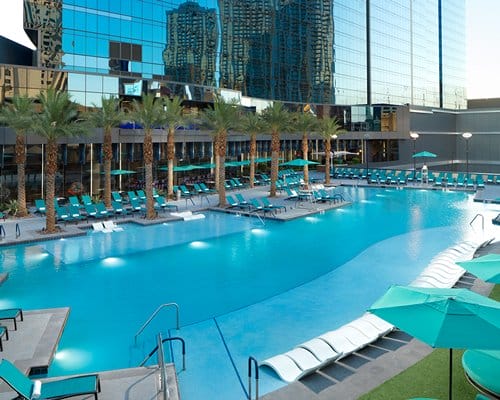 While you'll probably spend most of your time on the Vegas Strip, Las Vegas Hilton Elara has plenty of amenities to keep you occupied when you're back. The Hilton Elara resort features an outdoor pool to cool off after a hot day in Vegas. Whether you want to keep up with work or your workout routines, the Elara has you covered! Just stop by the business or fitness center, and you won't have to worry about playing catch-up once the vacation's over if you'd like to grab a quick bite to rate or enjoy an extensive selection of drinks at the poolside bar and grill. You'll even be able to grab whatever souvenirs you'd like from the on-site gift shop!
Learn more: Why You Should Buy a Hilton Grand Vacations Club Timeshare!
Accommodations at Las Vegas Hilton Elara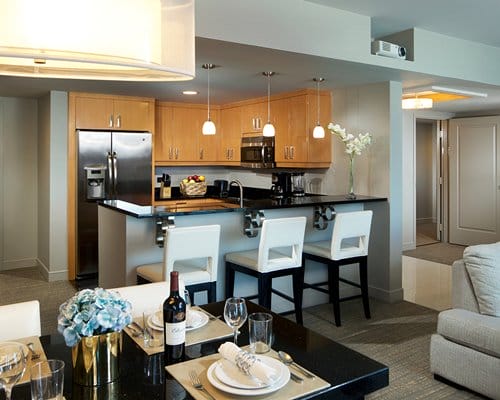 When you're finally ready to take a break from the excitement of the Strip, Las Vegas Hilton Elara has luxurious accommodations to unwind in. The resort boasts a studio, one, two, three, and even four-bedroom suites. The studio comes with a king-sized bed and queen sleeper sofa to accommodate two guests. Next, the one, two, and three-bedroom suites offer even more king-sized beds and fully equipped kitchens with plenty of cookware to help you make your own meals. These suites can house four to eight guests, depending on which you choose. Finally, the four-bedroom suites have everything you'll find in the smaller suites, alongside a projector tv and space for ten guests. Elara lives up to the motto, "bigger is better," with these enormous suites. The size of these accommodations ranges from 372-2902 square feet. It's safe to say you'll have plenty of room to stretch your legs in.
Learn more: Hilton Grand Vacations Cost: 2023 HGV Fees & Dues!
Things to Do Near Las Vegas' Hilton Elara
Of course, while the amenities and suites may be great if you've come to Vegas, you're there to take in the sights and sounds. Fortunately, Las Vegas Hilton Elara is next to all the action in Sin City. Here are just a few of the things you can look forward to near the resort.
Explore the Miracle Mile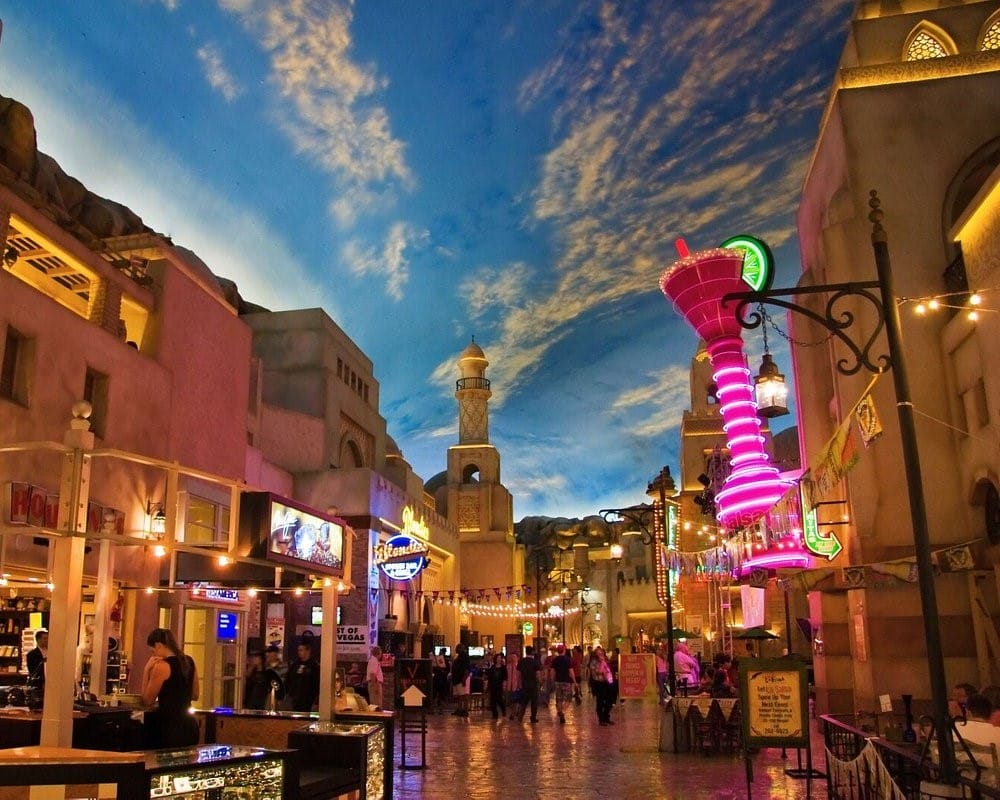 One of the best perks of Las Vegas' Hilton Elara is that it's right next door to some of the best shopping in Vegas! The Miracle Mile is an enormous mall with 170 stores, 15 restaurants, and live entertainment venues. From magic shows to comedy, there's plenty of live entertainment for you to enjoy. Whatever shopping you plan to get done, there's no place better to do it than here. Some of the highlights include magic shows, stand-up comedy, and even concerts. Once you finish the shopping spree of your dreams, you can explore the rest of the Las Vegas Strip.
Stroll Down the Strip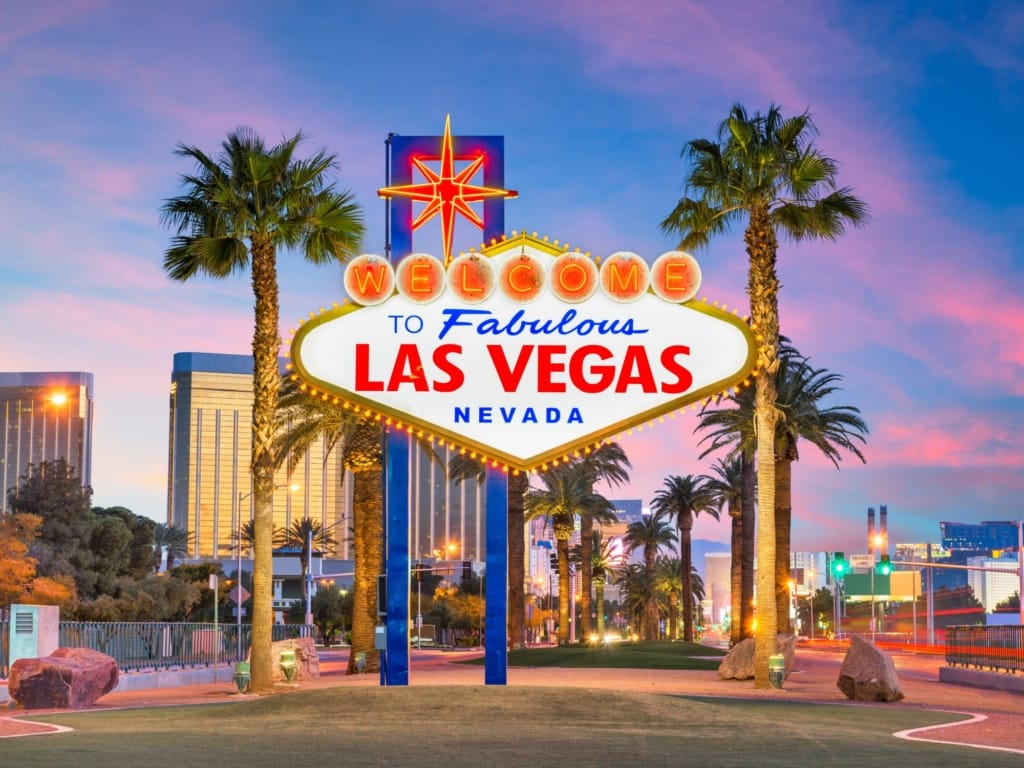 Speaking of the Strip, what better way is there to see the best of Las Vegas? No matter what else you do, this is one part of the city you have to experience. Pictures just can't do justice to all the vibrant colors and striking neon signs. Plus, there are a number of attractions you can enjoy here. Climb a replica of the Eiffel Tower or take photos with one of the Statue of Liberty. You can even ride a gondola on the water and float by many of the Strip's shops. These rides let you see the Strip from a completely different perspective, and they're great for both couples and families. All of the excitement of the Vegas Strip is just a short walk away from Las Vegas Hilton Elara. No need to worry about long rides when all the excitement is right at your fingertips!
Visit the Bellagio
One of the city's icons is the Bellagio. You'll find this renowned casino just half a mile away from Las Vegas' Hilton Elara. With over 40 poker tables and 2,300 slot machines, it's safe to say all your gaming needs will be covered here. With that said, there's more to the Bellagio than its casino. In fact, the Bellagio is also home to a gorgeous botanical garden! This garden is 14,000 square feet in size and changes every season, so there's always something new to see. Between the enormous garden and massive casino, you might be thinking that's all there is to the Bellagio. Well, think again! The Bellagio's crown jewel is its fountains. Each night, these fountains shoot water 460 feet into the air. Plus, you can enjoy these fountains free of charge! So even while you're strolling down the Vegas Strip, you'll still enjoy something from the Bellagio.
Buy a Timeshare at Las Vegas Hilton Elara
If you want to take the vacation of your dreams in the brightest city in the U.S., you can't go wrong with Las Vegas' Hilton Elara. With a level of luxury you can't get anywhere else and suites so big you'll feel like a real high roller, this resort is the perfect home base in Vegas. If you'd like to return year after year, consider buying a timeshare. People buy timeshares because they're much more spacious than your average hotel room, and with all the amenities they offer, they're a true home away from home. If you're on the fence about vacation ownership and want to try before you buy, consider renting a timeshare instead. When you rent a timeshare, you'll enjoy all the benefits of a timeshare with none of the commitment. Plus, it's cheaper!
Ready to get started? Then check out our marketplace! We have listings not just for this resort but other Hilton properties. There are also listings for resorts from Wyndham, Marriott, and Disney Vacation Club. If you have any questions, feel free to email us at team@fidelityresales.com or give us a call at 1-800-610-2734. We're always happy to help!