Are you looking to buy or rent a timeshare in Myrtle Beach? Do you own Hilton ClubPoints and want to visit South Carolina? If the answer to either of those questions is YES, then you have come to the right place. In this blog, we are going to cover everything you need to know about the three Hilton Grand Vacations Myrtle Beach timeshares, so you can decide which resort you want to stay at.
About Hilton Grand Vacations Club
Hilton Grand Vacations Club is one of the best vacation clubs in the timeshare industry. With resorts in some of the most sought-after locations, fabulous amenities, spacious accommodations, and friendly staff, it's no wonder this brand is loved by so many.
A points-based loyalty program has been adopted by HGVC, like other major brands. As a result, owners have more choices and freedom when it comes to vacationing. ClubPoints are Hilton's exclusive points that owners can use to book vacations at HGVC resorts. For those who prefer weeks-based vacations, the resale market offers weeks-based timeshares. In addition, Hilton Honors offers guests and timeshare owners the opportunity to earn points that can be used to book extra vacations throughout the year.
Read more: Why You Should Buy Hilton Grand Vacations Club Timeshare!
Hilton Grand Vacations Myrtle Beach
Ocean 22 By Hilton Grand Vacations Club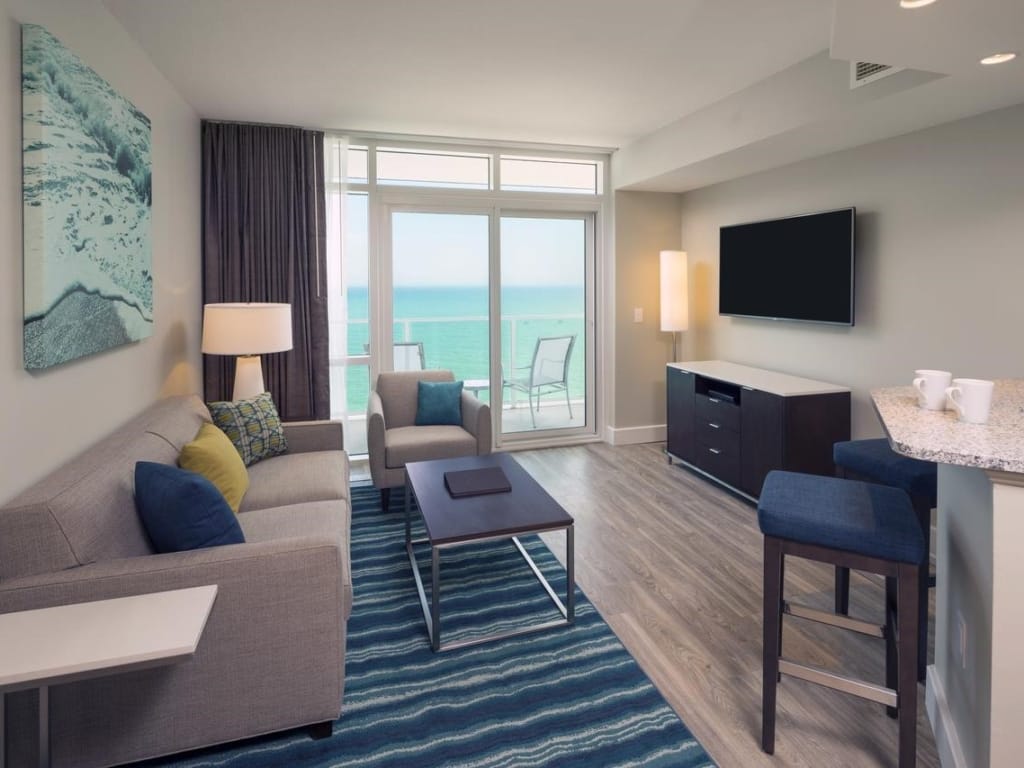 Address: 2200 North Ocean Boulevard
Ocean 22 By Hilton Grand Vacations is a stunning timeshare located on Myrtle Beach's Grand Strand. From the second you check in you will be met with a kind helpful staff at the lobby front desk. This 24-story tower boasts everything you could want for a family getaway. There is a Kids' Activity Center that offers fun and engaging events throughout your stay. There is also an indoor and outdoor pool, so no matter what the weather is you can enjoy a pool day. The best amenity although has to be the direct access to the Atlantic Ocean. You are just steps from the sand and waves.
The suites are spacious each boasting a fully equipped kitchen, dining area, and living room with a sofa bed. Rooms range from one-bedroom suites that sleep four guests to three-bedroom suites that sleep eight. Each suite has a primary bedroom with a king-size bed and a deluxe bathroom. Not to mention, each suite has a balcony with an ocean view or street view. You will feel right at home at Ocean 22.
Amenities
Restaurant
Indoor Swimming Pool
Outdoor Swimming Pool
Fitness Center
Beachfront Resort
Business Centers
Concierge
EV Charging
Free WiFi
Hotel Residences
Not to mention, owners can get free greens fees for various golf courses if booked within 48 hours of play. Note: Owners no longer get free access to Wild Water & Wheels parks, because they have closed.
Read more: Complete Guide to Myrtle Beach Boardwalk and Places to Stay Nearby!
Hilton Grand Vacations Club At Anderson Ocean Club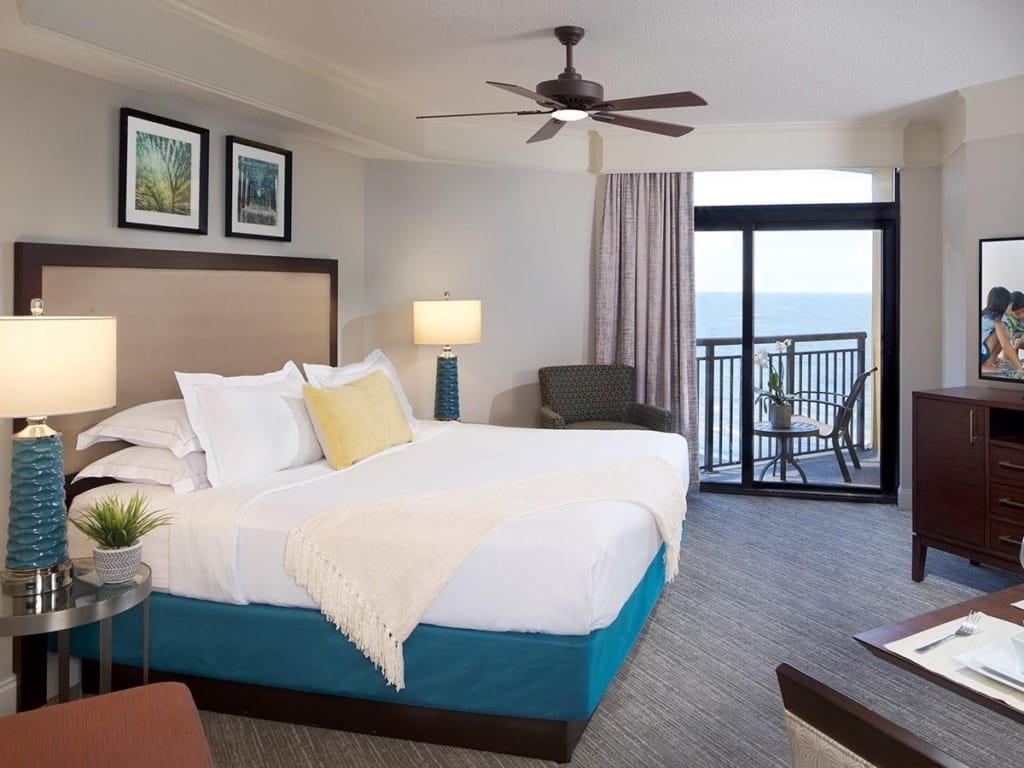 Address: 2600 N. Ocean Boulevard
Guests at Hilton Grand Vacations Club At Anderson Ocean Club will never want to leave. With fun around every corner and spacious accommodations, Anderson Ocean Club stands out as one of the best HGVC resorts. The shores of the Atlantic are steps away, but if you get tired of sand, you can head to the pool. There is a seasonal poolside bar with food at the resort that's perfectly suited for a day spent relaxing in the sun. For those who want to keep up their workout routine, there is also a fitness room. A full-service spa is available if you wish to fully relax.
There are three different room options for guests. The first is a studio that can sleep up to two people and includes a full bathroom, dining area, flat-screen TV, as well as laundry machines. The second option is a one-bedroom suite that can accommodate up to four people and includes all the features of the studio, as well as a living room with a full-size sofa bed. The third option is a two-bedroom suite that can sleep up to six people and includes everything in the one-bedroom suite plus an additional room with two queen-size beds and another bedroom. The private balconies are incredible for enjoying a morning coffee or watching the sunset. For a truly memorable experience make sure to get an ocean view.
Timeshare Features
Dining
Outdoor Pool
Fitness Center
Beach Access
Spa
Business Center
Concierge
Free Parking
WiFi
Hotel Residences
Read more: Hilton Head vs Myrtle Beach Travel Guide!
Ocean Enclave By Hilton Grand Vacations Club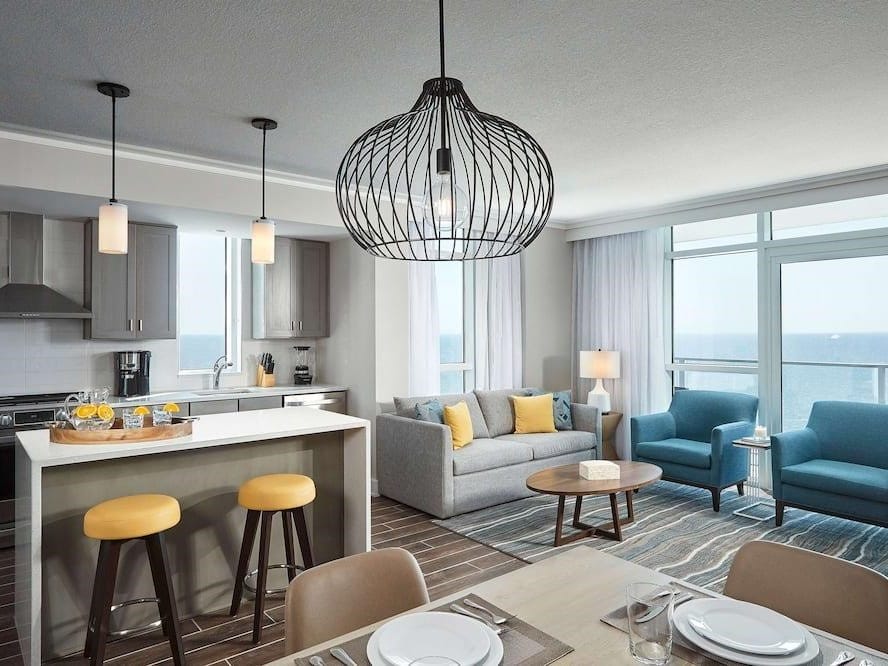 Address: 1600 North Ocean Boulevard
Located just four blocks from SkyWheel Myrtle Beach and two blocks from the Boardwalk, Ocean Enclave By Hilton Grand Vacations gives you and your family a prime location to all the attractions in the area. You might never want to leave once you get on site since you have golden sand beaches right outside your door, two refreshing pools, dining options, bars, a market, as well as concierge services. During the warmer months, Rendez-Views serves drinks, lunches, and dinners while the Sports Bar offers a year-round casual atmosphere for a beer, dinner, or simply watching sports games. The Marketplace is the place to go if you're looking for Starbucks coffee or to-go items. In addition, this timeshare features a fun and vibrant environment for kids, with children's activities and a children's area at the pool.
After a day out and about your fabulous suite awaits. No matter if you are staying in a one-bedroom suite, two-bedroom suite, or three-bedroom suite, you will have a fully equipped kitchen, spacious living and dining areas as well as private balconies. The one-bedroom suites sleep up to four people and have one bathroom. The two-bedroom suites accommodate up to six people and have a bathroom for each bedroom. Lastly, the three-bedroom suites sleep eight people and have two bathrooms.
Amenities
Dining
Indoor Pool
Outdoor Pool
Fitness Center
Beachfront Timeshare
Business Center
Concierge
Free WiFi
Hotel Residences
Note: Each timeshare might require a different fee and daily resort charge. The fees are for amenities such as self-parking, valet parking, and guest internet access.
Read more: How Much is a Timeshare in Myrtle Beach?
Buy a Hilton Grand Vacations Club Myrtle Beach Timeshare
Do you want to make one of the fabulous timeshares above your home away from home? If so, you should check out our marketplace of timeshares for sale. We have Hilton Grand Vacations Club timeshares for sale at a fraction of the cost compared to buying directly from HGVC. Start by browsing our ads. Then simply make an offer on the timeshare that best fits your criteria. Have questions? Give us a call today at 1-800-610-2734 for more info.
Rent a Timeshare in Myrtle Beach, South Carolina
If you aren't quite ready to buy a timeshare, you can always rent one. We have timeshares for rent in prime destinations such as Myrtle Beach, Hilton Head, and Orlando. Browse all of our available rentals now. Then, once you find the timeshare for you simply hit reserve and fill out all your information. If you have any questions call us at 1-800-610-2734 to talk to a representative.
Sell Your Myrtle Beach, South Carolina Timeshare
Do you no longer use your timeshare? Do you want to sell your timeshare ownership? Let us help you! Give us a call today at 1-800-610-2734 to talk to a representative about our services or download our free Timeshares Seller's Guide.