From the bright lights of the Strip to the tranquil beauty of the desert, a trip to Las Vegas is sure to be an unforgettable experience. Las Vegas is a popular destination for those looking for a little adventure and a lot of fun. It's hard to find a better place to call home on your trip than Hilton Grand Vacations Club at the Flamingo Las Vegas. This fabulous resort boasts some of the best accommodations and amenities Las Vegas has to offer. Keep reading to learn all about it.
Amenities at Hilton Grand Vacations Club at the Flamingo Las Vegas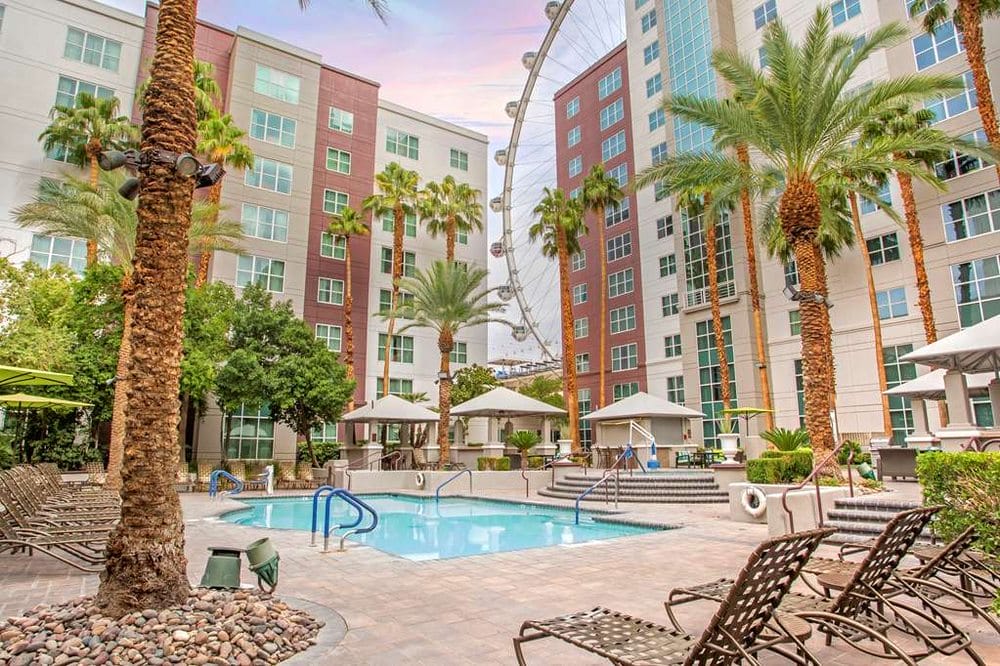 Nestled just off The Strip, the Hilton Grand Vacations Club at The Flamingo provides a serene oasis complete with a wildlife sanctuary, home to colorful flamingos, ring teal ducks, sacred ibises, and Koi fish. For a moment of peace away from the hustle and bustle, take a stroll through this area.
In keeping with the resort's tranquil ambiance, Hgv Club At The Flamingo offers an exceptional full-service spa with a vast selection of treatments. For example, there are the thermal seashell massage, Alaskan mud facial, and desert detox body wrap, perfect for unwinding after a long day.
For those seeking entertainment, this resort's lively nightlife scene features an array of shows catering to all types of audiences, from the legendary Donny & Marie to the comedic stylings of Piff the Magic Dragon and a selection of burlesque shows.
Before the show, indulge in one of the resort's eight dining options, offering a wide variety of flavors to satisfy every palate. The Paradise Garden Buffet features Cajun and Southern cuisine with breathtaking views of the wildlife sanctuary. For a more upscale experience, head to the Center Cut Steakhouse and savor a sizzling porterhouse steak and a slice of chocolate cake. In contrast, those seeking a more casual experience can try Carlos 'n Charlie's Las Vegas, a Mexican eatery serving up classic dishes like tortilla soup and burritos.
Read More: Hilton Timeshares in Las Vegas You Can't Miss Visiting!
Hilton Grand Vacations Club at the Flamingo Las Vegas Accommodations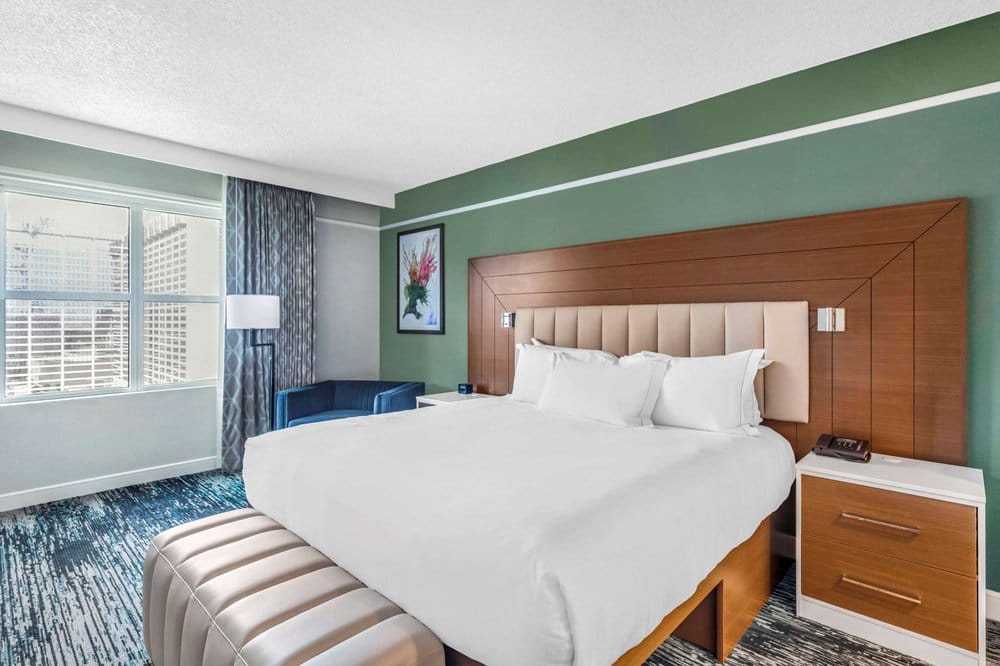 Hilton Grand Vacations Club at the Flamingo's guests will enjoy the ultimate Las Vegas hospitality in addition to luxury resort accommodations. Accommodations range from studious to two-bedroom suites.
The cozy studios offer a comfortable stay for up to two guests. At 450 sq. ft., these rooms feature a spacious bedroom furnished with a king-size bed and an en-suite bathroom complete with a freestanding shower and separate oversized tub. The room is also equipped with a full-size sleeper sofa, perfect for accommodating extra guests. The kitchenette includes a small refrigerator, microwave, and sink, providing guests with a convenient option to prepare snacks or light meals. There is also a small dining area so that you can enjoy meals in the privacy of your room.
The spacious one-bedroom suites provide a luxurious stay for up to four guests. With 831 sq. ft. of living space, these suites boast a primary bedroom furnished with a king-size bed and a bathroom like the studios. The suite also features a fully equipped kitchen, providing guests with the convenience of preparing their own meals. The generous living room is furnished with a separate dining area and a queen-size sleeper sofa. Whether relaxing or entertaining, these one-bedroom suites offer ample space to unwind in comfort and style.
The spacious two-bedroom suites provide more space for up to six guests. It should be noted that this two-bedroom suite is comprised of a one-bedroom suite and a studio, which share a common entry foyer, allowing guests the option to have both privacy and communal space.
Read More: Hilton Grand Vacations Locations You Can't Miss!
About Hilton Grand Vacations Club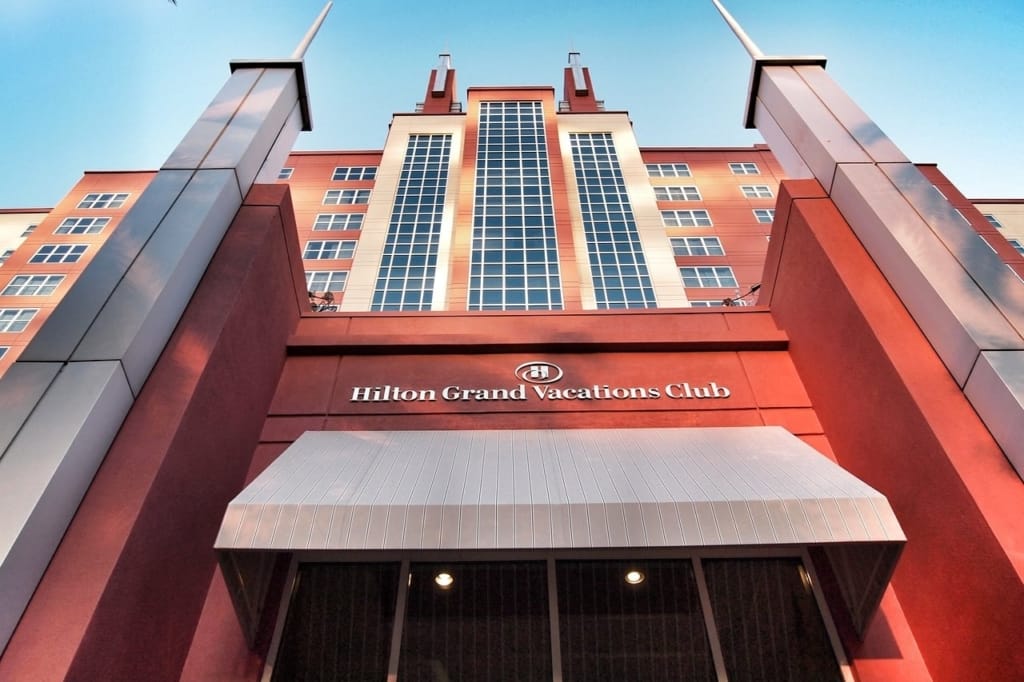 Hilton Grand Vacations Club, or HGVC for short, is a renowned timeshare club under the Hilton brand. It is well-known for its unparalleled customer service, luxurious accommodations, and superior comfort. With its flexible, points-based ownership program, HGVC offers over 310,000 owners the freedom to travel as they please. HGVC boasts a wide range of resorts located in top destinations and has access to over 5,700 properties within Hilton's extensive portfolio. This provides HGVC members with a wealth of options and exclusive perks, ensuring an exceptional vacation experience every time.
RCI is the vacation exchange platform that Hilton Grand Vacations Club is affiliated with. Through vacation exchange networks, timeshare owners can visit new destinations every year. The opportunities are endless when you use RCI Points. Timeshare brands affiliated with RCI include some of the best in the world. Not to mention, you can use RCI points outside of Hilton at Wyndham timeshares, Holiday Inn resorts, and more.
Read More: Hilton Grand Vacations Cost: 2023 HGV Fees & Dues!
Buy a Hilton Timeshare
Are you ready to buy a timeshare at Hilton Grand Vacations at the Flamingo Las Vegas? If so, buying a resale is a great way to save money. At Timeshares Only, we have timeshares for sale at Hgv Club At The Flamingo and more. Get started today by browsing our Hilton timeshare resale. Then, simply make an offer on the one that best fits your needs.
If you have any questions or need any help, please don't hesitate to reach out. You can give us a call today at 1-800-610-2734 or email us at info@timesharesonly.com.
Read More: Why You Should Buy Hilton Grand Vacations Club Timeshare!
Rent Out or Sell Your HGVC Timeshare with Timeshares Only
When you want to rent out your timeshare or sell your timeshare, Timeshares Only is here to help you. With the right assistance, we can help you put some money back into your pocket. With a plethora of resale companies available, it's crucial to discover a trustworthy one that can meet your needs. Thankfully, Timeshares Only stands out as the ideal company to offer reliable assistance. With our multi-channel marketing strategies, your timeshare will gain exposure to potential vacationers from all corners of the world.
Trust us to support you through the whole process! Learn more about our services by giving us a call at 1-800-610-2734 or emailing us at info@timesharesonly.com.