Orlando, Florida is one of the most visited family destinations in the world. From the legendary theme parks to world-class shopping and dining, there will never be a dull moment on your vacation. Hilton Grand Vacations Club offers five spectacular resorts all over the Orlando area. There is a Hilton timeshare in Orlando for whatever activities you plan to do on your trip!
Hilton Grand Vacations Orlando Resorts
In total, there are five Hilton timeshare resorts in Orlando, one of them coming in Q2 2022! Each HGVC Orlando resort is within close distance to all of the most popular attractions and theme parks in the City Beautiful. This gives owners plenty of opportunities to book stays within the club and visit Orlando year after year with their points. Hilton is also affiliated with RCI, a vacation exchange program. If you don't already own a Hilton timeshare, you can trade your other ownership for a stay at one of the best Hilton timeshares in Orlando!
Learn More: Guide To RCI Travel, Exchange and Resorts
Coming Q2 2022: Mystic Dunes, a Hilton Vacation Club
Located in the picturesque, boutique town of Celebration, Mystic Dunes, a Hilton Vacation Club resort is just a ten-minute drive from Walt Disney World Resort. The new resort is said to be available to Hilton owners during Q2 of this year, as it was previously a Diamond Resorts property. Since Hilton purchased Diamond Resorts in 2021, HGVC owners can expect to see more premium properties to reserve in popular destinations.
On-site at the resort there is something for everyone to partake in, like a family-friendly golf course and four outdoor heated swimming pools with private cabanas. Don't let your swing get rusty while you're on vacation either, with tennis courts as well as basketball courts on the property.
Las Palmeras By Hilton Grand Vacations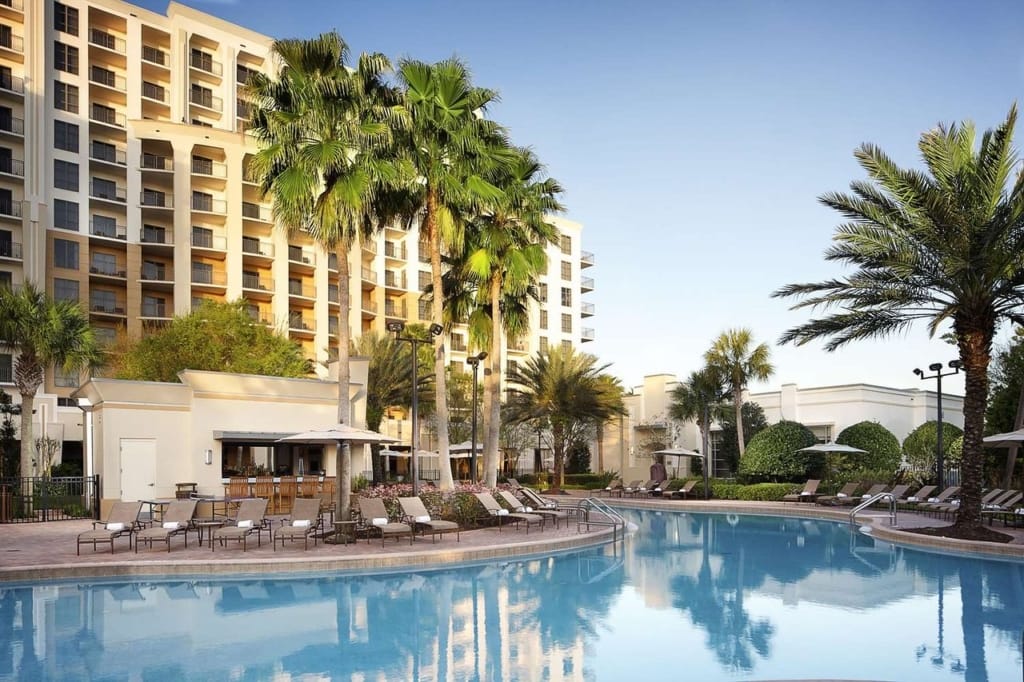 Located on Universal Boulevard, Las Palmeras by Hilton Grand Vacations Club is the closest HGVC timeshare resort to Universal Studios Orlando. International Drive is just moments away, so endless entertainment and dining options are right around the corner. It's conveniently located across the street from the Orange County Convention Center, which puts on many conventions and conferences each year. You'll also find more thrills and fun next door to the resort at Andretti Indoor Karting and Top Golf. The resort has a waterslide, splash pads, and a poolside bar, so even a day at the hotel is a day well spent. The onsite restaurant, Fiorella's, is highly-rated and serves all day, which means that you and your family will be able to fuel up before a long day of exploring Orlando.
Hilton Grand Vacations Club at SeaWorld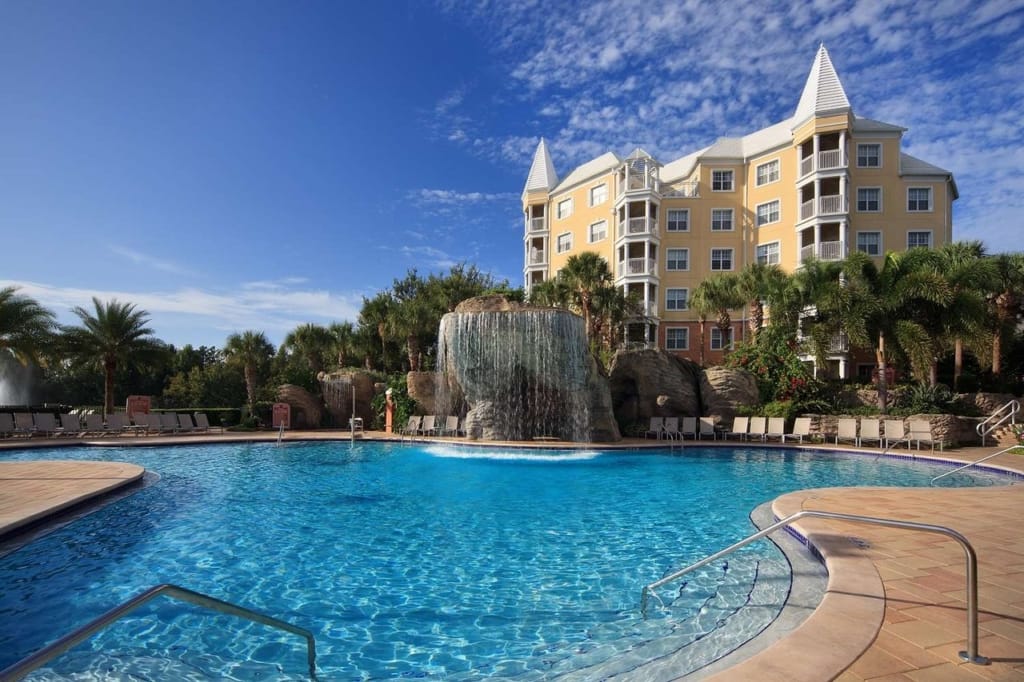 Hilton Grand Vacations Club at Seaworld is located directly across the street from SeaWorld Orlando, Aquatica, and Discovery Cove. This HGVC timeshare resort is an official hotel of SeaWorld Orlando and as a result, there are many perks. Resort guests get priority access, discounts, and free shuttle services to the parks. SeaWorld isn't the only aquatic fun you'll be having, in fact, the resort has three pools, waterfalls, and wading pools. Other physical activities at the resort include tennis, shuffleboard, and a scenic walking track. Disney Springs and the Vineland Premium Outlets are nearby, so fabulous shopping is just minutes away. Each suite has a screened balcony, perfect for relaxing and enjoying the beautiful Orlando weather.
Hilton Grand Vacations at Tuscany Village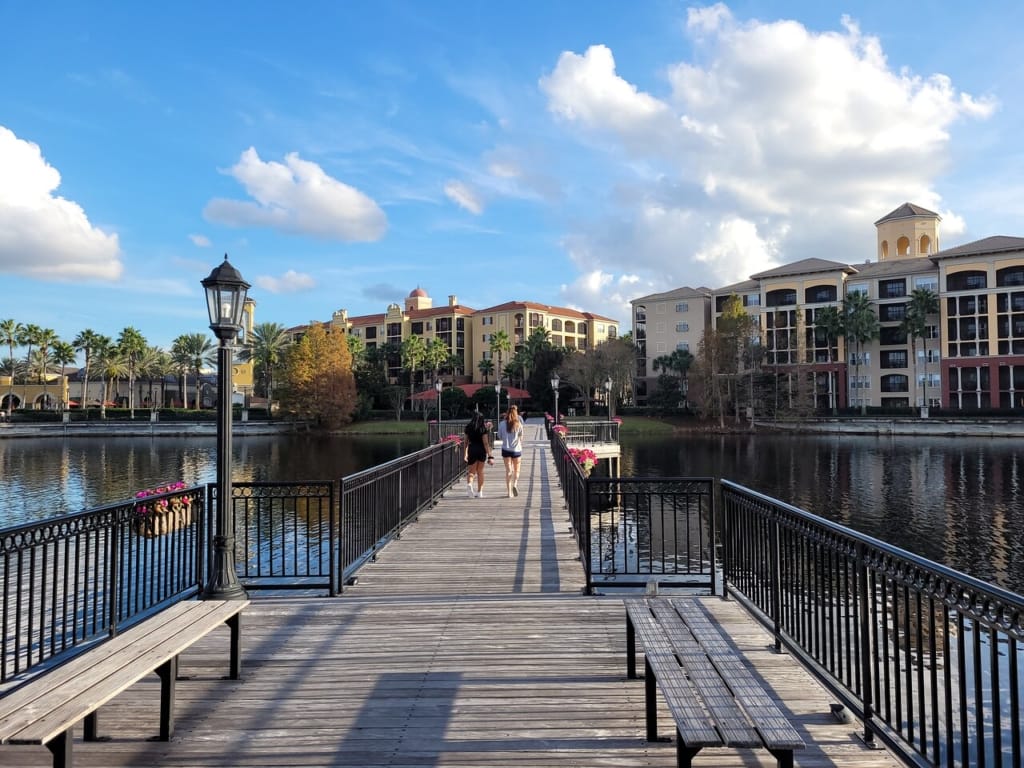 Hilton Grand Vacations at Tuscany Village is a timeshare resort that puts you right in the middle of all of the fun that Orlando has to offer. Orlando is family-friendly and so is Tuscany Village. For instance, they offer spacious suites with as many as three bedrooms, plus full kitchens and living areas. This means that you and your family will feel right at home at this resort! There is also plenty of activity around the resort, including sports courts, a pool, and lakefront walking paths. Tuscany Village even offers a state-of-the-art fitness center, so you won't miss out on your daily workouts (even on vacation!) Minutes from Walt Disney World and SeaWorld, this Hilton timeshare is one of the best to stay near Orlando's attractions.
Parc Soleil by Hilton Grand Vacations Club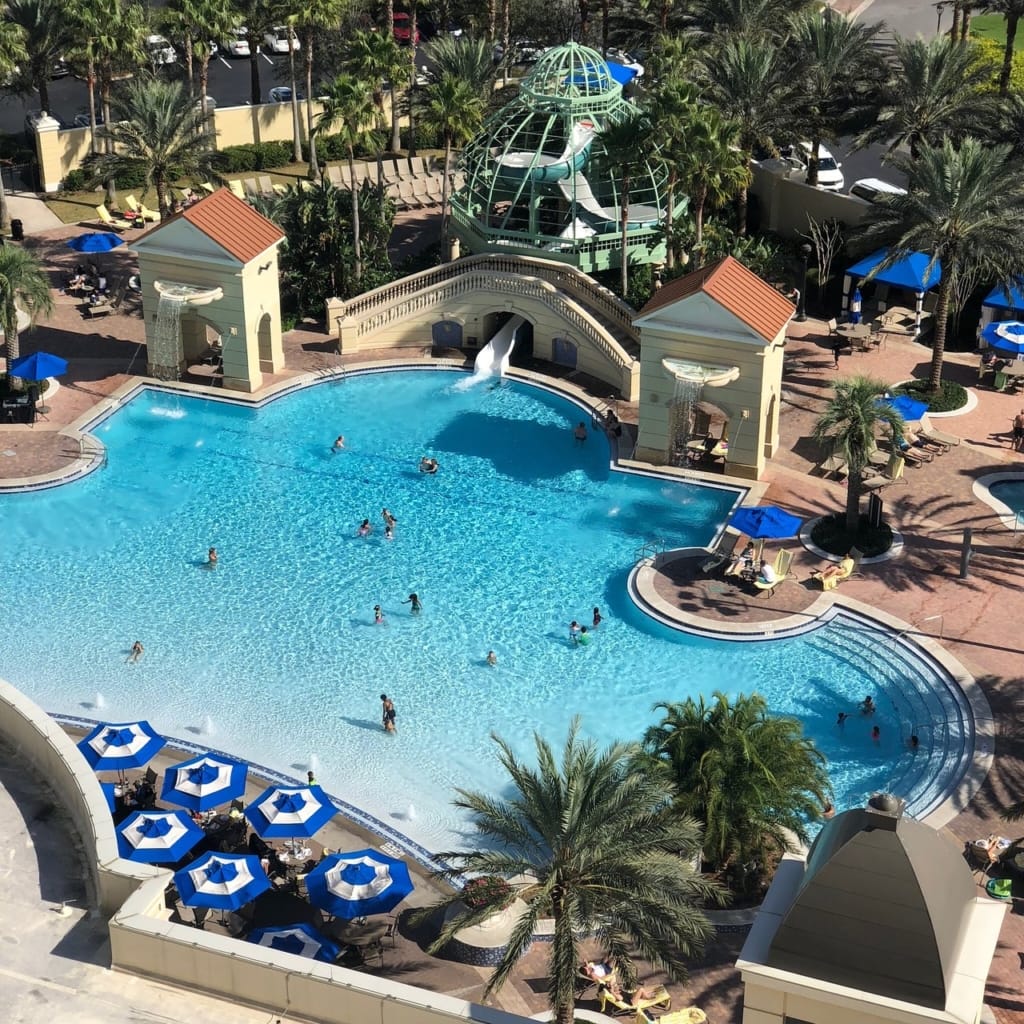 Parc Soleil by Hilton Grand Vacations Club is a lush 52-acre timeshare resort in the heart of Orlando. The resort is minutes away from many of Orlando's most visited attractions. Disney World is just three miles away, so you can even see their fireworks shows from some balconies! The sprawling resort contains two pools, waterslides, and sports courts. On the property is the Marketplace Deli which is perfect for a quick meal and even groceries! You'll be able to keep your villa's kitchen fully stocked without even leaving the resort! If you're renting a car or have driven to this resort, Parc Soleil offers free access to their parking garage. The resort is located right off Orlando's main interstate, I-4, so all off Orlando is just a quick drive away. Orlando International airport is 20 minutes away; leaving vacation is hard but this makes going home a little bit easier.
Hilton Timeshares in Orlando for Sale
Hilton Grand Vacation Club consists of luxury resorts around the world and also offers its' owners many perks! Flexible points and an incredible rewards system are some of the reasons why people love their HGVC timeshare! Interested in buying one of these amazing timeshares? Browse our selection of Hilton timeshare resales in Orlando, New York City, and more!
Call us today at 1-800-610-2734 or email info@timesharesonly.com if you have any questions.