Timeshare ownership has a lot to offer on its own, but how would you like to get even more value out of your timeshare week or points? Vacation Exchange is a great way to make this happen, and if you'd like to see the world, pairing RCI timeshare exchange and RCI Travel membership with your vacation ownership is a great way to do so. RCI is the world's first-ever vacation exchange platform, giving timeshare owners the ability to trade their points or weeks for resorts and experiences outside of their club brand. With membership, there are also different incentive programs and rewards available to add on, such as RCI Travel.
About RCI Timeshares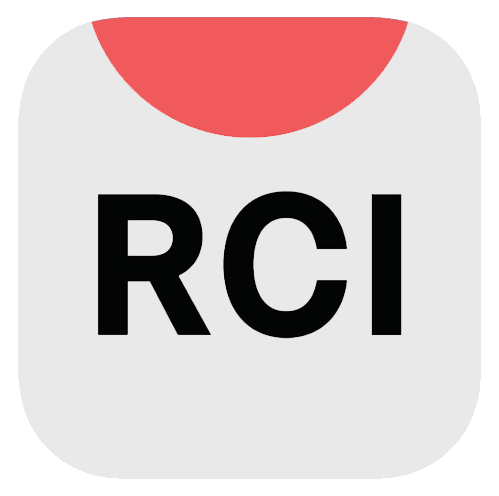 RCI was founded in 1974 by Jon and Christel DeHaan. The DeHaan family pioneered a system that would allow vacation owners to exchange their time at their home resort for time at other resort locations. Resort Condominiums International, also known as RCI, is a vacation exchange network. Vacation exchange networks like RCI can help timeshare owners get the most out of their ownership. The opportunities with the membership add-on, RCI Travel, are endless! RCI's three million+ members have 35,000 exchange options in over 100 countries.
What is Vacation Exchange?
Before we dive deeper into Resort Condominiums International, it's important to explain what vacation exchange is. Simply put, Vacation Exchange is a membership program that allows owners to exchange their timeshare week or points to stay at one of thousands of other resorts. Aside from RCI, the biggest timeshare exchange company is Interval International. Which vacation exchange is right for you will depend in part on whether your resort is affiliated with one program or another. For example, Hilton Grand Vacations Club and Holiday Inn Club Vacations are affiliated with RCI. Meanwhile, Disney Vacation Club and Hyatt are affiliated with Interval International. RCI members can't exchange for Interval International resorts and vice-versa, so be aware of what your home resort is affiliated with.
RCI Membership Levels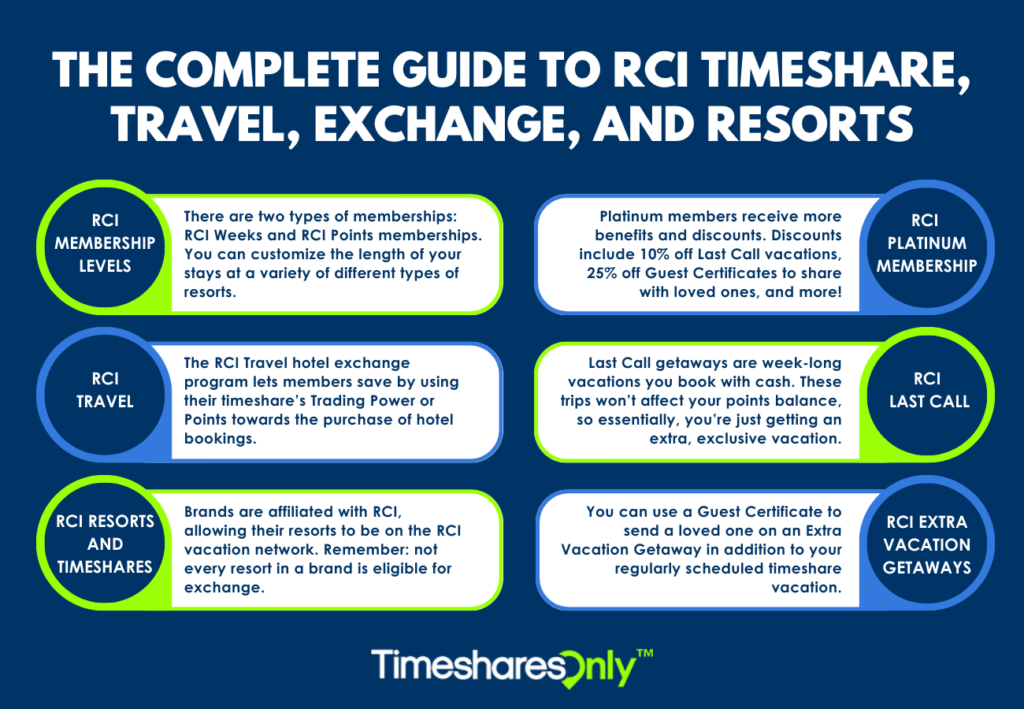 If you're new to RCI, it's important to note the two types of membership. With this company, you'll find RCI Weeks and RCI Points memberships. How is it decided which membership you have? Well, if you own a points-based timeshare, you'll be able to sign up for the RCI Points membership. However, if you own a fixed week or floating week timeshare, you have the option to enroll in RCI Weeks, OR convert your week to the RCI Points membership. The major difference between RCI Weeks and RCI Points is that RCI Points members can stay for as little as one night at a resort.
Traditionally, exchange networks worked by trading one week for another week at a resort of the same caliber. Today, RCI gives owners more options for exchanging. You can customize the length of your stays at a variety of different types of resorts. Members now have the option to exchange their week in smaller increments. So, you could potentially spend half a week at one resort and the other half at another resort at a different time of year. RCI Travel is an additional program offered that allows members to use their membership to book hotel stays around the world.
There is also an additional level of RCI membership known as RCI Platinum, which provides more discounts and perks. More on that below!
RCI Weeks
RCI Weeks membership allows members to exchange their resort week for another 7-night stay at affiliated RCI resorts around the world. When you sign up, you deposit your week and RCI will assign it with a "trading power" value that they call "Deposit Trading Power." Your Deposit Trading Power is determined by the popularity of your Home resort, the unit size or type you own, the season you own within, and more.
Learn more: Timeshare Exchange: Points vs Deeded Weeks!
RCI Points
RCI Points are an additional option for RCI members. Members who have converted and/or deposited their timeshare week for points have added flexibility in their vacation ownership. RCI Points offers members the option to choose their vacation's location, unit size, arrival date, and length of stay (including just one-night stays). Each resort/week combination is worth a different amount of points in the exchange network.
One great thing about exchange networks like RCI is that members' unused points can roll over one year. Additionally, members have the choice of borrowing their own points from the next year to book vacations in the current year. Points roll over one year, but if not used in the second year, they do not roll over to the third year.
RCI Platinum Membership
The RCI Weeks and RCI Points programs are considered the standard membership levels for RCI. If you are looking to get more out of your RCI membership, you can upgrade to Platinum. Platinum members receive a greater amount of benefits and discounts that allow them to enhance their vacations.
Discounts include 10% off Last Call vacations, 25% off Guest Certificates to share with loved ones, and more! Members can also use the On-Hold Vacations feature for free, so there is no penalty to take your time with vacation planning. Platinum members also have priority access to vacations, so they will be the first members to be able to book exchanges. They also have access to 24/7 Travel Concierge and Emergency Travel Assistance services. So, if there is a problem or a question that comes up, you will have access to a quick solution. Platinum members also receive complimentary unit and resort changes on their confirmed RCI Travel exchanges!
RCI Travel
For amazing deals on hotels worldwide, RCI Travel is the best way to book. Over 600,000+ hotels are available to make reservations at, with RCI's best price guarantee. The RCI Travel hotel exchange program lets members save tons by using their timeshare's Trading Power or Points membership towards the purchase of hotel bookings. And that's on TOP of the discounted savings!
If you are looking to use RCI Travel to book a hotel but are out of Trading Power or Points to use, you can even make reservations at cash-only getaways with exclusive rates that are just for members. You can also use RCI Travel to book flights, cruises, and even car rentals.
RCI Travel, Membership Fees and Dues
In order to be a member of RCI, you must own a timeshare and pay yearly fees for membership. We wrote an entire blog about RCI fees, so check it out for more information. In addition to exchanging your timeshare, you can also gain other travel benefits with RCI. Some members use their points for flights, cruises, rental cars, and other travel necessities.
RCI Resorts and Timeshares
Even though RCI is a large company in the timeshare industry, they don't actually own any timeshares. The way it works: brands affiliate themselves with RCI, and allow their resorts to be on the RCI vacation network. Below are a few RCI-affiliated brands:
It's also worth mentioning that not every resort in a brand is eligible for exchange. To find out if your resort is available on RCI's network, call your resort or developer or contact RCI directly.
RCI Timeshares You Need to Exchange for ASAP!
Sometimes it's hard to tell if a resort is as good as it looks online, so RCI has a way of instilling confidence in guests before booking. RCI gives their most excellent resorts the title of Gold Crown. This means that they have deemed that resort to be exceptional in many ways. For instance, you can expect excellence in housekeeping, amenities, and customer service at RCI Gold Crown resorts. You might think that this indicates that these resorts are more expensive, but that isn't always the case. Be sure to keep an eye out for sales or discounts so you don't miss the chance to book a Gold Crown resort at a reduced price. These are a few of our favorite RCI resorts, and yes, they are all Gold Crown resorts!
Arroyo Roble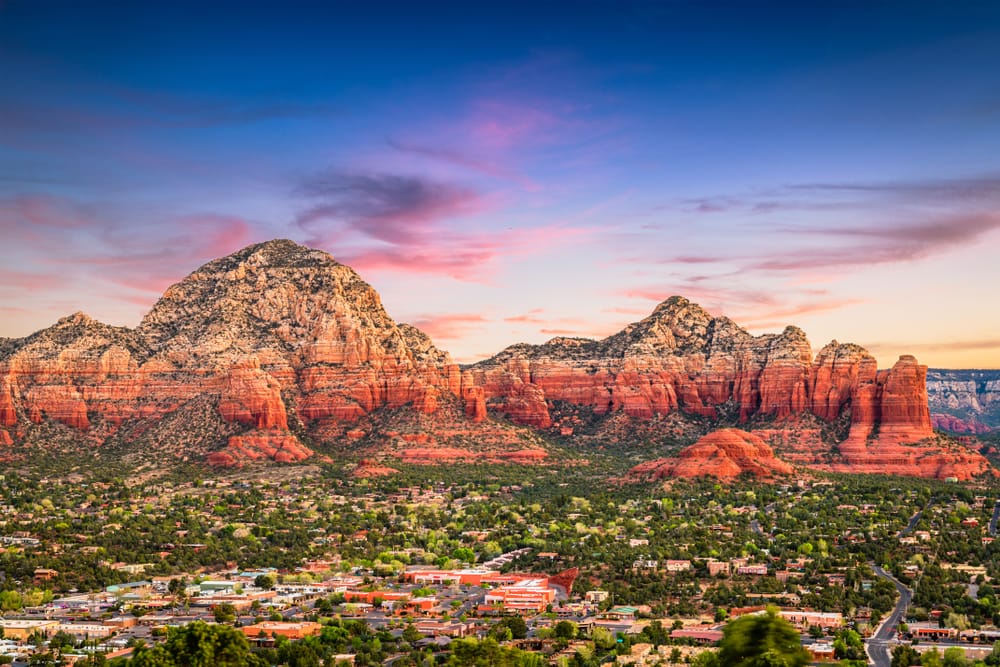 Arroyo Roble Resort is a gorgeous timeshare resort in Arizona. The resort is located on nine acres, right in the heart of Arizona's Red Rock Country. This secluded resort is a quiet getaway with scenic views, amazing amenities, and adventure around every corner. The resort features indoor and outdoor pools, so you can take a swim year-round. Sedona, Arizona has so much to offer for those who love the outdoors. You can fish in Oak Creek, hike Snoopy Rock, or take a hot air balloon ride over the Grand Canyon. There's also plenty of unique shopping at Tlaquepaque Art Village and delicious food options all over Sedona. Relax after a long day with some delicious Mexican cuisine and a refreshing margarita at Elote Cafe.
Hilton Grand Vacations Club at Mcalpin Ocean Plaza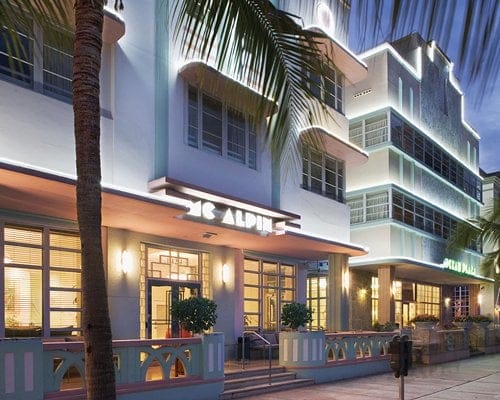 Elegantly designed with an art-deco atmosphere in beautiful Miami Beach, the Hilton Grand Vacations Club at Mcalpin Ocean Plaza is a top choice of RCI Gold Crown resorts available. This resort gives you everything you need while on your luxurious beach vacation getaway. Offering one and two-bedroom suites, units can comfortably accommodate up to six people and include fully-equipped kitchens, spacious living room areas, and of course, private bedrooms. Guests have easy access right to the beach, and you'll be within walking distance of the best restaurants and Miami nightlife.
Carlsbad Inn Beach Resort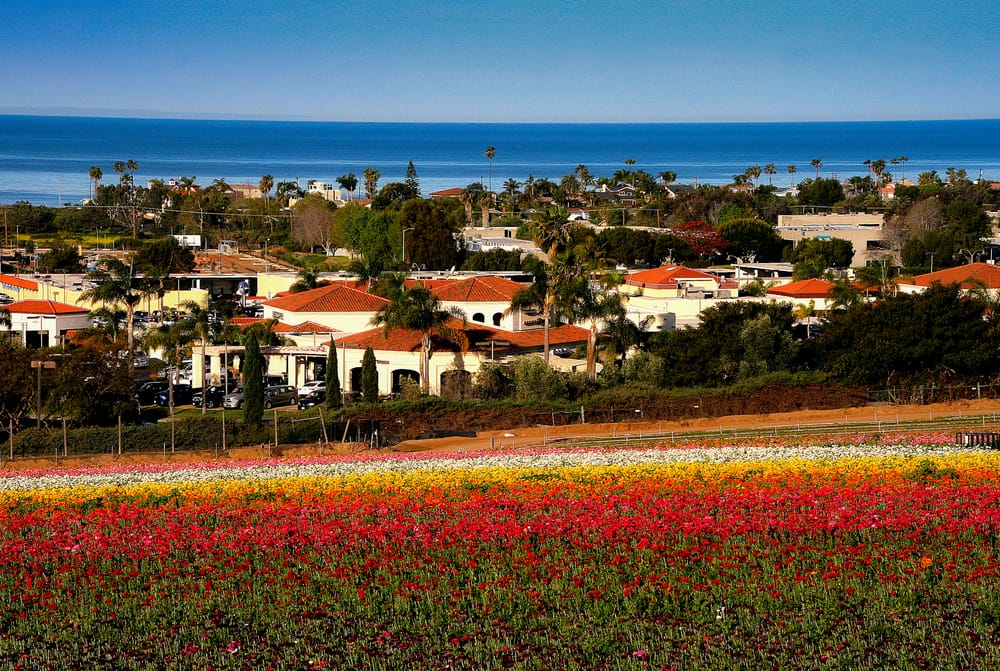 Carlsbad Inn is a beachfront resort just steps away from vibrant downtown Carlsbad, California. This resort aspires to make guests feel at home by hosting various activities, including a welcome breakfast and casino night. Enjoy boating or fishing via the local marina or spend the day relaxing at the beach. The resort's amenities include full kitchens, fireplaces, fitness centers, saunas, dining, and a hot tub with ocean views. If you want to see more of California, take a day trip to one of the many attractions that are just a short drive away from the resort, including Disneyland and the San Diego Zoo. Carlsbad has restaurants, wineries, breweries, and shopping within walking distance of the resort, so you don't need to go far to have a great time.
Holiday Inn Club Vacations at Orange Lake Resort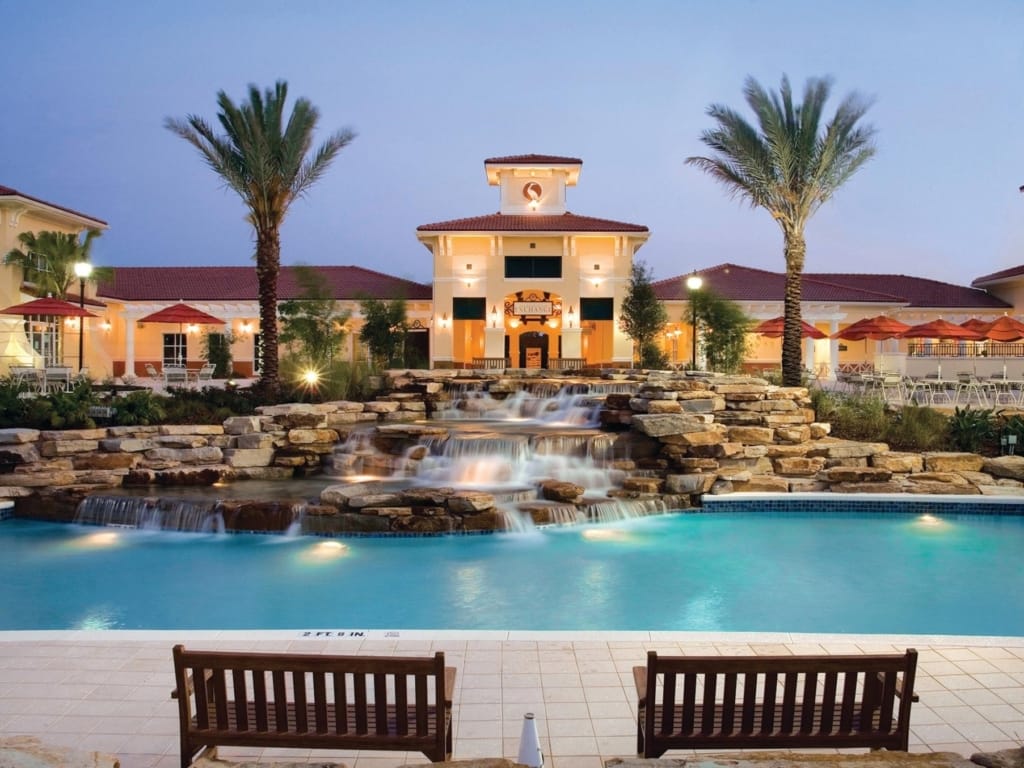 Want a fun-filled family vacation in Orlando? Then there's no better place to stay than Holiday Inn Club Vacations at Orange Lake Resort. This RCI timeshare is located just minutes away from Disney World. You'll be able to enjoy seven pools, four golf courses, a 12-acre water park, and more. Don't want to leave the resort for a good meal? No problem! Orange Lake Resort is home to eight on-site restaurants. This property isn't just a single building, but four villages spanning 1,450 acres. You and your family will love beachfront activities like water skiing, and boating. With all of these amenities, it should come as no surprise that this is one of the top RCI resorts.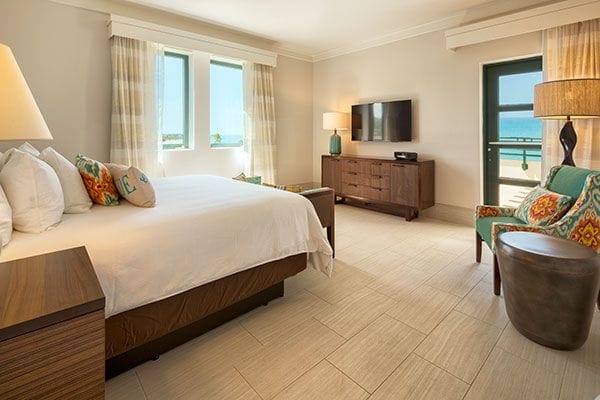 Additional RCI Exchange Programs
As a member of RCI, there are several perks available to you. If you are a member, you have the opportunity to gift an RCI exchange vacation using the RCI Guest Certificate. There is a fee for doing so, but you could give a loved one a great gift with a timeshare vacation.
RCI Last Call
Another benefit of RCI is their RCI Last Call getaways. Last Call getaways are week-long vacations you can take by booking them with cash. These vacations won't affect your points balance, so essentially, you're just getting an extra, exclusive vacation (that you buy, of course.)
RCI Extra Vacation Getaways
In addition to Last Call, you can also participate in RCI Extra Vacation Getaways. Similar to Last Call, you use cash to book these trips, and there is no limit on how many Extra Vacation Getaways you take. What's more, you can use a Guest Certificate to send a loved one on an Extra Vacation Getaway in addition to your regularly scheduled timeshare vacation.
Buy a Timeshare at an RCI-Affiliated Resort
Ready to travel the world for your next timeshare vacation? Then check out our marketplace! We have listings at the top RCI resorts from developers like Bluegreen Vacations, Hilton Grand Vacations, and Wyndham Destinations. Plus, when you buy an RCI timeshare resale, you'll be able to save some money compared to buying one directly from a developer. What's not to love? If you have any questions about an RCI membership, RCI resorts, or anything else related to the RCI network, please give us a call at 1-800-610-2734 or email us at info@timesharesonly.com. We're always happy to help!