As the world's first and largest vacation exchange network, Resorts Condominiums International (RCI) offers timeshare owners unparalleled flexibility when booking vacations. Within the RCI exchange network, 35,000 timeshare exchange options exist for members from over 100 countries. RCI doesn't stop just there. RCI members can use their RCI membership for deals on flights, cruises, hotels, car rentals, and more. RCI cruises offer guests access to top locations and the most innovative ships on the water. Keep reading to learn how you can set sail with RCI.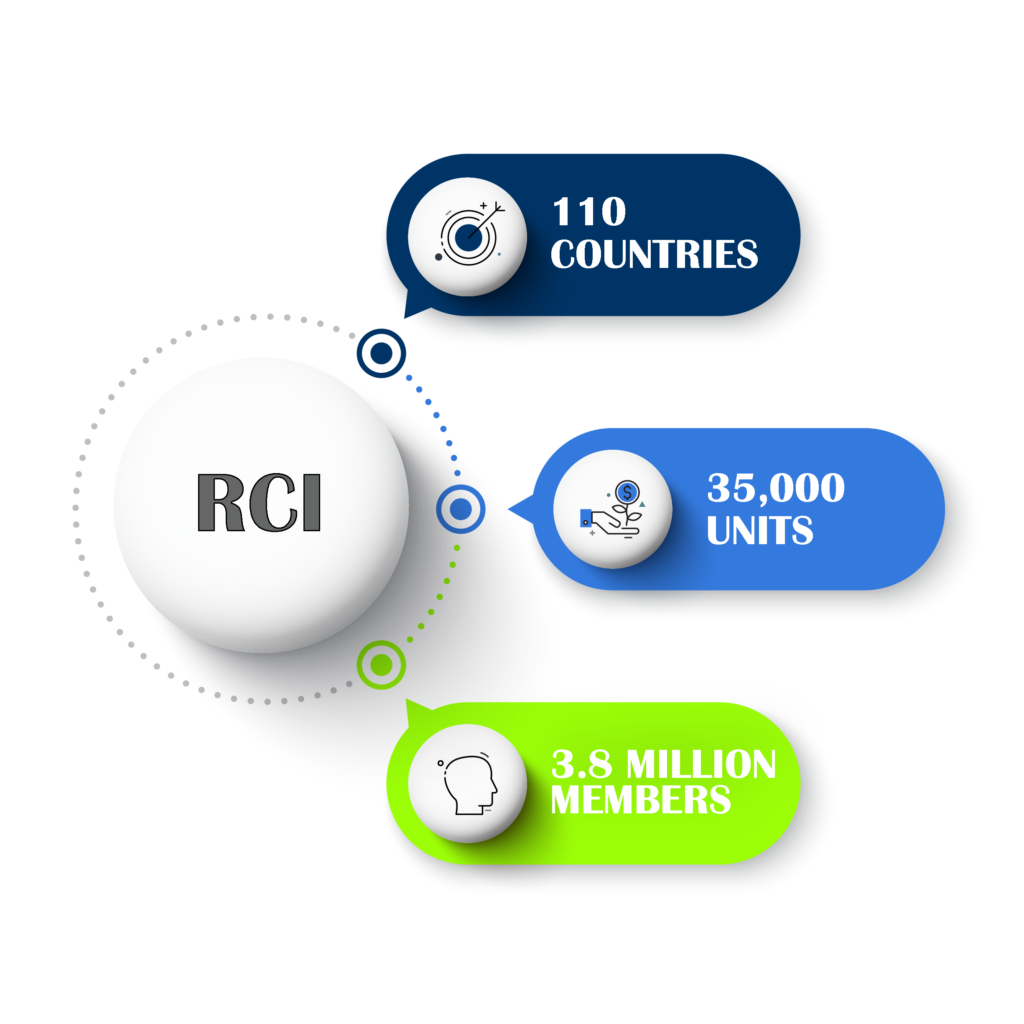 About RCI
Before we dive deep into RCI cruises, we first need to talk about what RCI is. In 1974, RCI pioneered a new way for timeshare owners to use their timeshares. This unique idea changed the timeshare world forever. Now owners can get the most out of their timeshare and aren't stuck traveling to the same location year after year. Instead, they can travel to thousands of resorts by joining a vacation exchange network. RCI is not an owner of any timeshare resorts. They are simply a network that affiliates with some of the biggest brands in the industry. So, owners can travel to other timeshare properties outside their brand's portfolio.
To sum it up, when a timeshare owner becomes a member of RCI, they will have access to their entire catalog of resorts. They can also get RCI exclusive deals and discounts on things like RCI cruises. There are two memberships within RCI, RCI weeks and RCI points. It is essential to point out that they both have yearly fees for obtaining a membership.
Which Brands Affiliate with RCI?
As previously stated, RCI does not own resorts; they affiliate with brands, and those brands allow their resorts to be in the RCI vacation network. So, RCI members can trade their timeshare points or weeks to stay at a different resort. For example, if you have an RCI membership and own a timeshare in Myrtle Beach at Wyndham Ocean Blvd but want to visit Barbados at Hilton Grand Vacations at the Crane, you can do so. Then, you can stay in Vermont at Holiday Inn Club Vacations Mount Ascutney Resort the following year. Through RCI, you can travel wherever your heart desires! RCI works with many of the top vacation brands, including:
It's important to note that not every single resort from the brands above is affiliated with RCI. For more information about whether your resort is a part of RCI or not, contact your resort developer or RCI directly.
RCI Cruises Exclusive Benefits
When you book a vacation through RCI cruises, you get all the deals the cruise line offers and exclusive RCI member benefits. These additional benefits include a 110% best prices guarantee, up to $1,500 to spend on board, and cruise experts available for assistance 24/7. This means they will refund you up to 110% of the difference if you find a lower price. In addition, you have extra money that you can spend onboard on dining, drinks, shopping, etc. You are in good hands if you aren't familiar with cruises and how they work. RCI cruise experts work around the clock to help guests book the voyage of their dreams. Make sure you book through the RCI website or with an RCI cruise expert to get these tremendous benefits.
Take RCI Cruises to Top Destinations
RCI cruises pair up with some of the industry's most prominent cruise lines, including Royal Caribbean, Carnival Cruise Line, and Norwegian Cruise Line. Each ship offers incredible features that will take your vacation to the next level. Top locations for RCI cruises include the Bahamas, Alaska, and the Caribbean. The decision of where to go or which cruise line to take all comes down to your preferences.
Royal Caribbean
Royal Caribbean offers cruises to various locations and lengths of time. Spend four nights on a cruise to the Bahamas aboard Royal Caribbean CocoCay cruises. CocoCay is Royal Caribbean's private island which offers fabulous amenities, such as the tallest waterslide in North America and the largest freshwater pool in the Bahamas. Other entertainment includes bars, fine dining, theme nights, and a spa. Another option is to hop on a 7-night Mexican Riveria Cruise. On board the ship Navigator of the Seas, you can work out in the fitness center, dance the night away at the different bars, or lounge by one of the multiple pools. You are in for a treat with Royal Caribbean.
Carnival Cruise Line
Carnival Cruise Line is another option for fabulous cruises. RCI recommends guests set sail on Bahamas Carnival Cruises, Mexico Carnival Cruises, Caribbean Carnival Cruises, or European Carnival Cruises. Because they are all RCI-approved, you know you can't go wrong with any of these locations. The European Carnival Cruise is the longest because you port at seven different cities across three countries. On this 10-night cruise, you visit Italy, Turkey, and Greece. On-boat entertainment includes pools, sports, shops, contests, family activities, and so on. If you are looking for a shorter trip that departs from the US, look into the Bahamas, Mexico, or Caribbean cruises.
Norwegian Cruise Line
Last but certainly not least is the Norwegian Cruise Line. Alaskan cruises are top-rated but for different reasons than those in tropical areas. Alaskan cruises get you up close to ice and wildlife. Guests love seeing all the scenic views and animals from the ship's deck. Norwegian Cruise Line excels in traveling to Alaska in addition to warmer locations like Hawaii, the Caribbean, and the Bahamas. The amenities onboard a Norwegian Cruise Line make each trip such a blast. Whether you relax at the spa, play a friendly game on the basketball court, or watch a show at the theater, you are bound to have a memorable experience.
How to Set Sail with RCI Cruises
If you want to set sail on one of the fabulous RCI cruise lines mentioned above, you must start by owning a timeshare that affiliates with RCI and pay yearly fees for membership. Since the RCI membership costs money, buying a timeshare on the resale market could be a great way to save some extra cash. At Timeshares Only, we have a wide variety of timeshares on our marketplace where you can find incredible deals. Simply make an offer once you have found the timeshare for you. If you have any questions, don't hesitate to reach out. Our team is happy to assist! Give us a call at 1-800-610-2734.