Is now a good time to sell your timeshare? Selling timeshares, in general, can seem like an uphill battle. In actuality, there are many legitimate timeshare resale companies that are willing and able to responsibly help owners sell. While travel has certainly been on hold in the wake of COVID-19, our specialists at Timeshares Only are seeing positive indications that many people will be traveling again soon. Even though it may seem daunting during these uncertain times, we can give you some tips on selling your timeshare amidst COVID-19.
Should I Sell My Timeshare Now?
If you're wondering "should I be selling my timeshare during this time?" we'll tell you that it really depends. If you are feeling discouraged by resorts being closed or your vacation plans getting canceled, it's safe to say that many properties are opening up again, and top developers are offering owners more leniency with cancellations and the use of their points. While it has been a bad year for travel, consider how much use you've gotten out of your timeshare previously. Do you really want to sell the rest of your vacations at top resorts?
On the other hand, if you haven't been using your timeshare to it's fullest potential (i.e. using vacation exchange or taking annual trips), then it may be worth looking into selling. Our first recommendation is to call your developer or resort first for their advice and guidance. Many timeshare brands are members of ARDA and have in-house exit solutions for owners. Programs like Wyndham Ovation or Horizons by Holiday Inn are sometimes at liberty to take your ownership off your hands.
Timeshare Maintenance Fee Relief
There are many reasons why you could be considering selling your timeshare. And you may be thinking about it even more recently, with many exit companies and cancellation attorneys targeting advertisements on owners. If your timeshare maintenance fees have become a burden, that's where Timeshares Only comes in.
Unlike other timeshare resale companies, we have an exclusive program that will grant members maintenance fee relief. While you wait for your timeshare to sell, take comfort in not having to worry about your annual dues for the year. Not only that, but our TO GO program can also offer exclusive travel offers and vacation deals.
Be Aware of Timeshare Scams and Exit Companies
As we mentioned previously, timeshare cancellation attorneys and exit companies are using this uncertain time to take advantage of owners. You may have seen ads from what seems like a reputable company, that promises to get you out of your timeshare. Be wary of these claims, as timeshare cancellation is not always safe.
Furthermore, you should never pay thousands of dollars up-front to get out of your ownership. The best way to get out of your timeshare is to always call your developer first. They may have in-house exit solutions just for you or refer you to a third-party that has been vetted and proven to help owners sell.
If you have other concerns or questions, you can also head to ResponsibleExit.com for more information. This is ARDA's Coalition for Responsible Exit. which advocates for safe and legal ways to help owners successfully exit.
How Timeshare Resale Works When Selling Your Ownership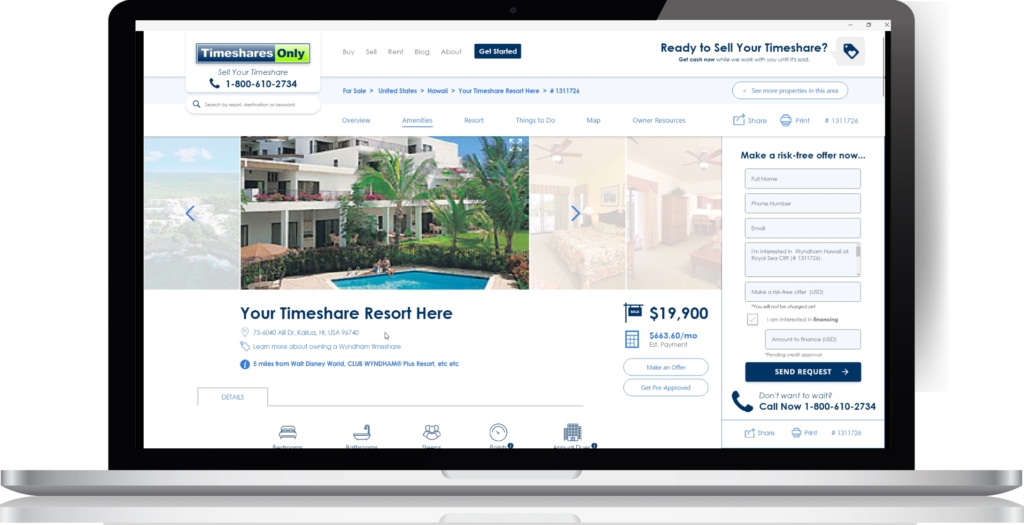 Timeshare resales are a viable option if you decide to sell. When you call a company like Timeshares Only, we'll go over the details of your ownership with you and answer any of your questions. Once we have all of the important information about your timeshare, we'll make an online advertisement that will go on our resort marketplace. Your ad will have all of your unit and ownership details, like the week you own, or how many points you have. What's more, you pick the asking price. You will have full control of the sale of your timeshare. If an offer comes in, you have the power to accept or decline.
If you get an offer that you would like to accept, you can handle the rest of the sale yourself, or we can refer you to our Preferred Full Service Brokerage.
Can I Make Money From My Timeshare?
The vacation ownership product is meant to be a lifelong product, that guarantees owners vacations for life. They also lock-in today's prices, so the savings make it worth it. However, timeshares are not an investment, and they do not appreciate in value. It's important to manage your expectations because you likely won't get back what you paid for. The main objective for most owners selling is the freedom from maintenance fees and dues.
Are People Still Buying Timeshares?
There are many reasons why people buy a timeshare. Savvy shoppers will even specifically look to the resale market because they can find exactly what they're looking for at a cheaper price. ARDA reports that owner satisfaction is roughly 85%, and most owners love their timeshares. Because of this, many people will actually check the resale market to add on to their ownership.
We are also confident that once travel restrictions are lifted, more families will be planning vacations than ever. After almost three months of lock-down, we'll all need a well-deserved, relaxing vacation (while abiding by social distancing, of course).
Ready to Get Started?
If you are ready to sell your timeshare, or just want to learn more about the resale process, do not hesitate to reach out to one of our specialists. Timeshares Only has over 25 years of experience in the resale industry. We are a member of ARDA, and we maintain an A+ Rating with the BBB as an Accredited Business. You can call us at 1-800-213-7733 Monday through Friday, from 9 AM to 9 PM EST. We can also be reached by email at info@timesharesonly.com.
Sell Your Timeshare With Timeshares Only