Orange Lake Resort is a sprawling Holiday Inn Club Vacations resort in sunny Orlando, Florida. The Orange Lake Resort will keep you and the whole family busy, offering an almost endless amount of on-site activities. However, if you no longer want to return to Orange Lake or you need to sell your timeshare for one reason or another, there are a few options.
About Holiday Inn Club Vacations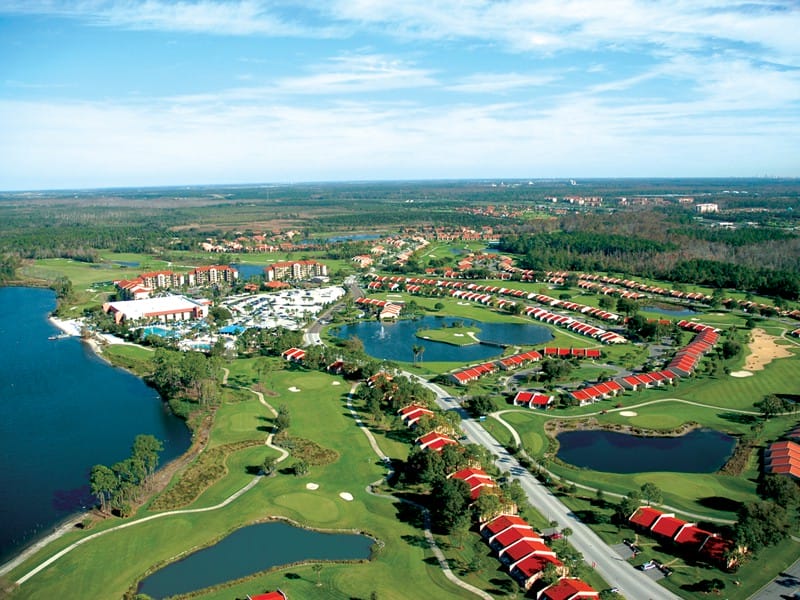 In 2008, the Holiday Inn brand began its timeshare business with the creation of Holiday Inn Club Vacations, allowing its many loyal customers to experience the benefits of vacation ownership. Holiday Inn Club Vacations is one of the best vacation clubs to join for families and couples alike. HICV offers 28 resorts in sought-after destinations like Orlando, Cape Canaveral, and Las Vegas. Holiday Inn Club timeshares have opportunities for incredible vacations nationwide. Holiday Inn Club offers points-based ownership, giving members access to all of the resorts within the brand's portfolio. Furthermore, Holiday Inn points can be used any time of year, and owners can decide how they want to spend them.
Owners can expect comfortable accommodations, access to over 5,000 hotels across the world, and superb customer service with Holiday Inn Club timeshares. Holiday Inn is also part of InterContinental Hotels Group (IHG).
Before You Sell Your Orange Lake: Exchange It On RCI
If you're still interested in vacationing each year, but you feel you've visited Orange Lake enough times, there are options. Orange Lake Resort owners can use their points to trade on third-party vacation exchange networks, like RCI. Once you become a member of RCI trading platform, you will be able to trade your ownership for thousands of other resorts or hotels worldwide. Instead of selling your Orange Lake timeshare, you can keep your contract and take vacations around the world. After all, you still own your vacations for life!
About Orange Lake Resort
Orange Lake Resort is the epitome of vacation fun. Located just outside of the Walt Disney World property, this Holiday Inn Club Vacations Resort is conveniently located for park-goers. The 1450-acre property is divided into four different villages: River Island, West Village, East Village, and North Village. Each of the villages features different amenities for guests, including a lazy river and golf courses.
For enough room for the entire family, Orange Lake offers Studios and 1 to 3 bedroom villas. Studios include a fully equipped kitchenette, a small dining table, and a living room area with a pull-out sleeper sofa. No matter what your party size is, you'll find that there is enough space for everyone to fully relax at Orange Lake.
Options to Sell Your Orange Lake Timeshare
When you're ready to sell your Orange Lake timeshare, there are a few options. Our first advice is to always contact your developer first. Contacting Holiday Inn Club Vacations directly will be extremely helpful because they can guide you in the right direction. In fact, HICV offers an in-house program for selling your timeshare called Horizons by Holiday Inn.
Horizons by Holiday Inn
Horizons is a free and easy service offered by Holiday Inn to provide a way for owners to sell their timeshare. If you're looking to get out of your timeshare contract and never pay maintenance fees again, Horizons could be the perfect solution. The Horizons team will look into every individual case and assess the correct timeshare exit options. Being the experts in Holiday Inn timeshares, the team at Horizons will provide the guidance that you'll need when selling your Orange Lake timeshare.
Gift Your Timeshare
One way that people get rid of their timeshares is by gifting them to a friend or family member. By gifting your timeshare, you will transfer the ownership and fees to them. This means that you will no longer pay maintenance fees and will be off the contracts. This is a great opportunity to provide a loved one with the gift of amazing vacations and countless memories. Of course, be sure that the recipient understands the responsibility of owning a timeshare!
Sell On The Resale Market
Another viable option for selling an Orange Lake timeshare is listing it or advertising it for sale on the resale market. Selling your Orange Lake Resort timeshare can help relieve you of your ownership, but it's important to manage your expectations. Be sure that whatever resale company you decide to use is a trustworthy one. You can check to see if the company is accredited by the Better Business Bureau or is a member of ARDA, the American Resort Development Association. Ensuring that you're using a trusted brand will help you avoid being a victim of a resale scam.
Common Resale Scams When Selling Orange Lake Timeshare
If you're looking to have more control over the sale of your Orange Lake timeshare, selling on the resale market could be the best option. Holiday Inn Club Vacations is one of the best vacation clubs to join, so there could be many buyers looking for a HICV timeshare on the resale market. Finding a legitimate resale company can be tricky as there are many scams out there. There are a few telltale signs that you are being scammed by a timeshare resale company.
Timeshare Exit Companies
You may hear about timeshare exit or cancellation companies and think that they are the same as a resale company. The main difference is that exit teams claim that they can get you out of your contract, no questions asked. They may even offer you a money-back guarantee on your timeshare, but with a huge upfront fee.
Exit companies often advise owners to stop paying their timeshare maintenance fees, which is a big red flag. Since a timeshare contract is a legally binding document, ceasing to pay your dues can cause you a lot of trouble. The resort will take back ownership and you will likely default on your ownership. Not paying your maintenance fees will hurt your credit and can affect your life for a long time.
Cold Calls
If you weren't looking to sell your Orange Lake timeshare and you received an unsolicited phone call regarding a "potential buyer," take caution. Most importantly, it is illegal for a legitimate timeshare to call you out of the blue and goes against ARDA's Code Of Ethics. Oftentimes the caller claims that their "buyer" is offering more than what you paid for your timeshare or what the timeshare is worth. They may also ask for a steep upfront fee to transfer the ownership. If you ever receive one of these phone calls, do not give them any of your personal information. Then, look the company name up on the Better Business Bureau before proceeding.
Manage Your Expectations
Timeshares should never be considered an investment. They are meant to be a product for owners to use for a lifetime of vacations. In reality, timeshares depreciate like many big purchases including cars and boats. While selling your Orange Lake timeshare is certainly possible, you most likely will not get offers for more than what you paid for it. Keep this in mind when you move forward with selling your timeshare and decide your asking price. Setting the asking price too high might set you up for a disappointing offer or could result in your unit sitting on the market for a long time.
How To Sell Orange Lake Timeshares with Timeshares Only

Timeshares Only can help post your Orange Lake Resort timeshare for sale on the resale market. Timeshares Only is an advertising site and we do not guarantee the sale of your timeshare, but our advertising and marketing strategy helps put more eyes on your timeshare for sale and reach more prospective buyers. We use multimedia channels and multiple distribution channels to advertise the timeshares posted for sale on our marketplace. By using TV, radio, billboards, and the internet, we can put your timeshare right in the hands of buyers. Additionally, our inventory is accessible to a number of real estate brokers and a network of timeshare investors.
As Timeshares Only is a proud member of ARDA, we pride ourselves in being a brand you can trust. ARDA advocates for the protection of timeshare owners by helping them avoid resale scams. There is a strict Code of Ethics for ARDA members to follow. Members must also comply with all timeshare laws and regulations in place.
Timeshares Only has been in business for over 25 years and has a team of professional timeshare experts. We have an A+ Rating with the BBB and a 4.5/5-star rating on TrustPilot. We take our customer feedback to heart and strive to make our service the best it can be.
Rent Out Your Orange Lake Timeshare While You Wait
Timeshares Only can help you list your Orange Lake timeshare for sale, but can also help you rent it out. In fact, you can advertise your timeshare for rent and sale at the same time. We take care of the reservation details and payments, while you keep the proceeds. You can use these proceeds to cover your maintenance fees or put that cash in your pocket. Renting out your timeshare is a great alternative to selling if you're just looking to not pay your fees. Renting out your timeshare is also a great way to get some cash while your listing is on the resale market.
Sell Your Timeshare With Timeshares Only
We at Timeshares Only are experts in helping owners sell their timeshare weeks. Our representatives would love to help walk you through the process of selling your Orange Lake timeshare. Gather all of the important documents, contracts, and information you have concerning your timeshare week, and call us today at 1-800-213-7733. Alternatively, you can fill out the form below and one of our representatives will reach out to you.