Do you take the time to plan out and go on family vacations? The truth is, going on a family vacation is better for your children than new gifts or toys. The science behind this proves that a child's brain development, communication, and happiness thrives from spending time together and experiencing new places. Don't let another year go by without taking time away from work or school for quality time. Make your New Year's Resolution to take a family vacation.
Benefits of a Family Vacation
In a study conducted by Cindy Chan, assistant professor at U of T Scarborough's Department of Management and the Rotman School of Management, Chan found that experiential gifts are more effective than material ones. Giving the gift of vacations or taking a family vacation improves relationships.
For children, a family vacation can even strengthen their IQ and concentration skills. There are many studies that find a correlation between quality time together and brain development. Invest in your family, your vacation time, and memories that will last a lifetime. So, what is the best way to give the gift that keeps giving? Vacation ownership.
What is a Timeshare?
Don't go just yet! You may hear timeshare and think, "what my parents bought in the 90s?" That's so far from the truth today. Today's timeshares are more like flexible travel clubs, typically using points to book all over the world rather than a set week at the same resort each year. In fact, the timeshare industry has seen over nine years of consecutive growth. Over 85% of owners love their timeshare or timeshare resort.
Timeshare is, technically, a period of time that you own to vacation every year. This was traditionally ownership at the same resort, at the same time, every year, in which you shared the unit with 51 other families. Timeshare has become much more flexible since then, with top hospitality brands in the industry playing a huge part. Marriott, Hilton, Wyndham, and Bluegreen make vacations unforgettable for families. Own your vacations with points-based, flexible ownership for traveling to new places every year. You can learn more about timeshares by reading "What is a Timeshare and How Does it Work?" We also have a list of Timeshare Pros and Cons, so you can weigh out your options.
Keep in mind, with a timeshare resale, you can own your family vacation at a much cheaper price point and many of the same benefits as those who paid more buying from the resort directly.
Best Caribbean Family Vacations
Beach lovers, outdoor enthusiasts, and even kids will love some of the best Caribbean family vacations. These spots allow visitors to live out their adventures with luxury, fun, and on a budget. The Caribbean consists of some of the best destinations, like the Bahamas or Aruba. You don't have to be a timeshare owner to vacation here—we have rentals to enjoy as well.
Harborside Resort at Atlantis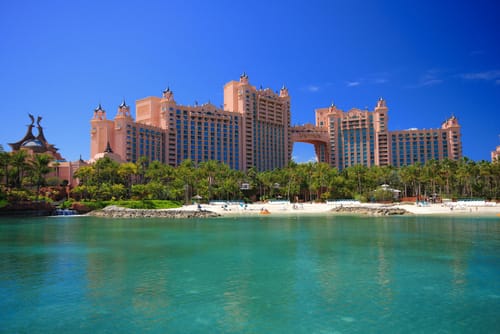 Considered one of the best beaches in the world, Harborside Resort at Atlantis on Paradise Island is a family vacation dream come true. This resort is massive, with something for absolutely everyone. Kids and adults will love the Aquaventure Waterpark, a major attraction to Bahamas vacationers. With 141 acres of water slides, a mile-long lazy river, and 20 swimming areas, Aquaventure will blow you away.
As most people love dolphins and their majesty, on-site the resort is Dolphin Cay, where guests can swim with friendly bottlenose dolphins and snorkel with other water mammals. There are even stingrays and other fish you can interact with, with treats and petting.
If you're worried about just pleasing the kids on your family vacations, take a moment for yourself. The Atlantis Casino is open all night with games of chance. It's the largest casino in the Caribbean, with more than 75 tables for games and 750+ slot machines. Complimentary lessons are available daily to teach guests the way of luck.
Harborside Resort at Atlantis provides spacious villas and suites for various-sized families. Fully-equipped kitchens, living and dining room areas, as well as a washer and dryer, all keep your family vacation convenient and stress-free. What's more, the amenities on-site include dining, a spa, a fitness center, and more.
Wyndham Grand Rio Mar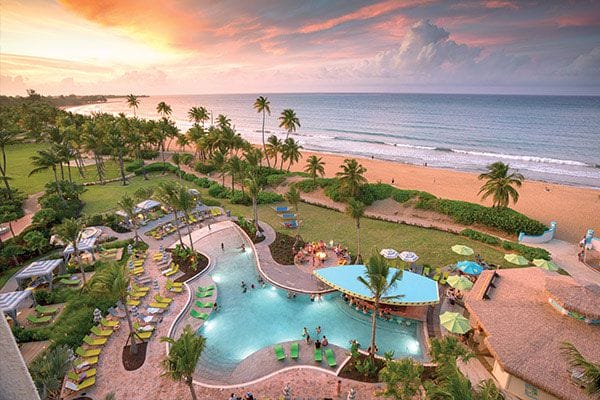 One of many Wyndham luxury resorts, Wyndham Grand Rio Mar is an island sanctuary in Puerto Rico. Guests can relax by the pool all day, with a drink in hand (because it's 5 o'clock somewhere). Shady palm trees, ocean views, two golf courses, and a spa will keep the adults relaxed all vacation long. Just 30 miles outside of historic Old San Juan, take the opportunity for an exciting day trip.
Accommodations here range from studios to one-bedroom and three-bedroom ocean or mountain-view villas. Full kitchens and mini-kitchens also feature a bar area that's ready for use with a "Frozen Concoction Maker!"
If you love to hike or the kids love exploring nature, Wyndham Grand Rio Mar is the closest resort to El Yunque Rainforest. Almost 29,000 acres, it's the smallest tropical rainforest system but also the most biologically diverse. Hundreds of animal and plant species can be found here. Explore trails through waterfalls, nature pools, and beautiful sightseeing opportunities.
Take a Colorado Family Vacation
Colorado is a great destination, summer or winter. Although this is a prime skiing location, the mountains, springs, and hiking trails are worth the summer heat as well. Breckenridge, Denver, and Vail are just a few of the best spots for a Colorado family vacation.
Grand Colorado on Peak 8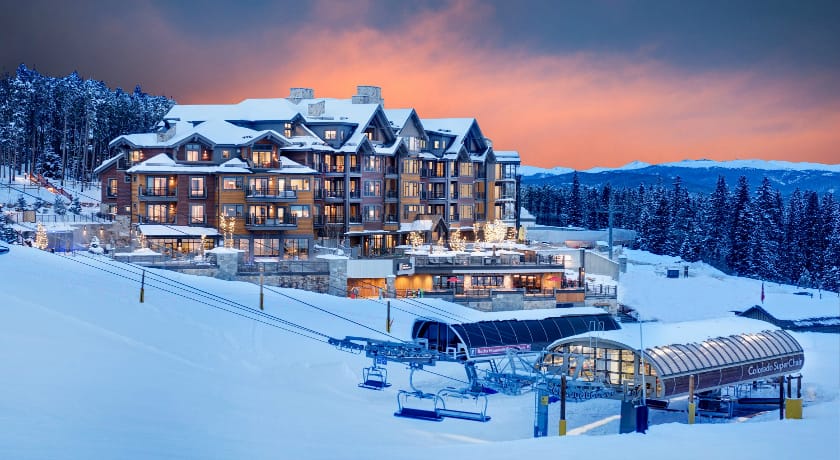 Part of Breckenridge Grand Vacations, this resort has a full stack of activities and excursions to enjoy for your family vacation. With ski-in/ski-out access to the slopes, take the Colorado Superchair, and Rocky Mountain Quad lifts right out the back door. With classes and ski rentals, even beginners can enjoy plowing through the snow. On-site the resort is Robbie's Tavern, known for serving breakfast, lunch, and dinner in a casual, family-friendly setting (and also includes a full bar for adults). For quick eats, there's also the Ullr Cafe, with grab-and-go croissants, bagels, muffins, and more.
For moms and adults, relax at the Infinity Spa with a massage, hand and foot treatments, facials, and steam rooms. While the kids are skiing down the slopes, escape within your escape here. Then, head to the Lobby Bar for a delicious cocktail to truly unwind.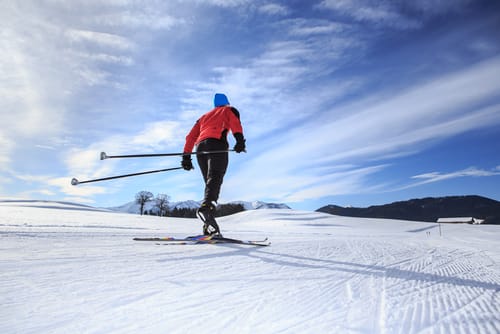 There are many more amenities to enjoy at Grand Colorado on Peak 8 for your family vacation. Watch a movie in the private theater, play in the arcade, or take to the outdoor ice skating rink to twirl your worries away. Coming soon: an escape room! During the summer is when Epic Discovery on Peak 8 opens for its seasonal debut. The Gold Runner Alpine Coaster, Alpine SuperSlide, trampoline, and more will fill the Colorado summer days.
Wyndham Steamboat Springs Resort
Known as the hot springs capital of Colorado, Steamboat Springs is a true blend of a western town and ski paradise. With a complete mountain range of 2,965 acres to ski on, there are all kinds of trails in Steamboat Springs for every level of experience. The Wyndham Steamboat Springs Resort is just minutes from the ski resort and nearby the Routt National Forest.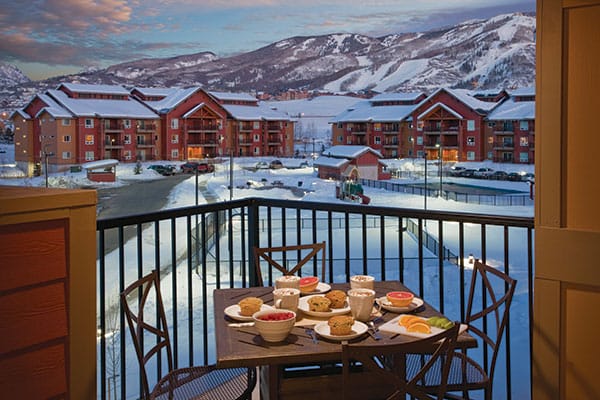 On-site Wyndham Steamboat Springs Resort is a steam room, outdoor hot tub, basketball, barbecue area, outdoor pool, and heated indoor pool. Take the ski shuttle to the slopes, or take it to the sauna for some relaxation. Accommodations range from one to three-bedroom condo-style suites. Each includes a full kitchen, private balcony or patio, and fireplace.
Best Family Vacations in Florida
Florida is home to the very best beaches, historic landmarks, and of course, the theme park capital of the world. When you're family vacation especially includes teens, you will find the widest range of activities to enjoy. Some families will even take an extra-long trip to experience everything that Florida has to offer.
Disney Vacation Club Resorts in Orlando
DVC has a reputation for being the pinnacle of family-friendly. When you stay in Orlando, these resorts have prime access to the Walt Disney World theme parks and create a magical experience for everyone. Choose from the Grand Floridian, Bay Lake Tower, Old Key West, and more DVC resorts in Orlando.
The amenities found at these resorts include massive swimming pools with separate kiddie areas, fine dining and top-rated chefs, Character Breakfasts and meet-and-greets, as well as private views of the nightly fireworks shows. Many of them connect to the parks by monorail, water taxi, gondolas, or shuttles, making your transportation stress-free and easy.
The Fountains Resort by Bluegreen
Over 50 acres that surround Lake Eve and borders International Drive, The Fountains Resort by Bluegreen Vacations offers total excitement on your family vacation. One of the best Bluegreen resorts to stay at, The Fountains includes its own miniature waterpark, clubhouse, and premium suites. The Bluegreen Wakoola Springs on-site is a 75,000-square-foot oasis that features a zero-entry pool, two water slides, interactive water fountains, a kiddie pool, and hot tubs. On those rare chilly Florida days, there's even an indoor/outdoor heated swimming pool.
Accommodations here can give everyone privacy and space. Villas range from one to two-bedroom suites all the way to three-bedroom deluxe, Presidential Suites. If you're taking your vacation for ultimate luxury, the Presidential Suites include their own private movie theater, game room, and tons of extra space.
Cape Canaveral Beach Resort
Head to the Space Coast for a unique beach destination in Florida. The Cape Canaveral Beach Resort by Holiday Inn Club Vacations offers convenient direct beach access. Spend your time making sand castles, renting jet skis or surfboards, and basking in the sun. On-site is the Cape Grill & Bar, perfect for quick and easy bites. The pool also includes a lazy river, where you can drift in a tube all day.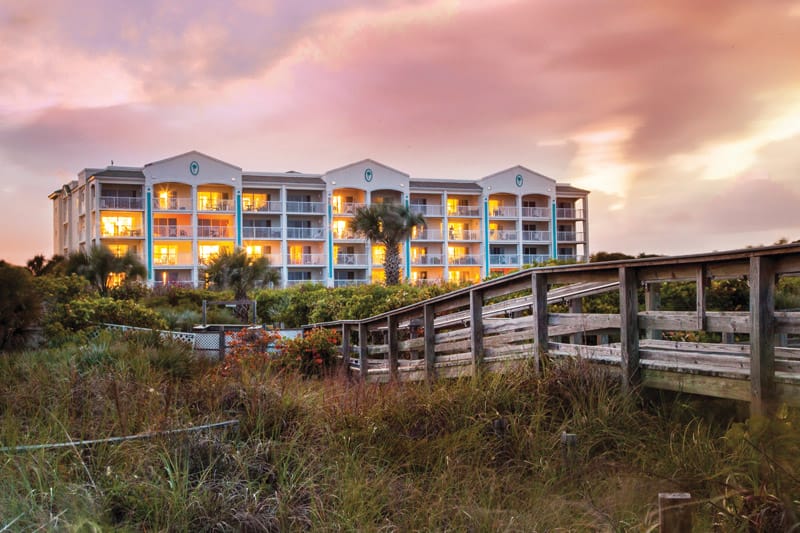 For your family vacation, there's also a children's play area, mini-golf course, movie theater, and sports courts. Mom and dad can relax in the sauna or stay on top of their exercise routine at the fitness center.
When you're ready to head off the property, visiting the Kennedy Space Center has to be at the top of your itinerary. If you plan in advance, you may want to keep an eye out for upcoming launches. Visitors have the opportunity of purchasing special viewing passes, so you can get as close to the launch as possible. Of course, there are other endless attractions here that will delight your rocket-loving kids (and teens!)
Buy or Rent a Timeshare Today
Don't skip out on taking a memorable vacation with your family this year. Timeshares are for sale by owners now at Timeshares Only. You can buy discounted online; start by browsing our marketplace now. Or, if you aren't quite ready to buy, consider renting. When you rent a timeshare, you can find a great deal or simply try it before you buy it. Vacation rentals are ready; you just need to enter payment details, and we'll confirm your reservation. Call us at 1-800-610-2734 or email us at info@timesharesonly.com if you need any assistance.