Adventurous couples, families, and snowbirds flock to Colorado timeshares every Fall through Spring for the best ski resorts nationwide. Colorado is a hub for skiing and snowboarding since the Rocky Mountains etch throughout the entire state. Before you hit the slopes this year, check out this guide to Colorado ski resorts, so you can find the best one for you and your family! We'll also touch on some of the best timeshares around Colorado for your next skiing trip!
Guide To Colorado Ski Resorts
The best ski resorts in Colorado offer varying degrees of difficulty for beginners and experts. So, bring the kids for ski lessons on the slopes in Breckenridge, Vail, Beaver Creek, and more! Not to mention, the best vacation rentals have prime access with ski-in, ski-out amenities. Our guide for family-friendly ski resorts in Colorado includes:
Breckenridge Ski Resort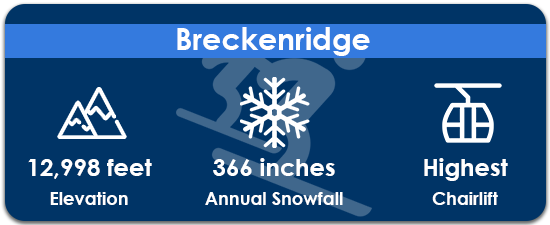 Going to Breckenridge for a ski vacation brings tons of options for families and even advanced skiers. The town itself has a quaint (and most adorable) Main Street with shops and restaurants that the locals love. There are sweeping, landscape views no matter where you are in Breck, as it is surrounded by several mountain peaks tucked away. There's also a whole lot of culture here, too, like annual art festivities and beer fests. Spend a long day shredding through the snow-capped mountain peaks and after that, enjoy a locally crafted brew or rent a fat bike for a ride.
Guide To Skiing Breckenridge Resort In Colorado
Breckenridge ski resort has quite a bit to brag about, with 5 peaks and 187 trails, there is a path for every skill level. Starting at Peak 9, most known for being the prime spot for beginners, there's a whole lot to love. With forgiving terrain, wide-open runs, and less steep slopes, you'll likely have a spot to yourself on the blue runs. Although this is where most beginnings start, intermediate or even advanced skiers can find Peak 9 to be a great practice destination.
Known for leading the history of skiing in Breck, Peak 8 is the go-to for many. With various terrain and North America's highest chairlift, you'll be in for loads of fun. The Imperial Chairlift of Peak 8 will whisk you up the mountain (12,840 feet) in only three minutes.
Peak 10 is a favorite among Olympic skiers for its fast and steep trails, so even the more advanced skiers can be challenged. Home to the GoPro Big Mountain Challenge, Peak 6 holds the world-class freestyle ski event where guests can watch pros make amazing moves through the snow. For even more challenging terrain, Peak 7 Bowl is now open for the experts.
Best Timeshares in Breckenridge, Colorado For Skiing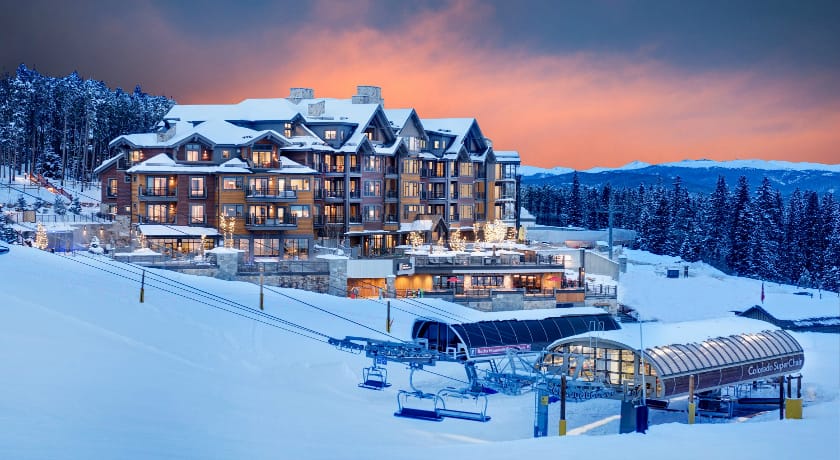 Without a doubt, any one of Breckenridge Grand Vacations Club resorts will have the best timeshares for skiing trips to Colorado. This family-owned, small collection of resorts in the heart of Breck will make you feel right at home. Each resort has ski-in and ski-out access to the various peaks, ski rentals, and an activities program. The resorts all offer spacious suites with enough room for the whole family, so they are the perfect resorts for your next big family trip.
Guide To Visiting Colorado's Vail Ski Resort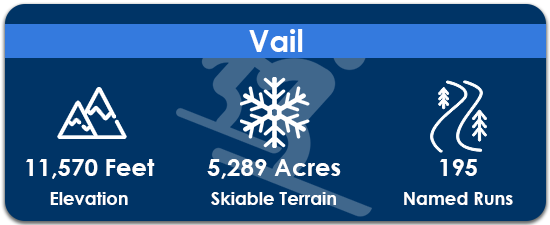 "Like Nothing on Earth," Vail Ski Resort has the most magnificent views you'll truly never see anywhere else. Above all, Vail is known to be one of the biggest ski resorts worldwide with over 5,000 acres of skiable terrain and powder-soft snow, . The Vail Villages bring hints of European alpine architecture, whisking guests into a whole new environment. The cobblestone streets of Vail Village are heated, so families will stay comfortable even in the near-freezing temperatures.
Apres Ski Vail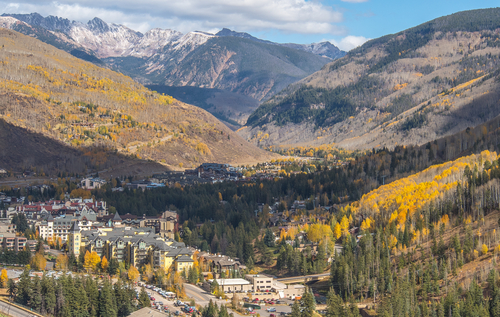 When it comes to Apres, Vail takes the cake among the other Colorado ski resorts in this guide. Because of the warm, welcoming streets and nightlife culture, adult guests in Vail will have plenty to do. Some favorite spots for Apres gatherings are within the village as well as on the slopes. Visit the premier spot, Tavern on the Square for incredible views of the mountains on the patio, open year-round. For some Mexican comfort food and cocktails to keep you warm on the slopes, Los Amigos is a great spot for watching the skiers come down the mountain. For more of a gourmet dining experience, Sweet Basil won't disappoint.
Best Timeshares in Vail, Colorado For Skiing
Marriott Vacation Club owners have some of the best timeshares in Colorado for a trip to go skiing in Vail. Marriott StreamSide is perfect for budget-friendly travelers. Couples will enjoy the Studio villas, complete with a small kitchen. For families, staying in Marriott Streamside Birch resort's 2-Bedroom, 2-Bath Villa is also an excellent choice. Looking for more privacy? Marriott Streamside Douglas resort offers multi-level lofts as well. For large travel parties or more luxurious accommodations, guests can choose Evergreen for some extra space.
Beaver Creek Ski Resort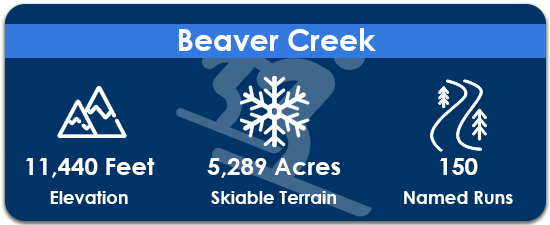 Beaver Creek Ski Resort in central Colorado makes access to the trails easy and is one of the most family-friendly ski resorts in our guide. The Haymeadow Express Gondola is dedicated only to taking new snow-athletes to the beginner trails so there are no accidents getting on the wrong path! Red Buffalo Park at Beaver Creek has terrains for all experience levels, and it comes with that picturesque Rocky Mountain view. More advanced skiers and snowboarders can keep an eye out for the Blue trails, where favorites include C Prime in Rose Bowl, Larkspur, and Gunder's in Bachelor Gulch.
Talon's Challenge is 26,000 vertical feet of black diamond and double black diamond trails, which is only for the most advanced skiers. Including the World Cup Birds of Prey downhill course, Grouse Mountain, and Larkspur Bowl, athletes to complete all 14 runs will earn a spot on Talon's Wall-of-Fame.
Birds of Prey Beaver Creek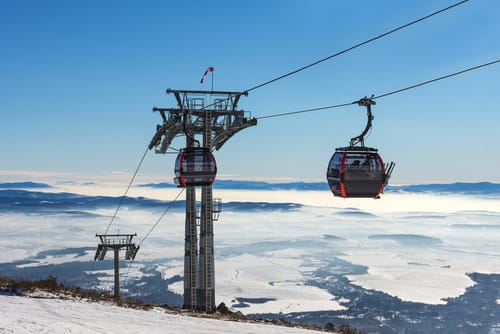 Birds of Prey in Beaver Creek is a World Cup course developed for the 1999 World Championships. Its starting gate for the World Cup competition starts at an elevation over 11,400 feet above sea level. With advanced jumps, Peregrine, Screech Owl, Goshawk, Golden Eagle, Harrier, and the final Red Tail keep up with the theme of "birds of prey." Although the rest of Beaver Creek can be a beginner's haven, the Birds of Prey course should be left for advanced, experienced experts only. This is a can't-miss stop for advanced skiers!
Guide To Aspen, Colorado's Ski Resorts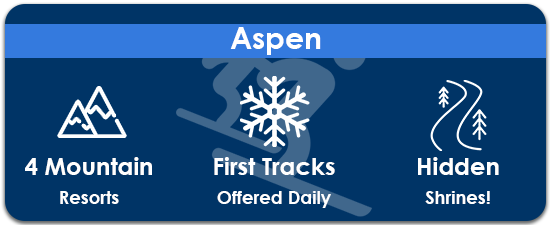 Aspen, Colorado is home to four Colorado ski resorts in this guide. Family-friendly trails and expert-only runs make this a perfect vacation opportunity for adventure seekers. Locals and visitors "Defy Ordinary" here, no matter the season.
Aspen Highlands
If you'll be making a late trip during the ski season, perhaps visiting Aspen Highlands on closing weekend will be the most fun! Locals love to dress up and party at the base of the mountain to close out the season with a live DJ. Even the Ski Patrol hike to the top of Highland Bowl and host a BBQ! The Highlands Bowl is a famed expert course that can only be accessed by hiking, so make sure your boots are comfy.
Aspen Mountain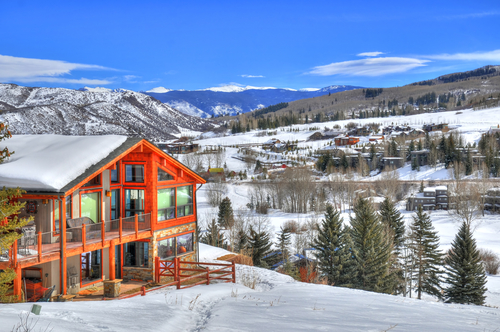 Aspen Mountain, also considered the mothership of the four resorts, was the first Aspen mountain to be developed for skiing and snowboarding, essentially putting Aspen on the map as a ski destination. It's also commonly referred to as Ajax for short. This mountain does not have any beginner runs, and takes 15 to 20 minutes by gondola to travel up from the base to its highest elevation at 11,212 feet.
Making this course unique are several "shrines" that many visitors hope to get a glimpse of on their way down the slopes. First tracks are also free daily, but reservations are required, so don't wait!
Buttermilk Mountain
Home of the X games and the best beginner ski runs in Colorado, Buttermilk mountain has three areas that make it complete. West Buttermilk is prime for novices, while main Buttermilk and Tiehack are favored for experienced visitors.
Snowmass Mountain
Snowmass is the largest among Aspen's four ski resorts, with the most diverse terrains and experiences for visitors. Its 50th anniversary season was celebrated during the winter of 2017-2018.
Telluride Ski Resort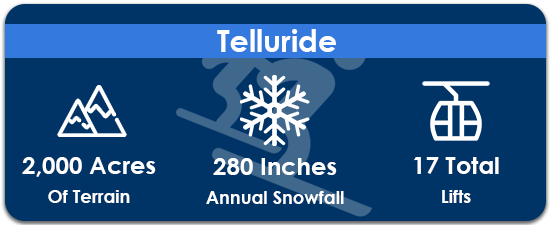 If you're looking for some backcountry skiing adventures, then look no further than Telluride! Backcountry skiing is like nothing you've ever experienced and is strictly for experts. Explore the rugged terrains across the San Juan Mountains and don't forget to pack the safety essentials!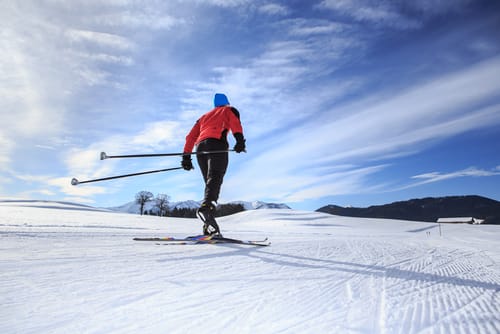 Tired of regular alpine skiing? Telluride is also perfect for Nordic skiing, giving enthusiasts just one more way to experience the Colorado mountains. Groomed tracks around town and the resort also circle nearby lakes, so you'll get the most incredible views.
For traditional skiing and snowboarding in Telluride, there are over 2,000 acres to experience and 148 trails. Families will love the different skill levels available throughout the trails, including The Galloping Goose Run. It's the area's longest at 4.6 miles and can be accessible to almost all skiers.
Keystone Ski Resort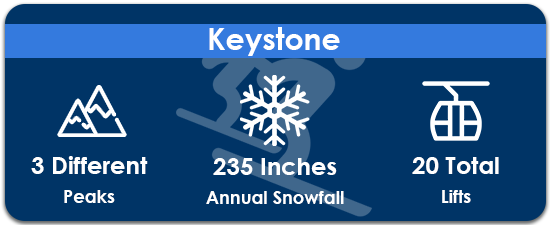 Keystone, which is a short drive from Denver, should certainly be a destination on your next Colorado ski trip. The mountain is tucked away in the White River National Forest and is the largest ski area in Summit County. Three different peaks, Dercum Mountain, North Peak, and the Outback gives this resort over 3,000 acres of terrain to explore. Home to the award-winning A51 Terrain Park, there is something for every experience level at the Keystone Ski Resort.
There are also several bowls across Keystone. The Independence, Bergman, Erickson, North, and South bowls have more demanding (but rewarding) hike-to-ski runs and access to more exclusive trails that only the regulars know about.
Guide To Night Skiing At Colorado's Keystone Resort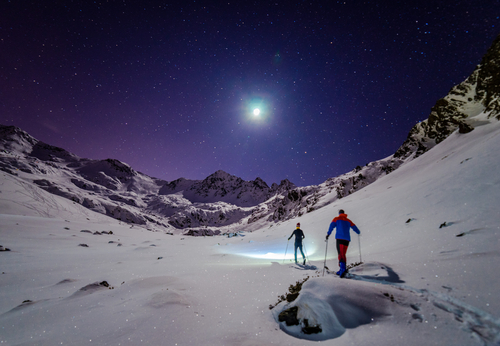 Unlike most Colorado ski resorts, Keystone is the only one in the guide which offers night skiing. Fun fact: Keystone offers the longest day of skiing in the entire state, and even has lighted trails so you can still enjoy the slopes at nightfall. Daily lift tickets are valid even through the night. What makes this even better for families? Saturday nights only, enjoy an incredible mountain-top view of the weekly Kidtopia fireworks show. The little ones will never forget it.
Steamboat Springs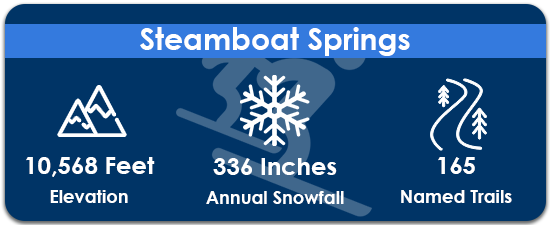 With a complete mountain range of 2,965 acres to ski on powder-white snow, Steamboat Springs has all kinds of trails for every experience level. In fact, this town is known as Ski Town, U.S.A.! Only three hours away from Denver, this is a great day trip for families in the area. Freeriders and thrill-seekers will love the Mavericks Superpipe. It's 450 feet long, 56-feet wide with 18-foot walls. The terrain park next to it has a complete outdoor system and obstacles for beginners and pros to try their skills at.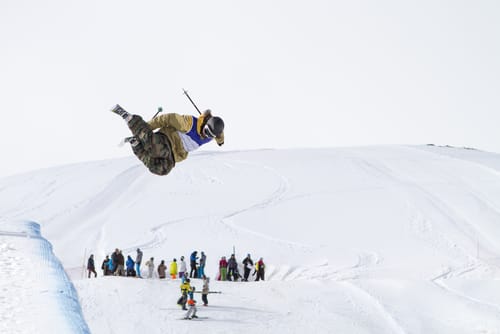 Steamboat Springs has 165 trails, with most being for advanced riders. Kids and adults with experience can find plenty of untouched snow, however, beginners have fewer options. The longest run: "Why Not" is over 3 miles long and open year-round for other outdoor activities when the snow melts. Steamboat Springs is famous for its natural hot springs, which are open year-round. These springs are a great way to soothe your muscles after long days of skiing the ski resort's more advanced trails!
Best Timeshares in Steamboat Springs, Colorado For Skiing
Bring luxury and the comfort of home together at the Sheraton Steamboat Resort Villas. This Vistana timeshare resort offers two and three-bedroom villas, each complete with a full kitchen, separate dining area, private balcony, and amazing mountain views. On-site is a world-class spa to unwind at after a long day on the slopes, a heated outdoor swimming pool, and unique rooftop whirlpool spas.
WorldMark Steamboat Springs is conveniently located just minutes from the ski resort. This resort offers spacious timeshare suites, so if you're bringing your own ski equipment, you'll have plenty of room for it! The resort has one-, two-, and three-bedroom suites, so you can bring the whole family on your next trip to Ski Town, U.S.A.
These resorts are from some of the top timeshare brands, so that means that you'll definitely experience amazing amenities and accommodations.
Timeshares Near Colorado Ski Resorts
No matter where you decide to spend your days skiing on your vacation to Colorado, there are some of the best timeshare resorts nearby. Are you ready to buy a timeshare near one of the Colorado ski resorts in our guide? If so, you've come to the right place! Firstly, browse our Colorado timeshares for sale from top brands like Breckenridge Grand Vacations, Marriott Vacation Club, Vistana, and more. Then, when you've found one that you love, simply make an offer! Don't worry if you have questions because Timeshares Only is here to help! Our team of timeshare experts has the connections and experience to make this process seamless, so contact us! Call 1(800) 213-7733 today!