Sitting on the shores of Table Rock Lake in Branson, Missouri is Holiday Inn Club Vacations beautiful Ozark Mountain Resort. Table Rock Lake is only 20 miles outside of Branson, making it a perfect family-friendly lake vacation. In and around Lake of the Ozarks, Holiday Inn Club Vacations members can hike the Ozark mountains, see the famous Dixie Stampede or explore Silver Dollar City.
However you enjoy spending your vacation, Holiday Inn Club Vacations Ozark Mountain Resort has you covered.
Where are the Ozarks?
If you haven't heard of the Lake of the Ozarks until now, you're not alone. Until a popular Netflix series came along to showcase the location, lots of people were unfamiliar with the miles of lake shores stretching through Branson. The Ozarks are in the heart of Missouri and considered the Midwest's premier lake resort destination.
Holiday Inn Club Vacations Ozark Mountain Resort brings the best of both worlds together in Branson. Lay out by the pool and have fun with the little ones in the separate kiddie area, or explore the great outdoors of Ozark mountains.
About HICV's Lake of the Ozarks Resort
If you're a Holiday Inn Club Vacations member, you're in for a treat. Sitting on the shores of Table Rock Lake, the HICV Ozark Mountain Resort is an amazing outdoor escape. Because it's so close by to Branson, you and your family can have fun in the sun by day and experience Missouri's best attractions by evening.
On the resort itself is a fishing pier, where dominant species you can catch include Largemouth and Smallmouth Bass, as well as Channel Catfish. Guests with their own boat can use the resort's boat launch. If you're itching to get out on the water, you can rent canoes, kayaks or pedal boats as well. The fun doesn't stop when you're out on the fresh water lake. If you need some shade, there's also a covered outdoor pavilion. Besides water activities, the resort also has sand volleyball, tennis and shuffleboard courts.
When the sun goes down, guests can enjoy the resort's activity center, including an arcade and pool table or the on-site movie theater. There's even a 9-hole mini golf course!
As far as accommodations go, the resort has two different unit types that are very roomy. The two-bedroom villas sleep up to 6, with two queen-size beds and a pullout sleeper sofa. Every unit on the property also has a private patio or balcony, TV's in the living area and master bedroom as well as full kitchens. The two-bedroom Presidential villas are a bit roomier, with king-size beds and more privacy, as well as a fireplace!
Things to do at Lake of the Ozarks
There are plenty of things to do at Lake of the Ozarks outside of the resort. Lake of the Ozarks weather is hot and humid in the summer months and dips to an average of 25 degrees F in the winter. The tourism season kicks off in May and goes until late September.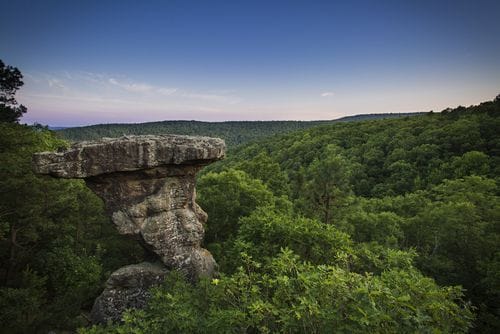 When you've had enough of Table Rock Lake, head to the Ozark National Forest, only an hour and a half away from Holiday Inn Club Vacations Ozark Mountain Resort. The variety of scenery, from waterfalls, rivers and different oak trees overarching the millions of acres is any outdoor enthusiasts dream. Visitors love to swim in the freshwater or go horseback riding through the trails. Live like a local and take a four-wheeler through the mud and bumpy terrain! The Ozark Highlands Trail is a must, being a premier, long-distance hiking trail.
If you're looking for activities involving a more relaxed atmosphere and away from the great outdoors, head to Branson's most popular shopping center. Branson Landing is perfect for shopping all of your favorite brands and designer goods. It's also great for family-friendly activities, like Andy B's Bowl Social. Guests can enjoy the 10 bowling lanes, full restaurant and full bar. There's also the Branson Tanger Outlets, which has a plethora of even more of your all-time favorite stores. The Tanger Outlets offer some family-favorite food chains like Kilwin's, Five Guys, Outback and so much more.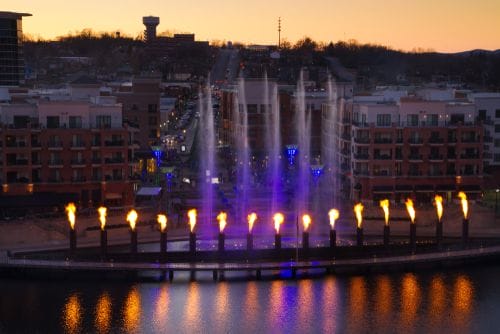 Lake of the Ozarks Restaurants
Being so close to fresh-water lakes and rivers, you can best believe that Lake of the Ozarks restaurants have some of the best seafood dishes around. Check out JB Hook's for a perfect lakeside view, top-rated shrimp and oyster bar as well as juicy steaks. Another classic that the locals love–Bentley's Restaurant & Pub. With a more casual vibe, but still serving delicious dishes and sophisticated ambience, Bentley's offers the best American-style food. Last but certainly not least, Pappo's Pizzeria & Pub is a superb option for relaxed dining, especially with the kids. Rated the best pizza four years in a row by Lake Lifestyle Magazine, Pappo's Pizzeria serves fresh, hand-tossed dough that's made daily. They even offer over 45 different toppings!
Closer to Branson and Holiday Inn Club Vacations Ozark Mountain Resort is even more excellent dining options, with varying prices and cuisines. For ultimate elegance, head to the Chateau Grille, an award-winning favorite among locals. With exceptional scenery of Table Rock Lake and superb service, you won't be disappointed by the experience. For a unique dining experience that still reigns supreme in both service and flavor, check out Level 2 Steakhouse, which has an interesting fusion of American-Asian steakhouse dishes. If you're with the kids, or looking for something more relaxed, Danna's BBQ & Burger Shop is your one-stop for the ultimate southern comfort food.
Own or Rent at Holiday Inn Club Vacations Ozark Mountain Resort
Looking for amazing vacations for a lifetime? Holiday Inn Club Vacations offers some of the best resorts nationwide that are especially perfect for families. Learn more about Orange Lake in Orlando, or check out some of the HICV timeshares posted for sale on the resale market.
Buying a timeshare from the secondary market gives you the best savings and a promise to vacation year after year. Owners also often put their timeshare up for rent, so if you're looking to try before you buy, check out the postings available to rent.