If you're a golfer, chances are you already know about the incredible Hilton Head Island golf courses that dot South Carolina. Hilton Head was even listed among the top five golf destinations in 2016. It's actually no surprise, since there are more than 30 golf courses on Hilton Head Island. The best golf courses and resorts in Hilton Head are here, and they come with great vacations too.
The Best Golf Courses in Hilton Head
If you're planning on taking a beachy vacation to the East coast soon, you probably have Hilton Head Island on your list. The best ocean shores, tourist spots and array of activities are here–and that also includes the best golf courses in the country. If you have a golf enthusiast in your party, consider checking out the best golf courses in Hilton Head. There are even over 30 to choose from! Check the map for all the locations listed.
Palmetto Dunes Golf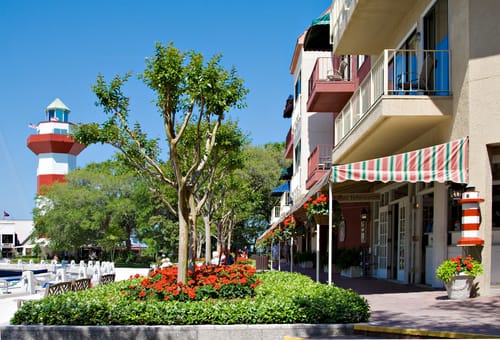 With three unique and appealing courses, Palmetto Dunes golf courses undoubtedly attract athletes from across the country. The Robert Trent Jones golf trail, George Fazio golf course as well as the Arthur Hills Golf Course all make up the fairways surrounding Palmetto Dunes resorts.
Robert Trent Jones was a legendary golf course architect and World Golf Hall of Fame inductee who designed over 500 golf courses throughout the course of his career. The Robert Trent Jones Golf Course is an excellent way to get acquainted with RTJ's distinct course style. The course features the only two oceanfront holes on Hilton Head island. Without a doubt, the par-5 10th hole is one of the most scenic holes anywhere.
The award-winning Arthur Hills Golf Course stands apart from the rest. Taking full advantage of the dramatic coastal scenery of Hilton Head, this fairway comes with a rolling layout, water hazards and lines of dunes. A favorite for avid golfers, there is even a historic lighthouse as well as plenty of wildlife. For a breezy, natural layout of the land, Arthur Hills Golf Course surely can't be beat.
The Village at Palmetto Dunes is a great Hilton Head golf resort. Located just next to the Robert Trent Jones Golf Course and George Fazio Golf Course, guests enjoy total access to the fairways. It's a perfect budget friendly option as well, being only 200 yards away from the beach. With a pool, hot tub, tennis courts, kids playground and picnic tables, a family vacation here is undeniably no trouble.
Bear Creek Golf Club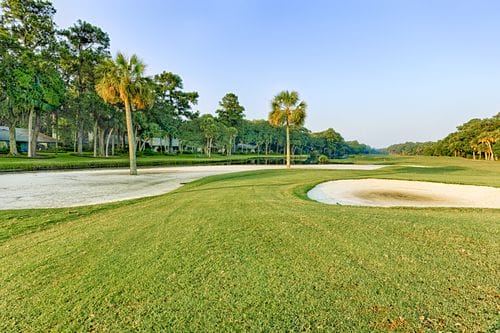 For every level of skills, Bear Creek Golf on Hilton Head is a Par 72 Championship Course. It stretches over 6,800 yards with five different sets of tees. Being Rees Jones' first solo design, the course was eventually improved upon his return in 2006. Many prestigious golf events have been held here, including the 2014 Hilton Head Amateur and Hilton Head Open.
Stay at the Bluewater Resort and Marina just a hop, skip and jump away from Bear Creek Golf Club for perfect ease of access. This Hilton Head golf resort sits on the Intercoastal waterway, making it a unique location and experience. Onsite is a pool, sauna and special golf privileges.
Sea Pines Country Club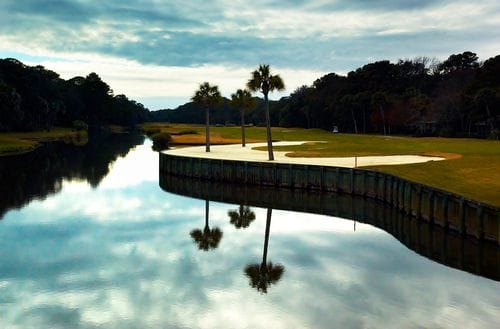 Flanked by thick patches of pine trees, the Sea Pines Country Club offers golfers an excellent tee time on three pristine courses that provide a combination of excitement and picturesque views. Atlantic Dunes by Davis Love III was named "Golf Course of the Year" in 2018 by the National Golf Course Owners Association. It was a complete renovation of the first course ever built on Hilton Head, the historic Ocean Course.
Another Sea Pines golf course that is the centerpiece to any Hilton Head golf vacation–Heron Point by Pete Dye. Ranking among GolfAdvisor's "Best of 2018: South Carolina" courses, Heron Point is a must if you're up for a challenge and a good time.
Last (but definitely not the least) among Sea Pines Country Club courses is the Harbour Town Golf Links course. It's par-4 18th hole is considered the most featured in all of golf. Harbour Town Golf Links continually has enhancements made, so the course always stays up-to-date in challenges and scenery.
If you're looking for ultimate luxury on your golfing retreat, head to Marriott's Heritage Club at Harbour Town. Perfectly located within a two minute walk from the Harbor Town Golf Links course, the Heritage Club offers some of the most elegant accommodations.
Golf Hilton Head Island's Best Courses
Golfing in Hilton Head is an exceptional addition to the standard South Carolina beach vacation. If you're a veteran on the green, or even if you are looking to tee up for the first time, this is golfer's paradise. No matter which Hilton Head golf resort you stay at, you'll never be more than a 30 minute drive away from world-renown fairways across the island.