Do you like sailing on the water alongside bottlenose dolphins? How about practicing your golf swing at picturesque courts? Maybe you'd like to take it easy and gaze out over the Atlantic from the top of a lighthouse? Whatever the case, Hilton Head Island is a great spot to take your next vacation. Located in South Carolina, this quiet little lighthouse town has become a hub for several resorts. In fact, there are so many resorts here that choosing one to stay at can be a bit of a challenge. Fortunately, we're here to help! We've put together a list of the top seven Hilton Head rentals to help you make the most of your vacation without breaking the bank.
The Advantage of Hilton Head Rentals
You might be wondering, "Why would I rent a suite or villa at a resort instead of booking a hotel room?" It's a good question, and it's worth covering before we talk about the best Hilton Head rentals. To put it simply, renting at these resorts gives you far more bang for your buck. The average hotel room is less than 400 square feet. Meanwhile, a suite or villa at a timeshare resort has a size of around 1,030 square feet. That's almost triple the size of a hotel room, and you'll definitely feel the difference. These rentals often come with full kitchens, living, and dining rooms. A hotel room is just a room. A timeshare is a second home. Of course, with a rental, you won't have to worry about paying yearly maintenance fees.
These rentals are a great way to travel in style without breaking the bank. So if you've ever thought a luxury vacation was too far out of your budget, think again! These rentals will help you visit paradise for a low price. Interested in seeing the best rentals Hilton Head has to offer? Then keep scrolling.
Learn more: Timeshare vs Hotel: Which is Right for You?
An Overview of the Best Hilton Head Rentals
Bluewater Resort and Marina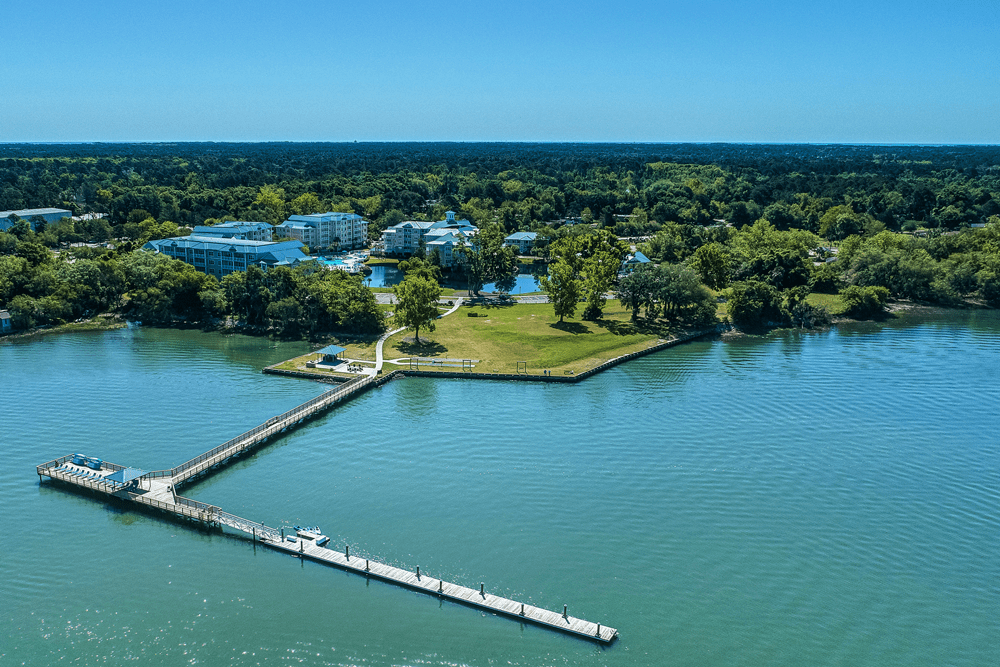 If you'd like to savor the sunset from an exclusive view, it doesn't get better than Bluewater Resort and Marina. In fact, Bluewater is the only Hilton Head rental with a private dock on the Intercoastal Waterway. From the dock, you can fish, kayak, and more. Plus, Bluewater boasts the largest pool in town, with a lazy river and kids' splash pad. Accommodations include one, two, and three-bedroom suites. These suites come with king-sized beds and queen sleeper sofas to accommodate four to eight guests. No matter which suite you choose, you'll enjoy a fully-equipped kitchen with granite countertops and sit-up bars. Additionally, these suites feature spacious living areas with entertainment centers, along with balcony walkouts so you can enjoy a great view of the water. On top of all of these amenities, you'll have an in-unit washer and dryer, so you won't have to worry about dry cleaning.
Carolina Club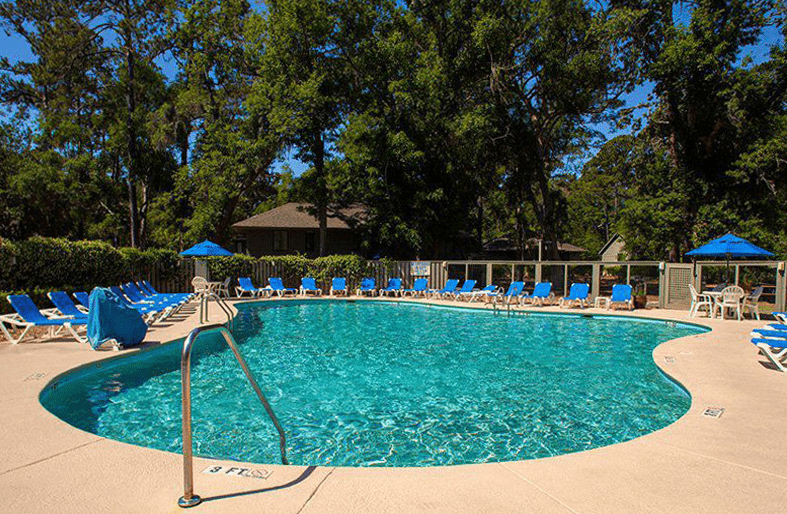 Tucked away in a quiet corner of the woods, this Hilton Head rental is perfect for anyone looking for a quieter retreat. Soak in the outdoor pool or the hot tub as you unwind, surrounded by palms and pines. You can also enjoy a spirited match of tennis at the three on-site courts. Or take part in a game of shuffleboard at the sports court. If you'd like to cook your own meals in the open air, check out the barbeque grills too. Unlike other resorts in Hilton Head, the Carolina Club offers full townhomes for your tranquil getaway. It's safe to say you'll have plenty of space to stretch your legs here! These secluded townhomes come with either two or three bedrooms and bathrooms to house six to eight guests. You'll also have a private deck with a view of either the nearby golf course or lagoon.
Egret Point by Spinnaker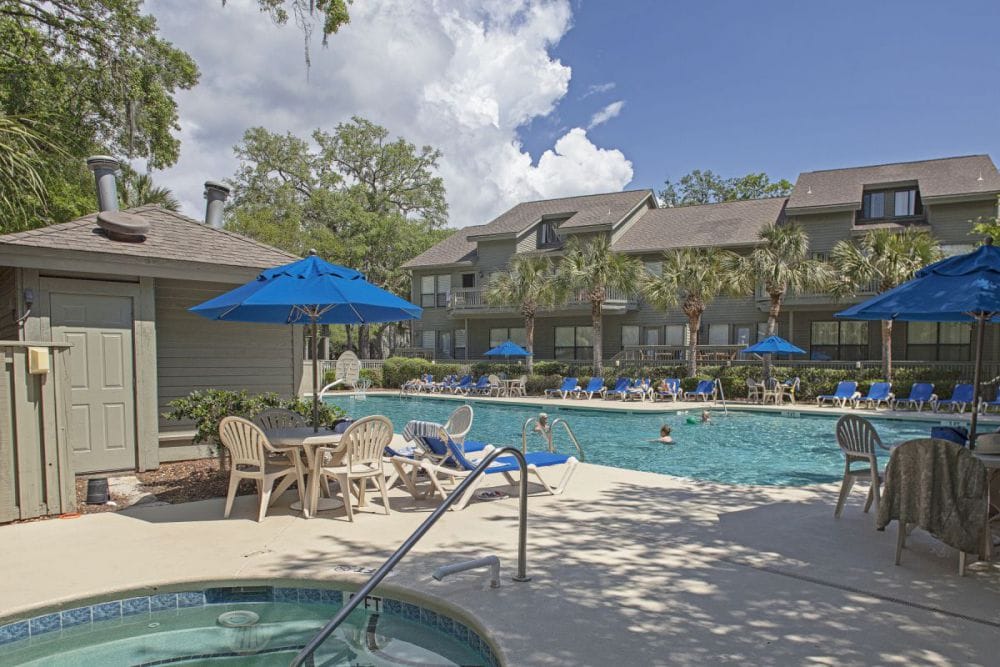 Another secluded Hilton Head rental is Egret Point by Spinnaker. Nestled amid the trees of the woods, you'll find a resort with plenty of amenities to help you feel like you're home. The on-site clubhouse has an exercise room, game room, and business center. As a result, you won't have to worry about falling behind on your exercise routines or any work. You'll also be able to relax in a heated outdoor pool and hot tub. When you return to your unit, you'll notice you have access to two adult bikes. That's because Egret Point is a perfect spot to go biking, with over eight miles of designated island paths. These units offer two or three bedrooms and bathrooms to accommodate six to eight guests.
Marriott's Surfwatch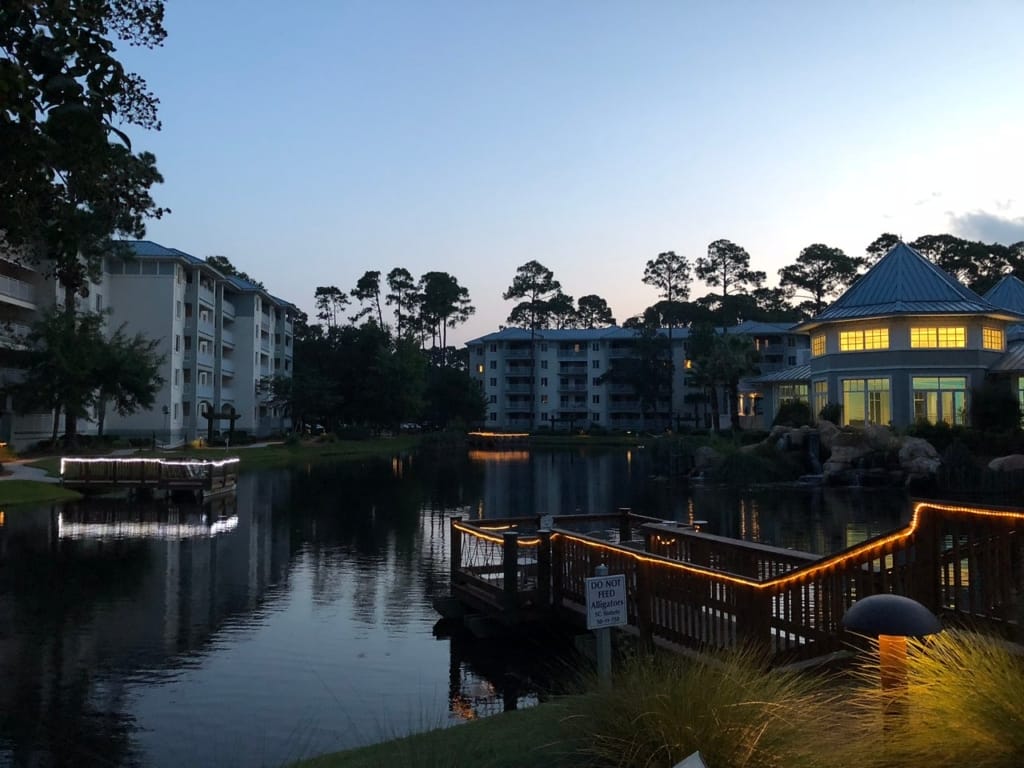 Located right on the beachfront, Marriott's Surfwatch is a stylish seaside Hilton Head rental. Stroll across the scenic footbridges to reach a spectacular pool and pristine beach along the Atlantic. There are also two other heated saltwater pools to soak in. For accommodations, the resort offers two and three-bedroom villas. These villas come with king-sized beds and queen sofa beds to house six to ten visitors. These villas also boast private balconies with views of either the garden or the beach.
Southwind Villas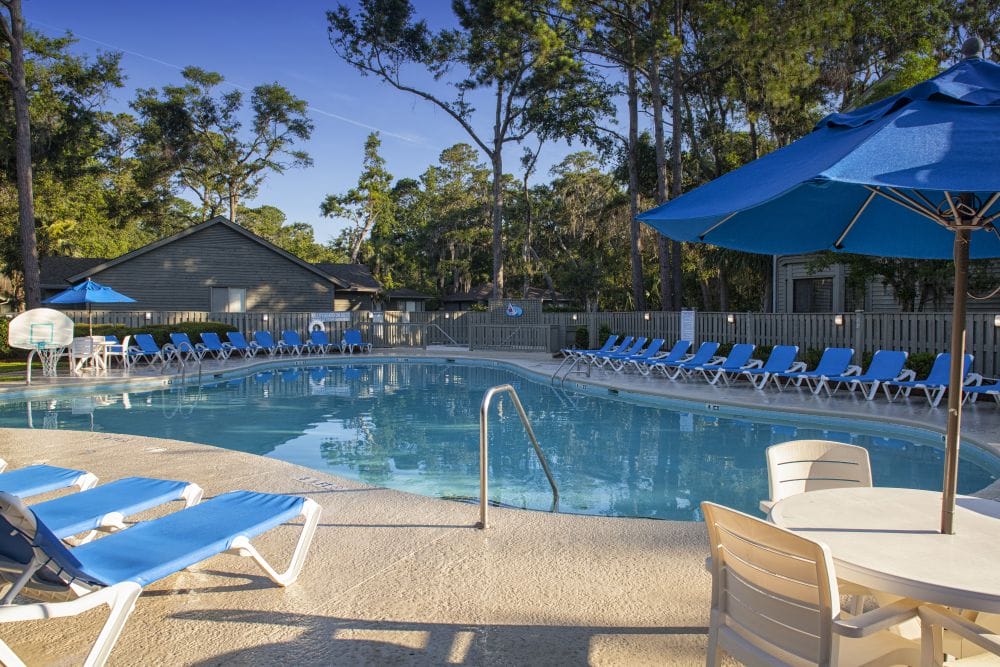 For one last especially quiet Hilton Head rental, check out Southwind Villas. While this resort is still somewhat secluded, it's also close to plenty of popular island activities. The outdoors are especially great at Southwind, with outdoor ping pong, basketball, and two tennis courts. Not to mention the pool and hot tub nestled amidst magnolias, palmetto palms, and live oaks. You can also enjoy the clubhouse, which features an exercise room and lounge. The units here also feature two or three bedrooms to accommodate six to eight guests.
Sea Crest Surf and Racquet Club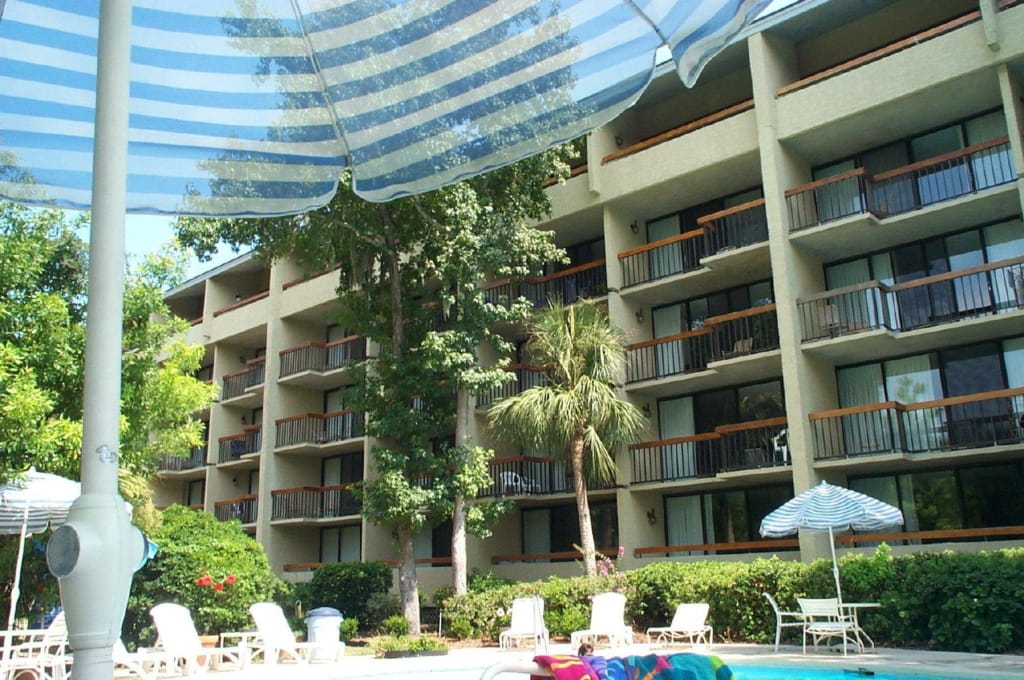 Sea Crest Surf and Racquet Club is just a block away from the Atlantic Ocean, so it's great for anyone who wants easy access to the beach. This Hilton Head rental boasts three swimming pools, an outdoor hot tub, and two tennis courts. There's even a pickleball court! You'll also find barbeque grills, picnic tables, and a beautiful gazebo. Perfect for days when you'd like to enjoy a good meal with some fresh air.
Waterside by Spinnaker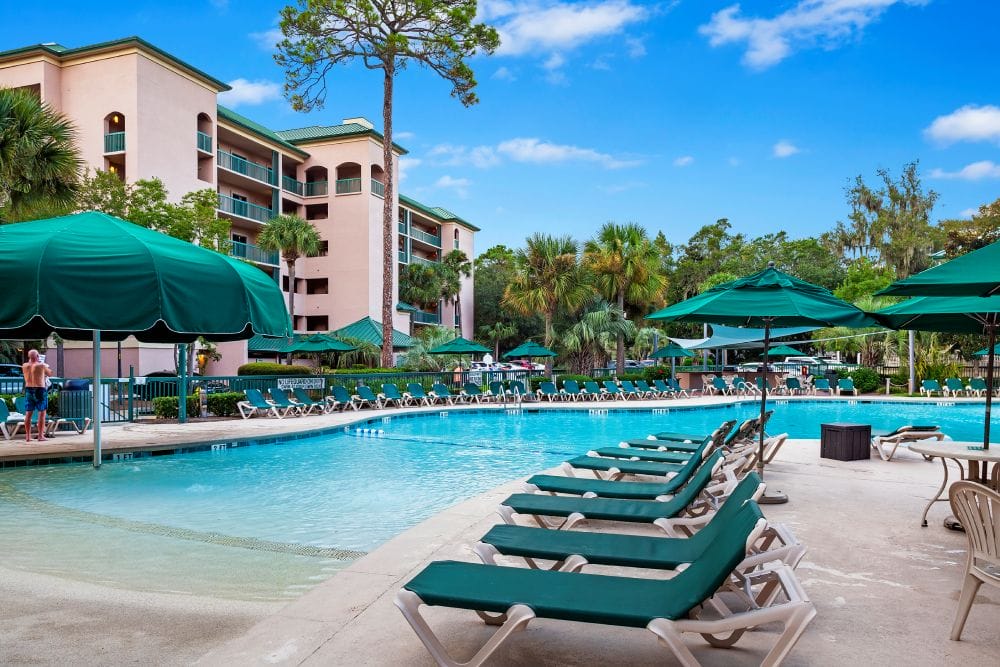 Last but certainly not least, we have Waterside by Spinnaker. This Hilton Head rental is only a short walk away from the beach. When you're done with the surf and sand, the Waterside resort has outdoor ping pong and chess alongside a business center to keep up with your workout routines. Waterside also has a number of special activities each week, like food trucks, wine and cheese socials, and live music. This means that every visit to the resort is sure to bring something new. After an exciting day in Hilton Head, you'll come back to a one, two, or three-bedroom villa. These villas feature open-concept living and dining areas, while some even boast whirlpool baths.
Enjoy the Getaway of Your Dreams With a Hilton Head Rental
Everyone wants to take the getaway of their dreams, but not everyone realizes how much easier it can be. Fortunately, you've come to the right place for a budget-friendly vacation! Our marketplace has a wide selection of timeshare rentals from Hilton Head. So you'll be able to enjoy a luxurious vacation without having to stress over the cost. If you think your low-price paradise might be somewhere else, we still have you covered! We offer rentals all over the U.S. in popular destinations like Myrtle Beach, Las Vegas, Orlando, and more! What are you waiting for? Click the link below to rent a timeshare today.
What if I Want to Rent Out My Hilton Head Timeshare?
If you already own a Hilton Head timeshare and want to make a little extra money off of it, why not turn it into a Hilton Head rental? If you're not using your timeshare, you can rent it out to help you pay off your maintenance fees. At Timeshares Only, we help timeshare owners like you rent out their timeshare every single day. We'll work with you to create a listing that will be shown to customers all over the world. Feel free to give us a call at 1-800-610-2734 or email us at info@timesharesonly.com if you have any questions about getting started.