Looking for a dreamy vacation spot in Southern California? Look no further than the Club Wyndham Oceanside Pier Resort. This luxurious Mediterranean-style resort is located right at the foot of California's longest active recreational pier and directly across from the beach in the charming seaside town of Oceanside. Whether you're planning a romantic getaway or a family vacation, the Club Wyndham Oceanside Pier Resort is the perfect destination for relaxing and recharging. The resort offers luxurious accommodations, a variety of amenities, and amazing views of the Pacific Ocean. In addition, the resort is conveniently located near popular attractions and activities. Keep reading to learn all about it!
Amenities at Club Wyndham Oceanside Pier Resort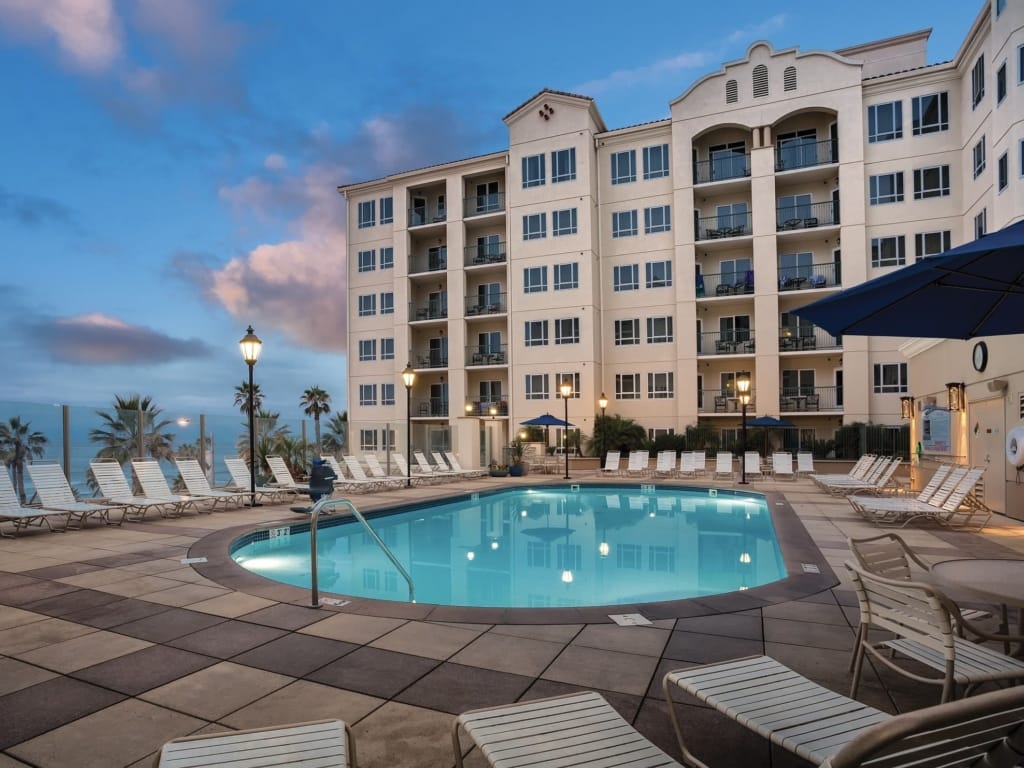 Get ready to experience the ultimate in luxury and relaxation with a stay at this incredible resort! Take a dip in the heated outdoor swimming pool, soak up the sun on the sunbathing deck, or relax in the hot tub. Guests can stay connected with Wi-Fi Internet access and take advantage of the shared computer with Internet access. In addition, business travelers can meet in the conference room. You can keep your workout routine on track in the fitness center. When it's time to unwind, the sauna is the perfect place to relax. Or have a night in with a movie rental in the comfort of your room. The Activities Center and Owner Lounge offer endless possibilities for entertainment and fun! Not to mention, with beach access just steps away, you can enjoy the sand, surf, and sun to your heart's content.
Below is a complete list of all the Club Wyndham Oceanside Pier Resort amenities:
Activities Center
Beach Access
Computer With Internet (Shared)
Concierge Services
Conference Room
Fitness Center
Hot Tub (Outdoor)
Movie Rentals
Owner Lounge
Sauna
Sunbathing Area
Swimming Pool (Heated/Outdoor)
Wi-Fi Internet Access
Club Wyndham Oceanside Pier Resort Accommodations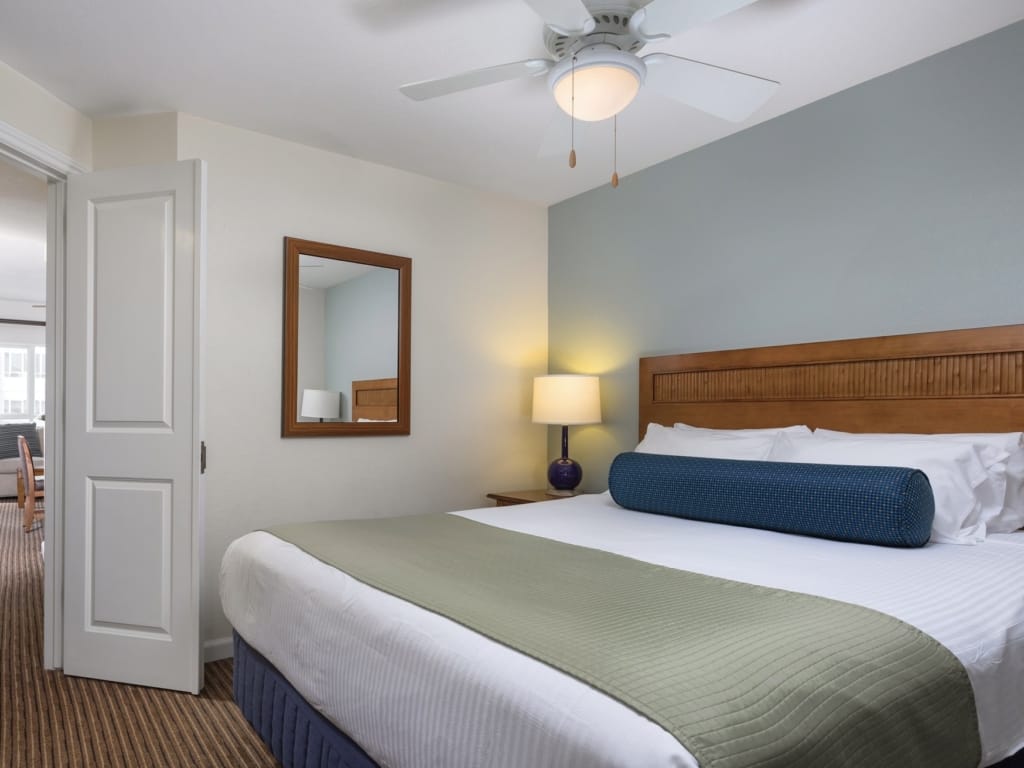 Accommodations at Club Wyndham Oceanside Pier Resort will make you feel right at home. Ranging from one to four bedrooms, you can comfortably fit four to ten guests, depending on your party size. When staying at these units, guests will have their own living and dining areas, allowing for relaxing evenings in or entertaining guests. The full kitchens are perfect for preparing meals and snacks as well as featuring all the necessary appliances and utensils. Guests can also take advantage of the convenience of a washer/dryer, which makes it easy to keep clothes clean and fresh. Whether it's a family vacation or a romantic getaway, these units offer all the comforts of home with added luxury and convenience.
Below is a breakdown of the Club Wyndham Oceanside Pier Resort accommodations:
Suite Style
Sleeps up to
Size
Features (Varies)
One-Bedroom
4 Guests
726 – 681 sq. ft.
– 1 King Bed
– 1 Queen Sleeper Sofa
– 1 Bath
Two-Bedroom
6 Guests
850 – 922 sq. ft.
– 1 King Bed
– 1 Queen Bed
– 1 Queen Sleeper Sofa
– 2 Baths
Three-Bedroom
8 Guests
1678 – 1727 sq. ft.
– 2 King Bed
– 2 Double Bed
– 3 Baths
Four-Bedroom
10 Guests
1869 – 1869 sq. ft.
– 3 King Bed
– 2 Double Bed
– 3 Baths
What To Do Nearby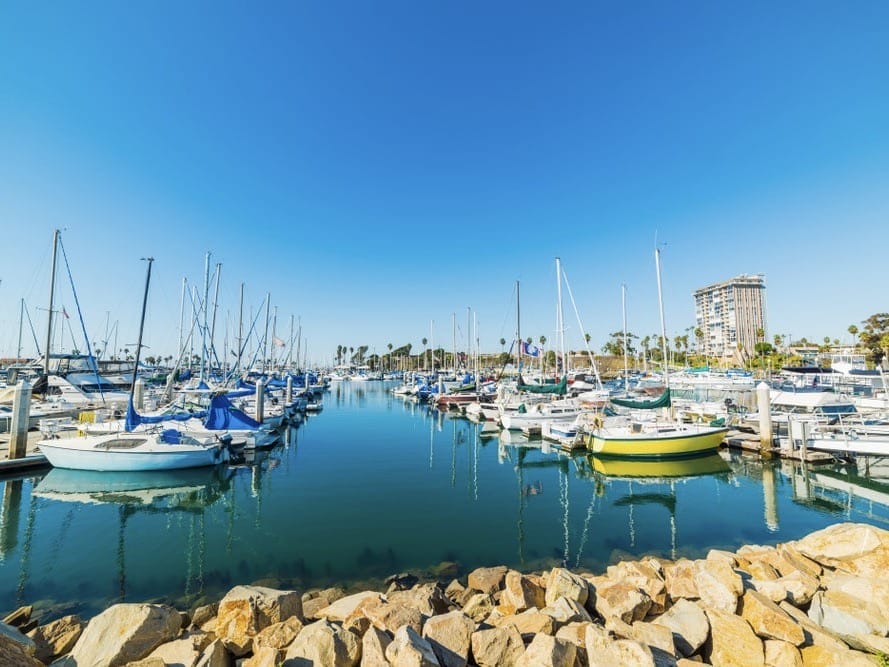 The Club Wyndham Oceanside Pier Resort is perfectly situated for a beach lover's dream vacation. Just steps away from the historic Oceanside Pier, guests can enjoy a variety of activities, such as surfing, swimming, beach volleyball, and fishing at the Harbor Fishing Pier and Guajome Regional Park. For those interested in the area's history, the California Surfing Museum is a must-visit, where you can learn about the pioneers of surfing. In addition, art enthusiasts can check out the Oceanside Museum of Art, showcasing a variety of works.
A few miles north of Oceanside, guests can bask in the sun on the long stretches of sandy beaches at San Onofre State Beach. In addition, for those looking to take a day trip, the exciting city of San Diego is a short drive south of Oceanside, offering endless attractions and activities for the whole family. With so much to do and see, the Club Wyndham Oceanside Pier Resort is the ultimate vacation destination.
What is Club Wyndham?
Wyndham Destinations is a leader in the vacation ownership industry, and their Club Wyndham program is one of the most sought-after vacation clubs. Offering an unparalleled resort experience, Club Wyndham has several ownership options that cater to different preferences as well as travel needs. From beachfront properties to mountain retreats, there's a Club Wyndham resort to suit everyone's taste. With over 200 resorts in more than 100 countries, Club Wyndham's global reach is unmatched in the vacation ownership world. With nearly 4 million satisfied owners, Wyndham's reputation for quality and service is well-established. So if you're looking for one of the best vacation clubs to join, Club Wyndham is a top choice.
To learn more about Club Wyndham and its various ownership programs, check out our blog for an in-depth look at how Club Wyndham works.
Buy a Timeshare
Purchasing a Wyndham timeshare resale is a smart way to save money on your next vacation. Not only can you potentially save thousands of dollars compared to buying directly from Wyndham, but you also have the flexibility to browse through a wide range of top resorts, destinations, points, and weeks to find the perfect fit for your needs. With the freedom to take your time and carefully consider all your options, you can be sure to find a Wyndham timeshare resale that meets all your vacation desires as well as preferences.
After discovering the many attractions of Club Wyndham Oceanside Pier Resort, you may be considering purchasing a timeshare there. Fortunately, Club Wyndham timeshares are available for purchase directly from owners, providing you with the opportunity to save money and enjoy all the perks of ownership. So, click the button below to find discount Club Wyndham Oceanside Pier Resort timeshares for sale and make an offer today to make this California resort your home away from home. Additionally, you can check out our marketplace of other Wyndham timeshares for sale.
Rent Out or Sell Your Wyndham Timeshare
At Timeshares Only, we understand that sometimes owners may need to sell their Wyndham timeshare or rent out their timeshare. Whether you're unable to use it this year and want to rent it out, or your family no longer travels annually, and you need to sell it, we're here to help. So, give us a call today at 1-800-610-2734 or email us at info@timesharesonly.com.