It's no secret that Marriott Vacation Club has some of the best resorts worldwide. Owners get the best Marriott benefits and vacation opportunities. When you're ready to go on that tropical getaway, check out some of Marriott Vacation Club's resorts in Aruba to unwind on island time. The two fabulous options for Marriott timeshare resales right on Palm Beach are Aruba Ocean Club and Aruba Surf Club.
Marriott's Aruba Ocean Club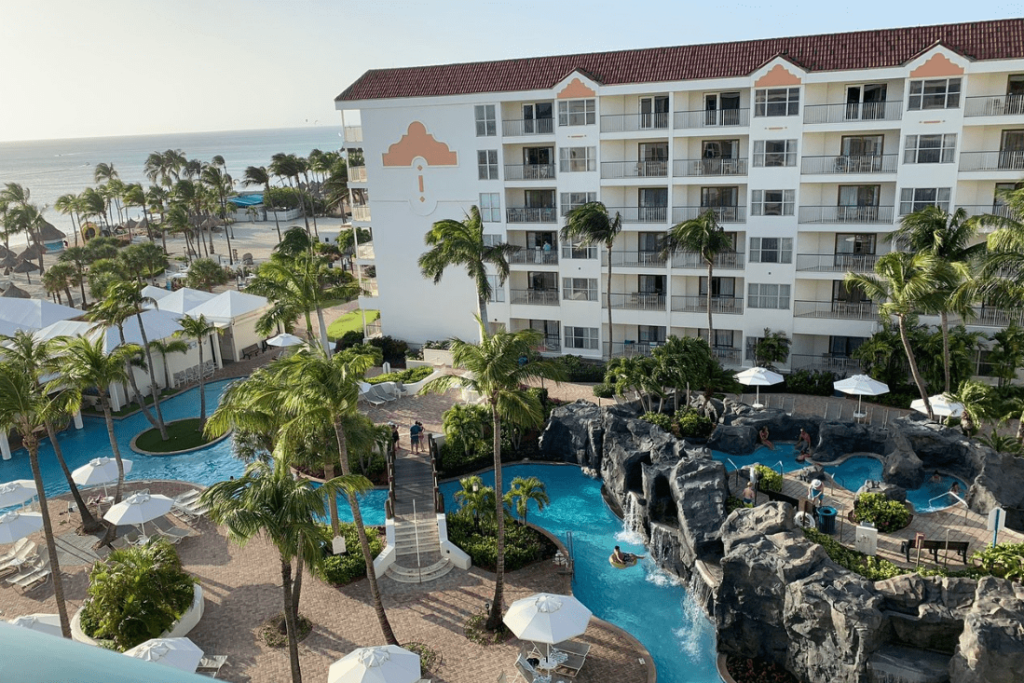 Whether you're looking for something family-friendly or adult-only, this is the spot for you. Marriott's Aruba Ocean Club sits oceanfront on Palm Beach, with luxurious amenities and accommodations that you'll love. If kids will be in-tow, they'll love Kid's Night Out evenings full of games, pizza, and movies. Learn to salsa dance at sunset, experience Iguana interactions, tie-dye t-shirts, and more! For athletes, jump-start your day with Stretch and Tone, an exercise class that includes a total body workout. Or attend tennis clinics, aqua aerobics, and beach volleyball.
Besides all of the fun activities this Marriott Aruba resort offers, guests can unwind at the Mandara Spa with massages, facials, body scrubs, and more. When you're ready for some fun in the sun, laze the day away at the pool, complete with tranquil waterfalls. The resort has total beachfront access, so you can dip your toes in the Atlantic Ocean.
As far as dining goes, guests have plenty of options. At the resort, you will find the Champions Sports Bar, Pavilion Grill, Gelato & Co, as well as the Waves Bar and Grill. If you're looking for something else, check out La Vista, Atardi, or Ruth's Chris, located adjacent to the resort.
Accommodations here range from one to two-bedroom villas, each complete with fully-equipped kitchens and space to stretch out! Timeshare resorts offer more privacy and home-like amenities so you can feel as comfortable as ever.
Ready for a vacation? Check out Marriott's Aruba Ocean Club timeshares for sale or rent.
Marriott's Aruba Surf Club
Next door to Marriott's Aruba Ocean Club, there is another option for Marriott Vacation Club owners who desire a trip to Aruba. Marriott's Aruba Surf Club is also oceanfront, with similar amenities and activities. Guests have the Marketplace for necessary items, as well as snacks, beverages, and quick bites. The Den also offers hangouts for teens in your travel party.
Laze the day away at the outdoor pool, complete with a relaxing lazy river. Head to the Captain's Galley or Seaworthy's Pool Bar for on-site dining. Guests here can also enjoy the same amenities over at Marriott's Aruba Ocean Club.
This Marriott Aruba resort is perfect for larger travel parties, with accommodations ranging from two to three-bedroom villas. Enjoy the extra privacy, as well as larger living room areas and fully-equipped kitchens. Not to mention, most three-bedroom units have three separate outdoor patios/balconies, so everyone can enjoy a peaceful sunrise or sunset.
Take a trip to Aruba and check out Marriott's Aruba Surf Club timeshares for sale or rent on the timeshare resales market.
Extra Vacation Options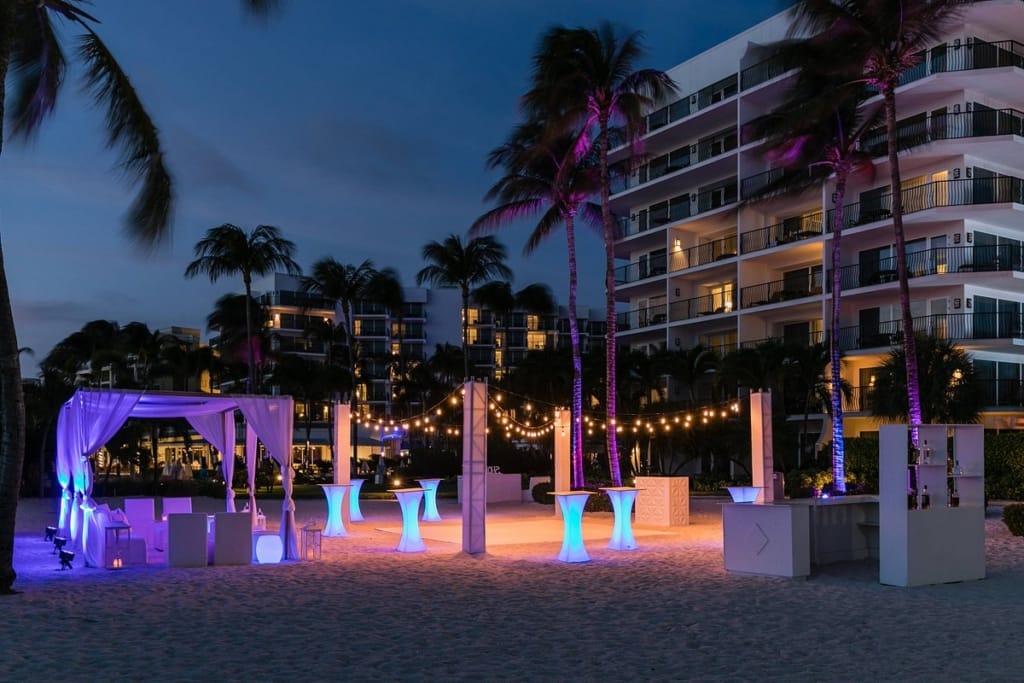 No matter which Marriott Vacation Club resort you stay at in Aruba, guests can also experience the amenities and activities at the Aruba Marriott Resort & Stellaris Casino. If you're looking for some adults-only action, head to the H2Oasis adults-only pool, complete with private cabanas and a tiki bar. The Great Room also offers a sophisticated ambiance, with extravagant cocktails and space to lounge in style. And of course, the Stellaris Casino is the largest casino in Aruba. Over 26 gaming tables, 500 slot machines, and kiosks for races & sports will excite your senses and provide a fun experience.
Which Resort is Better?
This is all about preference! Marriott's Aruba Ocean Club may be best for serene beach time and closer to the Aruba Marriott Resort. It's generally a little calmer and has the benefit of the on-site spa and extra dining options. However, Marriott's Aruba Surf Club is a newer resort and offers more vacation experiences for kids and teens. Either way, guests can enjoy the amenities of both resorts, as well as the Aruba Marriott Resort. They are all in a line across Palm Beach, making it convenient to walk from each property.
Marriott Aruba Timeshares for Sale
When you're ready to make vacations to Aruba a reality forever, check out our Aruba timeshares for sale. If you want to try it before you buy, our marketplace of Marriott Aruba timeshare rentals offers great deals so you can get the whole experience. Buying a timeshare on the resale market gives you access to many of the same benefits for a cheaper price and guarantees your vacation time every year. Before you pack up, make sure you find the best time to go to Aruba, so you can experience the best vacation ever.
Marriott Aruba Timeshare Resorts for Rent
Maybe you aren't quite ready to purchase a timeshare yet or you are still trying to decide which Marriott Aruba timeshare you want to buy. Renting is a great way to try before you buy! We have incredible deals on rentals at both of these resorts. Our Aruba rentals are ready to book; all you need to do is enter payment details and await confirmation from our team!
Renting Out Your Timeshare
You might be wondering what you should do if you own a timeshare at a Marriott Aruba Resorts that you no longer use. Whatever the reason, these things do happen from time to time. Fortunately, Timeshares Only is here to help! At TSO, we help timeshare owners like you rent out their timeshares every day. With 25 years of experience, you can rest assured that we have the industry knowledge needed to help you navigate the resale market. Plus, we're a featured reseller of the American Resort Developer Association, also known as ARDA. This means that we follow a strict set of ethics that help keep you safe. We also have an A+ rating with the Better Business Bureau! Strong ethics, years of experience, and a proven track record, what's not to love? Here's how renting out your timeshare with us works.
How to Rent Out Your Top Aruba Vacation Rental
Renting out your timeshare is simple. Start by gathering up your ownership details like the resort you own with, week number, unit number, and more. Not sure about some of this info? No problem! We can help you locate any missing details. Once we have your information, we'll make a listing for your top Aruba vacation rental. Your timeshare will reach targeted vacationers all over the world with our multi-channel marketing strategies. When your timeshare is reserved by a guest, our representatives will confirm all the details with you and handle the transaction. Then, you get paid! It really is that simple. If you'd like to get started, feel free to give us a call at 1-800-610-2734 or email us at info@timesharesonly.com.