At Aruba Beach Club Resort, you can relax on Punta Brabo Beach, one of Aruba's finest beaches. With its luxurious amenities, breathtaking views, and convenient location, Aruba Beach Club Resort is the perfect destination for a relaxing and enjoyable vacation. The resort's close proximity to the Caribbean Sea also provides a refreshing breeze that can be enjoyed from the resort's private beach or from the many activities and facilities available. Whether you're looking for sand, salt water, or other fun things to do, look no further than Aruba Beach Club.
Aruba Beach Club Accommodations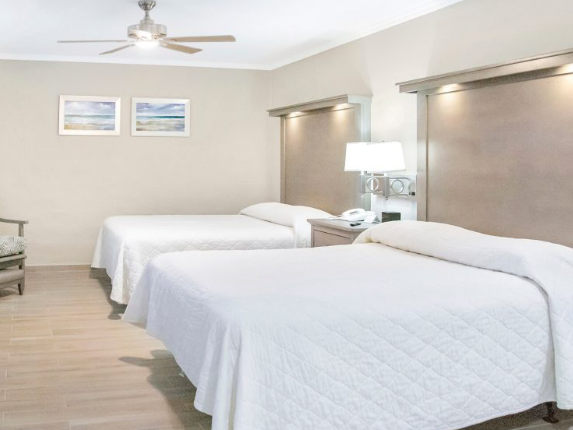 All of the newly renovated accommodations feature all the necessary amenities. In addition, they are surrounded by lush tropical foliage, creating the perfect backdrop for a blissful vacation.
Whether taking in the stunning sunsets or exploring the island's activities, this superior studio provides the perfect place to create memories of a lifetime for individuals, couples and small families. With a view of the garden or the pool, the superior studio is a very popular choice.
For a more elevated accommodation the deluxe suite and royal suite provide all the comforts of home, including a full kitchen and a private balcony. The lavish furnishings and opulent amenities come together to provide a royal experience that will elevate your whole trip. Not to mention, numerous travel publications and guest review websites have ranked these rooms among the best beach hotels on Aruba.
The table below highlights the features of each accommodation:
| | | |
| --- | --- | --- |
| Accommodation Type | Maximum Capacity | Details |
| Superior Studio | 4 Guests | 2 Queen-Size Beds |
| Deluxe Suite | 5 Guests | 2 Queen-Size Beds and 1 Queen-Size Sofa Bed |
| Royal Suite | 6 Guests | 2 Queen-Size Beds and 1 Queen-Size Sofa Bed |
Aruba Beach Club Amenities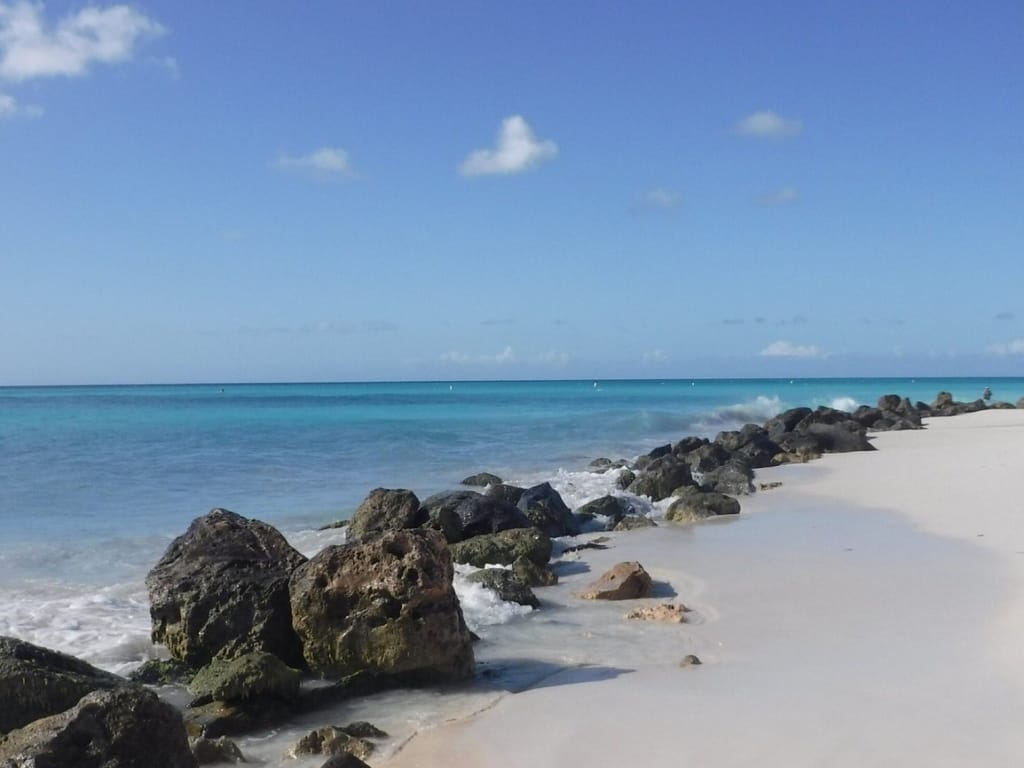 In addition to fabulous accommodations, Aruba Beach Club has fabulous amenities. One of the best amenities is the beach. Being able to access the beach gives people a wide range of activities, from swimming, to surfing, to sunbathing. It can also provide a peaceful place to relax and enjoy the beauty of nature. The large saltwater pool is a great amenity for resort guests to enjoy. It is spacious and perfect for swimming, diving, and playing. Speaking of pools, the resort is equipped with a kiddie pool and playground, making it a great place for the whole family to relax and have fun. Additionally, the lobby is stocked with retail stores, giving guests plenty of options for shopping and dining. Not to mention, they recently put in a pickleball court, so you can get in a game or two while in Aruba.
If you love partaking in activities, you are in luck. Aruba Beach Club have a full schedule of events Monday through Friday. For example, on Monday's they have arts and crafts, finger painting, bingo and canvas painting. Then on Tuesday they have beach games, t-shirt paining, papiamento classes, bingo and musical chairs. And the list goes on. Talk about a fun time!
Ricardo's Restaurant and Bar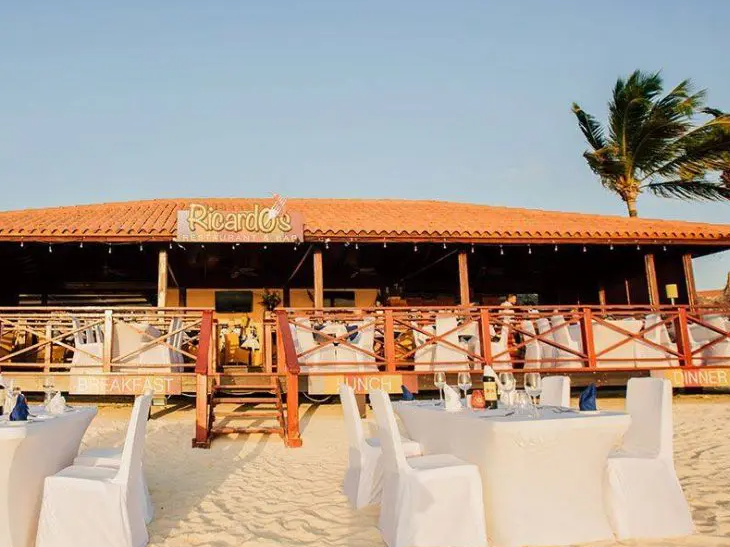 On-site at Aruba Beach Club, there is a beachfront restaurant Ricardo's Restaurant and Bar, known for its delicious food and live entertainment. With Ricardo's skill and knowledge of the restaurant industry, he was able to build a sophisticated restaurant that could provide both a unique dining experience and high-quality food. He was able to source the best ingredients, create original recipes and hire experienced staff to create the perfect atmosphere. There is something for everyone on their menu, including Aruban cuisine and international favorites. Additionally, the Adult Karaoke Night hosted by Ricardo's at Aruba Beach Resort is a good time every Thursday.
Things to Do in Oranjestad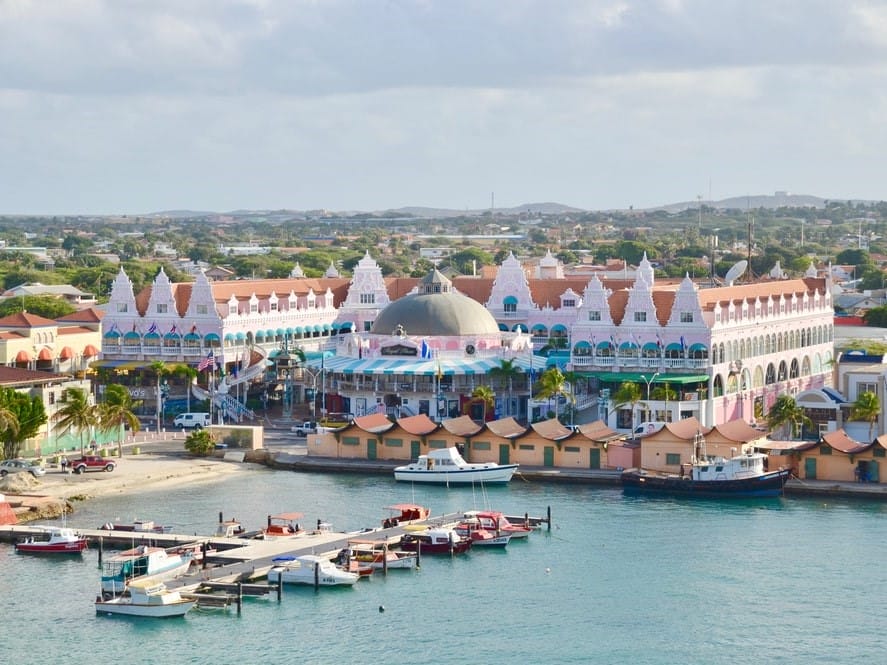 Located in the Caribbean Sea, Oranjestad is the capital of Aruba. The island has lots of fabulous things to do, and the most convenient place to stay is definitely in Oranjestad. Linear Park is a must. Providing a smooth paved trail that is ideal for walking, jogging, biking, and sightseeing, Aruba has the longest linear park in the Caribbean.
The local market has become a favorite among visitors since it opened beside the downtown bus terminal. The market has 40 buzzing stalls. It's the best place to find affordable Aruban souvenirs as well as locally made items. For more shopping opportunities, visit Margarita Plaza, which offers sportswear, footwear, and duty-free cosmetics and perfumes.
Lastly if you are wanting to be adventurous, there are so many tours available. Witness the beauty of the Caribbean's underwater paradise on a Catamaran Dolphin Snorkeling Cruise. If you getting in the water isn't your thing, the Aruba Atlantis Submarine Expedition is for you. Get an up-close look at exotic corals, tropical fish, and a variety of other underwater creatures while aboard the US Coast Guard. Additonally, take a chance to explore a side of Aruba that many miss and uncover a secluded beach on an ATV adventure. Venture to places that you'd normally not be able to access and enjoy a unique experience.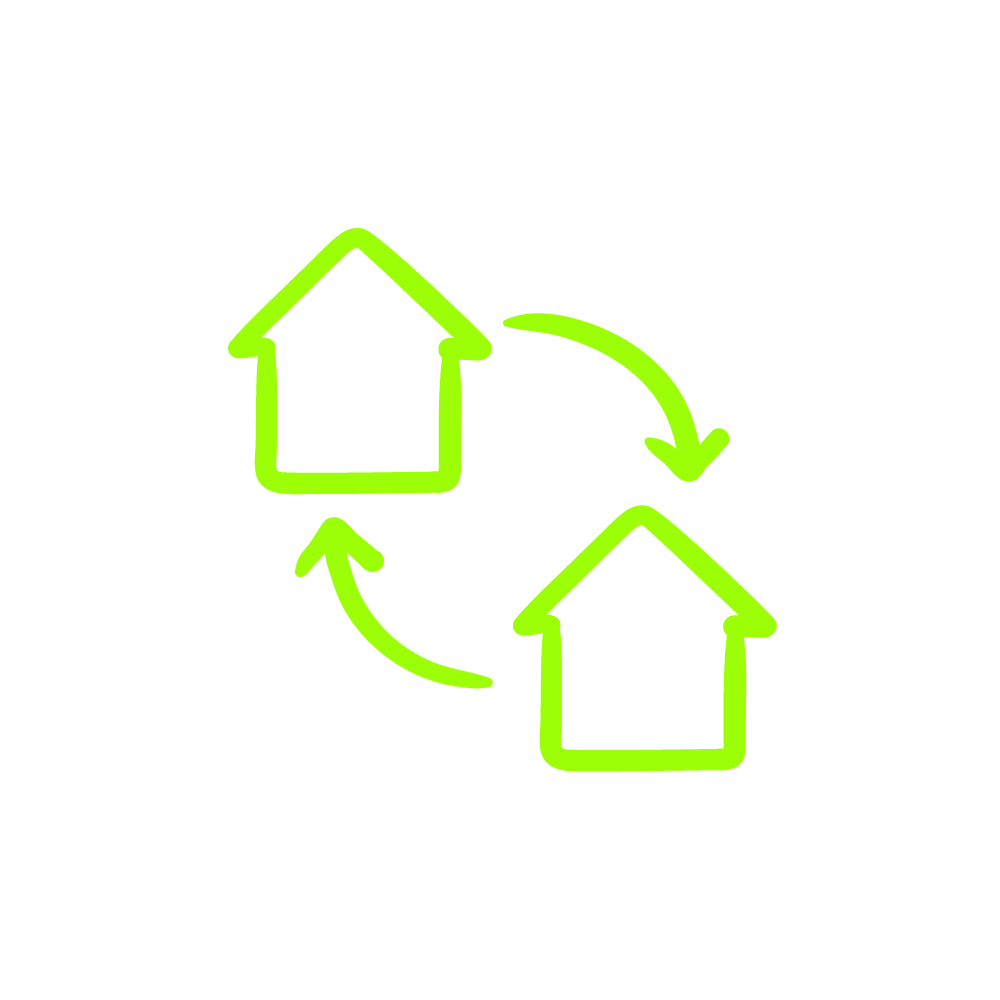 Vacation Exchange with RCI and II
When you own a timeshare, you have the option of joining exclusive vacation exchange platforms like RCI or Interval International. Luckily, Aruba Beach Club Resort is apart of RCI and II. So if you don't want to make the trek to Aruba every year but still want to visit this resort buying a timeshare affiliated with RCI and II allows you to. For those of you who want to become an owner, look into timeshare resale. When you buy a resale, you can save thousands of dollars on the best timeshares.
Below, you can view the brands that affiliate with each vacation exchange network:
Sell or Rent Out Your Aruba Beach Club Timeshare
Do you own a timeshare at Aruba Beach Club? Are you interested in selling it or renting it out? If so, you have come to the right place. At Timeshares Only, we have been helping owners rent out and sell their timeshare for over 25 years. We'd love to assist you and make this process as seamless as possible. Give us a call today at 1-800-610-2734 to learn more information!