Looking for a vacation spot that has it all? Look no further than Las Vegas! Whether you're with friends, family, or a special someone, Sin City is the ultimate destination for non-stop fun. With incredible live shows and dining options that will make your taste buds dance, there's something for everyone. Then, when you need to unwind after an exciting day exploring the city, a Wyndham Las Vegas timeshare has your back! Wyndham is your go-to for relaxation and rejuvenation.
About Wyndham Destinations
As one of the world's leading timeshare brands, Wyndham Destinations has earned a reputation for quality and service. Wyndham owns over 200 resorts in 110 countries and 4,000 destinations around the world, so you can find a Wyndham-branded property almost anywhere. As one of the best and largest vacation clubs, Wyndham Destinations boasts a total of over 3 million owners. Wyndham timeshare owners have the option to exchange their timeshares for a wide variety of destinations with the RCI (formerly Resort Condominium International) timeshare exchange program.
About Las Vegas
Las Vegas was once occupied by Native Americans over 10,000 years ago. There are pictographs and artifacts that have been found in multiple locations throughout the area that confirm this. During the 1800s, a Spanish merchant was looking to make a trade route between Mexico and Los Angeles when the first non-native people arrived. Las Vegas, which means "the meadows" in Spanish, is named after the area's wild grasses and desert springs. In 1905, after the Union Pacific Railroad was completed, the land was auctioned off, and Las Vegas became a city.
Nevada legalized casino gambling in 1931, the same year Hoover Dam construction began. In the years that followed, the influx of workers led to a boom in live entertainment and tourism. Then in the 1960s, corporations began building the hotels and casinos that now make up the Las Vegas Strip. As one of the biggest gambling, retail, entertainment, and luxury resort destinations in the world, Las Vegas, Nevada, is world-renowned today.
Wyndham Las Vegas Timeshare Overview
Top 4 Wyndham Las Vegas Timeshare
Wyndham Desert Blue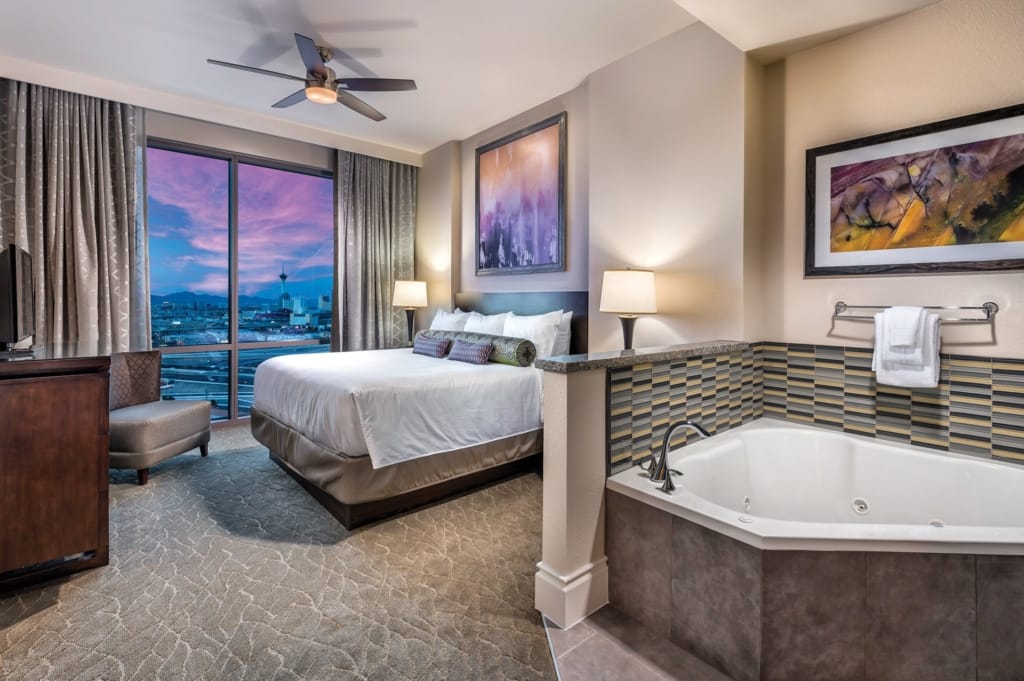 Looking for a luxurious and spacious resort that offers the perfect blend of comfort and prestige? Wyndham Desert Blue is the Wyndham Las Vegas timeshare for you. It is located just off the iconic Las Vegas Strip. It offers an unforgettable atmosphere of glamour, glitz, and excitement that epitomizes Sin City.
With a range of accommodations to choose from, ranging from one-bedroom to four-bedroom condominium-style units that can sleep up to 12 guests. Each unit is equipped with fully-stocked kitchens and plenty of space to stretch out and unwind. And let's not forget about the stunning views from private balconies, which showcase either the dazzling Strip or the resort's Mediterranean-style courtyard.
You are sure to love all of the incredible amenities at the Club Wyndham Grand Desert resort! From the lagoon-style pool to the lap pool, tanning beds, and hot tubs, this resort has everything you need to unwind and relax. Plus, the complimentary shuttle service to the Las Vegas Strip makes getting around a breeze.
Wyndham Tropicana At Las Vegas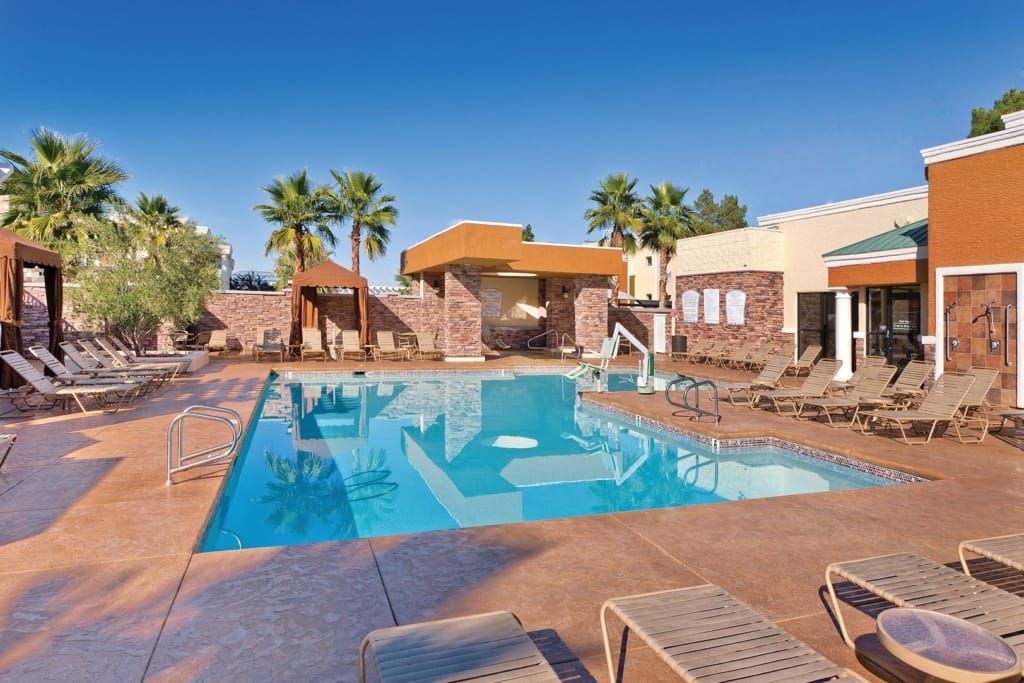 Wyndham Tropicana At Las Vegas is like a 24-hour playground. Nestled in a serene neighborhood, the Wyndham Tropicana at Las Vegas boasts breathtaking desert panoramas and majestic chiseled rock formations, all while offering convenient access to the renowned Las Vegas Strip.
Accommodations come in two-bedroom and two-bedroom deluxe sizes that both sleep up to six guests. One of the highlights of staying in either suite at this resort is having your own fully-equipped kitchen. You can stock up on your favorite snacks and drinks or cook up a delicious meal for your loved ones without having to leave your villa. Not to mention, every suite is equipped with laundry areas, a stereo, television, Wi-Fi, a hair dryer, and either a balcony or patio with views of the surrounding areas.
Take a dip in the swimming pool or soak your cares away in the hot tub. The surrounding area offers endless opportunities for adventure, such as fishing, swimming, boating, water-skiing, scuba diving, golf, skiing, hiking, and even a trip back in time to the Old West at Bonnie Springs. And, of course, the casinos are always calling for those feeling lucky.
Worldmark Las Vegas On The Boulevard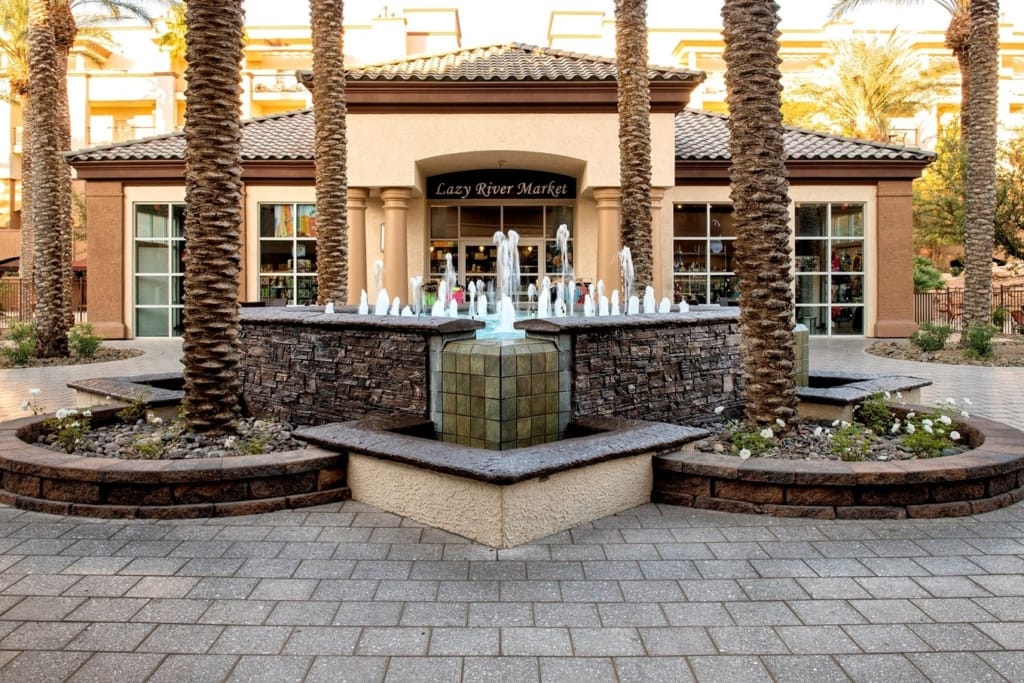 Worldmark Las Vegas On The Boulevard continues WorldMark's tradition of excellence. You can spend your day relaxing at this fabulous WorldMark Las Vegas timeshare resort by floating down the lazy river and indulging in a soothing massage at the spa. Alternatively, you can use the complimentary shuttle to the Strip, where high-end restaurants, family attractions, and glitzy entertainment await.
The resort's spacious one-, two-, and three-bedroom suites are designed to offer the ultimate relaxing experience. With luxurious furnishings, high-quality bedding, a kitchen, and plenty of room to stretch out, you'll feel right at home in your suite. Whether you're traveling with friends or family, there's plenty of space to relax and unwind. When it's time to wind down after a long day of exploring all that Vegas has to offer, there's nothing better than cozying up in front of a warm fireplace. You can sit back, relax, and enjoy the ambiance as you reflect on the memories you've made during your stay at this amazing resort.
Get ready for non-stop fun and excitement at this incredible resort! Not only does it boast a fantastic pool area, but there's also a children's pool, a hot tub, an exercise facility, and a game room to keep you entertained. But that's just the beginning. With so many attractions in Vegas, you'll have a hard time deciding what to do first!
Wyndham Grand Desert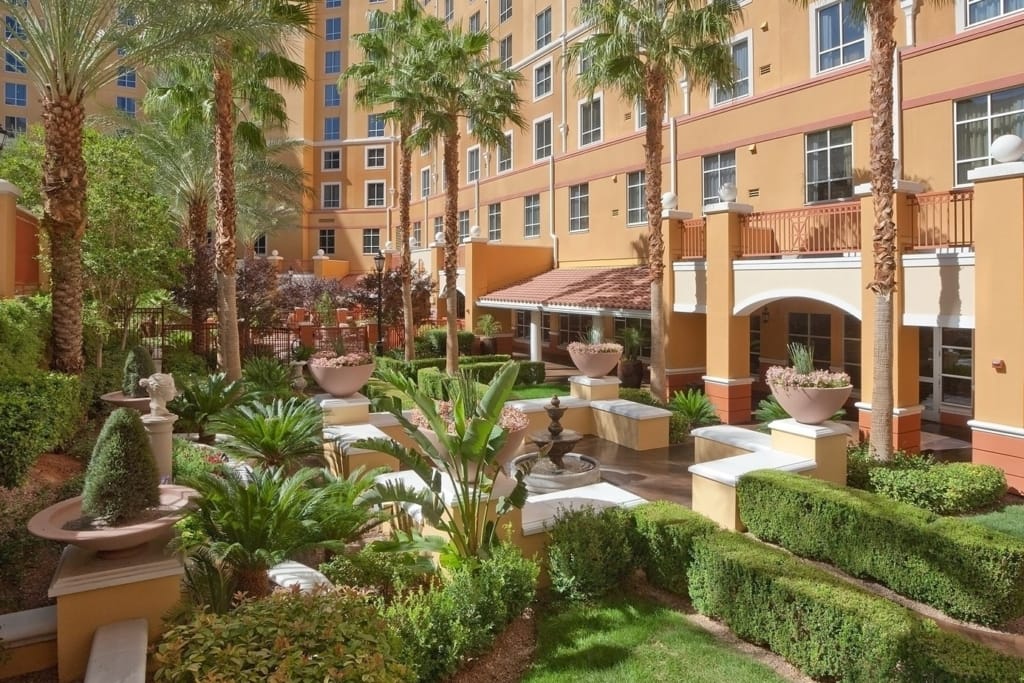 Wyndham Grand Desert is a 12-story Wyndham resort in Las Vegas. It is Wyndham's flagship Western resort, with 184 rooms and a food court. Conveniently situated just a mile outside Las Vegas Boulevard, you'll have easy access to all the excitement the city has to offer. The Wyndham Grand Desert resort also offers plenty of fun and relaxation right on its grounds.
Designed in the Mediterranean style, the buildings reflect the tranquility and warmth of the desert. The spacious one-, two-, and three-bedroom suites provide the perfect space for families to kick back and relax after a day of exploring the city. Enjoy your own private villa with a full kitchen and cozy fireplace, suitable for a night in with the family. In addition, over 2,400 square feet are available in the penthouses.
Each building has a terraced courtyard with a lap pool, a kiddie pool, a lagoon-style freeform pool, lush lawns, and open decks with outdoor seating. There is also an exercise room, two massage rooms, a sauna, and a multifunctional room for social events at the resort. With all these amenities and more, your family is sure to have a blast at the Wyndham Grand Desert.
Buy or Rent Wyndham Las Vegas Timeshares
Are you eager to purchase or rent a Wyndham Las Vegas timeshare? If so, we've got you covered! Begin by browsing through our impressive selection of Wyndham timeshares available for sale or rent in Vegas. Once you've found the perfect one, making an offer is easy!
Don't worry; if you have any questions or concerns, Timeshares Only is here to help. Our team of experienced timeshare experts has the connections and knowledge to make the process hassle-free. So why wait? Contact us today at 1(800) 213-7733 to start your exciting journey into the world of Wyndham Las Vegas timeshares!