Whether it's because of financial restrictions or a lifestyle change, you may be looking into selling your Hilton Grand Vacations Club timeshare. While you are wondering how to sell your Hilton timeshare, it's important to understand the resale process and research the best companies out there. The most challenging obstacle that owners face when selling their Hilton timeshares is avoiding scam companies, but we'll tell you exactly what to look out for.
Besfore You Sell Your Hilton Grand Vacations Club Timeshare
Whether it's a change in lifestyle, outstanding dues or a financial bind, we understand. Timeshares can be a big commitment, and sometimes don't make sense to hold onto if you're not using it to the fullest. Before you consider selling your Hilton Grand Vacation Club timeshare, make sure you consider a few things.
If you decide to sell your ownership, there's a lot that goes into it. The resale market can be a confusing place, so you need an expert to guide you through the process. Hilton Grand Vacations Club can refer you to a trusted, third-party service. Large developers like HGVC are members of ARDA and have their owners' best interests in mind.
Vacation Exchange for HGVC Owners
The first option we recommend is using a vacation exchange network to trade your time at your home resort for vacations at another. HGVC is affiliated with RCI (formerly Resort Condominiums International). Undoubtedly, RCI has a plethora of resorts available for visiting in their network. Give them a call to see if you are eligible for membership with your timeshare. Even if you're feeling bored with your interest, you still have options. Additionally, call HGVC and ask about their internal exchange programs. You may be able to exchange your time for other resorts in the brand.
Rent Out Your Hilton Timeshare
Have you skipped a few vacations between years so you feel like you have to sell it? Rent it out instead to cover your timeshare maintenance fees and save the guilt! You don't have to sell your HGVC timeshare points if you still want to enjoy your ownership in the future.
Avoid Scams When Selling Hilton Grand Vacations Club Timeshare
Timeshares are meant to be a lifelong product, and Hilton Grand Vacations membership is no different. Large developers are now more involved in helping owners that are in need of a way out of their ownership, but years ago the resale market was vbery much unregulated. Because of this, there are some timeshare resale scams out there to be aware of. What's more, some of the worst scams are advertising online with targeted Facebook ads, radio, and television commercials.
HGVC Resale Scams to Be Aware Of:
Unsolicited calls from illegitimate companies. If you receive a phone call out of the blue from someone that claims they are a "resale agent" with an interested buyer, take caution. Especially if you were not looking to sell your Hilton timeshare in the first place. This person may say they have an offer that's more than what you paid for your timeshare. However, timeshares rarely appreciate in value on the resale market. The caller will likely ask for an upfront closing cost of some sort, which is highly unusual.
"Stop paying your maintenance fees". If any resale company, cancellation company, or exit company advises you to stop paying your timeshare maintenance fees, you should not trust their services. Timeshare maintenance fees are legally binding in your contract, and if you fail to pay them, you will likely foreclose on your HGVC ownership. This not only hurts the resort, but it will negatively impact your credit score drastically.
Can You Cancel a Hilton Grand Vacation Club Contract?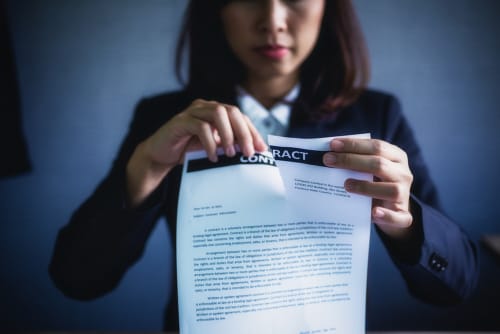 Timeshare ownership is a lot like owning a piece of real estate. This is important to consider when you are thinking of getting out of your Hilton timeshare contract. Unfortunately, you can't simply "cancel" a Hilton Grand Vacations Club contract. There may be timeshare cancellation lawyers out there or exit teams that tell you this is an option. In reality, these services have been prosecuted or even barred from practicing law because of their unethical practices. They are also not recognized by ARDA because of their undelivered promises to owners and deceitful practices.
You wouldn't seek out a lawyer to cancel your homeownership, would you? The same goes for a timeshare. If you happen to find a service that makes these promises, do your research on the Better Business Bureau or the American Resort Development Association.
Make sure to keep up with the latest timeshare wins against exit companies. We make time-sensitive updates so you can be in the know. Also, be wary of anyone that suggests you should stop paying your timeshare maintenance fees. Not paying these will hurt your credit and stay with you forever.
Does Hilton Grand Vacations Club Buy Back Timeshares?
We always recommend contacting your developer when you are researching ways to sell or get out of your Hilton timeshare. At this time, Hilton does not publicly state that they will buy back your timeshare. However, HGVC is a member of the Coalition for Responsible Exit and they do provide guidance for owners that need safe, legitimate options.
So How Do I Sell My Hilton Timeshare?
There are several options when selling a Hilton Grand Vacation Club timeshare. Make sure you consult a trustworthy and responsible resource when you are ready. The most obvious source of accurate information is with Hilton directly. They may have solutions for you, or they can refer you to a trusted third-party service. Our online resale marketplace is a trusted source for posting your Hilton timeshare for sale.

Our representatives at Timeshares Only will make you a custom, online advertisement that will attract people looking to buy Hilton points on the resale market. We have over 25 years of experience helping owners sell their weeks or points and attract hundreds of buyers. As ARDA members, we're trusted by top developers and named the number one recommended service.
Knowing what you own will help but is not necessary. Make sure you're maintenance fees are paid off and there are no outstanding dues on your account. This is the most important part before you can sell your Hilton ownership.
Remember, timeshare is not an investment. You likely won't get back what you paid for it, but you will get out of HGV fees or annual dues. Keep this in mind when deciding on what to price your property for, and how it will attract the right buyer.
After receiving an offer on your HGVC timeshare for sale, you can choose to handle the closing process yourself or we can refer you to a licensed real estate brokerage. They will be able to help you with the negotiations, sending contracts to the resort and title transfer. It takes usually 60 to 90 days to complete the entire timeshare resale closing process, but this can vary by resort and location.
Sell Your Timeshare With Timeshares Only