Tucked away in the San Bernardino mountains is one of the most treasured family destinations in the U.S. Big Bear Lake is suited for year-round adventures, from skiing through the alpines or hiking miles of trails in the mountains. With Big Bear timeshare, you can make great outdoor adventures a family tradition every year. Not to mention, timeshare resorts in Big Bear offer extravagant amenities and spacious accommodations, so you don't have to "rough it" if you don't want to. Find Big Bear timeshare resales on our resort marketplace or rent a timeshare in Big Bear for less than a hotel stay.
About Big Bear Timeshare
Visiting Big Bear is always an exciting vacation. Many families make this destination an annual retreat to reconnect with nature and enjoy the sweeping views of the San Bernardino mountains. Big Bear timeshare makes it easier and more comfortable for visitors to relax, partake in outdoor activities, and settle into this beautiful Southern California escape.
The weather is phenomenal year-round when you stay at a Big Bear timeshare. There are over 300 days of sunshine yearly, with summer temperatures averaging 80 degrees during the day and dipping to 45 degrees at night. Visiting Big Bear timeshare in the winter? Grab your skis and snowboards because this is also a ski destination!
Things to Do Near Big Bear Timeshares
There is plenty to do outdoors in this unique mountain resort community. Many Big Bear timeshare resorts are centrally located nearby and around the wildlife and nature preserves, as well as Big Bear Lake. Not to mention, Big Bear welcomes skiers and snowboarders every winter at the Big Bear Mountain Resort.
Winter Sports
Head to the Big Bear Mountain resort for all things skiing, snowboarding, or tubing. Winter operations begin in November and typically run until March or April.
Fishing
Unwind with the best fishing when you stay at a Big Bear timeshare. Catch Rainbow Trout, Panfish, Largemouth Bass, as well as Channel Catfish.
Golf
The Bear Mountain Golf Course is perfect for beginners and pros. This 9-hole course is open April through November and is a perfect escape from the blistering heat in Los Angeles.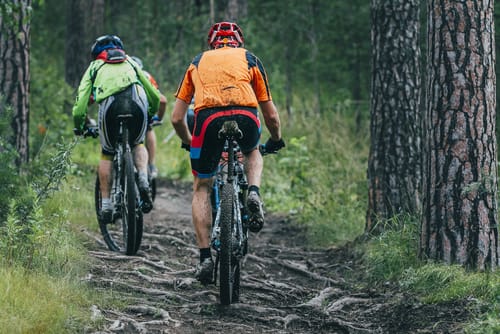 Hiking
Make sure you pack sneakers for your Big Bear timeshare getaway. Big Bear hiking trails give visitors panoramic views of the San Bernardino National Forest, each offering a unique experience.
Biking
Some may say that Big Bear is the mecca of mountain biking, and for good reason! Summit Bike Park put Big Bear on the map in the 1990s and hosts national championships for off-road bicyclists.
Wildlife
Catch a glimpse of native wildlife that make Big Bear home. Families can also head to the Big Bear Alpine Zoo, where injured or imprinted animals are taken in for rehabilitation.
Big Bear Attractions
Besides experiencing the great outdoors, wildlife, and active sports, Big Bear is home to other attractions for both families and adults. Shopping, dining, escape rooms, and more can bring you back to the "real world" while you're still rejuvenating on vacation.
The Village at Big Bear Lake has it all! There are quirky boutiques with souvenirs to bring home, Mountain Room Escapes escape rooms, The Bowling Barn, and The Cave, a live concert venue. For some indoor fun with the kids, a visit to the Gold Rush Mining Co. is in order. Big Bear has a rich gold mining history. In fact, it was one of the most prosperous mining areas during the Gold Rush Era. The Gold Rush Mining Adventures here is a unique activity that allows the little ones to dig and search for small treasures. What's more, you can take home any of the gems and geodes you find!
Finally, the Alpine Slide at Magic Mountain has activities to partake in year-round. Tubing is prime here in the winter, but the Alpine Slide is a true bobsled experience. Start with a scenic chair lift ride to the top, and enjoy the slide down the 1/4 mile track. What's more, the Mineshaft Coaster is an exhilarating experience through hairpin turns and 360-degree corkscrews through the mountains.
The Best Big Bear Timeshare Resorts
Looking for a comfortable place to stay when visiting this great outdoor getaway? The best Big Bear timeshare resorts make guests as comfortable as possible while enjoying the wildlife and nature surrounding them. Big Bear timeshares have larger accommodations than a traditional hotel room, with fully equipped kitchens, laundry, private patios, and impeccable amenities.
WorldMark Big Bear
Escape to the mountains at WorldMark Big Bear timeshare resort. Offering condominium-style accommodations, bring the entire family to see gorgeous scenery and exciting activities. This resort features an activity center and arcade room that the kids will love. Relax in an outdoor whirlpool hot tub with panoramic views of the lake and pine trees.
Each unit features comfort and convenience, with various options to accommodate your family. The standard one-bedroom condo has a fully-equipped kitchen and offers 60% more space than the average hotel room. For larger parties, two-bedroom condos can sleep up to eight guests and three-bedroom condos can also sleep up to ten.
Create moments you'll cherish forever when staying at WorldMark Big Bear resort. Spacious living room and dining room areas will bring you closer to your loved ones. Experience all of the joys that Big Bear offers with fishing, skiing, hiking, and even more.
WorldMark by Wyndham is an innovative, points-based vacation club with resorts around the country. Stay at over 60 locations using vacation points at WorldMark resorts in Orlando and other top destinations. Any season, resort, or destination. Browse WorldMark Big Bear timeshare resales to get started. Or, plan your next getaway with WorldMark Big Bear rentals.
The Club at Big Bear Village
Lapse in luxury at The Club at Big Bear Village. This Bluegreen Vacations resort in the San Bernardino mountains is a euphoric destination filled to the brim with amenities and comfort. Stunning scenery meets rustic elegance in each suite, complete with fully-equipped kitchens, private balconies, and spacious living rooms.
The stunning outdoor pool is open seasonally and features sweeping views of the pine trees and mountain landscape. There's also an indoor pool for those winter days when you need a refreshing dip in the water. Guests are welcomed to the resort with cascading waterfall features and an inviting lobby with a clubhouse, fitness center, and game room.
Suites range in size from two, three, and four-bedroom Presidential accommodations that are designed to pamper six to ten guests. Get cozy next to the fireplace, enjoy a home-cooked meal from the kitchen, or use personal BBQ grills on the private patio/balcony. Moreover, each suite has a washer/dryer set up for added convenience.
Bluegreen Vacations offers points-based ownership and dozens of incredible outdoor adventure resorts. Take to the Smoky Mountains at the MountainLoft resort or lounge on the Grand Strand in Myrtle Beach. Start by browsing The Club at Big Bear Village timeshare resales. Or, plan your next vacation with The Club at Big Bear Village rentals.
Snow Lake Lodge
This timeshare resort in Big Bear is the perfect low-key vacation spot for relaxation and rejuvenation. Sit poolside and get some sun on the outdoor deck, or unwind at the outdoor spa. One-bedroom condominiums offer two separate fireplaces and well-appointed amenities. Enjoy home-cooked meals with fully-equipped kitchens and spacious dining room areas. For extra fun on the resort, head to the Recreation Room for pool tables, board games, and books.
Browse Snow Lake Lodge at Big Bear timeshare resales on our resort marketplace. We also offer Snow Lake Lodge vacation rentals.
Lagonita Lodge
This private resort offers a full calendar of activities year-round. Stay comfortable in one or two-bedroom condominium units, complete with kitchens, private balconies/patios, and complimentary internet access. Unwind in an outdoor heated spa with panoramic lake views. Guests also have access to the private dock for fishing and boating.
Lagonita Lodge is only minutes away from the Village shops and dining options. You'll love the convenient access to all that Big Bear has to offer. Take a look at Lagonita Lodge timeshare resales. Or plan your next adventure with Lagonita Lodge timeshare rentals.
Why You Should Buy a Big Bear Timeshare
Big Bear is a traditional family destination that many call their home away from home in Southern California. With the year-round activities, supreme weather, and familial community, Big Bear is like no other place. Buying a Big Bear timeshare will guarantee vacation time here every year for the entire family. Don't let another year pass you by without making lifelong memories in the great outdoors.
What's more, when you buy a Big Bear timeshare on the secondary market, you'll pay less than a fraction of the cost compared to buying directly from a developer. Some Big Bear timeshare owners choose to sell their points or weeks because they have a lifestyle change or can no longer hold on to their ownership. Timeshares are not a financial investment, so they often depreciate in value. However, if you plan on using your Big Bear timeshare year after year, you'll find the real investment is in your family and vacation lifestyle. If you see a Big Bear timeshare for sale on the secondary market, don't hesitate. Owners love their great outdoor getaways here.
Big Bear Timeshares for Sale
Our resort marketplace offers Big Bear timeshares for sale from your favorite resorts and vacation clubs. You can find a timeshare resale much cheaper than buying directly from the developer. Our timeshare specialists are available and ready to help you find the best timeshares for sale in Big Bear. Call us at 1-800-610-2734 or email info@timesharesonly.com. While you're browsing, you can even make a risk-free offer on the posting of your choice.