On its own, Silverleaf Resorts were already an impressive force in the timeshare industry. By 2015, they operated 13 resorts in the U.S. across 6 states. Then, in May of that year, their reach expanded even further. Holiday Inn Club Vacations acquired Silverleaf and together, they grew considerably. That merger alone gave the two companies a total of 26 resorts, 7,200 villas, and  320,000 timeshares. Definitely an impressive increase! Read on to learn more about Silverleaf Resorts and how they fit into the Holiday Inn Club Vacations portfolio
A Look at Silverleaf's Resorts
No matter where you go if you stay at a Silverleaf Resort, you can rest assured that you'll be staying in a quality location with great amenities and easy access to local attractions. From Massachusetts to Texas, Silverleaf's properties are loaded with amenities to make your stay as comfortable as possible. Being part of the Holiday Inn Club Vacations family means that anyone who is part of that membership program can also use their points to travel to a Silverleaf resort. Here are just a couple of the great offerings you can find in the Silverleaf family.
Oak n' Spruce Resort in the Berkshires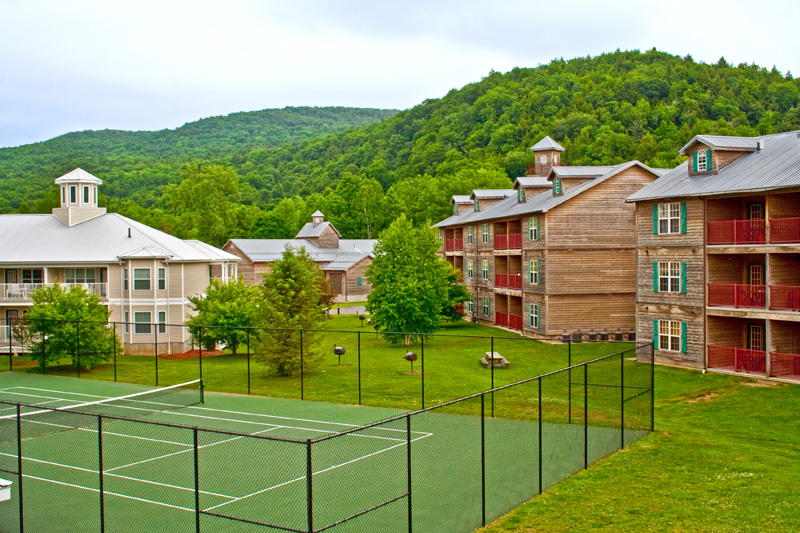 From serene forests to clear blue lakes, the Berkshires are filled with the beauty of nature. Silverleaf has a great resort in this idyllic corner of New England: Oak n' Spruce Resort in the Berkshires. This resort features two indoor pools, an outdoor pool, and a hot tub for a quick dip after exploring the Appalachian Trail. One of these pools is even home to a Tiki Bar! Speaking of bars, anyone looking for a good drink should try the Bear Tree Bar. Sports courts and a fitness center are also available to help you stay active. Golf fans of all ages can enjoy a few rounds at the Oak n' Spruce's 18-hole mini golf course. Then for something a little less active, be sure to check out the on-site movie theater. 
Like all Silverleaf resorts, the Oak n' Spruce Resort has plenty of great attractions nearby. Anyone with an interest should check out the Norman Rockwell museum, which is only five miles away. The museum features a collection of Rockwell's greatest pieces, alongside guest exhibits from other artists. Monument Mountain is also nearby and offers travelers a more active experience. If you hike all the way up to its 1,642-foot-high peak, you'll be greeted by a breathtaking view of the Housatonic River Valley. As for accommodations, the Oak n' Spruce Resort offers guests their choice of a one, two, or three-bedroom suite. The one-bedroom suite has a queen-sized bed, sleeper sofa, and a fully-equipped kitchen, as well as a private balcony. Next, the two-bedroom suite features an additional queen-sized bed, while the three-bedroom suite boasts two king-sized beds, a queen-sized bed, and a sleeper sofa.
Hill Country Resort
Looking for a cozy countryside retreat? Then check out the Hill Country Resort. Like the Oak n' Spruce Resort, this Silverleaf resort boasts an 18-hole mini golf course. Guests can also enjoy not one, not two, but five swimming pools located across the resort. If you're feeling a bit hungry but don't want to head out for a meal, Hill Country has you covered. The Hill Country Resort Grill, located on-site, serves juicy burgers alongside queso, guacamole, and salsa. It's a restaurant with flavors inspired by the Texas Hill Country itself, so you'll really get a taste of the area. Meanwhile, the Oasis Bar gives guests a view of Canyon Lake while they sip on a locally-inspired drink from an expansive menu. Finally, if you'd rather whip up some food yourself, the resort offers charcoal barbecue grills for anything you'd like to make.
Just 18 miles from the resort is the Schlitterbahn Waterpark. This massive attraction provides a staggering variety of river rides, pools, and waterslides. Whether you're a thrill seeker or a casual swimmer, there's plenty to enjoy here. When you're finally ready to relax and unwind, you can do so in either a one, two, or three-bedroom lodge. The one-bedroom lodge has a king-sized bed and sleeper sofa along with a fully-equipped kitchen. Next, the two-bedroom lodge offers all the same amenities found in the one-bedroom and adds a king-sized bed. Finally, the three-bedroom lodge features two king-sized beds and a sleeper sofa.
Buy or Rent a Timeshare At Silverleaf Resorts
There's a lot to love about staying at a Silverleaf Resort. Plenty of amenities, great locations, and spacious accommodations come together to make for an unforgettable stay. If you'd like to start making memories at one of these resorts, consider buying or renting a timeshare there. Timeshares allow you to visit a beloved destination every year. If you want to travel somewhere but know you won't be able to explore everything there is to do, timeshares are a great way to make sure you can come back and enjoy it all later. Even if you don't want to visit the same spot each year, most timeshare companies work on a points-based system so you can travel somewhere new. If you'd like to get started, then check out our marketplace! If you have any questions, feel free to give us a call at: 1-800-610-2734 or email us at: info@timesharesonly.com