When you think of paradise, what's the first thing that comes to mind? For millions of people every year, the answer is Hawaii. These gorgeous islands are filled with a rich history, breathtaking nature, and unforgettable activities. With all there is to do and see in Hawaii, you may be thinking of setting a travel date for a trip to the Aloha State. For anyone with a timeshare there, this is pretty straightforward, but what if you don't? Fortunately, there's a way to enjoy Hawaii without owning a timeshare in the islands: Interval International. With this massive vacation exchange program, you'll be surfing the deep blue waves off the beach in no time! Here are the best Interval International resorts in Hawaii.
What is Interval International?
While being able to explore Hawaii may sound like a lot of fun, you may be wondering what Interval International is. Interval International, also known as II, is a vacation exchange program. These programs allow you to exchange your timeshare week or points to travel to one of thousands of other resorts around the world. Interval International, in particular, has over 3,200 affiliated resorts in 92 countries, so you can rest assured you'll have plenty of options. In order to join II, you'll need to own a timeshare at a resort affiliated with the network. Here are some of the top brands affiliated with II:
Which Interval International Hawaii Resort Should You Stay At?
Choosing which Interval International Hawaii resort to stay at isn't an easy decision because there are so many fabulous timeshares. Deciding what is on your vacation bucket list is a good place to start. Once you have determined what you want to do on your vacation then you can weed out which resorts fit and don't fit your criteria. In addition, looking into the six different islands and what they have to offer could help determine which is the best island to visit in Hawaii. A collection of top resorts is available for trading with Interval International.
Interval International Hawaii Timeshares
Marriott's Kauai Beach Club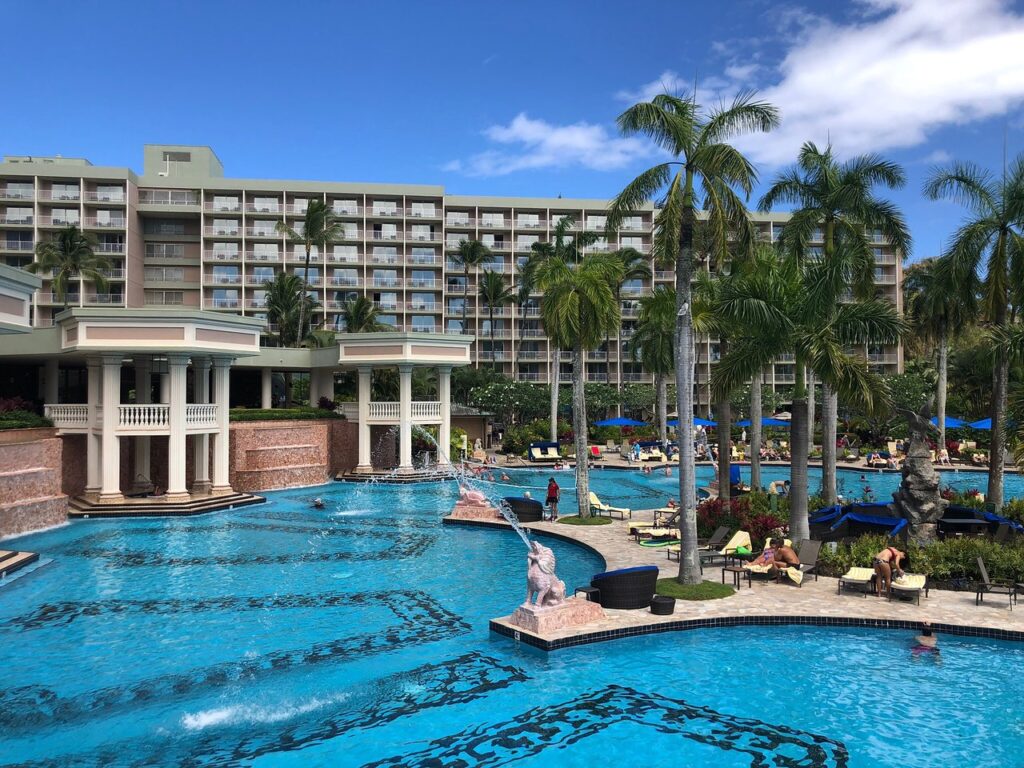 A 51-acre tropical garden with a quarter-mile of beachfront surrounds Marriott's Kauai Beach Club. Kauai offers a wide variety of family activities and recreational opportunities, such as scuba diving, the best surfing in Hawaii, and snorkeling. On-site, enjoy the 26,000-square-foot outdoor pool, tennis courts, and golf courses. Before retiring to your vacation rental after a long day in the sun of Kauai, indulge in one of the oceanfront restaurants or rejuvenate at the tranquil day spa.
Marriott's Kauai Beach Club Amenities
Beach access
Pool access
Tennis courts
Two golf courses
Lawai Beach Resort
Overlooking one of Hawaii's best snorkeling and surfing spots, Lawai Beach Resort is located on the south shore of Kauai. The resort has 176 condominiums spread across 7 acres. Shopping and dining are within minutes of driving as well as the famous Poipu Beach Park and Spouting Horn Scenic Lookout. Or, spend the day on-site playing mini-golf, pickleball or cornhole. In addition, there are BBQ grills at each of the three pools, rooftop deck, and picnic areas.
Lawai Beach Resort Amenities
Beach access
Pool access
Tennis courts
Mini golf
Alii Kai Resort
Alii Kai Resort provides a tropical getaway vacation experience with a mile of golden beach on the island of Kauai. This Interval International Hawaii timeshare offers ukulele lessons, beach yoga in the beautiful and serene setting of Kauai as well as luxury massages in the comfort of your condo. Local attractions include the Plantation Marketplace and a championship golf course. Known for its miles of golden sand beaches and breathtaking views, the island is a popular tourist destination.
Alii Kai Resort Amenities
Beach access
Pool access
Massages
Ukulele lessons
Mariott's Ko Olina Beach Club
Guests at Mariott's Ko Olina Beach Club will enjoy easy access to the clean sands of Ko Olina Beach, as well as the championship links of the Ko Olina Golf Club. In a gated community just steps from the ocean, this Marriott Vacation Club resort in Hawaii is only a half-hour drive from Honolulu. Whether you hike Diamond Head or take the kids to Hawaiian Waters Adventure Park, you'll all love the experience and excitement of Hawaii.
Mariott's Ko Olina Beach Club Amenities
Beach access
Pool access
Fitness center
Spa
Westin Princeville Ocean Resort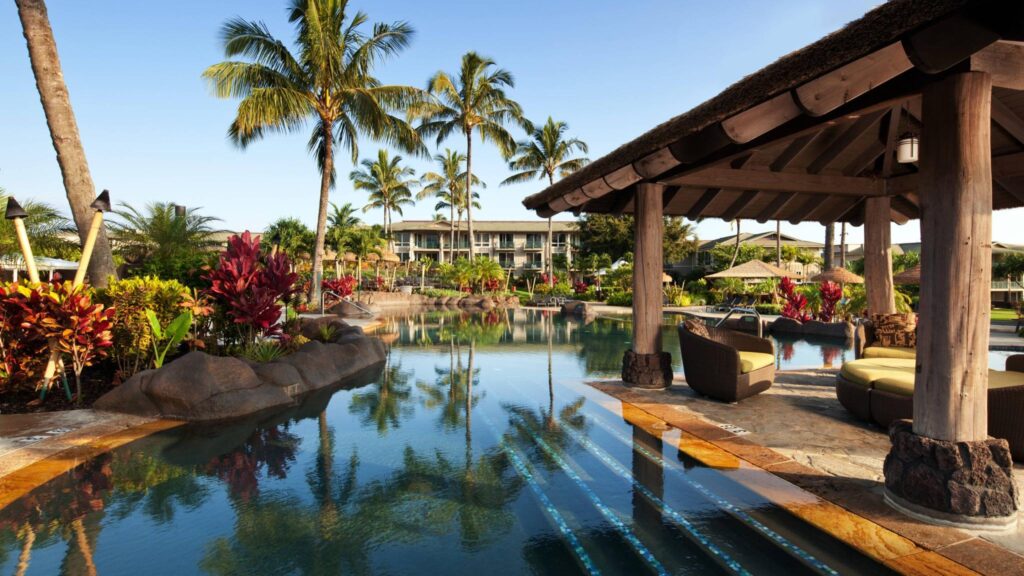 Westin Princeville Ocean Resort is centrally located in the midst of Kaui with breathtaking views. Whether you go scuba diving, shopping, surfing or indulge in fine dining, there are also a wide variety of local attractions and activities for every age group. In addition, on-site enjoy the health club, spa, water sports, and restaurant. You will have everything that you need for a fabulous vacation at this property that is affiliated with the Westin and Starwood family of resorts.
Westin Princeville Ocean Resort Amenities
Beach access
Pool access
Golf Course
Spa
How to Save Money While Buying a Timeshare
If you're ready to spend your vacation days strolling Hawaii's sandy beaches, you'll want to buy a timeshare that's affiliated with Interval International. Fortunately, there's a way to save money on that purchase so you can take the vacation of your dreams: the timeshare resale market. If you buy a timeshare resale that's affiliated with II, you'll be able to enjoy all of that resort's incredible amenities and you'll be eligible for an Interval International membership. What's not to love?
Find Interval International Hawaii Timeshares to Exchange for
If you're ready to set a travel date to visit the Aloha State, check out our marketplace! We have listings for plenty of Interval International Hawaii timeshares. Or, if you're still on the fence about vacation ownership, consider renting a timeshare instead. You'll enjoy all of the benefits of a luxurious resort with none of the commitment. If you have any questions, please email us at info@timesharesonly.com or call us at 1-800-610-2734. We're always happy to help!