Located in Southern California, Palm Springs is a luxurious resort town known for its spas, shopping, golf courses, and hot springs. Do you want to visit Palm Springs yearly? If so, a timeshare is the perfect way to make Palm Springs your home away from home. Whether you want to stay in the heart of all the action or nearby, here is the ultimate guide to finding your dream Palm Springs timeshare.
Top Palm Springs Timeshare Resales and Rentals
Palm Springs has a lot of fabulous timeshares, so it might be hard to determine which one you want to stay at. We are here to help make your decision easier. Below is an outline of the top Palm Springs timeshares.
Palm Canyon Resort And Spa Timeshare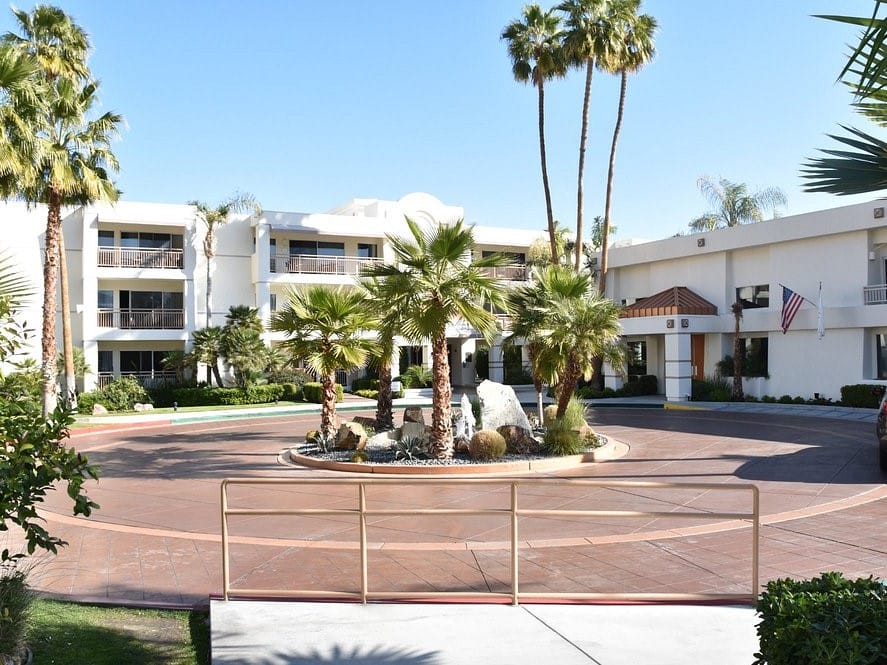 Looking for a wonderful vacation spot in the desert? Look no further than the stunning Palm Canyon Resort And Spa! Here, you'll find everything you need for a fun and relaxing getaway. From the adult lounge and game room to the weight training room and sports court facility, this timeshare has it all. And let's not forget about the incredible swimming pool and sundeck, complete with a 20-foot-high rockscape, palm trees for shade, waterslides, waterfalls, and underground walkways. The accommodations are perfect for families of all sizes ranging from studios to three-bedroom lock-off suites. Book your California trip today to this Diamond Resort destination and start making memories that will last a lifetime!
Learn more: A Guide to California's Best National Parks!
Casitas del Monte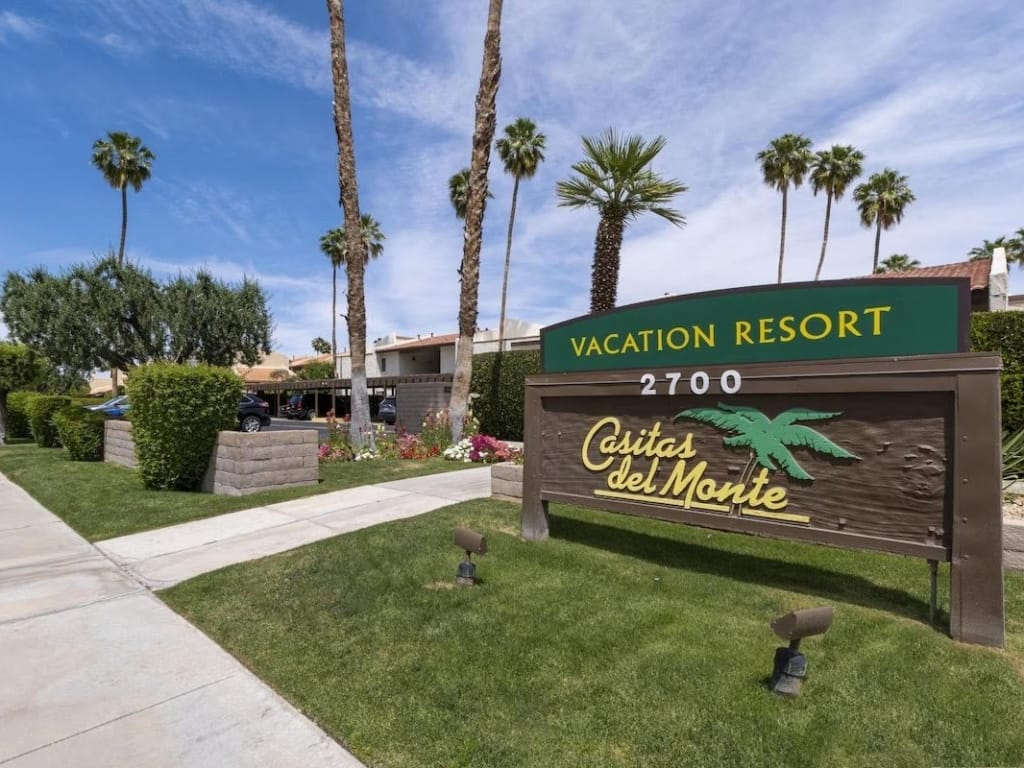 Casitas del Monte is a vacation spot in the best part of Palm Springs, away from the noise and chaos of the city, yet still close to all the fun. The units are like condos, with a living space of around 1600 sq. ft. They are perfect for families with kids, offering relaxation and comfort. Each unit has a fully-equipped kitchen, well-furnished living room areas, laundry machines, and private bedrooms. The suits have a king bed in each main bedroom and two double beds in the guest rooms. The resort has a sparkling pool with magnificent views of the desert landscape, which guests can enjoy on-site. If you're seeking timeshares in Palm Springs, California, you can check out our Casitas del Monte timeshare resales, now.
Palm Springs Tennis Club Timeshare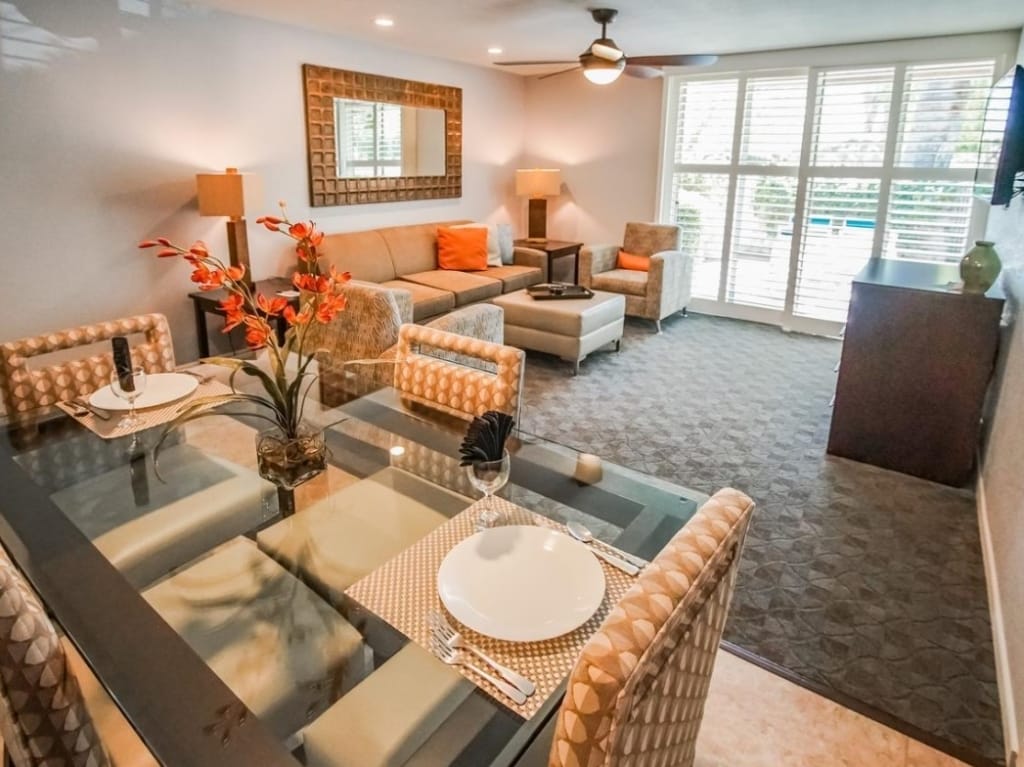 Whether you want to spend your day out and about or enjoy a variety of on-site amenities and services, Palm Springs Tennis Club offers you a fabulous destination to do so. Located in the heart of all the action, you can easily access all the shops, bars, and restaurants in the area. Or, you can never leave the resort and have a blast. Offering amenities perfect for all ages there is something sure to pique your interest including three pools, five spas, an on-site restaurant, and a wide selection of planned activities. In addition, as the name implies, there are 11 tennis courts. If you are looking for excellent accommodations, The Palm Springs Tennis Club will not disappoint you. From the second you check in this timeshare in Palm Springs, California will feel right at home with accommodations boasting a kitchen, balcony, separate bedrooms, and more.
Wanting to visit North California for a ski trip? Check out our blog, 4 California Ski Resorts to Visit Next Winter.
Vista Mirage Resort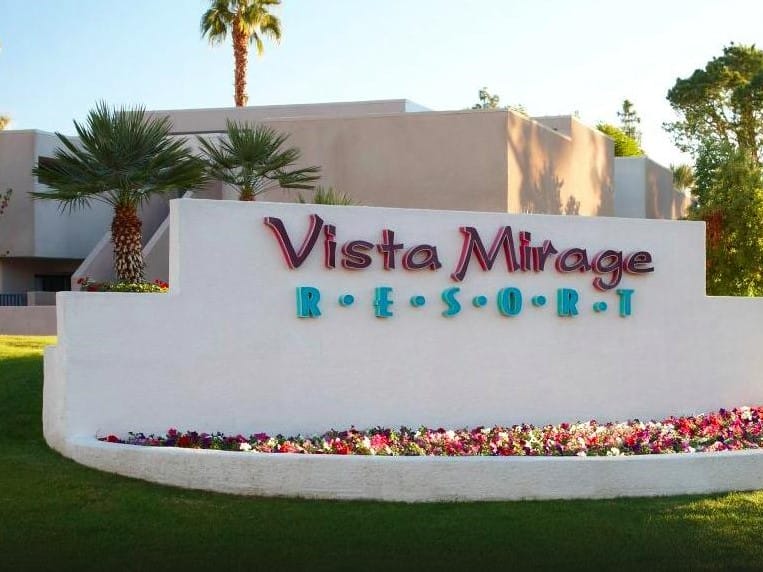 Vista Mirage Resort boasts an array of top-notch amenities for its guests. Whether you're looking to be active or simply relax, you'll find everything you need right on the property. Take advantage of the well-equipped exercise facilities, perfect for staying in shape while in Palm Springs. Cool off in one of the refreshing pools or challenge a friend to a game of tennis on the resort's well-maintained courts. Thanks to the spacious accommodations you can fit the whole family in one suite. The two-bedroom suites sleep up to six guests and offer everything you could want including a kitchen, private patios, complimentary Wi-Fi, as well as two bathrooms with walk-in showers and tubs. With so much to enjoy, the Vista Mirage is the ultimate destination for a memorable and fun-filled getaway.
Top Timeshares Nearby Palm Springs
Although staying in Palm Springs offers its perks, these fabulous resorts are located nearby, and it would be a disservice not to mention them. Here are the top timeshares near Palm Springs, California.
Marriott's Desert Springs Villas | Palm Desert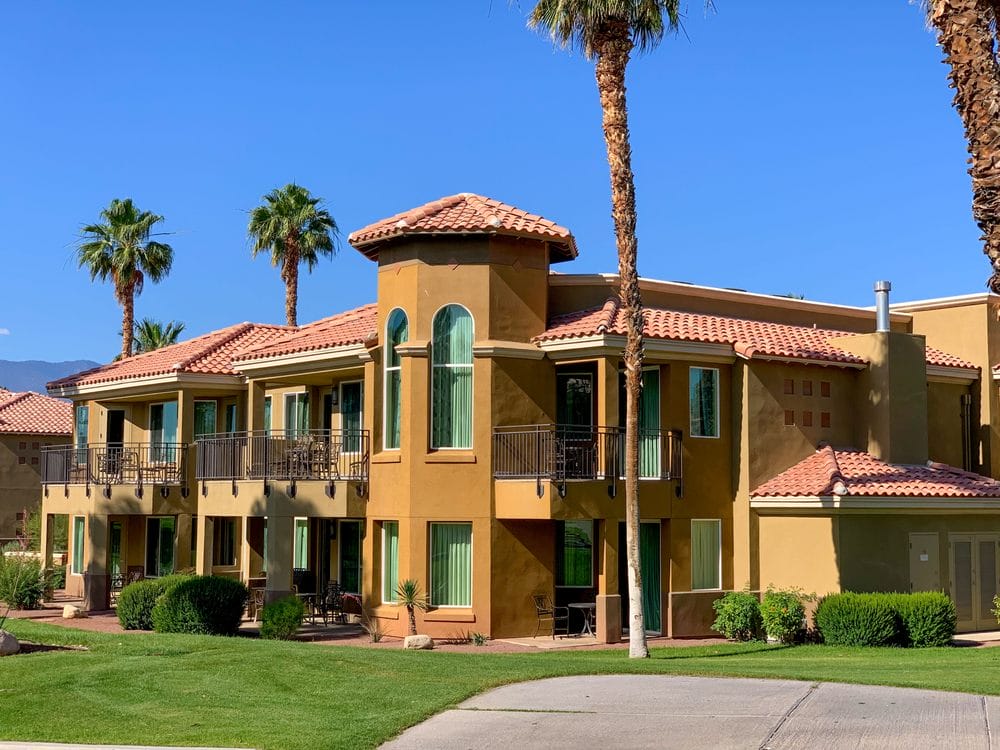 Marriott's Desert Springs Villas is a gorgeous timeshare in Palm Desert about 15 miles outside of Palm Springs. If you want to hang out in town, typical Palm Desert attractions include relaxing at spas, dining at and chic restaurant or cafe, as well as exhilarating adventure on the rugged mountain trails. As one of the top vacation clubs, Marriott is committed to having accessible facilities and services offered for travelers with disabilities. This timeshare is no different. Enjoy a fabulous trip at this Palm Desert Marriott Vacation Club timeshare, where you can swim around in one of the three pools, participate in fun children's activities, or wine and dine at the restaurant. Accommodations range from guest rooms to two-bedroom villas that sleep eight guests.
Learn more: Marriott Timeshares for Rent: Save Money Traveling with the Finest!
Westin Mission Hills Resort Villas | Rancho Mirage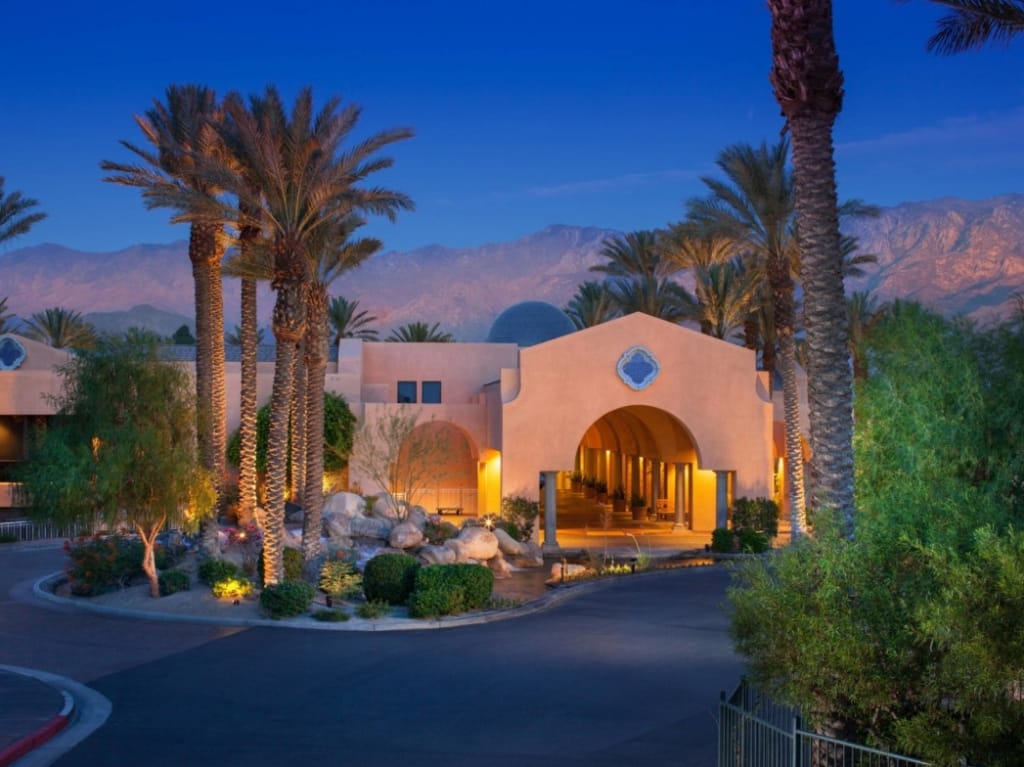 Located just 10 miles outside of Palm Springs, Westin Mission Hills Resort Villas is a stunning property boasting everything you could want for a memorable vacation. As a guest, you will have the opportunity to indulge in a plethora of luxurious amenities that are sure to enhance your vacation. Immerse yourself in the beautifully manicured gardens, take a leisurely stroll along the canals, and admire the stunning fountains that adorn the property. The freeform pools provide a refreshing escape from the heat, while the two 18-hole championship golf courses offer a challenge for avid golfers. With so many options to choose from, there's something for everyone at this destination. Then, after a day out and about return to your fabulous accommodations equipped with spacious living rooms, kitchens, and private balconies.
Buy a Timeshare in Palm Springs
Buying a timeshare doesn't have to be stressful. At Timeshares Only, we have an online marketplace where you can easily search through resorts and ads until you find the right timeshare for you. Our state-of-the-art filters allow you to easily narrow down your search to exactly what you need. Browse our California timeshares for sale. Then once you find the one for you simply make an offer.
Need assistance? Give us a call today at 1-800-610-2734. We are happy to assist in any way we can.
Rent a Timeshare in California
If you aren't quite ready to buy a timeshare in Palm Springs, you could rent a timeshare. We have timeshares for rent in California and other top destinations such as Hilton Head, Orlando, and Myrtle Beach. You can search by dates, location, price, and more. Once you search and find the rental for you simply hit reserve.
Have questions? Give us a call today at 1-800-610-2734 to speak with a rental representative.