Hawaii offers incredible views, delightful entertainment, and ample sunshine. If you're ready to go, we recommend visiting one of these Marriott Vacation Club Hawaii timeshare resorts. Whether you're looking to rent or buy a timeshare resale in Hawaii, we have a few great picks from Marriott for your first (or next) visit to the islands.
Marriott Vacation Club Hawaii
From destinations in Oahu to other places across the islands, you can surely find the resort you're looking for with Marriott. As a giant in the vacation industry, Marriott Vacation Club specializes in great timeshare vacations for all. Marriott offers a points-based style of timeshare that gives owners flexibility in their vacations at over 50 resorts. Travel to Aruba with Marriott, or stay at Marriott resorts in Europe!
Additionally, owners join a larger network of other vacation families who share the same love for travel. With Marriott Bonvoy, you can stretch your vacations even farther with more perks and benefits than ever before. Owners love their Marriott benefits that are easy to take advantage of. Here are some of our favorite Marriott timeshares in Hawaii that you can get for less by buying resale!
Ko Olina Beach Club
Prepare to be charmed by Marriott's Ko Olina Beach Club resort in Oahu, Hawaii. The luxurious amenities and accommodations will make you feel swept away into your own oasis. Not to mention, with varying suite sizes, you can book a reservation large enough for the whole family.
Each unit comes with laundry and kitchen facilities, too. On the resort grounds, you'll have access to a pool, the beach, and close proximity to Diamond Head. The scenery of gorgeous Oahu will be visible from your room's windows and at any outdoor spot you choose to relax. Not to mention, you can take a short walk to Ko Olina's Golf Club or a short drive to Wet N' Wild Hawaii. The 640-acre gated community at Marriott's Ko Olina Beach Club will have you feeling refreshed.
Marriott's Kauai Lagoons-Kalanipu'u
If you love private balconies and Kauai, you'll love Marriott's Kauai Lagoons-Kalanipu'u resort. Not to mention, this resort is set with a gorgeous island atmosphere and top-of-the-line amenities.
Choose from two and three-bedroom villas for your comfort. Additionally, the golfers in your family will love the proximity to a golf range. With a multi-level pool, you'll have everything you need to relax and enjoy the sunshine.
Waiohai Beach Club by Marriott Vacation Club
Located in gorgeous Koloa is Marriott's Waiohai Beach Club. This resort is perfect for existing and new Marriott Vacation Club guests. The resort features stunning views, modern accommodations, and great amenities. Each villa has an in-unit laundry and kitchen facility, as well as extra space to stretch out during your vacation.
You can choose between one to three-bedroom villas, making enough room for everyone you love. Not to mention, the location of this resort is next to great dining, shopping, and surfing. While the kids swim, the Alexander Day Spa offers an enticing getaway for adults to get pampered and relax.
Marriott's Maui Ocean Club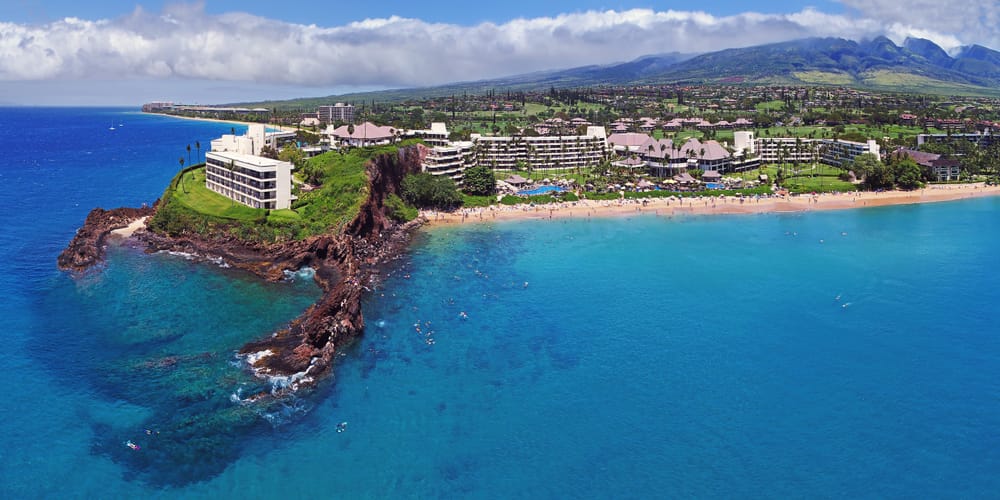 Marriott's Maui Ocean Club offers some of the best amenities of any Hawaii resort. Right on-site, you can have a family photoshoot, dine, shop and swim. With over three and a half acres of the lagoon to wade in, you'll never want to leave the resort. If you do, you'll be close to all the island has to offer.
In addition to luxurious amenities, you will also have your own luxury suite to stay in. Each room features gorgeous, modern decor and comfortable beds for the whole family.
Buy Marriott Vacation Club Hawaii Timeshare Resale
Ready to own your piece of paradise? Get started by browsing Hawaii timeshare resales and Marriott resales with us. Or, consider renting a timeshare for your next beach vacation. Either way, our experts can help you book the perfect next vacation. Contact us at 1(800) 213-7733 today to get assistance!