Do you have a timeshare in Aruba that you find you don't use as often as you expected? As it turns out, this can be a fairly common occurrence. For one reason or another, some owners don't end up using their vacation ownership each year. Sometimes this is because they're too busy for a vacation, while sometimes, they just don't feel like visiting that location again. Whatever the reason, the timeshare goes unused for a year. Fortunately, there's a way you can still get some use out of your vacation ownership, even when you're not visiting: renting your timeshare. Timeshare rentals are a great way to put some money back in your pocket or help pay for your maintenance fees. If you're on the fence about renting your timeshare, this is the article for you! Here's why your timeshare may be a top Aruba vacation rental.
Top Aruba Vacation Rentals
Marriott's Aruba Surf Club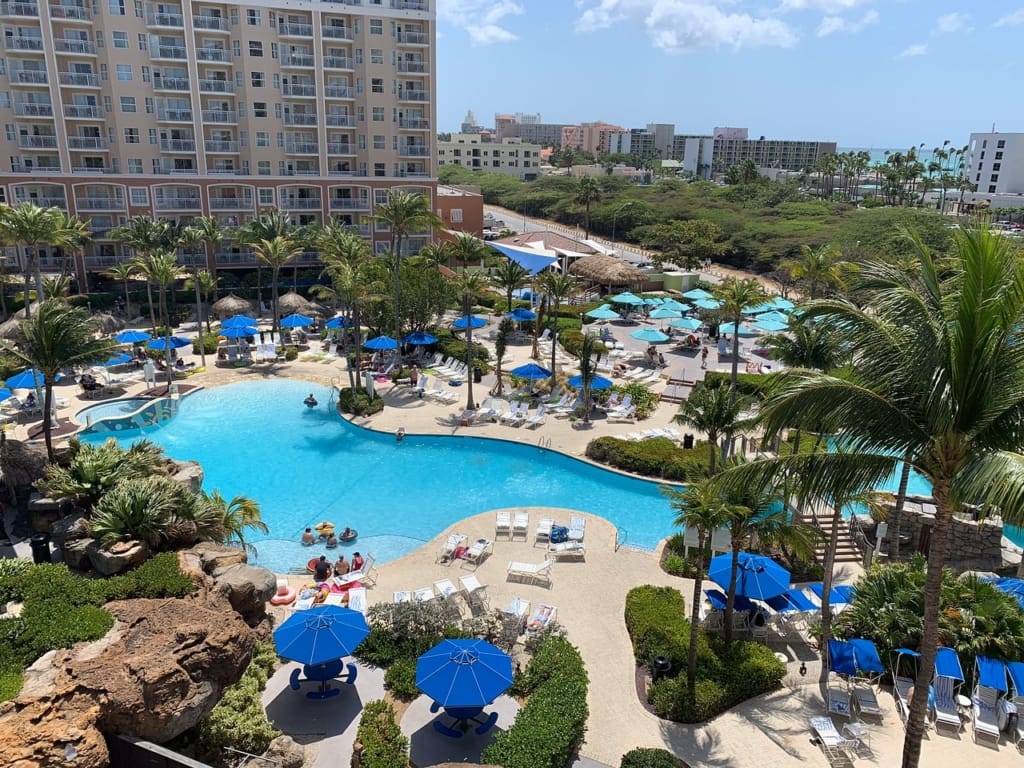 In a beautiful location like Aruba, there's nothing better than having a gorgeous view of the ocean. That's why people love Marriott's Aruba Surf Club. Guests here enjoy some fantastic amenities, like a fitness center to help visitors keep up with their routines. Another popular amenity is the Mandara Spa. This full-service spa offers a variety of treatments like facials, massages, and body wraps. There are even couples' massages! For dining, the surf club also has two bars, as well as the Captain's Galley Pool Grill, which serves burgers, wings, wraps, and more. All these amenities, plus the lazy river and outdoor pool, make this a top Aruba Vacation rental.
After a day exploring everything Aruba has to offer, guests can return to spacious and luxurious villas. These villas all boast separate living and dining areas, a fully-equipped kitchen, and furnished balconies with ocean or garden views. Guests have their choice of one, two, or three-bedroom villas at the Surf Club. One-bedroom villas come with a king bed and a sofa bed. Overall, they can house four guests. Two-bedroom villas add a queen bed and an additional sofa bed into the mix to house eight guests. Lastly, the three-bedroom villas feature two king beds, two double beds, and two sofa beds to bring the maximum occupancy to 12 guests. It's safe to say you won't have to worry about having room to stretch your legs.
Learn more: Can I Rent Out My Marriott Timeshare?
La Cabana Beach and Racquet Club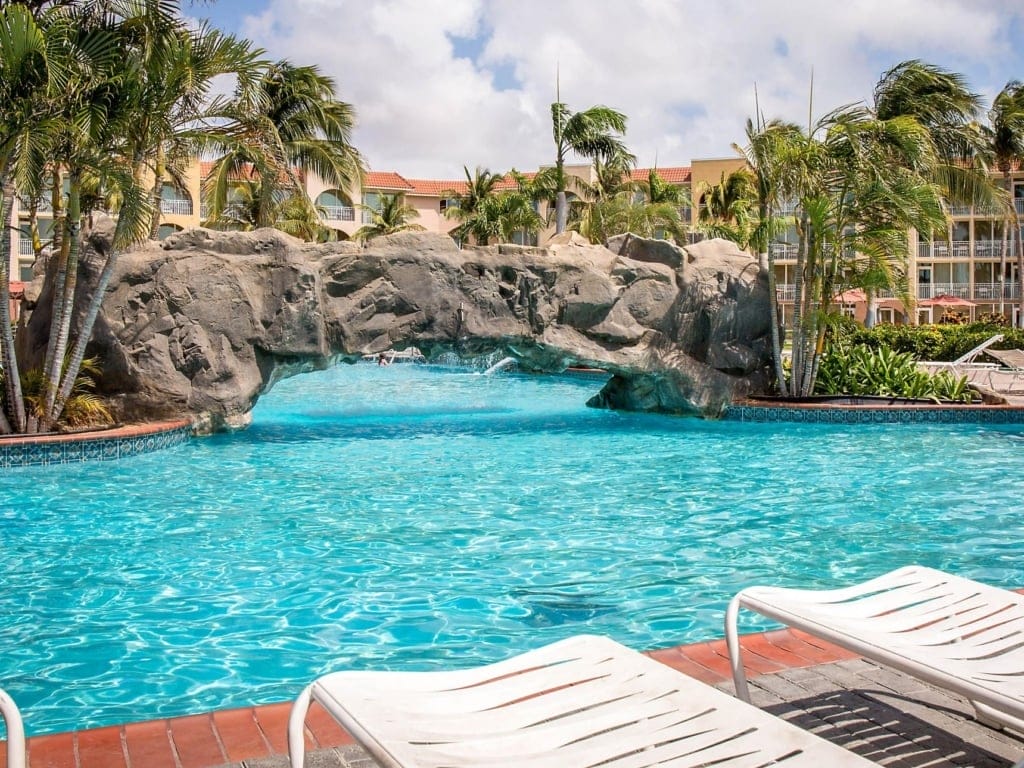 La Cabana Beach and Racquet Club is a four-star resort that's perfectly positioned on Eagle Beach. This beach is widely recognized as one of the world's best beaches, so the location alone makes this a top Aruba vacation rental. La Cabana also features world-class amenities like bicycle rentals and a dual-floor fitness center with an extensive range of cardio and weight-resistant equipment. Guests love the waterfall lagoon pool and sundeck, especially with its pool waterslide and jacuzzis. La Cabana is also home to Citro Spa, which has treatment rooms with oceanfront views. If you're looking for a good meal, the resort offers multiple restaurants from seafood to flatbreads. Lastly, Glitz Casino is another major draw of the resort. Glamorous and elegantly designed, the casino features over 200 slots, video poker, and over thirty table games. It's safe to say this casino is quite popular with risk-takers.
When guests return to their rooms, they'll be greeted by a studio, one, or two-bedroom suite. The studio suites come with a queen-sized bed and sleeper sofa. Overall, this suite can accommodate up to four adults. Next, the one-bedroom suite has all the amenities of the studio, with a king-sized bed. Like the studio, this suite can house four adults. Finally, the two-bedroom suites boast a king-sized bed, queen-sized bed, and sleeper sofa. These suites have a maximum occupancy of six adults. On top of being spacious, these suites all come with a private balcony or patio to give guests a great view. There's also a fully-equipped kitchen so visitors can cook meals from the comfort of their resort. With rooms this luxurious, it's no wonder La Cabana is a top Aruba vacation rental.
Renaissance Wind Creek Resort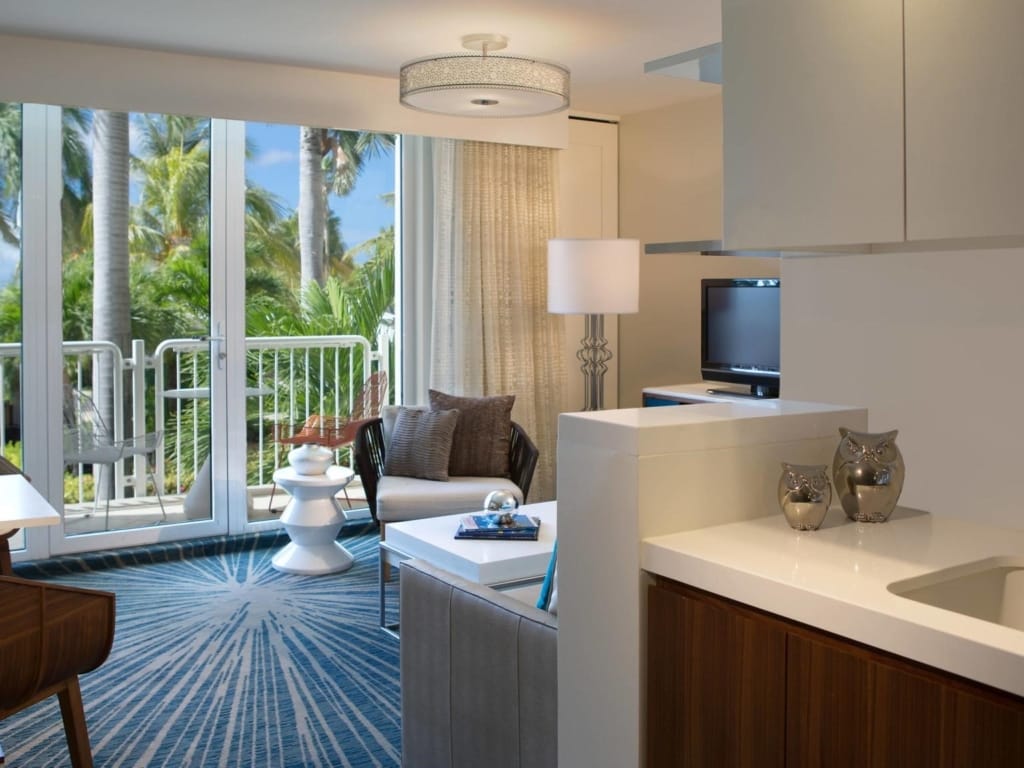 In the heart of Oranjestad, Renaissance Wind Creek Resort's breathtaking views of the Caribbean Sea provide an exceptional setting for an unforgettable getaway. Home to some of Aruba's most stunning private beaches, Renaissance Island is a true tropical oasis. Visitors love watching flamingos roam or soaking up the Aruba sun. Renaissance has not one, not two, but nine dining options. They have American, Italian, and International cuisine, alongside seafood and Aruba's #1 steakhouse. Like La Cabana, this resort is also home to a Casino, making it even more popular. The on-site casino has 15,000 square feet filled with games like blackjack, roulette, and poker. Plus, it's open 24 hours a day, seven days a week, so it's always lively and filled with excitement. Gorgeous beaches, a bustling casino, and plenty of restaurants come together to make this one of the top Aruba vacation rentals.
As for accommodations, guests can enjoy one and two-bedroom suites. One-bedroom suites feature a king-sized bed and sofa bed. As for the two-bedroom suites, They feature a king-sized bed and two double beds. Both of these suites can accommodate up to four guests. Additionally, these suites range in space from 452 to 1,250 square feet, so it's safe to say they're pretty spacious! With their spacious accommodations and luxurious amenities like whirlpools, these suites cement Renaissance Wind Creek as a top Aruba vacation rental.
Renting Out Your Top Aruba Vacation Rental With Timeshares Only

If you'd like to rent out your top Aruba Vacation Rental, Timeshares Only can help! At TSO, we help timeshare owners like you rent out their timeshares every day. With 25 years of experience, you can rest assured that we have the industry knowledge needed to help you navigate the resale market. Plus, we're a featured reseller of the American Resort Developer Association, also known as ARDA. This means that we follow a strict set of ethics that help keep you safe. We also have an A+ rating with the Better Business Bureau! Strong ethics, years of experience, and a proven track record, what's not to love? Here's how renting out your timeshare with us works.
How to Rent Out Your Top Aruba Vacation Rental
Renting out your timeshare is simple. Start by gathering up your ownership details, like the resort you own with, week number, unit number, and more. Not sure about some of this info? No problem! We can help you locate any missing details. Once we have your information, we'll make a listing for your top Aruba vacation rental. Your timeshare will reach targeted vacationers all over the world with our multi-channel marketing strategies. When your timeshare is reserved by a guest, our representatives will confirm all the details with you and handle the transaction. Then, you get paid! It really is that simple. If you'd like to get started, feel free to give us a call at 1-800-610-2734 or email us at info@timesharesonly.com.