A major question for timeshare buyers is, "How much is a timeshare?" Understanding the initial and lifetime costs of a timeshare can help you feel confident when buying a timeshare. There are many factors that can affect the cost of a timeshare. How expensive a timeshare can be differs depending on the brand, location, accommodations, and more. Vacation ownership doesn't have to cost you a fortune, so it's crucial to understand how much the price tag will be. Let's dive into the most important things that will determine how much a timeshare will be.
How Much Is A Timeshare?
According to the American Resort Development Association (ARDA), the industry had ten consecutive years of growth before the 2020 pandemic, but things are growing again. Additionally, ARDA reported that the average cost of vacation ownership in 2021 was $24,140. Almost 10 million households own some sort of timeshare product, whether that's points or weeks. This means that people with a vast range of incomes have a timeshare. There are over 1500 timeshare resorts in the U.S. alone, so finding one that's within your price range can be easy! To view the latest prices of timeshares on our marketplace, start browsing.
Don't forget that when you're on vacation at your home resort, you will most likely be spending more money. Oftentimes resorts have restaurants or extra excursions that you'll want to take advantage of, so that's going to be an added expense.
What Affects The Cost Of A Timeshare?
The initial price of a timeshare differs depending on which brand you are buying with as well as where you buy it from. The price range of a timeshare can differ drastically if you buy it on the resale market rather than directly from the company. For example, you might spend more after buying a timeshare at a presentation than you would if you found one on the resale market. This is a huge factor that affects the average cost. You can save hundreds or thousands of dollars when you shop for vacation ownership on the resale market.
Besides where you buy your timeshare, there are quite a few things that can affect how much you'll pay for it. The brand of the timeshare is one of the biggest factors! You'll find that how much a Disney Vacation Club timeshare costs can vary greatly from how much a Wyndham or Marriott timeshare costs. Even within those brands, resort location, and popularity will affect the price tag. In addition, timeshares at a single resort will cost more or less depending on the size and location of the villa. Amenities at the resort and the time of year of a timeshare week will also change the price. Keep in mind every sale of a timeshare is different, and there may be other factors involved not listed here.
How Much Are Timeshare Maintenance Fees?
One of the most apparent costs that come with owning a timeshare is the maintenance fees. Some vacation owners have to pay their maintenance fees to an HOA, much like owning a residential home. Most timeshare maintenance fees are due annually. In some cases, however, these fees may be either more or less frequent depending on the contract you buy. If you've ever wondered how resorts maintain their amenities and keep everything running smoothly, the answer is maintenance fees! These fees go towards resort upkeep and renovations, along with employee wages. Your vacation unit will be kept in its best condition, even when you're not there!
The costs of annual maintenance fees vary by resort and unit. ARDA reported that the average annual maintenance fees in 2021 were around $1,200. This payment is mandatory, and if you stop paying it, you could really negatively affect your credit. If you think that an annual payment will be difficult to keep up with, maybe continue searching for vacation ownership that is more suited to your budget.
Timeshares Are Not Investments!
It is extremely important to note that timeshares are not investments. In fact, they are most likely going to depreciate in value over the years. Vacation ownerships are considered luxury items, so like a car or a boat, they do not always retain their value. If you're ever looking to sell your vacation unit, keep in mind that you will most likely not get back everything that you paid for it. We are mentioning this here because it's valuable to know when considering purchasing one. When you're starting vacation ownership, you are buying a lifetime of vacation memories, not making an investment.
Timeshare Financing
A great option to make the cost of vacation ownership work for you is by financing your purchase. Instead of paying a large sum upfront, you can divide the cost into more affordable yearly payments. Timeshare financing makes it possible for more people to afford vacation ownership! Your resale broker can provide you with options and price ranges on vacation ownership best suited for you. Financing can also have a positive impact on your credit. If you are making your payments on time, then paying for your timeshare can benefit you financially.
Timeshare vs. Hotel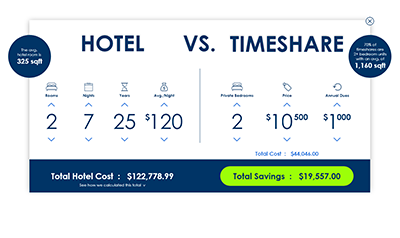 If you travel often, you may wonder what the difference between buying a timeshare or booking a hotel might be. Fortunately, we have developed a timeshare cost calculator to help with that. With our tool, you can see the potential cost savings you could have over the lifetime of your purchase. The comparison tool is located on every posting on our site, so feel free to use it whenever you want to compare!
Timeshares frequently feature more dining and living space, as well as in-unit kitchens, which are perfect for families. Additionally, you will also have top-of-the-line amenities and accommodations. All of these are seldom offered at regular hotels. Not to mention, when you join many of the top vacation clubs, you are treated like family and not just another guest. You join a new community of timeshare owners who also love the brand you own with.
Vacation Exchange
Vacation exchange networks offer vacation owners a great deal of flexibility. Traveling to new places each year is most travel lovers' dream, and exchange helps make that possible. Companies like RCI and Interval International specialize in offering networks of resorts to their members. For example, you could travel to Orlando with your Hilton Grand Vacation Club timeshare and then visit Las Vegas the next through vacation exchange.
You might be curious why this is relevant to how much vacation ownership costs. In order to join these exclusive networks, you must become a member. We've updated the most recent RCI fees for you. Interval International also has annual dues for members to pay in order to join. These fees can be totally worth it if you're looking to travel somewhere new each year! Vacation exchange networks make it easy to book vacations all around the world. Plus, you don't have to buy a new timeshare to visit a new vacation destination!
Don't Let A Timeshare Scam Cost You!
Unfortunately, since the vacation industry is a multi-billion dollar industry, scammers are drawn to it. Sometimes vacation owners fall victim to timeshare scams and, as a result, can lose money. There are a few common scams to look out for, including people posing as resale companies asking for bank accounts or social security information. As a rule of thumb, legitimate resale companies will never reach out to you out of the blue. It's an illegal practice for resale companies, so use caution if you receive a cold call regarding your vacation ownership.
Another common tactic amongst scammers is convincing owners to stop paying their maintenance fees. Since vacation ownerships are legal contracts, you cannot just stop paying these fees. Failure to pay your fees can cause you to default on your vacation ownership, which can negatively affect your credit. You could potentially be denied from receiving a future loan for a home or a car. If you are struggling to pay for those yearly fees, there are options. Sometimes resorts have in-house rental programs or exit solutions. If you no longer want to use your vacation unit, you may be able to sell it on the resale market.
Buy Or Rent Timeshares For Less
If you're interested in how to buy a timeshare for less, we recommend checking out timeshare resales. Many owners list their vacation ownership for sale on our online marketplace and set the pricing. While shopping online, you can search for all brands/locations of vacation ownership—not just one. Another thing about timeshare resales is that you have the opportunity to negotiate the terms of the sale and place a personalized offer.
Additionally, there won't be any high-pressure sales tactics with us. You can submit an offer, and our friendly agents will get the process of buying started for you. For free help, give us a call at 1-800-213-7733 or email us at info@timesharesonly.com.