The Pocono Mountains region covers 2,400 square miles of northeast Pennsylvania and offers amazing vacation opportunities all year! Whether you are looking to spend the winter holidays in a snowy wonderland or take an adventurous summer vacation, the Poconos has something for every trip. With so much to do, you'll want to visit the Poconos year after year. The perfect way to experience the fun each year is with a timeshare, so we've put together some of our favorite Poconos timeshare resorts.
Things To Do In The Poconos
When you think of visiting a timeshare in the Pocono Mountains, most likely the first thing that comes to mind is winter activities. There is certainly no shortage of wintertime fun in the Poconos! There are over 163 ski trails in the area, so the skiers and snowboarders in your family will be spoiled for choice. Some other ways you can enjoy the snowy season in the Poconos are snow tubing, ice skating, and ice fishing. If you're looking to retreat from the cold weather, you'll find plenty of fun indoors. For example, you can splash around and enjoy the thrilling water slides at Kalahari Resorts indoor waterpark. In addition, you'll find indoor go-karts, arcades, and escape rooms scattered throughout the Poconos region.
The Pocono Mountains are also a great place to visit your timeshare in the warmer months. Firstly, there is definitely a surplus of opportunities for some amazing hiking. On a hike through the Poconos, you have the chance to see beautiful vistas, incredible waterfalls, and scenic views. Another popular summer activity in the Poconos is ziplining through the treetops. This region is sprinkled with gorgeous lakes and rivers which offer even more fun. Jetski, kayak, or whitewater raft to cool off in the summer sun! If you're more into relaxing on vacation, you can enjoy the lakes' sandy beaches.
The Poconos are located within driving distance of a bunch of major East Coast cities, making it an amazing road trip destination. Plus, there are plenty of incredible timeshare resorts in the Poconos to relax in after a long day of fun. People love to visit because of the endless adventures, the convenience, and the amazing accommodations in the Poconos.
Our Top Poconos Timeshare Resorts
Club Wyndham Shawnee Village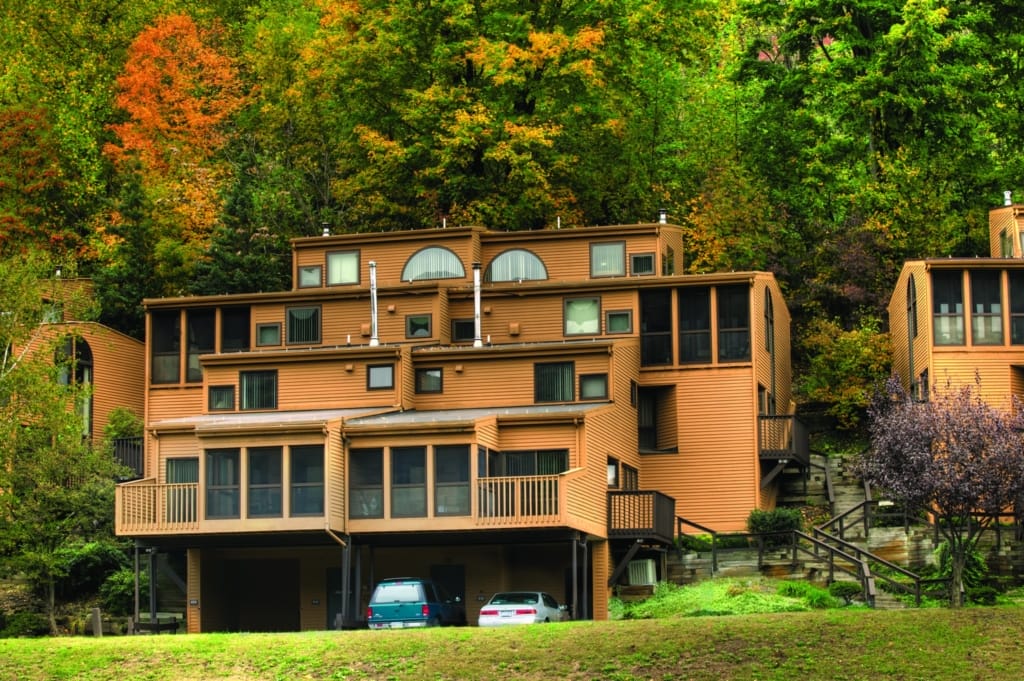 Club Wyndham Shawnee Village is nestled in the Delaware River Gap is the perfect timeshare resort for your Poconos getaway! The Shawnee Mountain Ski Area is close by and is a paradise for skiing, snowboarding, and tubing. Downtown East Stroudsburg is also a few minutes away and offers historic sites, art galleries, shops, and dining. This resort is only ten minutes from the Stroudsburg-Pocono airport and is a central location for visiting nearby cities like Scranton and Philadelphia. Club Wyndham Shawnee Village offers spacious villages that sleep up to 8 guests.
Pocono Mountain Villas
Pocono Mountain Villas is a quiet timeshare retreat that is the perfect backdrop for vacation memories. This 400-acre resort offers extensive amenities, including a ropes adventure course and ziplines. In addition, the resort offers all-season tubing and an 18-hole golf course. The resort is just a few miles away from Bushkill Falls, a series of hiking trails and breathtaking waterfalls. The Warehouse Tavern is the perfect place to end your busy day. Villas at this resort are spacious and have all of the amenities you'll need, including a cozy fireplace.
Willowbrook at Lake Harmony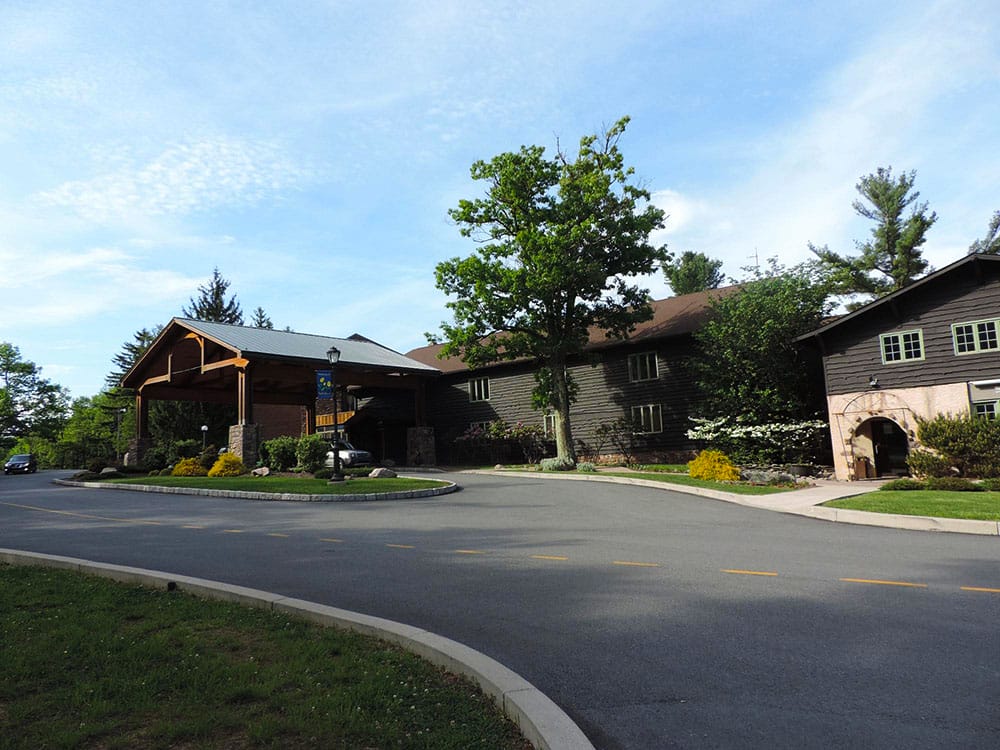 Willowbrook at Lake Harmony is the timeshare resort on the pristine ground of Split Rock Resort. This scenic destination is located on the shores of Lake Harmony and has unlimited recreation options on site. For example, you can spend an afternoon at the resort's indoor waterpark or enjoy a variety of water sports on the lake. You will also find a movie theater, a mini-golf course, and a bowling alley at Willowbrook, so there is fun around every corner at this resort. The Split Rock Resort is surrounded by 1,200 acres of beautiful forest and is the perfect place for a Poconos timeshare vacation!
Poconos Timeshare For Sale and Rent
Are you ready to buy a Poconos timeshare or even rent one out for your next trip? Our team of experts has the connections and experience to make this process seamless. Allow us to help you take your next great vacation. Browse our Poconos timeshares for sale on our resort marketplace, or call us at 1-800-213-7733 to start your search today.