Hawaii is a perfect location for a tropical getaway. The whole family will love exploring the ancient culture, stunning beaches, and rich cuisine Hawaii offers. You can make this dream vacation a reality when you stay at a timeshare in Hawaii. Whether exploring Honolulu, Hawaii's capital or soaking up the sun on a black sand beach in Maui, your family trip to Hawaii will be unforgettable. We narrowed down the best resorts in Hawaii that your whole family will love based on which island you plan to explore. If you are looking for a family-friendly resort in Hawaii that will take your vacation to the next level, read on!
Family Friendly Resorts in Maui, Hawaii
Marriott's Maui Ocean Club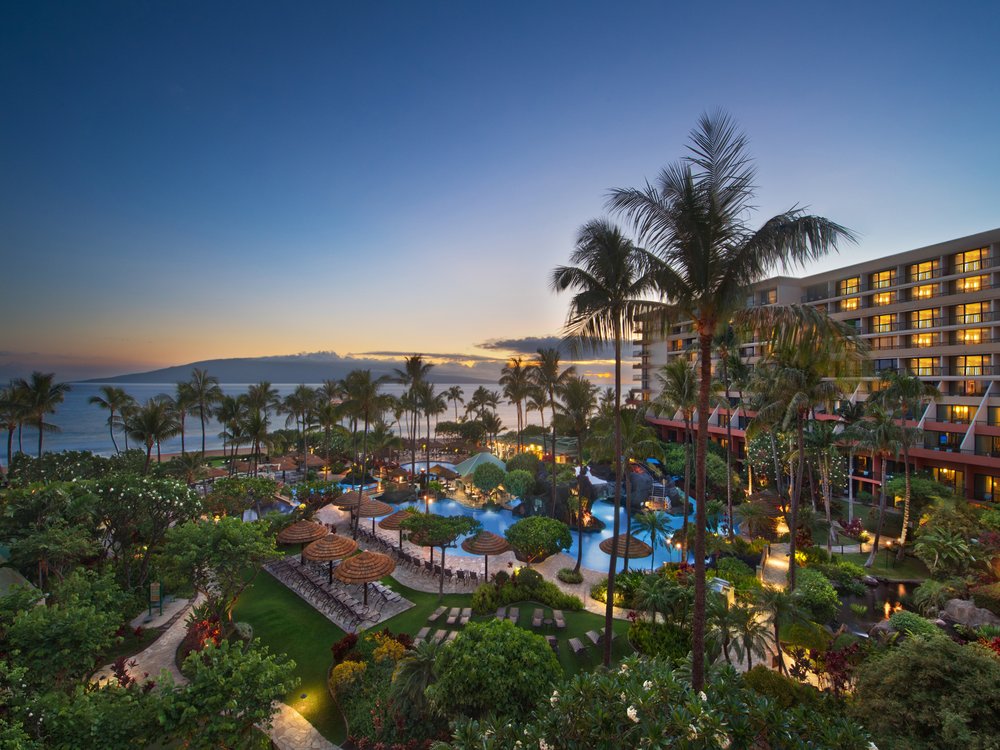 It is hard to find a Hawaii resort that offers better amenities than Marriott's Maui Ocean Club. A family photoshoot, dining, shopping, and swimming are all available on-site. Almost three acres of lagoon await you, so you may never want to leave the resort. Or, if you do decide to adventure outside this Marriott Vacation Club Hawaii resort, you will be close to all of Maui's top attractions. In addition to luxurious amenities, you will stay in a fabulous suite. You will find stylish, modern decor in each room, as well as comfortable beds for the whole family.
Kaanapali Beach Resort, A Diamond Resort
Maui's western shore is home to Kaanapali Beach Club, a Diamond timeshare resort located minutes from downtown Lahaina. You can choose between ocean or mountain views in your villa, so you will never be short of spectacular scenery. In addition, there are lush landscaping and calming waterfalls throughout the resort. Swimming in the oceanfront pool with your family is the perfect way to cool off. In the pool area, you'll find a 1-acre swimming pool with a waterslide, hot tub, and kiddie pool. Additional amenities include an open-air cafe, a marketplace, direct beach access, childcare, and a children's program.
The Westin Nanea Ocean Villas
Timeshare owners can enjoy 16 acres of tropical bliss on Maui's famous beaches at the Westin Nanea Ocean Villas. At the resort, you can learn ukulele or hula dancing and enjoy a number of fun activities. The resort's three pools and award-winning restaurants are perfect for treating the whole family on vacation. You can also enjoy the fun-filled local activities Maui offers near this fabulous resort. However you decide to spend your day, you will have an incredible villa to come back to that offer all the luxuries of home. This is the perfect Maui timeshare for your next island vacation.
Family Friendly Resorts in Kauai, Hawaii
Wyndham Kauai Beach Villas
On the east coast of Kauai, the Garden Island, Wyndham's Kauai's Beach Villas, offers lush vegetation and exotic beauty. This luxurious Hawaiian resort is nearby the main airport of Kauai, so you can quickly get to and from. This resort is your place if you're looking for a laid-back, quaint, yet luxurious oceanfront Hawaii resort. Visitors are greeted at Kauai's Beach Villas by an "Aloha" carved into the shrubbery. Each unit has a fully-equipped kitchen and separate bedrooms so everyone in the family will feel right at home. This Wyndham resort has a variety of on-site amenities, including pools, tennis courts, a restaurant, and live entertainment.
Marriott's Kauai Lagoons-Kalanipu'u
Marriott's Kauai Lagoons-Kalanipu'u is a timeshare with top-of-the-line amenities set in the gorgeous atmosphere Kauai is known for. Each comfortable two and three-bedroom villa boasts private balconies, fully-equipped kitchens, separate living rooms as well as dining areas. The amenities on-site at this Marriott Vacation Club timeshare include car rentals, a world-class swimming pool complex, a private beach, childcare, and boat rentals. In addition, if you have any golfers in your family, they will love the location because it is adjacent to two championship golf courses and a golf range.
Pono Kai Resort by Bluegreen Vacations
Pono Kai Resort is an 11-acre oceanfront property with almost a mile of private beach located on the eastern coast of Kauai. As the location of many of America's most popular movies, such as Jurassic Park, King Kong, and George of the Jungle, Kauai's central jungles are a great family excursion. This luxurious resort has fabulous amenities and accommodations synonymous with Bluegreen Vacations' name. Just steps from your condo, you can snorkel in the crystal clear Pacific Ocean waters or dip in the resort's pool. Other amenities include a putting green, tennis courts, and a sauna.
Family Friendly Resorts in Oahu, Hawaii
Grand Waikikian by Hilton Grand Vacations
Prepare to have the trip of your life to Oahu when you stay at the Grand Waikikian. This 39-story Hilton Grand Vacations Club tower has superb amenities and accommodations. The amenities include an arcade, pool, fitness center, and dining options. Not to mention, you can access all the amenities across the Hilton Hawaiian Village Waikiki Beach Resort timeshare. But, the Grand Waikikian is more out the outskirts of the village, so you will experience more privacy and can escape the crowds. The accommodations offer one- and two-bedroom suites as well as a penthouse option.
Marriott's Ko Olina Beach Club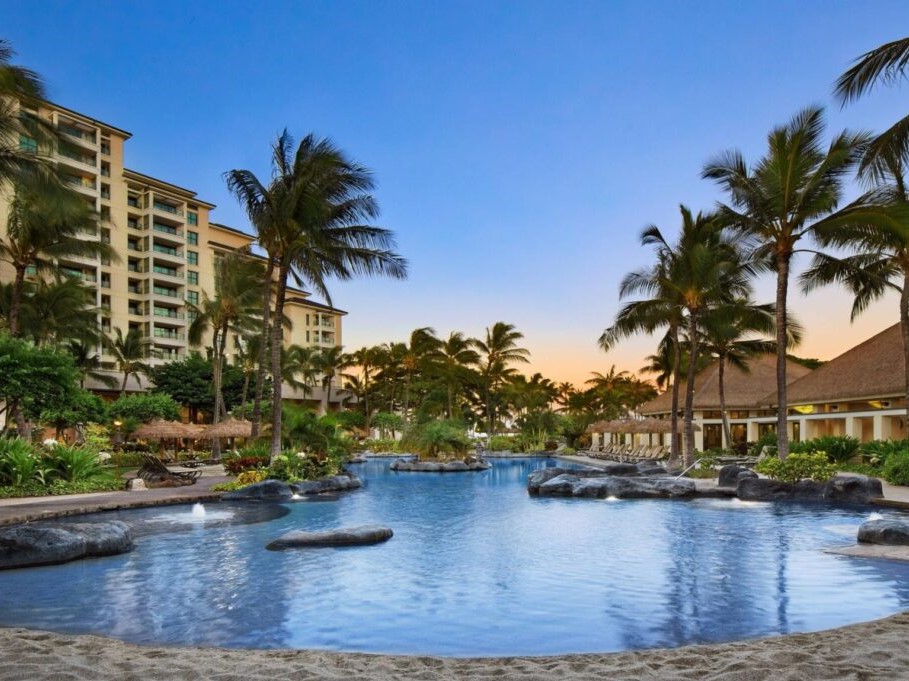 Marriott's Ko Olina Beach Club resort takes luxury to a new level. Guests will be "wow-ed" by the fabulous amenities and accommodations at this Oahu timeshare. Suites have living rooms, spacious bedrooms, laundry rooms, and kitchen facilities so that you will feel right at home. In addition, there are varying suite sizes you can stay at, which makes it the perfect location for larger families. Amenities at this 640-acre gated community include activities for kids, a swimming pool, beach access, restaurants, and a fitness center. Not to mention, you are a short drive from Wet N' Wild Hawaii as well as a short walk from Ko Olina's Golf Club.
Family Friendly Resorts on Hawaii's Big Island
Bay Club at Waikoloa Beach Resort by Hilton Grand Vacations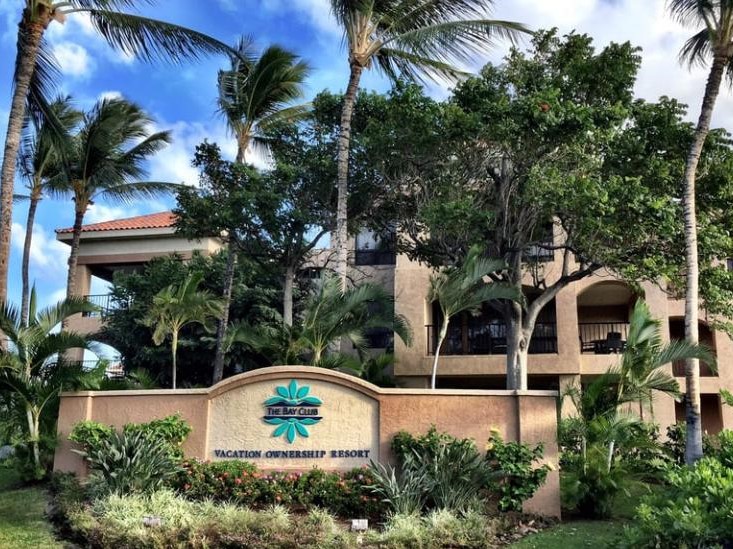 Bay Club at Waikoloa Beach Resort is one of the largest and best Hawaii luxury resorts. Whether you play a round of tennis, take a dip in one of the two swimming pools, or enjoy the incredible views of Waiulua Bay, your whole family will have something fun to do. Each one- and two-bedroom suite provides ample space for everyone to stretch out and relax. Not to mention, each suite has a kitchen, as well as a washer and dryer. Since this timeshare is located on the big island, there is plenty to do in the surrounding areas. Fun attractions the whole family will love include ziplining over KoleKole Falls or going on a safari at Volcanoes National Park.
WorldMark Kona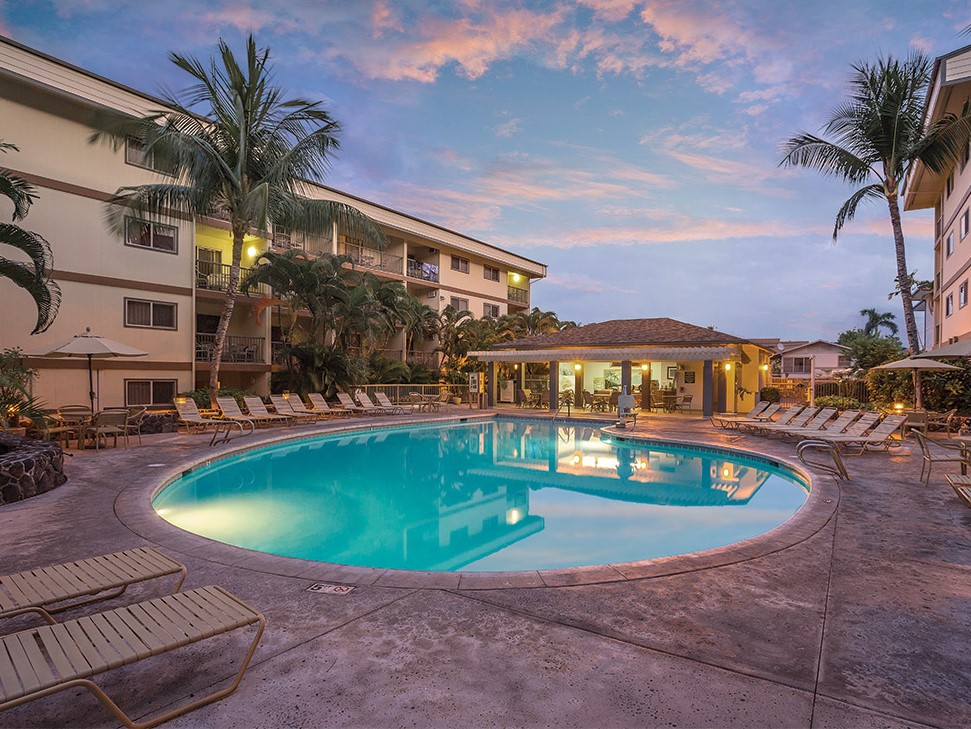 If you want to visit Kailua-Kona, a spot known for being the most beautiful on the Big Island, stay at WorldMark Kona. At this resort, suites are available in one- and two-bedroom sizes. They are spacious and include a kitchen, dining area, and living room. If you want to have fun on-site, take advantage of the fabulous amenities such as movie rentals, beach access, and a pool. Not to mention, there is an activities center on-site that hosts fun events throughout your stay. The Big Island is one of the best islands to visit in Hawaii, and you can't go wrong when staying at this Wyndham-affiliated timeshare.
Stay at a Family Friendly Timeshare Resort
If you own a timeshare that affiliates with RCI or Interval International, there are fabulous Hawaiian timeshares that you can stay at through vacation exchange. Check out our blogs, RCI Hawaii Resorts You Need to Exchange for and Best Interval International Resorts in Hawaii, for more information about staying in one of these Hawaii resorts through vacation exchange. If you don't own a timeshare yet. Don't fret. We have timeshares for sale and rent at Hawaii resorts that you can easily browse online today. If you have any questions or want assistance call us today at 1-800-610-2734 for help.