Whether you're looking for a getaway from the cold or a summertime adventure, Aruba's a great destination. The island maintains steady, warm temperatures year-round, so you'll have a good time, regardless of the season! If you'd like to take a tropical vacation this year or any other, then check out the Divi Village Golf and Beach Resort in Aruba. This resort is all-inclusive, so you can rest assured you'll be taken care of when you're ready for your island getaway.
Amenities at Divi Village Golf in Aruba
At Divi Village in Aruba, you'll find there's plenty of fun right at your fingertips. Divi Village is home to the Links at Divi Aruba. The Links is a meticulously landscaped nine-hole golf course, great for perfecting your swing! There are plenty of other ways to stay active at Divi Village, like tennis, the beachside rock climbing wall, and the fitness center. There's even a water sports center to keep you cool while you work out! Speaking of keeping cool, Divi Village boasts four pools. There's a children's pool with a water slide, a swim-up bar, and shady areas with seating. Finally, after an exciting day on the island, you can relax and unwind at the Indulgence by the Sea Spa. Here, you can treat yourself to massages, facials, exfoliations, and more.
Dining at Divi Village Golf in Aruba
As part of Divi Village Golf in Aruba's all-inclusive plan, you get access to not only this resort's five great dining options but all the food served at Divi Aruba All Inclusive and Tamarijn Aruba All Inclusive. This means you'll be able to eat at a whopping 14 restaurants and 12 bars! It's safe to say you won't be lacking in choices. Some highlights include Windows on Aruba, which serves brunch and dinner on the top floor of the clubhouse with a great view of the golf course and ocean. Meanwhile, Mulligan's Golf Cafe features fresh salads, brick-oven pizzas, juicy burgers, and much more. Paparazzi offers Italian fare and an extensive selection of wines with a stellar view of the ocean. If you're craving authentic Mexican cuisine, visit Pure Lime, which has fresh tacos, burritos and tostadas.
Accommodations at Divi Village Golf in Aruba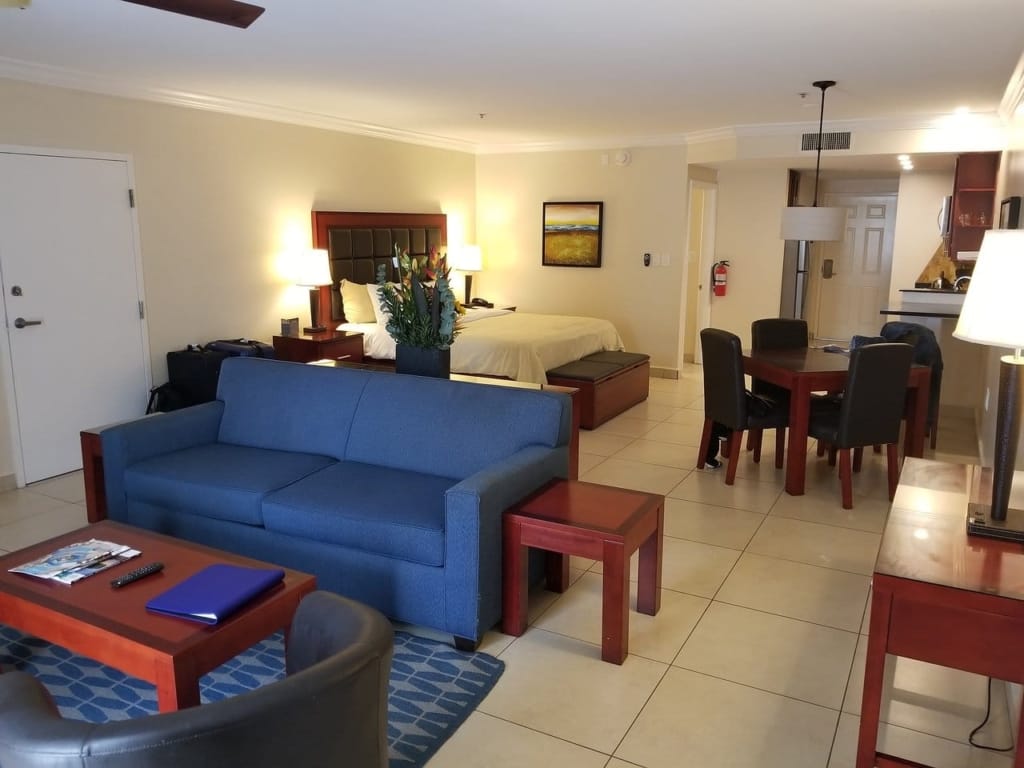 Accommodations at Divi Village Golf include studio, one, and two-bedroom suites. The studio suite comes with a king-sized bed and queen sleeper sofa to house four guests. This suite is perfect for a couple, a small family, or a group of friends. Next, the one-bedroom suite has all the features of the studio suite alongside an additional private bathroom. Finally, the two-bedroom suite features a king-sized bed, queen-sized bed, and queen-sized sleeper sofa. This suite can accommodate up to six guests. No matter which resort you choose, you'll be able to take in some gorgeous views of Aruba from your private balcony or deck. The one and two-bedroom suites also feature a full kitchen.
Things to Do Near Divi Village Golf in Aruba
Casibari Rock Formations
While the amenities alone make Divi Village Golf Aruba great, their location is perfect for helping you get to some of the island's best attractions as quickly as possible. The resort is about five miles from the Casibari Rock Formations. These formations are made up of huge boulders with nearby trails to help you hike to the top. Once you get there, you'll be greeted by breathtaking 360 views, as well as a nearby BBQ Bar and Grill with shaded seating. Just a mile further out are the Ayo Rock Formations. This formation was once considered a sacred site by the island's original inhabitants. You can find original rock drawings here that date back thousands of years, so this is a great spot to visit if you have an interest in history and nature.
Read More: When is the Best Time to Go to Aruba?
Arikok National Park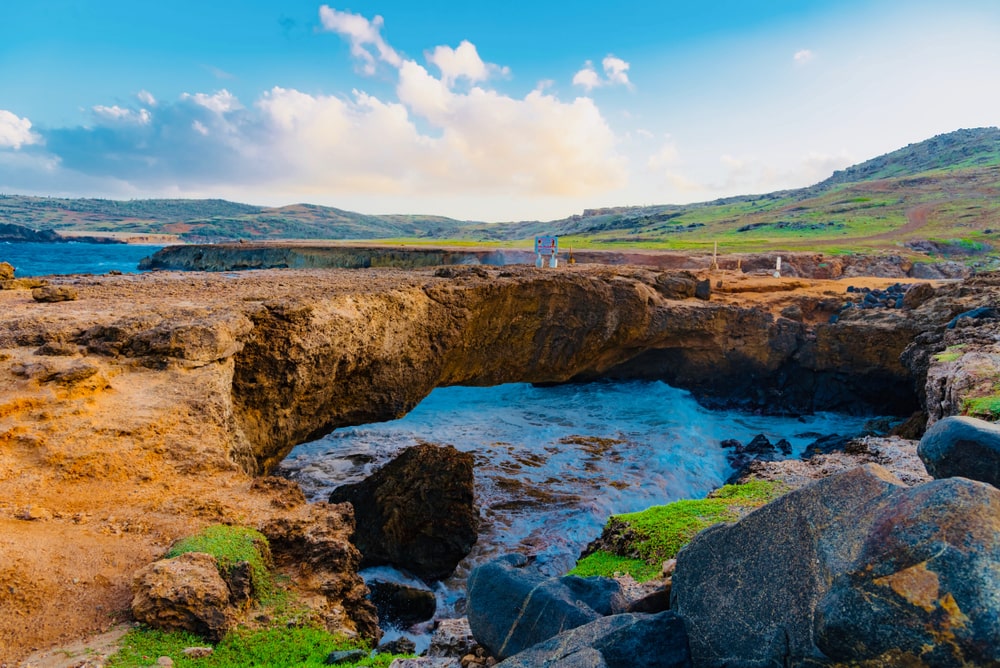 If you want an experience you can only get in Aruba, then you have to check out the Arikok National Park. This park takes up almost 20% of the island and takes guests on a memorable journey of the island's past with its unique geological, cultural, and historical sites. These sites can all be enjoyed and explored either on your own or through a guided tour. As you explore the park, you'll see gorgeous vistas of Aruba's rugged terrain, desert hills with fall cacti, a breathtaking coastline, and native flora and fauna. Some highlights of the park include the Jamanota Hilltop, which is the highest point on the island, and Fontein Cave, which features pictographs by the island's original inhabitants.
Buy or Rent a Timeshare at Divi Village Golf in Aruba
With its warm weather all year round, Aruba is a great vacation destination for any season. If you'd like to make visiting this island a new tradition, consider buying a timeshare there. Timeshares allow you to go back to a beloved resort year after year. Plus, they'll save you money on trips over time! If you like the idea of visiting Divi Village Golf in Aruba but aren't sure about committing to vacation ownership, consider renting a timeshare instead. You'll be able to try before you buy and enjoy a luxurious stay without having to pay full price. Want to get started? Then check out our marketplace! We have listings for plenty of resorts, including those from major brands like Hilton, Wyndham, and Marriott. If you have any questions, feel free to give us a call at 1-800-610-2734 or email us at info@timesharesonly.com.