Upon entering Hilton Head's beautiful beaches, you will be met with a salty sea breeze, the sound of crashing waves, the sight of seagulls soaring above, and the scent of sunscreen mixed with tropical plants. What more could you want from your next beach vacation? Hilton Head offers some of the best timeshares, including Carolina Club Hilton Head. Keep reading to learn why this Spinnaker Resorts timeshare stands out from the rest.
Carolina Club Hilton Head Amenities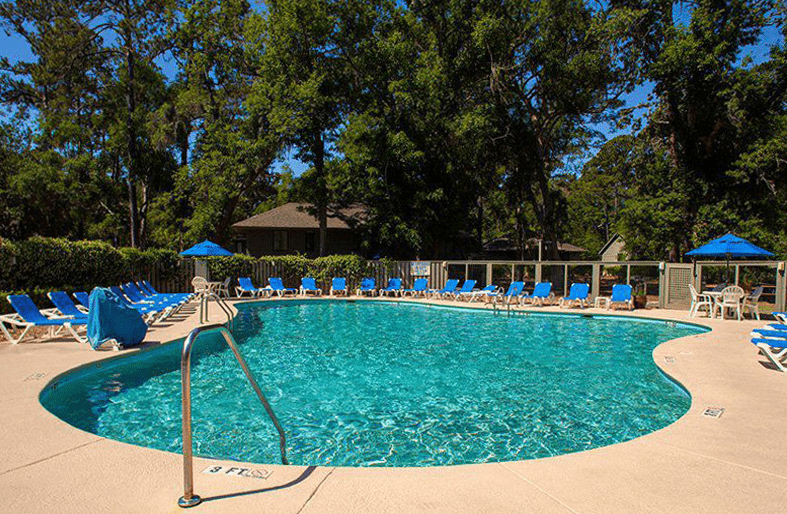 Nestled amidst beautiful low country palms and pines, this Hilton Head property offers a perfect blend of relaxation and recreation. Backing onto the Shipyard's Galleon Golf Course, guests enjoy a stunning view of the manicured greens, with the occasional golfer strolling by. The outdoor pool and hot tub are an inviting oasis, beckoning guests to take a refreshing dip and soak up the warm South Carolina sun.
Families with children will appreciate the on-site play area, where little ones can burn off energy while making new friends. The Activities Center is a hub of fun and excitement, offering indoor and outdoor games for all ages. And when it's time to unwind, the Clubhouse is the perfect place to relax and socialize, with an exercise room for those who want to keep up their fitness routine and a lounge for cozying up with a good book.
Speaking of exercise, this resort has plenty of ways to stay active other than lifting weights and running on the treadmill. They offer lots of sports courts, including tennis courts, basketball courts, and their newest addition, pickleball courts. Between 2019 and 2021, pickleball grew by nearly 40 percent, making it the fastest-growing sport in America. Carolina Club Hilton Head is with the times, and they now have two pickleball courts. If you haven't played pickleball, it is a combination of tennis, Ping-Pong, and badminton. It is popular for all ages, so make sure to try your hand at it if you haven't done it in the past.
Full List of Amenities:
Whether you're a golf enthusiast, a sun-seeker, or a family looking for some quality time together, this Hilton Head property has something for everyone. The lush greenery, inviting amenities, and laid-back atmosphere provide the perfect backdrop for a truly memorable vacation experience. Below is a full list of amenities.
Wi-Fi Access
2 Adult Bikes per unit
Outdoor Pool and Hot Tub
BBQ Grills
Children's Outdoor Playground
Golf Privileges at Golden Bear Course
Clubhouse with Exercise Room, Lounge, Kitchen
2 Tennis Courts
2 Pickleball Courts
1 Basketball Court
Shuffleboard
Accommodations at Carolina Club Hilton Head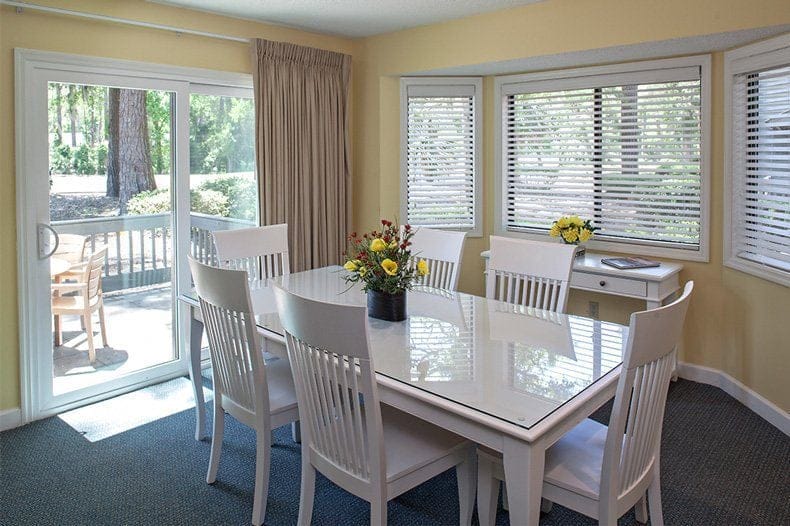 Located in a peaceful and secluded area of Hilton Head, these townhomes offer a tranquil escape from the everyday grind. Once you step inside, you'll be greeted by an open and spacious floor plan that makes you feel at home. The fully equipped kitchen comes with all the appliances and tools needed to prepare delicious meals with family and friends. In addition, the adjacent dining area is suitable for enjoying these meals together, with plenty of space for everyone to gather around the table.
After dinner, retire to the comfortable living area, complete with an entertainment center and plush seating. Whether you want to watch a movie or simply catch up on your favorite TV shows, this is the perfect spot to do so.
When it's time to retire for the night, the bedrooms provide a peaceful and private retreat. All rooms are equipped with a TV and an ensuite bathroom. So, you can unwind with a movie in bed. In contrast, if you want to take in some fresh air, step outside onto your private deck and soak in the stunning views of the golf course or lagoon. Of course, with a washer and dryer included in each townhome, you'll never have to worry about running out of clean clothes during your stay.
Available Layouts:
With all the modern amenities and comforts of home, you'll never want to leave this serene and secluded oasis. Below you can see the two different layout types that Carolina Club Hilton Head offers.
2 Bedroom, 2 Bathroom – sleeps 6
3 Bedroom, 3 Bathroom – sleeps 8
Things to Do Nearby for Beach Goers or Golf Enthusiasts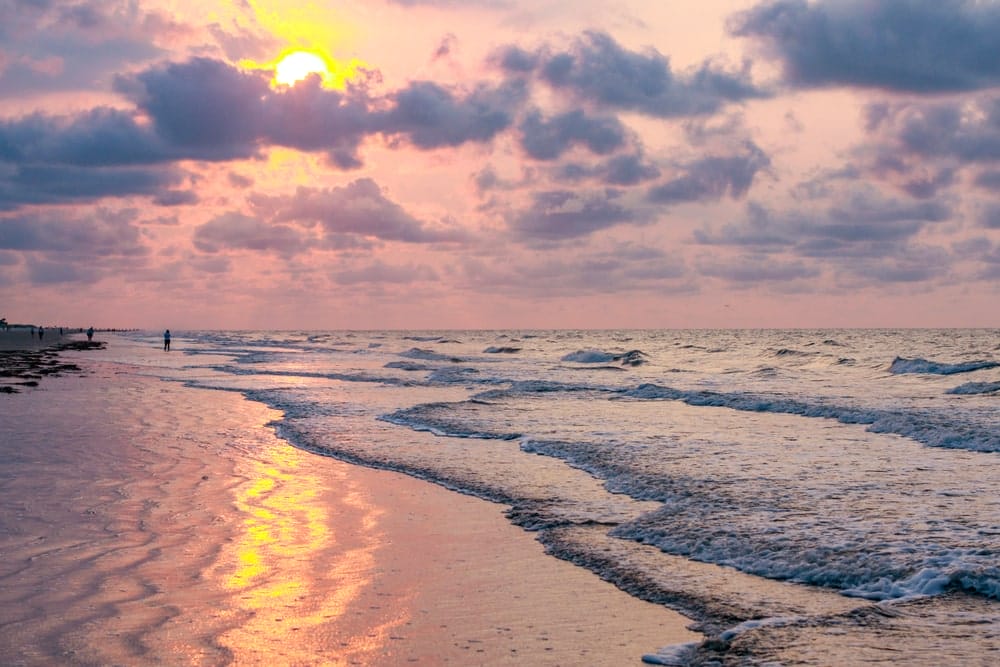 Hilton Head Island is a true gem when it comes to family-friendly beaches, consistently ranking as one of the top 10 in the country. There are 12 miles of ivory beaches within walking or biking distance of Carolina Club. Visitors can also visit Folly Beach Park, Islanders Beach Park, and Coligny Beach Park. Whether you prefer to take a leisurely stroll, relax with a book in hand, or engage in exciting water sports, Hilton Head's beaches have something for everyone.
Hilton Head is an exceptional golfing destination that Golf Digest has recognized as one of the top golfing destinations in the United States. With over 33 world-class courses to choose from, golf enthusiasts will be spoiled. Whether you're a seasoned pro or just starting out, there is a golf course in Hilton Head to suit your skill level. The beautiful scenery, exceptional courses, and top-notch facilities make for an unforgettable golfing experience that will leave you coming back for more. When you stay at Carolina Club Hilton Head, you have golf privileges at Golden Bear Course. So, make sure to check that out.
Rent a Timeshare at Carolina Club Hilton Head
Did you know that you can rent a timeshare with no strings attached? Timeshares are a big commitment, and although 85% of owners love their timeshare, it just doesn't make sense for some travelers. Renting a timeshare in Hilton Head is a fabulous way to stay at resorts like Carolina Club Hilton Head. To look at our Carolina Club rentals, click the button below. Or give us a call, and we can help you find the perfect rental for you. Our phone number is 1-800-610-2734.
Buy a Timeshare at Carolina Club Hilton Head
If you want to make Hilton Head your home away from home, buying a timeshare might be the perfect solution for you. When you buy a timeshare in Hilton Head, you get the perks of being able to visit the same location without having to buy a second home. Or, if you want to visit different resorts each year, you can always exchange to stay elsewhere. Spinnaker Resorts are affiliated with RCI, the first vacation exchange network. The RCI network consists of over 35,000 resorts in 108 countries, with 3.8 million members. Click the button below to check out our Carolina Club Hilton Head timeshares for sale. If you have any questions about timeshare or buying one, give us a call at 1-800-610-2734.