Cancún is an idyllic paradise where your worries will instantly melt away. Westin Lagunamar is located in the heart of the Mexican Caribbean, surrounded by breathtaking white sand beaches and crystal clear waters. This is the ideal destination for anyone looking for a tropical getaway, with all the amenities you could ever need to make your stay unforgettable. From world-class cuisine to stunning pools, this Westin timeshare is the perfect place to kick back and relax. Read on to learn all about this fabulous Cancun timeshare and how to stay there for a fraction of the price.
Accommodations at Westin Lagunamar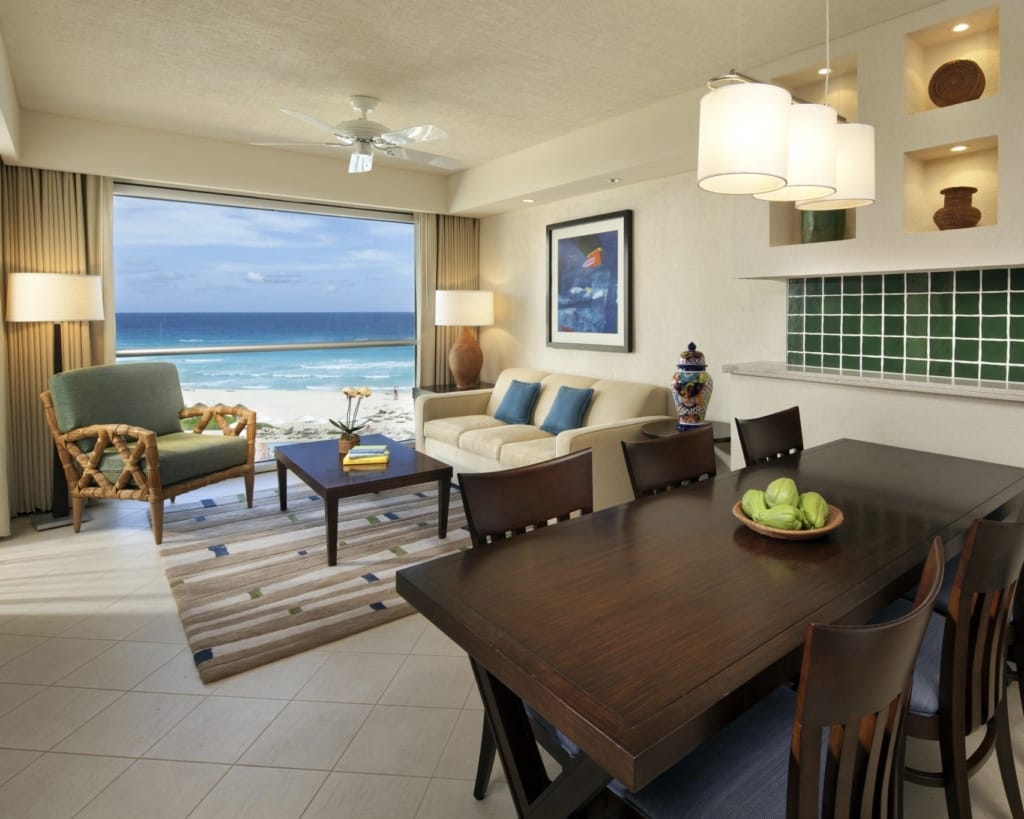 Refresh in the luxurious and thoughtfully-crafted accommodations at The Westin Lagunamar Ocean Resort Villas & Spa, Cancun. Accommodation sizes include studios, one-bedroom villas, and two-bedroom villas. The chic studios and one-bedroom villas are perfect for a getaway of up to four adults. In contrast, the two-bedroom resort villas provide ample space for eight guests and can be as large as 1,140 square feet — ideal for the whole family!
Room Features
Providing Comforts of Home | Villas provide a home-like experience with modern amenities like a fully-equipped kitchen or a kitchenette, washer and dryer, generous living areas, complimentary Wi-Fi, and all the benefits of resort life without the added cost of resort fees.
Breathtaking Ocean Views | From the comfort of the Westin Lagunamar villa's balcony, guests can admire breathtaking ocean views. Watching the sunrise or sunset from the balcony is a truly unforgettable experience. The stunning colors of the sky, combined with the sparkling waters of the ocean, will make you never want to leave.
Westin Heavenly Bed | After a day out and about exploring the sights, the Westin Heavenly Bed will provide a cozy and comfortable atmosphere for a restful night's sleep. With multiple layers of refreshing down bedding, the Westin Heavenly Bed ensures deep, uninterrupted sleep.
Westin Lagunamar Amenities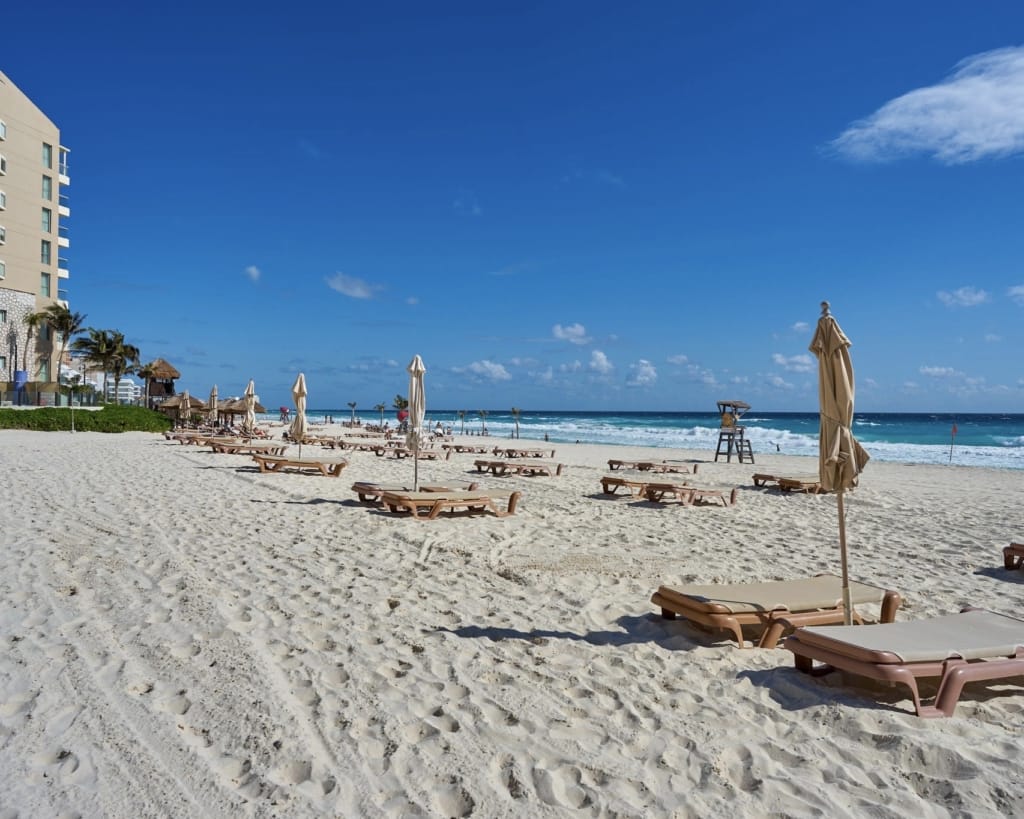 Start your vacation off the right way and unwind by Westin Lagunamar's infinity-edge pool, sipping on a refreshing drink from the swim-up bar. Kids will love the dedicated Kids' Pool, which includes a thrilling waterslide for hours of playtime. For a more tranquil experience, the resort's zero-entry pool is perfect for those looking to relax in total comfort. Guests of all ages can also enjoy the adjacent pool areas – those over the age of 16 can even take a refreshing dip into the inviting waters.
Once you're feeling relaxed and refreshed, why not take advantage of the incredible activities available on the water at Xel-Ha, or explore the beautiful, tropical landscape of Chichen Itza? You can also grab a tropical souvenir at the nearby La Isla shopping plaza or relax on the white-sand beach and soak up some rays. With so much to see and do, you can be sure that your time in Cancún will be one to remember.
Top Things To Do at Westin Lagunamar
Heavenly Spa by Westin | Treat yourself to the ultimate relaxation experience at The Westin Lagunamar Ocean Resort. Let yourself be taken away to a world of tranquility and invigoration with a soothing massage, refreshing body treatment, or pampering salon service.
WestinWORKOUT Fitness Studio | Maintaining your workout routine while away can be challenging, but it doesn't have to be! Cardio and strength equipment is available so that you can stay on track with your fitness goals even while away from home.
Pool and Waterslide | The resort offers three incredible pool areas to provide year-round entertainment and relaxation. All three pools feature crystal-clear heated water, comfortable lounge chairs, and cabanas to enjoy the sun in style.
Miniature Golf | Get ready to challenge your friends and family to a game of mini golf and enjoy a day out in the sun. The 18-hole mini golf course is open daily and has special rates for guests.
Resort Beach | Relax and enjoy yourself at the beach. Here, you can bask in the sun or go on exciting water adventures. Participate in sand volleyball, build sandcastles, and get a massage. Then, end your day with a campfire complete with s'mores!
Westin Family Kids Club | Westin Family Kids Club brings a fun, camp-like atmosphere with both indoor and outdoor play areas and a game room. Half-day, full-day, and evening sessions have a variety of engaging activities like art and crafts, group games, and outdoor adventures.
Sports | When you aren't relaxing, there are also plenty of ways to keep yourself active. From beach soccer to beach volleyball, there's a wide range of sports activities to choose from. Invite your friends and family to join in on some friendly competition.
Dining On-site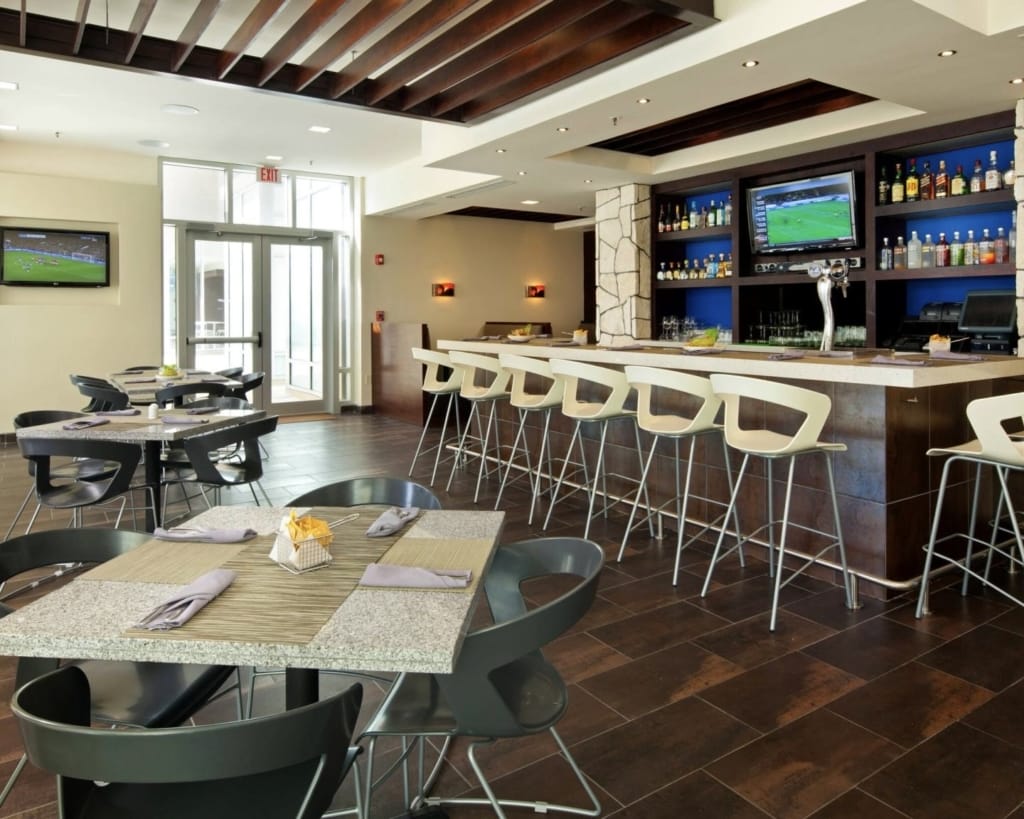 The Westin Lagunamar Ocean Resort's on-site restaurants offer an array of delicious options, from casual poolside snacks to upscale, five-star dining. In addition to the great dining possibilities, the resort also provides convenient room service and fully-equipped kitchens in each of our villas so that guests can enjoy the comforts of home. It doesn't matter what you're craving. The Westin Lagunamar has something to satisfy your palate.
Where to Eat
Duna Sports Bar | Duna Sports Bar is the perfect spot for family-friendly fun. Enjoy classic bar cuisine, from team-sized appetizers to burgers. Catch the big game on LED TVs with surround sound. Or, take in the sunset around the outdoor fire pit.
Duna Pool Bar | Dive into the zero-entry pool, and check out Duna Pool Bar. You'll get great views of the beach as you rejuvenate with a drink or a frozen concoction to beat the heat.
Oceano | Oceano offers a unique and unforgettable dining experience with a menu of both local and international dishes. Enjoy the flavors of Mexican specialties, grilled favorites, SuperFoodsRx dishes, and more. The sleek and modern indoor dining area provides a comfortable atmosphere, while the outdoor terrace offers a stunning view. Cajun Open is available for both breakfast and dinner.
Viento Bar & Grill | Viento Bar & Grill is the perfect place for a light lunch or an early dinner. Why not take advantage of the swim-up bar? Or let the attentive staff bring you a delicious snack right to your sun lounger. Servicing the Main Pool, Viento Bar & Grill is your go-to spot for a range of international favorites. The menu has everything from wraps and sandwiches to Mexican classics and pizzas.
Tierra Market Deli | Stop by the market for deli meats, produce, wines, as well as Starbucks coffee. Get all you need to cook in your villa. Or grab a snack before exploring Cancun.
Buy a Timeshare at Westin Lagunamar
Buying a timeshare at the Westin Lagunamar is a great way to enjoy a luxurious vacation yearly. With a timeshare, you can rest assured that you are guaranteed a spot in this beautiful resort with all of its amenities and comforts. Plus, you can even exchange your timeshare with other resorts, adding even more value to your purchase. Not to mention, you can save a ton when you buy a resale. To browse our marketplace of Westin Lagunamar timeshares for sale, click the button below. Or if you have any questions, give us a call at 1-800-610-2734. We'd love to help you.