If you're looking to travel to the Gulf of Mexico, there's no place better to be than Destin, Fl. This Floridian town has nature trails, golf courses, and gorgeous panhandle beaches as far as the eye can see. It should come as no surprise that there are plenty of great resorts in the area. With so many top-notch facilities in town, choosing just one to stay in can be a bit overwhelming. While there are some excellent offerings out there, one resort developer stands out above the rest: Club Wyndham. With stellar amenities, spacious accommodations, and plenty of accessible features, these Wyndham Destin, Fl, resorts are sure to make your next getaway one worth remembering.
An Overview of the Top Wyndham Destin Fl Resorts
Wingate by Wyndham Destin
Club Wyndham Emerald Grande at Destin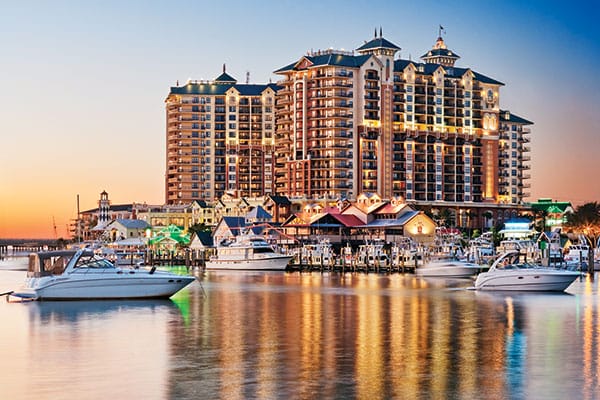 Want to have easy access to the water? Then you'll want to visit Club Wyndham Emerald Grande at Destin, Fl. This waterfront resort boasts a luxurious, on-site spa with massages, skin treatments, hand and foot therapies, and more. You can also treat yourself to a spa day and leave feeling as good as new! You can also take a dip in the indoor or outdoor swimming pool, as well as the hot tub. When you want a bite to eat, stop by the resort's signature restaurant, Grande Vista Bar and Grill. You'll enjoy burgers, steaks, and locally caught seafood. There are also poolside bars so you can enjoy a mixed drink by the water.
When you're ready to unwind after an exciting day exploring Destin, Fl, you'll have your choice of a one, two, three, or even four-bedroom suite. First, the one-bedroom suite comes with a king bed and a queen sleeper sofa. Then, the two-bedroom suite has a king bed, bunk beds, and a queen sleeper sofa. The three-bedroom suite adds another bunk bed and a queen bed to go with everything you'd find in the two-bedroom suite. Last but certainly not least, the four-bedroom suite adds a second queen bed to go alongside the king bed, bunk beds, and queen sleeper sofa. Overall, these suites can hold anywhere from six to ten guests, so you can rest assured you'll have plenty of room to stretch your legs. These suites also feature a balcony or patio and free wifi for your convenience.
Wingate by Wyndham Destin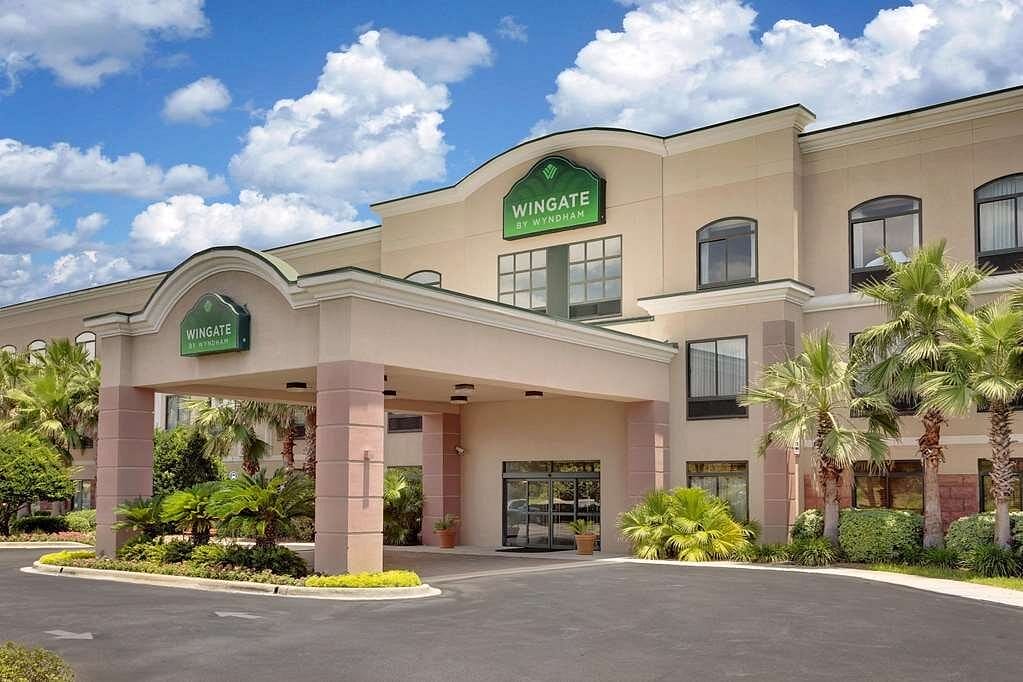 Whether you're traveling to Destin for business or pleasure, Wingate by Wyndham offers everything you need to stay connected and productive. Wingate has an on-site business center so you can keep up with everything you need to take care of on your trip, as well as a meeting room for all your business needs. The fitness center is available so you can keep up with your routines, even when you're on vacation. Dry cleaning services and on-site guest laundry are also offered by the resort to make sure your clothes are handled with the utmost care. Plus, there's free wifi and a delicious, hot breakfast.
For accommodations, Wingate by Wyndham Destin focuses more on quality than quantity. The resort hotel offers two different kinds of one-bedroom suites. The first comes with a king bed, while the second features two queen beds. No matter which you choose, you'll get a mini fridge, coffee maker, HDTV, and an in-room safe in these nonsmoking rooms.
Wyndham Destin at Majestic Sun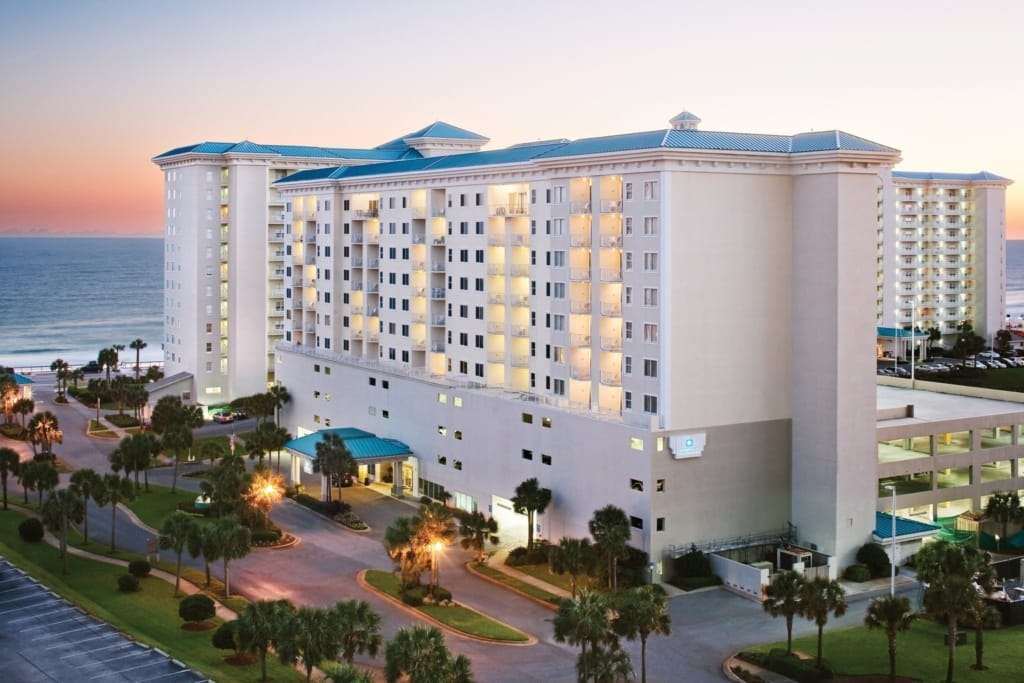 At Wyndham Destin at Majestic Sun, nature takes center stage. Ideally situated between Destin's crystal waters and a sprawling championship golf course, this RCI Gold Crown resort features relaxed beach decor that blends with the Gold Coast atmosphere. Speaking of golf, you can practice your swing at the Wyndham Majestic Sun's 18-hole golf course. There's also a golf driving range and even a pro shop for all your golfing needs. The resort even has a catch-and-release pond, perfect for younger guests looking to try fishing for the first time. While the beach is within walking distance of this Wyndham Destin, Fl, resort, you can also relax in the indoor pool, outdoor pool, or hot tub. Aside from the swimming pool options, a business center, fitness center, and free wifi round out the list of amenities at Majestic Sun.
You'll have plenty of options for accommodations at this resort. One, two, and four-bedroom suites are available for you to kick back and relax in. First, the one-bedroom suite comes with a king bed and queen sleeper sofa. Meanwhile, the two-bedroom suite has a king bed, two double beds, and a queen sleeper sofa. Finally, the four-bedroom suite has two king beds and a whopping four double beds. Overall, these suites can accommodate four to twelve guests. No matter which you choose, you'll have a full kitchen and a balcony or patio so you can enjoy breathtaking views of the Emerald Coast. As an added bonus, Majestic Sun is also near Miramar Beach.
Wyndham Destin at Bay Club II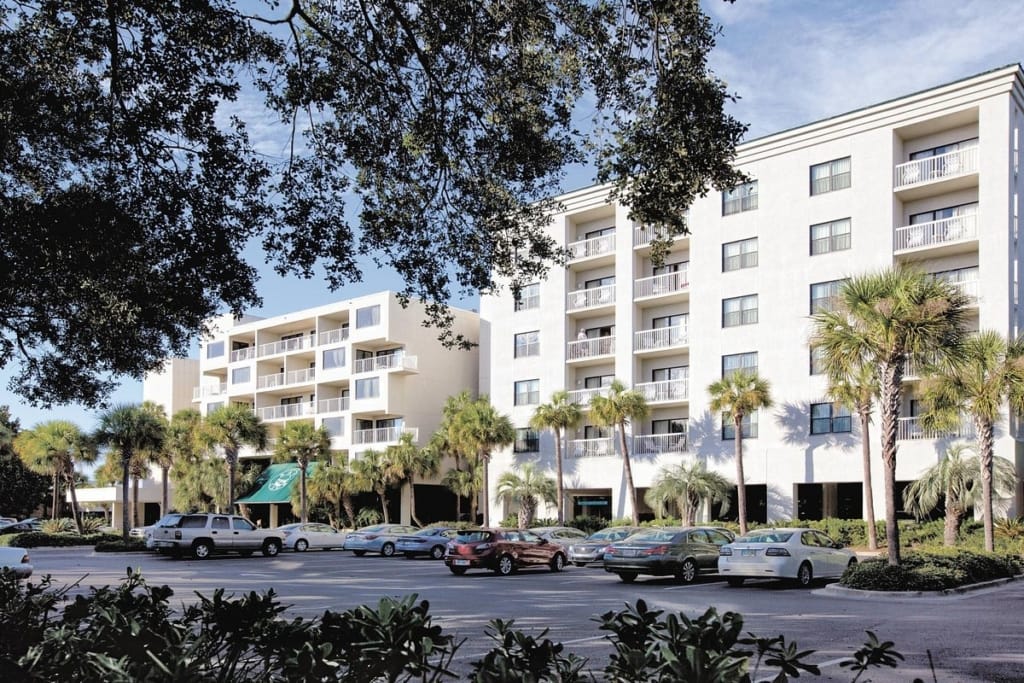 Speaking of Miramar Beach, Wyndham Destin at Bay Club II is also near it. If you like to stay active, this is one resort you definitely won't want to miss! You'll have access to a massive golf course, world-class tennis courts, and a top-notch fitness center. There's also a business center, easy access to the beach, and even a designated sunbathing area. You'll also find walking trails if you'd like to explore the area at your own pace. Rounding out this resort's amenities are an outdoor swimming pool, wi-fi internet access and a barbecue area where you can cook your own delicious meals.
After an exciting day exploring Destin, you'll want to relax and unwind. Wyndham Destin at Bay Club II offers guests two-bedroom deluxe suites with accessible guestrooms. The suite features a king bed, two double beds, and a queen sleeper sofa. There's also a full kitchen, an in-unit washer and dryer, a DVD player, and either a balcony or patio. These spacious suites can accommodate up to eight guests.
Vacation Exchange With a Club Wyndham Resort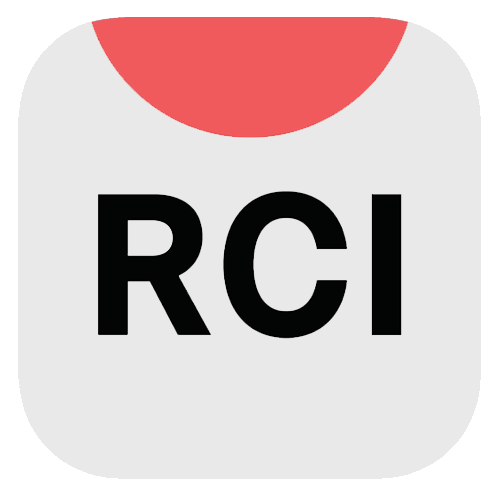 The value of a Wyndham Destin resort doesn't stop with good amenities. In fact, there's a way you can use your timeshare to travel to other facilities around the world: vacation exchange. With vacation exchange, you'll be able to exchange your stay at your home resort for a getaway at one of thousands of other locations around the world. Club Wyndham is affiliated with RCI, the biggest vacation network in the world. This means that if you buy a Club Wyndham timeshare, you'll be able to become an RCI member and explore new facilities each year. Owners with this membership can stay in Miramar Beach for one year before visiting Cancun the next. You'll still be able to enjoy all the fantastic amenities at these resorts too, like tennis courts, wi-fi internet access, and spacious rooms.
Things to Do Near Wyndham Resorts in Destin, Fl
While the Wyndham resorts in Destin, Fl, are great, if you're traveling to Florida, you're there to check out the sights! Fortunately, there are plenty of exciting activities to enjoy near all of these great resorts. From delicious dining to getting up close and personal with nature, you'll find fun around every corner. Here are just a few things you can do nearby.
Explore Harborwalk Village
Located just a few steps away from Club Wyndham Emerald Grande at Destin, Harborwalk Village is the city's lively entertainment center and one of the best public areas in town. Harborwalk is home to the Gulf's most diversely curated collections of unique, boutique, and ultra-chic market shops. If you're looking for souvenirs, apparel or anything else, this village has you covered! You can also check out the paddleboard, kayak, and jet-ski rentals so you can have some fun out on the water. Plus, each week, you can enjoy fireworks over the gorgeous water. It's the perfect combination for spectacular visuals. If you're a foodie, you'll love Harborwalk Village. The village is Destin's premier dining destination and has anything you could ask for. Juicy steaks, funnel cakes, and, of course, pier-to-plate seafood. The village is also a great spot to visit if you want to end your day with sunset cruises.
Relax at Henderson Beach State Park
Whether you want to bask in the Florida sun or wade into the warm gulf waters, Henderson Beach State Park is a must-visit spot. This protected strip of the Emerald Coast is great for deep-sea fishing and has a nature trail and 60 campsites. You can also just stroll down the stunning soft white sand of the beach. You can walk to and from the park on the boardwalk, meaning the bustle of the rest of the city is close but not too close to this beach. Plus, it's close to all of the Wyndham resorts in Destin, FL, like Majestic Sun, making it extra convenient. If you want to avoid the crowds you'll find elsewhere, Henderson Beach State Park is perfect for you.
Check Out Gulfarium Marine Adventure Park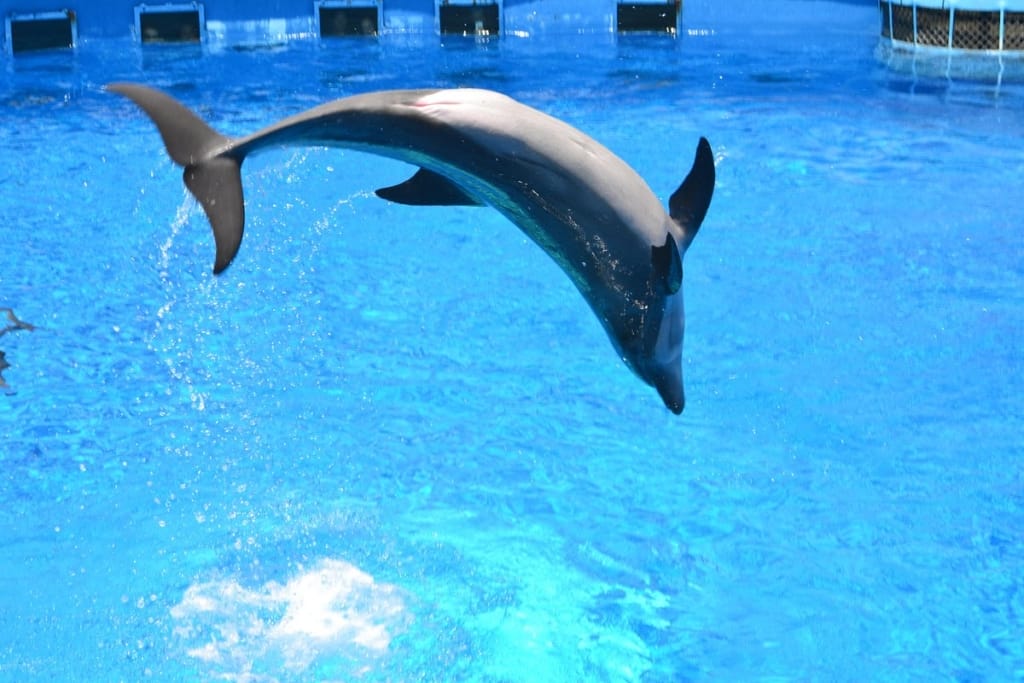 If you or your family love ocean life, you won't want to miss this! Gulfarium Marine Adventure Park is a massive aquarium with animal encounters and shows for you to enjoy. There are sea lions, turtles, gators, and, of course, dolphins. There's also a reptile safari that lets you get up close and personal with many of the park's scaly friends. If you want a truly unforgettable experience, grab your snorkel gear and dive into Stingray Bay, where you can swim alongside stingrays, bamboo sharks, and a variety of tropical fish. You'll have all the snorkel gear provided for you, so all you need is to come ready to get to know these beautiful creatures. You can even feed adorable African penguins. As an added bonus, the Gulfarium is just a short drive away from Wyndham Majestic Sun. What's not to love?
Buy a Wyndham Destin Timeshare
Ready for an unforgettable beach getaway? Consider buying a timeshare resale. Timeshares on the resale market are often cheaper than those you can buy directly from the developer. Plus, you can take care of the entire process from the comfort of your own home! No more having to sit through lengthy sales presentations to find what you like. If you'd like to get started, check out our marketplace! You'll find not only Wyndham timeshares in Destin but also other great timeshares from brands like Hilton Grand Vacations, Marriott, and Hyatt.
Rent a Wyndham Destin Timeshare
Or, if you're on the fence about buying, consider renting a timeshare instead. Timeshare rentals are a great way to try before you buy. You'll enjoy all of the same amenities, dining, and facilities that you would get when you buy a timeshare, but without committing to any maintenance fees. It's an easy way to take extra luxurious vacations for lower prices. If you're ready to experience a low-price paradise with Wyndham vacation rentals, check out our marketplace. Still have questions? We're always happy to help! Feel free to give us a call at 1-800-610-2734 or email us at info@timesharesonly.com.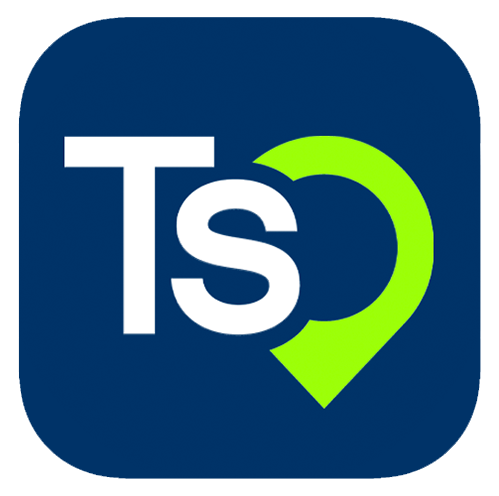 Rent Out Your Wyndham Destin Timeshare
There's a lot to love about the timeshares in Wyndham Destin, Fl, but not everyone uses their timeshare every year. If that's the case for you, you can still get some use of it even when you're not traveling by renting out your timeshare. At Timeshares Only. we can help you rent out your timeshare on our marketplace. Potential guests from around the world will get to see your timeshare, and you can put some money back in your pocket to help pay off your maintenance fees.