Are you hoping to soak up the sun this Summer? How about a retreat from the cold in the Winter? No matter what you're looking for, these Aruba resorts are an excellent spot for your next vacation.
This Caribbean island may only be 70 square miles in size, but it's packed with fun things to do. From a sea full of reefs and shipwrecks to a thriving nightlife scene, Aruba is for adventurers, partiers, and anyone looking to escape the monotony of routines.
Does this sound like your kind of vacation? Here are the top Aruba resorts to make your next trip unforgettable.
How To Get to Aruba?
Aruba is a Caribbean island located in the southern Caribbean Sea, about 15 miles north of Venezuela. Here are the steps to get to Aruba:
By air: The most common way to reach Aruba is by air. There are direct flights from various cities in the United States, Canada, Europe, and Latin America. You can check the availability of flights to Aruba from your nearest airport.
Obtain necessary documents: Before traveling to Aruba, you need to ensure that you have the necessary travel documents. This may include a valid passport, visa, health declaration, and proof of return or onward travel. Make sure to check the entry requirements for Aruba in advance.
Arriving in Aruba: You will arrive at the Queen Beatrix International Airport, located in the capital city of Oranjestad. Once you land, you will have to pass through immigration and customs.
Getting around: To explore the island, you can rent a car or take a taxi. You can also use public transportation, which includes buses and minibusses. Another popular option is to rent a bicycle or scooter.
Aruba Beach Club Resort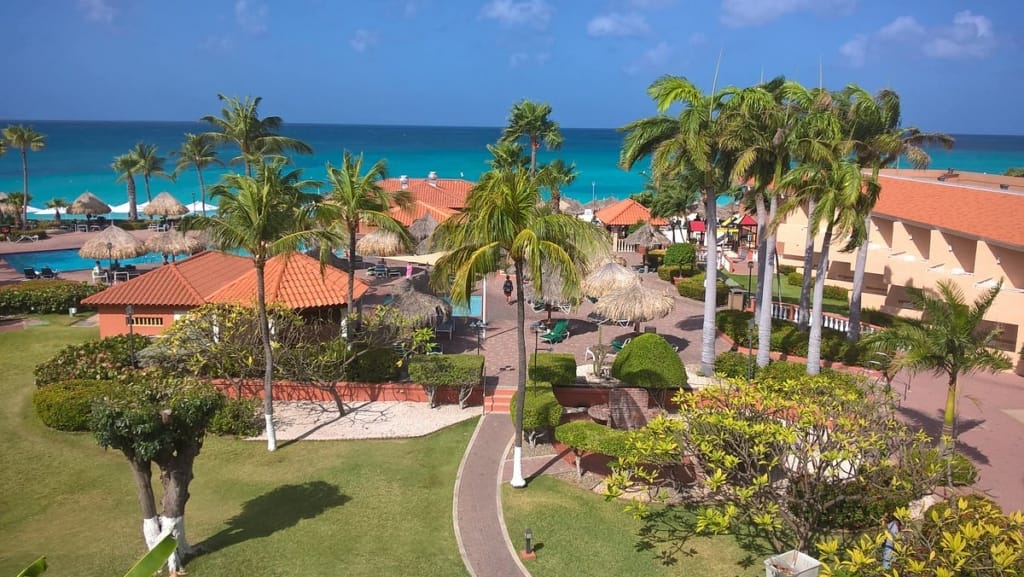 Want to take in the salty ocean breeze? Located on Punta Brabo Beach is a resort that will help you do just that. Aruba Beach Club Resort is perfectly positioned to let you surf, swim, snorkel, sunbathe, and more.
Not to mention, the beach is also a great place to just lie back and relax while catching some rays. This resort also hosts special daily activities, like canvas painting, Papiamento classes, and bingo.
You'll also enjoy on-site dining at Ricardo's Restaurant and Bar. This restaurant combines traditional Aruban food with a variety of international dishes to satisfy taste buds of all kinds. Plus, Ricardo's hosts an adult karaoke night every Thursday.
After experiencing the excitement Aruba holds, you'll want relaxing, luxurious accommodations. Fortunately, Aruba Beach Club Resort's suites are as stylish as they are comfy. Guests can choose a superior studio, deluxe suite, or royal suite. These suites come with two queen-sized beds and a patio or balcony.
The deluxe and royal suites also have a full kitchen, so you can cook your own meals if you ever get tired of the restaurants.
Barcelo Aruba Resort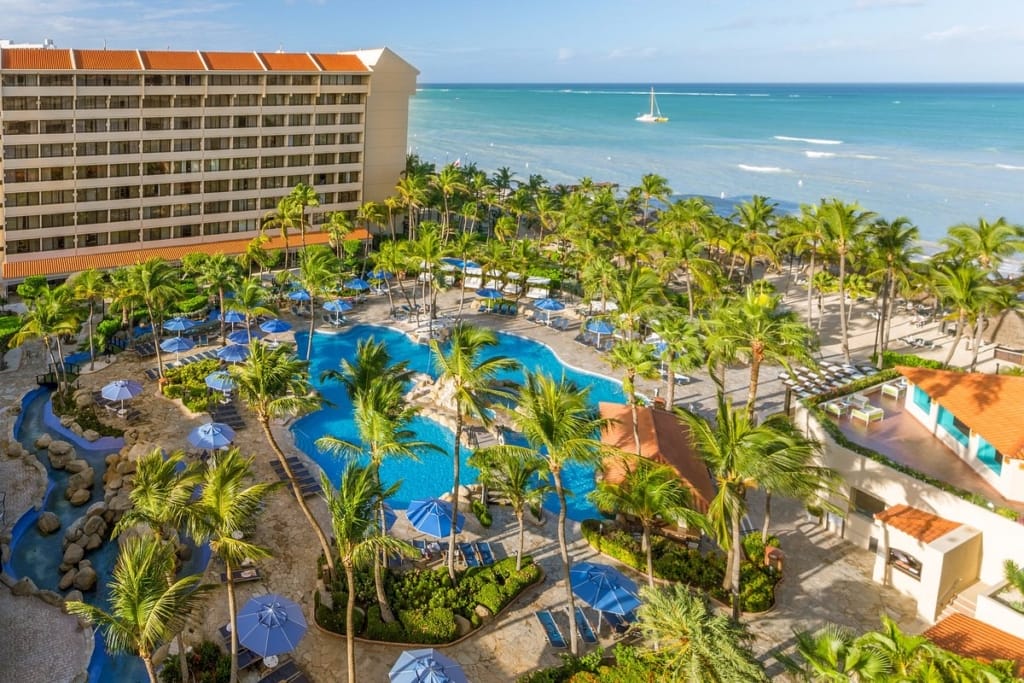 If you're looking for easy access to the beach's white sands, the Barcelo Aruba Resort is perfect for you. This RCI Gold Crown resort is just steps from the beach, perfect for surfing, boating, and more. Plus, the resort offers guests an all-inclusive package to maximize their entertainment options.
This package includes access to nightly shows and entertainment, seven restaurants, and unlimited meals, snacks, and drinks. These restaurants serve various international cuisines like Tex-Mex, Japanese, and Italian.
Additionally, a natural swimming pool shaped like a lake gives guests the sensation of sunbathing in nature. Finally, if you're a bit of a risk-taker, you'll love the on-site casino with five game tables hosting Roulette, Black Jack, and Poker. You can also test your luck at any of the 120 slot machines available.
After an exciting day on the island, you can return to a deluxe or royal-level master suite. These suites all feature spacious balconies to give you a gorgeous view of the Caribbean Sea and can accommodate four to seven guests.
Marriott Aruba Ocean Club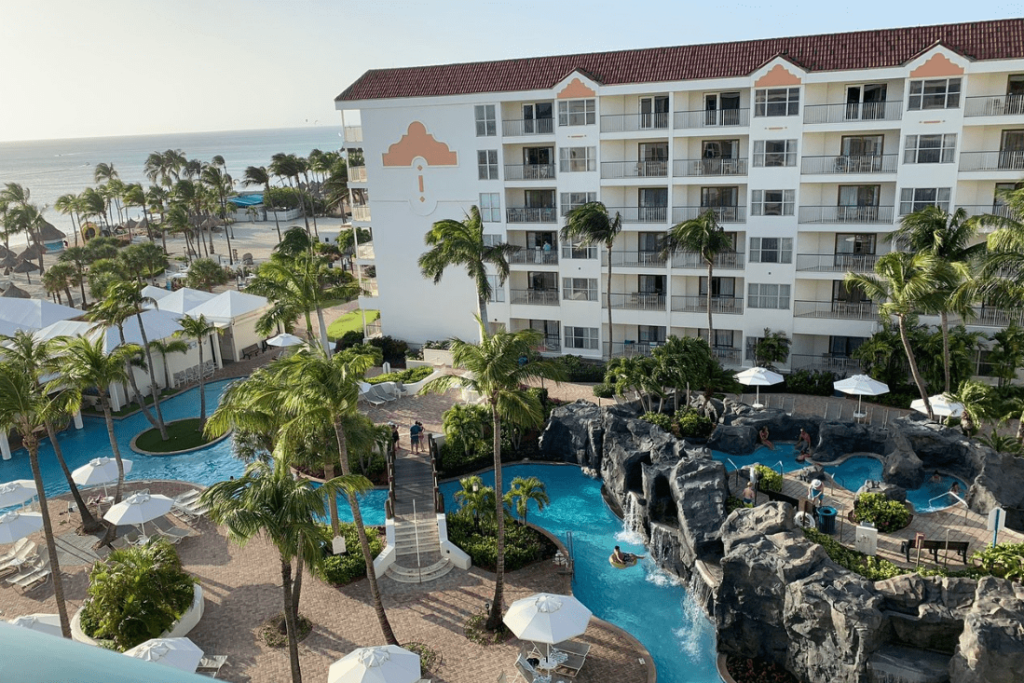 Whether you're looking for something family-friendly or adult-only, this Aruba resort has you covered. Marriott's Aruba Ocean Club sits oceanfront on Palm Beach, with luxurious amenities and accommodations you'll love.
Younger guests love Kid's Night Out evenings with games, pizza, and movies. For athletes, jump-start your day with Stretch and Tone, an exercise class that includes a total body workout. Or attend tennis clinics, aqua aerobics, and beach volleyball.
Besides all of the fun activities this resort offers, guests can unwind at the Mandara Spa with massages, facials, body scrubs, and more. When you're ready for fun in the sun, laze the day away at the pool with tranquil waterfalls. The resort has total beachfront access, so you can dip your toes in the Atlantic Ocean.
As far as dining goes, guests have plenty of options. The Champions Sports Bar, Pavilion Grill, Gelato & Co, and the Waves Bar and Grill are at the resort. Accommodations here range from one to two-bedroom villas, each complete with fully-equipped kitchens and space to stretch out. This resort offers more privacy and home-like amenities so you can feel as comfortable as ever.
Learn more: The Ultimate Guide to Marriott Aruba
Divi Village Golf and Beach Resort
Another all-inclusive Aruba resort worth your attention is Divi Village Golf and Beach Resort. As its name suggests, this resort is home to a meticulously landscaped nine-hole golf course. Perfect for practicing your swing!
There are plenty of other ways to stay active at Divi Village, like tennis, a beachside rock climbing wall, and a water sports center. Divi Village also boasts four pools, including a children's pool. It's safe to say that you'll have plenty of things to keep you busy at Divi Village.
Additionally, this resort's all-inclusive plan gives guests access to a whopping 14 restaurants and 12 bars. Some highlights include Windows on Aruba, which serves brunch and dinner on the top floor of the clubhouse, and Pure Lime, which features fresh tacos, burritos, and tostadas.
Accommodations at Divi Village include studio, one, and two-bedroom suites. These suites feature king-sized beds, queen sleeper sofas, and private balconies. Overall, the suites at this Aruba resort can accommodate four to six guests, depending on which is chosen.
Renaissance Wind Creek Aruba Resort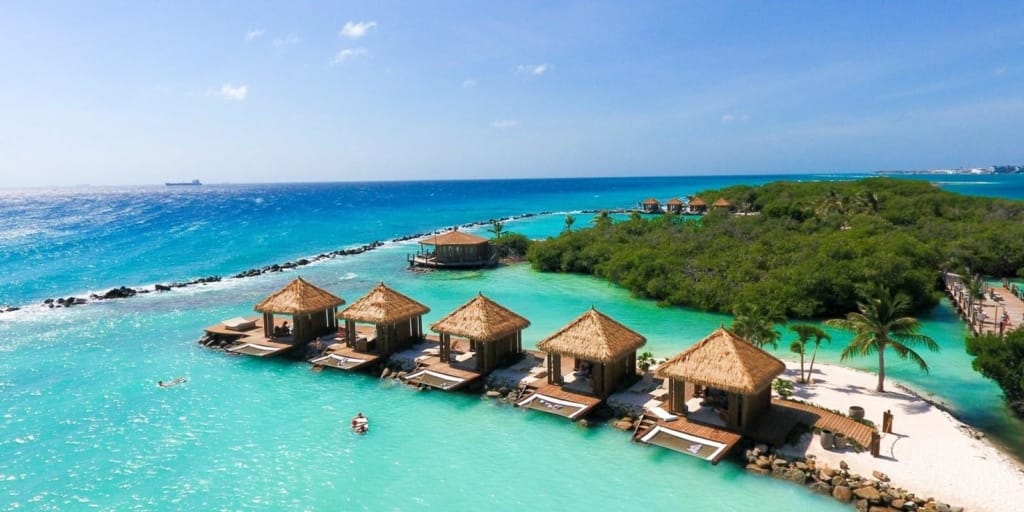 All of these Aruba resorts are great, but only one will offer you complete privacy away from everything. Renaissance Wind Creek Aruba Resort offers guests a retreat to Renaissance Island: one of Aruba's two private islands. These islands are reserved exclusively for guests of the resort, so there's no need to worry about crowds.
Watch flamingos roam at Flamingo Beach, or grab a bite to eat at Papagayo Bar and Grill. This resort is also home to the Wind Creek Crystal Casino. Here, you'll enjoy 15,000 square feet of all your favorite card games alongside the latest slot machines.
Renaissance Wind Creek also boasts eight restaurants for on-site dining. You'll have plenty of options whether you like seafood, burgers, or Caribbean cuisine. You'll also get to unwind in one-bedroom suites with king-sized beds and luxurious, modern decor.
Things To Do Near Aruba Resorts
No matter how much you love your Aruba resort, you'll want to venture out into the island sooner or later. When that time comes, you'll find excitement around every corner. From outdoor adventures to nighttime thrills, this island has plenty of secrets to uncover. Here are just a few things you can do in Aruba.
Visit Arikok National Park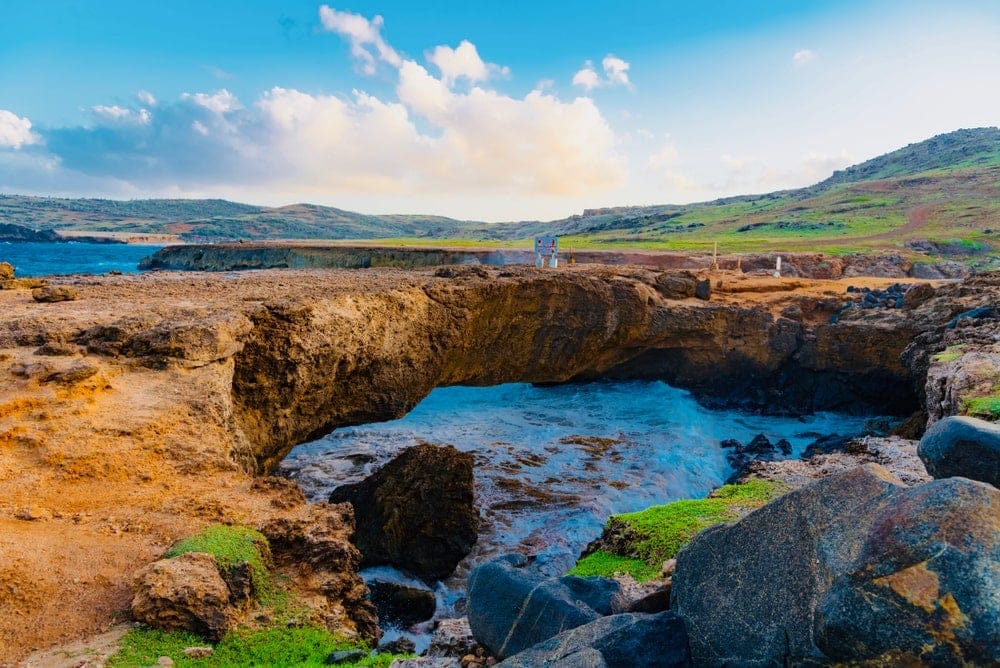 Any avid explorer should make seeing Arikok National Park their top priority. This park takes up almost 20% of the island and takes guests on a memorable journey through the island's past with its unique geological, cultural, and historic sites. These sites can all be explored on your own or through a guided tour.
As you explore the park, you'll see gorgeous vistas of Aruba's rugged terrain, desert hills with fall cacti, and native flora and fauna. One of the park's biggest highlights is Fontein Cave, which features pictographs by the island's original inhabitants. The highest point on the island, Jamanota Hilltop, is also part of this park, and if you climb it, you'll be treated to an unforgettable view of Aruba.
Visit Oranjestad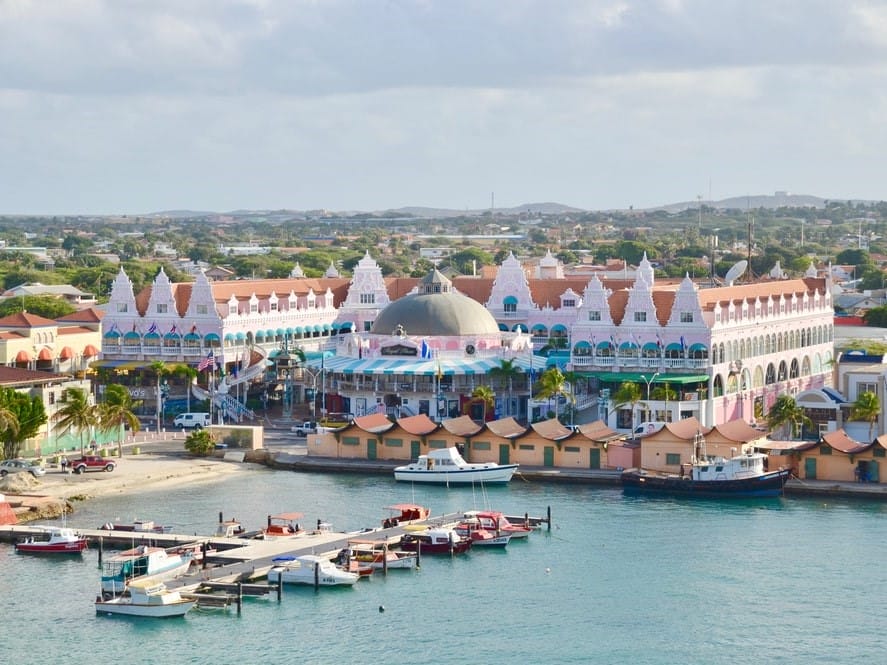 As the capital of Aruba, it should come as no surprise that there are plenty of things to do in Oranjestad. The local market is a favorite among visitors, with 40 buzzing stalls with locally made items. Linear Park is a must for anyone looking to jog, bike, or even take a casual stroll.
Oranjestad is also a launching point for several tours. Snorkeling, submarine, and even ATV tours are available to help you see everything the island has to offer. Oranjestad is less than 20 minutes away from both Aruba Beach Club and Renaissance Wind Creek Aruba Resort, so you'll have easy access to it from two of the best resorts on the island.
Enjoy Aruba's Nightlife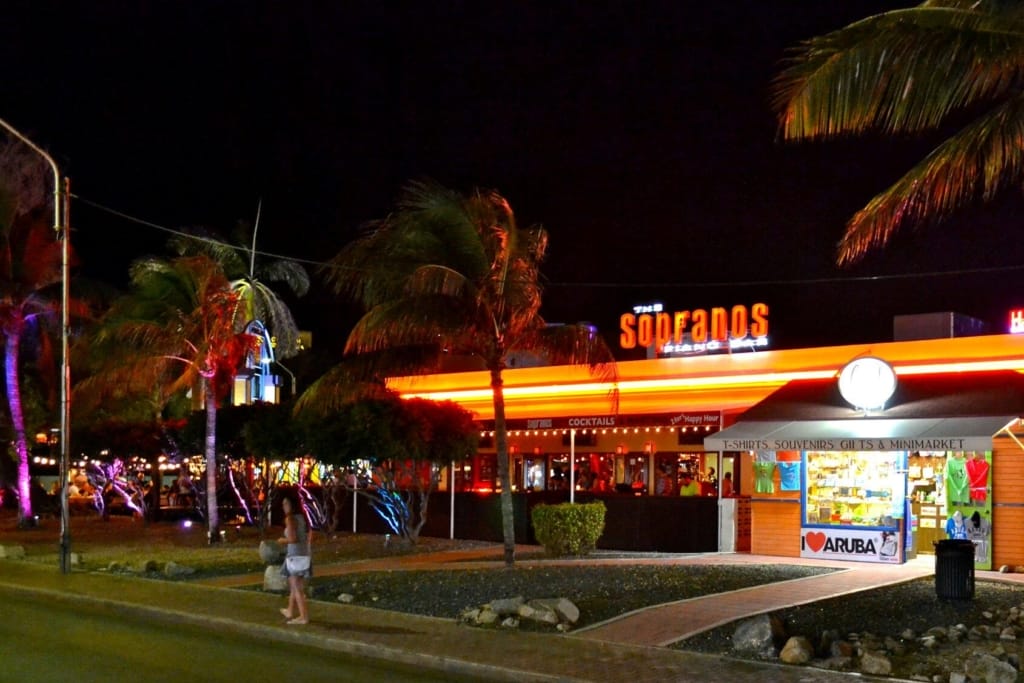 As the sun sets in Aruba, you'll find the fun is far from over! Bright casinos and lively clubs light up Aruba's nightlife. Stop by the Sopranos Piano Bar if you like live music and singing the night away. Here, you'll enjoy wine, scotch, and jazzy performances from pianists and singers each night.
There are also plenty of dance clubs like Gusto Night Club Aruba. If you'd like to stay on your feet with something more active, clubs like this are a great way to end the night. Finally, while the on-site casinos at Aruba resorts are great, there are even more outside the boundaries of these resorts. Alhambra Casino has 460 slot machines but also features various small shops and restaurants.
Relax in Luxury at One of the Top Aruba Resorts
Whether you like exploring caves, surfing across the sea, or immersing yourself in another culture, Aruba is a great destination for your next vacation. If you're ready to start planning an island getaway, all of these Aruba resorts should be on your radar.
If you'd like to stay at one of these resorts, consider buying a timeshare. Timeshares are a great way to make sure you can return to a beloved destination each year. No more needing to book a hotel, you'll have a home away from home you can look forward to visiting! Or if you like the luxury of a resort but don't want that level of commitment, consider renting a timeshare for a lower price. At Timeshares Only, our marketplace is filled with listings from plenty of great resort brands like Marriott, Wyndham, Holiday Inn Club Vacations, and more! If you have any questions, feel free to give us a call at 1-800-610-2734 or email us at info@timesharesonly.com. We're always happy to help!
This article originally appeared on Savoteur.