Tropical timeshare rentals? Yes, please. Experience one (or all) of these destinations so you can return to business as usual feeling relaxed and refreshed. Life can be full of uncertainties and stressful times, that's why we believe in taking a good vacation. We've put in the hard work to bring you a few of our favorite tropical timeshare rentals. You can experience the resort residence lifestyle for less.
The Best Tropical Timeshare Rentals
Booking a tropical timeshare rental offers you more space and luxury than your average hotel. Plus, timeshare rentals are located in resorts (by brands you already love) that are designed for maximum luxury, comfort and vacationing. Not to mention, you can potentially cut travel costs by booking a rental on our website.
Additionally, at a timeshare villa, you have access to laundry units in your own room, as well as separate, locking bedrooms and private balconies. Ready to get a truly luxurious vacation underway? We recommend staying at vacation rental so you can truly relax. Most timeshare resorts are designed to make you feel miles away from the business of life. Take a look at the best tropical vacation rentals and start packing.
Of course, deciding where to stay on vacation can feel overwhelming since there are so many options! We believe everyone should experience a tropical vacation rental at least once.
Step-by-Step: How to Rent a Timeshare (it's easy!)
The Best Tropical Vacation Rentals
Some of the best tropical vacation rentals are just at your fingertips. Undoubtedly, you're probably already dreaming of a beach in Hawaii or Cabo San Lucas. Tropical destinations are usually defined as those that lie close to the equator and have a warmer climate year-round. Also, they offer some gorgeous, lush scenery for you to bask in. Some of the best tropical vacation rentals are offered by Wyndham, Hilton, Hyatt, and Marriott, but there are also other brands that deliver equally delightful vacations you may not be aware of yet. Take a look at what these awesome resorts have to offer, and book your stay if you're feeling adventurous.
Royal Islander Club Great Bay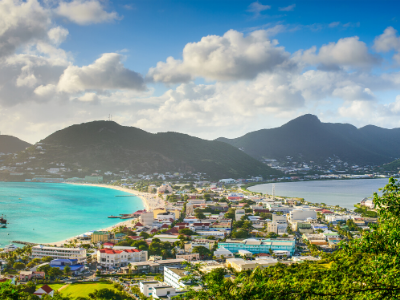 Where temperatures rarely reach below 68° Fahrenheit on the south coast of Sint Maarten, you'll find this tropical vacation rental–Royal Islander Club. A trip to the Caribbean offers guests a delightful escape from day to day life or work. The natural features of the island include lagoons, beaches and salt pans as well as beautiful tropical trees.
A popular port for cruise ships, you'll be located near any tourist's dream. The villas offer waterfront views, in-suite air conditioning and room for up to four to sleep comfortably. Nearby the resort you'll discover Sint Rose Shopping, the Loterie Farm and the Ocean Lounge for a fun day trip. Amenities on the resort include a poolside bar, hot tubs, wifi, direct beach access, and a restaurant for when you're hungry. This is a tropical vacation rental you won't want to miss.
Step-by-Step: How to Buy a Timeshare
Belize Royal Palm Island Resort
St. George's Caye, Belize is home to the Royal Palm Island Resort, an ideal tropical vacation rental destination. If you've ever wanted to experience a blue ocean with pearly white sand, this resort is for you! This resort offers cottage-style villas where you and your guests can enjoy privacy and luxury in one of the most serene spots near the equator. The ocean views, private beach, spa, and bar with a lounge will help you take in all Belize has to offer.

Additionally, the in-suite mini-bar and laundry units will help you feel even more at home, but better. If you've been dreaming of a secluded tropical getaway, you will find it here at the Royal Palm Island Resort. Nearby the resort you can enjoy boat rides, shopping and sun tanning on the beach at your leisure.
Dreams Los Cabos Resort and Spa
Another amazing vacation rental in the Caribbean is Dreams Los Cabos Resort and Spa. This breathtaking resort has it all, and offers nearly all-inclusive options for guests. Not to mention, you'll be in one of the best vacation destinations worldwide. The beach features white sand and blue water, oozing with luxury and perfect for any dream vacation. However, the beach is a non-swimming beach, but you can still bask in its glory.
With multiple on-site restaurants, pools and hot tubs, you won't even have to leave the resort to have it all. Additionally, the Explorers Club is made especially for little ones, so you can have a luxurious family vacation.
Marriott's Ko Olina Beach Club
With outstanding accommodations and amenities, Marriott Vacation Club offers guests the Ko Olina Beach Club Resort in gorgeous Kapolei, Hawaii. While you're away, you can surf, swim and explore to your heart's content.

On the resort property, you'll have swimming pools, hot tubs, wifi, pool bars and room service to keep you relaxed. The suites at this resort come equipped with kitchens, laundry units and private balconies, as well as comfortable and spacious sleeping accommodations for the entire family. You can explore Hawaii as you've always dreamed of while saving money on where you stay.
Viva Wyndham Fortuna Beach
If the Bahamas are calling you, Viva Wyndham Fortuna Beach is one of the best tropical vacation rentals to book. Wyndham offers outstanding vacations to its more than 200,000 members and now you can experience the luxury, too. Here you can refresh and clear your mind with the ultimate relaxation offered by the Bahamas and this incredible resort. With opportunities to surf, sail, shop and visit the spa, the choice is yours how you let loose.
Direct beach access and boat rentals offer even more experiences for you and your family. In your suite, you'll be delighted with enough room for everyone to stretch out and relax, including a kitchen and locking bedroom doors. There are also a variety of kids and adult activities planned so everyone can make their vacation dreams come true.
How to Book A Tropical Vacation Rental
Now that you have an ideal destination in mind, you may be wondering how to book tropical timeshare rentals for your next vacation. To get started, visit any of the timeshare rentals pages and make an offer to rent, or contact one of our friendly specialists. You can easily get in touch with us by calling 1-800-610-2734 or emailing info@timesharesonly.com. They can walk you through the process. Once your rental is confirmed, all you will have to do is start packing. Renting a timeshare is a great option if you love vacations, but aren't sure you want to learn how to buy a timeshare just yet. We can't recommend them enough.