When you think of California, you probably think of warm beaches, bustling amusement parks, and lots of sunshine. In short, you probably think of someplace pretty warm. What you might not know is that California also has a thriving ski scene. In fact, California has plenty of massive ski resorts scattered across the state. If you're interested in a rundown of the best ski resorts in Cali, we've got you covered. Here's a list of five California ski resorts to visit next winter.
An Overview of the 4 California Ski Resorts You Can't-Miss
Heavenly Mountain Resort
Northstar California
Sugar Bowl
Palisades Tahoe
Heavenly Mountain Resort
They don't call this California ski resort "heavenly" for nothing! Heavenly Mountain Resort overlooks the crystalline waters of Lake Tahoe, surrounded by snow-capped mountains. Needless to say, this resort has some beautiful views. Heavenly Mountain has more to it than sightseeing, though. Heavenly boasts 34 miles of groomed trails covering 4,800 skiable acres, making it not only the largest in Lake Tahoe but one of the largest ski resorts in America. Specifically, the resort has 97 trails to accommodate skiers of every skill level. So seasoned vets and newcomers alike can enjoy the slopes. Heavenly Mountain is home to Groove Park, a progressive park with nearly 20 features, and LTR, a beginner park with four features. Just off the mountain are guided snowmobile tours, snow tubing, and even a scenic Gondola ride. So there are multiple options to stay entertained when not braving the mountain's many slopes.
If you want to stay near the Heavenly Mountain Resort, the Marriott Grand Residence at Lake Tahoe is just two miles away. This Marriott Vacation Club resort is located within the Heavenly Village and features a heated outdoor pool and fitness center. Guests can also enjoy a massage or beauty treatment at the on-site Serenity Spa. Serenity offers massages, facials, and a steam room to help visitors unwind after a day on the slopes. Accommodations include studio, one, and two-bedroom villas. The studio comes with a queen-sized bed to accommodate two guests. Next, the one-bedroom villa offers a queen–sized bed and sofa bed to house up to four guests. Finally, the two-bedroom villa features a king-sized bed, queen-sized bed, and sofa bed to accommodate six guests.
Northstar California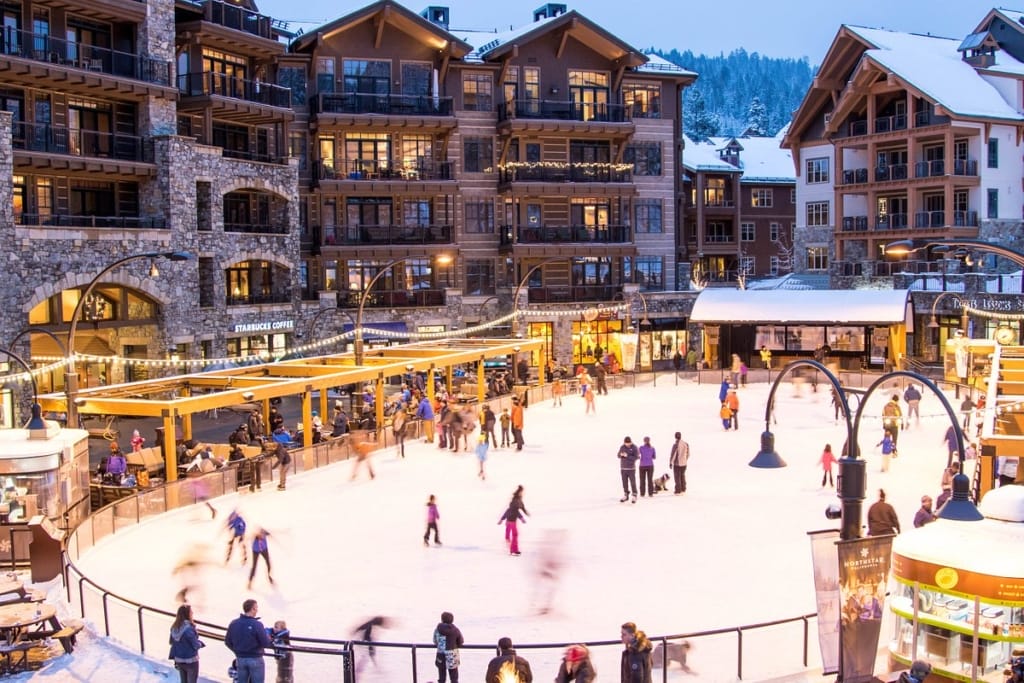 For something a little more family-friendly, visit Northstar California. In fact, this California ski resort has tons of kids' activities, a ski school, and an extensive network of well-groomed trails. Northstar covers 3,170 acres, with 100 runs that are accessed by 20 chairlifts. About 60 perfect of the runs are intermediate, with an additional 13 percent that are beginner runs. As a result, newcomers will feel very comfortable here. With that said, 27 percent of the runs are advanced, so even ski masters will have something to enjoy. You can also enjoy the alpine-style village at the base of the slopes. This village is a great spot for shopping and dining thanks to its wide selection of restaurants and stores.
If you'd like to stay near the Northstar, consider staying at the Ritz-Carlton Highlands Lake Tahoe. Aside from being just 4 miles away from a great California ski resort, this resort has great amenities and on-site dining. You can relax at the on-site spa, with signature treatments like a massage using stones from Lake Tahoe, a sauna, and even a foot ritual to decompress after a day of skiing. The spa is perfect for anyone looking to unwind after a day on the slopes. There are five dining options at the Ritz-Carlton, ranging from barbeque to paninis. Accommodations include the Ritz-Carlton and one-bedroom suites. The Ritz-Carlton is a spacious suite with a king-sized bed and a full balcony complete with a seating area to accommodate two guests. Meanwhile, the one-bedroom suite offers a king-sized bed and sleeper sofa to house up to four guests.
Sugar Bowl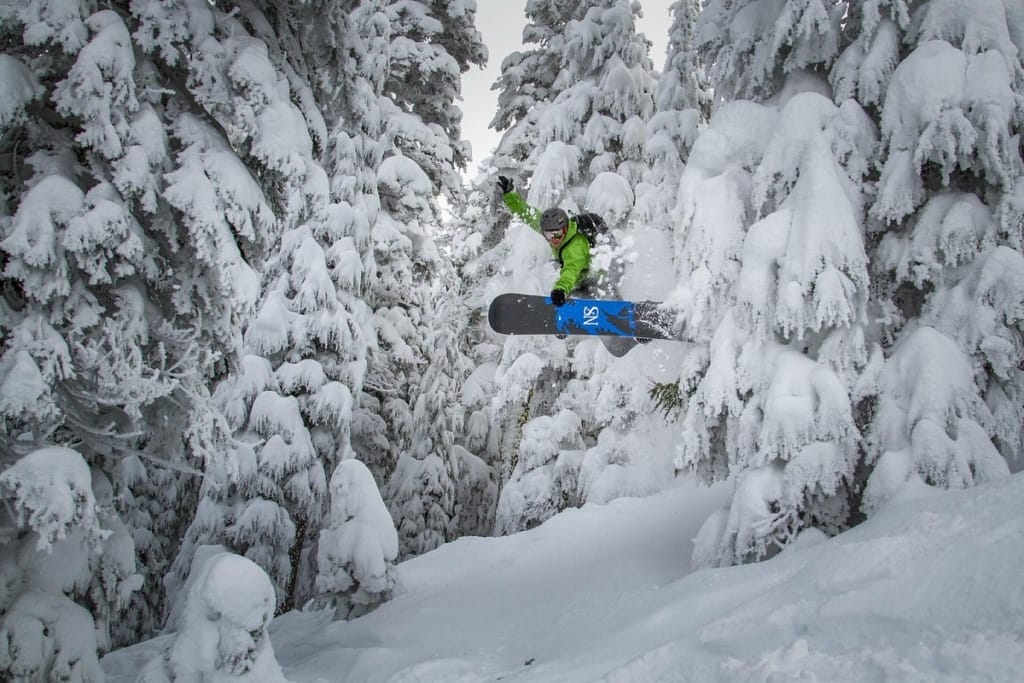 Established in 1939, the Sugar Bowl is one of the most legendary California ski resorts. This resort was the first in the state to install a chairlift and the first in the West to install a gondola. Additionally, Walt Disney was one of the original investors in the Sugar Bowl, and one of the resort's mountain peaks was named after him. In fact, "The Art of Skiing," a Disney cartoon made in 1941, actually depicts Goofy learning how to ski there. It's safe to say the Sugar Bowl has a rich history behind it. The 1,650-acre ski area has 103 trails. 17 percent of these trails are for beginners, while 45 percent are intermediate and 38 percent are advanced runs. As a result, there's plenty to enjoy for every kind of skier.
Olympic Village Inn is a great place to stay for anyone hoping to stay close to Sugar Bowl without being too close. Olympic Village is 40 minutes away from Sugar Bowl, making it an easy day trip. In the meantime, you'll be able to enjoy great amenities like a large heated pool and three hot tubs. There's also a fitness center with a treadmill, weight machine, and Swedish sauna. While most accommodations in other California resorts go by titles like "one-bedroom, two-bedroom," etc, the suites at the Olympic Village Inn are called "Kitzbuhel" and "Chamonix." Fun fact, these are the names of legendary ski resorts in Austria and France respectively. The Kitzbuhel suite has a queen-sized bed and sleeper sofa, the Chamonix has the same types of beds but features more space to stretch your legs in. Olympic Village is also just a short walk away from another California ski resort.
Palisades Tahoe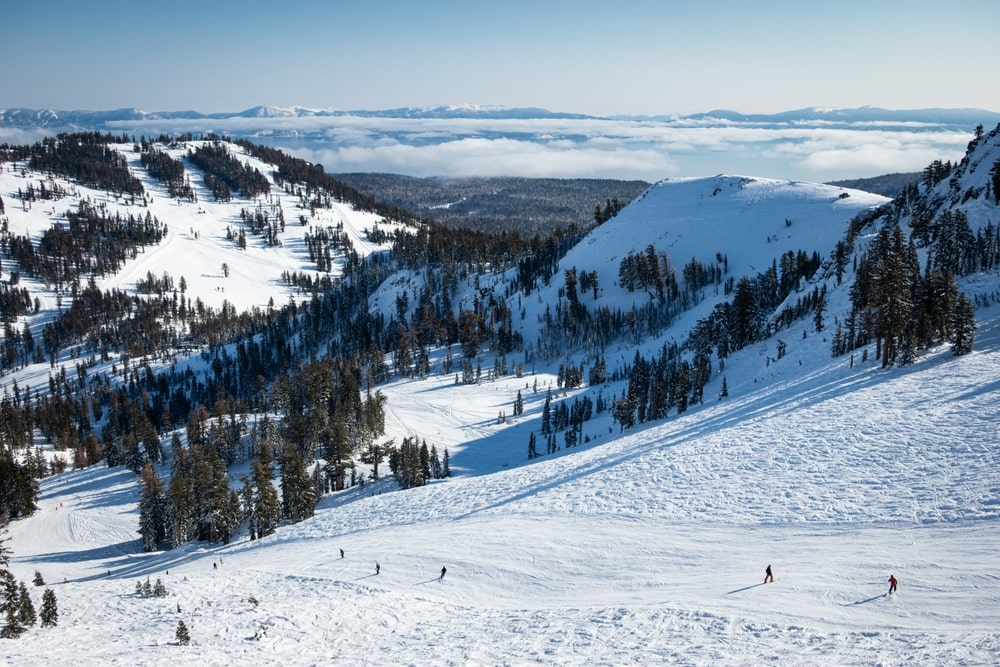 Yes, the Olympic Village is close to not one but two fantastic California ski resorts. Palisades Tahoe is last on our list, but definitely not least. Known for its advanced terrain and excellent ski conditions, this resort boasts some of the longest ski runs in North America. There are 3,600 skiable acres here with everything from mountain-top beginner slopes with views of Lake Tahoe to plunging chutes and wide-open bowls that have bred Olympic champions. Speaking of champions, this ski resort hosted the 1960 Olympic Winter Games, so you'll be skiing down a piece of history. When you're not hitting the slopes, you should hit up the Village at Palisades Tahoe. There are coffee shops, wine bars, great outfitters, and more here. In short, it's an excellent spot to start and end your day at this legendary ski resort.
Buy or Rent a Timeshare at One of the Best California Ski Resorts
It's safe to say there's a lot to love about all of these California Ski Resorts. Whether you're a seasoned pro looking to test your skills or a beginner hoping to learn the ropes with your family, there's something for everyone to enjoy. If you love skiing, consider buying a timeshare. A timeshare will let you return to a ski resort you love year after year, so you'll be able to hone your skills. Plus, timeshares help you save money on vacations over time. If you'd like to take a ski trip but don't want to spend full price at a resort, consider renting a timeshare instead. Timeshare rentals will let you enjoy great resorts without having to break the bank. At timeshares only, we have listings for all these great resorts. Email us at info@timesharesonly.com if you have any questions. We're always happy to help!