Nevada's Mojave Desert is home to one of the most well-known tourist destinations in America–Las Vegas. This bustling city offers up so much to see and do, especially with a Hilton Grand Vacation Club timeshare. You might begin to wonder just how you're going to fit it all in. Luckily with vacation ownership, HGVC members in Las Vegas know they'll always have a home away from home. As a vacation owner, you can have the chance to experience all this amazing city has to offer.
Use Your Timeshare Ownership to See the Las Vegas Strip
Hands down Las Vegas is best known for its 24-hour casinos and vibrant nightlife. But while Las Vegas's most well-recognized nickname is Sin City, there are plenty of family-friendly options too. Over four miles long, The Strip is the main destination of Vegas, serving up all kinds of elaborate sights and displays. Make your way from the canals of Venice to the Pyramids of Egypt, ending at the romantic Eiffel tower all in a days walk. These impressive replicas can be seen in front of some of the world's most iconic hotels. Be sure to stop by the Bellagio while touring the strip to see the eight-acre lake, which hosts dancing water fountains, made famous by movies and tv shows.
Being in America's city of lights will give vacationers a multitude of sensational live shows to choose from. The ever popular, world-famous, Cirque Du Soleil has a whopping number of shows currently running. "O" is a completely unique aquatic experience, with performers dazzling both above and below the water's surface. For any fan of the King of Pop, Cirque Du Soleil's "Michael Jackson One," cannot to be missed.
Hilton Grand Vacations Las Vegas Timeshare Resorts
Ownership in one of Las Vegas timeshare resorts will allow you to stay within blocks of the most notable sites while skipping the hefty price tags that come along with other hotels in the area. Hilton Grand Vacations Club has several options to choose from, giving you easy access to the area and convenient booking through their vacation membership points program.
HGVC at the Flamingo
Hilton Grand Vacations Club at The Flamingo offers grea suite-style accommodations. Its prime location puts you close enough to the action on the strip but far enough to stil have a peaceful nights rest. This resort sits on the 15-acre Flamingo property at the most famous corner of the Vegas strip, surrounded by Caesars, The Bellagio, and Bally's. With so much nearby, it's easy to enjoy the quintessential Vegas experience. For the days of much-needed rest, guests can relax in the heated pool or courtyard with cascading waterfalls.
HGVC on the Las Vegas Strip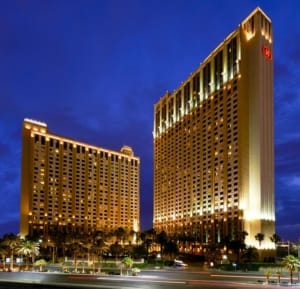 On the northern end of the Vegas Strip sits the Hilton Grand Vacations Club on The Boulevard. This is another resort offering Hilton's luxury amenities and premium service. Designed with desert-themed decor, this towering resort has a full-service spa, two heated pools and a grocery store on site. Take the family next door to Adventure Dome located inside Circus Circus hotel. From G-force roller coasters to a pirate-themed 18 hole miniature golf course, the five-acre indoor amusement park has thrills and fun to satisfy everyone.
Hilton Grand Vacations Club on Paradise sits right next to the Las Vegas Country Club. It offers clear views of the pristinely manicured golf course. This high-rise resort also gives guests easy access to many outdoor activities such as tennis, golf or boating. Since you'll most likely need a break from the Vegas excitement, this resort gives you options to unwind.
Things to Do Outside of Las Vegas
While enjoying your stay, go on a trip outside of the city limits and take in one of America's natural wonders, the Grand Canyon. Hiking this majestic landmark will serve as a truly unforgettable experience for the whole family. If you're looking to experience the Grand Canyon in a different way, try taking a raft or boat tour at its base. It can be a wonderful way to see the abundant wildlife and get a unique perspective on the canyon.
Las Vegas is known for the saying, " What happens in Vegas, stays in Vegas" but you may find that after a trip there, you can't help but tell friends all about your vacation experiences and get excited to plan the next adventure back to the desert. Las Vegas timeshare resales are a great way to have vacation membership at an affordable price so you can take the vacation of your dreams when you want to each year, and create your own Vegas memories that you can choose to share. With so much offered in one place, you don't want to miss out on everything Las Vegas brings to the table.
Ready to find your Hilton Grand Vacation?